Microsoft to sell HP Spectre x360 notebook without bloatware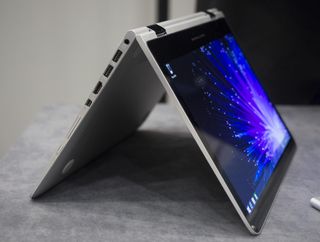 The Microsoft Store site will sell a Signature Edition of the impressive HP Spectre x360 2-in-1 notebook. The website has a price of $1,149.99 for the 13.3-inch Windows 8.1 notebook, which has a 360 degree hinge on its display so it can also be used like a tablet.
In case some of you are unaware, Microsoft sells Signature Edition versions of many Windows laptops and PCs in its retail stores and on its site. The company promises that Signature Edition PCs don't have any trialware or bloatware pre-installed, but they do come with anti-virus software that Microsoft says never expires.
The Microsoft Store site is currently showing a "Coming Soon" listing for the HP Spectre x360 Signature Edition, but at least we know now it's on its way. The site is selling the version of the notebook with a 1920x1080 display resolution; HP also sells a version with a 2560x1444 screen (opens in new tab). The 3.26-pound Spectre x360 comes with an Intel Intel Core i7-5500U processor with a clock speed of 2.40GHz, 8GB of RAM and a 256GB SSD for storage.
Microsoft will also sell the notebook bundled with a year subscription to Office 365 Home for $1,229.98.
Source: Microsoft (opens in new tab); Via: Paul Thurrott (Twitter)
finally somebody made a clean windows laptop ... really needed that ...

Would you not call the Dell XPS 13 clean? Or are you talking about the software, because many OEMs have Signature Editions.

I'm talking in terms of bloatware ... I bought Asus ultrabook I spent 1 hour cleaning their junk

I believe that all systems sold through the MS store are free of bloatware. If not all, then the "signiture edition" ones are. It has been that way for a few years now and I agree it is worth the effort to find a bloatware free Windows machine.

Last I remember you could get that with pro/ultimate
I think they need to bring back cto.

2 words, "minimal restore"

What no james bond tie-in

Antivirus software that never expires? Ok that caught my attention

It's probably just Windows Defender ;)

ive been using windows defender and, out of curiousty i installed AVG some days ago. No virus :) then i unsinstalled AVG and continued to use defender

Different experience here, ran Defender for a couple years then installed AVG. aVG found two Trojans that got past defender.

Virus are easy to avoid altogether if you are not a moron about downloading things off the internet.

how about virus that you can not avoid! you can avoid over 85% virus by not downloading anything, but 15% virus can get into your pc without downloading.

That's why I always keep antibacterial hand gel by my keyboard and use a condom when using my hard drive. And don't forget the research that shows that 87% of people make up statistics 43% of the time.

Well, I would EXPECT the product I'm spending over $1,000 on to be free of bloatware... I understand its place on budget devices as prices race to the bottom, and that's fine. But if I'm going to spend over $1,000 on a laptop, tablet or hybrid, it better be running clean software. Don't get me wrong: I love Microsoft's Signature Edition initiative, but I honestly expect it at that price point.

Agreed, but it isn't MS that is trying to make extra money by adding bloatware. It is the OEMs and I'm sure MS hates it since it causes performance and support issues in many cases. Unfortunately, MS can't demand that OEMs don't load any third party software because that could easily be seen as an anti-competitive tactic.

I see it as hypocritical considering how MS is trying to get their mobile apps preinstalled on other systems.

Interesting point, well worth discussion and debate.

Stupid point of view as MS apps are added value and easy to uninstall as opposed to data-mining pieces of crap like OEMs usual crapware and chrome.

i thought chrome was easy to uninstall! :/

Oh, no no no, I'm not trying to portray Microsoft as the bad guy. I'm blaming the OEMs here. It's understandable on the cheaper devices, but total bullshit on a $1,000+ machine. Microsoft is definitely helping with their Microsoft Signature program, and that's really all Microsoft can do. Still, feels more like it's treating the symptoms, rather than the disease.

Tbh I'm kinda pleased of some of the Dell stuff on my XPS 13. Some of it actually is kinda useful.

Useful stuff (Like drivers that make device work properly) = Yay! Not bloatware, seeing as it's not bloat because it adds to the experience. Useless stuff (Like antivirus trials, pointless photo editing suites that no one wants, browser add ons, etc.) = Nay! This kind of stuff worsens the user experience, and we must kill it. Kill it with fire.

Not everything is bloatware by 3rd parties, they add you stuff so your experience can be better, of course some people they hire might code bad and not really optimize it for each device, so on one device it runs nice but the other it doesn't. And Antivurs and all they add, it's money, money is money and it's like Adobe bundling stupid chrome or mcafee on their downloads, even if Adobe has alot of cash. that's how world works.. or most of it, blame capitalism anyway. But then I may be sure, when I say you like living under the money roof but then hate others for wanting it too. if you could get deals and bundle chrome or norton in every comment you write on Windows Central, I am sure you would. And these companies only worry about selling devices, not about the experience you have with windows. most people will buy windows anyway. while Microsoft cares how your experience with windows is, since they are the OS maker. and you can always get clean windows by yourself. especially now when serials are bundle with the device so you don't even need to type it to clean install Windows and activate it. (or in most cases). of course it takes time but you can do it yourself.

Example, no native DVD support in Windows 8

No native blu-ray support in windows ever.

Very true, and that's the useful stuff. Likewise, stuff like OEMs add to take advantage of special function keys they add to their keyboards or other hardware customizations, like Lenovo's special software to enable users to write with a pen in any text field. That's stuff that benefits the user, and is encouraged (And I believe such stuff isn't ripped out of Signature devices, since I know my sister's Asus came with Microsoft Signature, and it still had some custom software and drivers to make sure the device would disable the keyboard when in "tablet" mode). I'm complaining about the useless stuff no one wants. I've yet to meet anyone excited about their Norton or McAfee trial that came with their new computer...

I got mine directly from HP with a 256 GB SSD and 8 GB RAM for $999. It's a lovely machine, I'm very happy with mine :)

got the same one with a $200 coupon. $799 for this machine with 8GB/256GB SSD, and an i5-5200u. Sweet deal.

Where did you come across that coupon if you don't mind me asking ?

Got a desktop PC from Microsoft store. Literally plug and play. It was so easy to set up, it'll make any PC purchase anywhere else tough to beat.

Well it's easy to get rid of bloatware, But I am sure buying it from Microsoft is better since they are interested in customers having a great Windows Experience, and not throw their Windows device out of the window ;) Windows is not meant to be throw on windows, but be used by silly people.

I can't wait for that to hit the shelves in the Philippines!

All computers at the Microsoft stores are signature editions. We don't sell any computers with trialware or bloatware. Defender is included on all 8 and 8.1 computers.

I just want a quad core version.

Really close in name to a popular employee activity monitoring software. ;)

I love this machine but i live and Greece and haven't been able to get it till now. I'm trying to find a way to buy it from either the US or Germany.
Windows Central Newsletter
Thank you for signing up to Windows Central. You will receive a verification email shortly.
There was a problem. Please refresh the page and try again.