Microsoft Stores begin selling DT-903 Smart Wireless Charging Plate for $59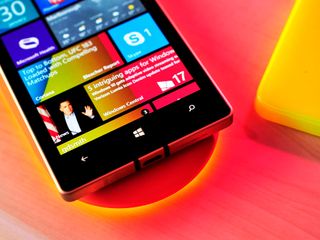 This afternoon, Microsoft began selling the DT-903 Smart Wireless Charging Plate online and in physical Microsoft Stores. Announced back in September, the DT-903 Smart Wireless Charging Plate is the next generation Qi wireless solution that comes with NFC and Bluetooth built in for notification alerts.
Pricing of the DT-903 is set for a modest $59 and comes in three colors, including white, orange, and green with all currently in stock.
The DT-903 will work with any Qi-enabled smartphone. However the notification support and 'smart' aspect of the plate requires Windows Phone 8.1.1 and a Lumia Windows Phone.
Windows Central will have a review of the DT-903 in the next day or so, but for now, you can order yours if you already know you want it. Additionally, you can watch our hands-on video posted above to learn more.
Source: Microsoft Store (opens in new tab)
Windows Central Newsletter
Get the best of Windows Central in in your inbox, every day!
Daniel Rubino is the Editor-in-chief of Windows Central, head reviewer, podcast co-host, and analyst. He has been covering Microsoft since 2007 when this site was called WMExperts (and later Windows Phone Central). His interests include Windows, laptops, next-gen computing, and for some reason, watches. Before all this tech stuff, he worked on a Ph.D. in linguistics, watched people sleep (for medical purposes!), and ran the projectors at movie theaters because it was fun.
Finally! That took a while

Yeah I spent all December looking for one of these and finally bought a Samsung plate.

You have been able to buy them at Nokia's website for ages... https://nokia.mobilefulfilment.com.au/Home.aspx

$39.99 maybe, $59? nope. my 920 will have to do without :(

$39 if it didn't have Bluetooth and NFC. Those things aren't free.

Well, I have it since December, and I am experiencing problems with connectivity. After another Bluetooth connection e.g. to the car, my Lumia 930 doesnt connect again to the plate, and I have to delete connection and have to reconnect it again.

Do these features work with non Lumia Qi devices. I have an aftermarket Qi adapter on my Samsung ATIV S Neo. I'm curious if I could use it.

I got a pair of barebones qi chargers for that price

It packs more than every wireless charger out there. Price is actually not that bad :)

It's already cheaper than the wireless car charger...

Wait... I think I got a coupon from Microsoft store....

The wireless charger isn't just an oval slab. It too was and still is way over priced.

Lol for one second i thought... " Microsoft store has begun selling Android apps..."

That's quite a leap you took there.

Can anyone tell me if a mod exists for the ATT 1520.2 for Qi, and where I might find it? Thanks in advance!

Sorry Daniel, relatively new. Can I search from the app?

From the phone app swipe to forums then to search forums.

Done, done, and found many helpful items. My appreciation to the both of you!

Daniel, sorry for the off topic question but related to search on this site and in the app, is there any way to default the search results to order the list of results by latest articles first? Every time I do a search I see stuff dated all over the place. Maybe it's ordered by topic relevance and not by date of the article? Thanks.

1520.3? I simply went buy an unlocked 930 to use on ATT.

And now if only the 1020 charging cover became cheap and I will joking the qi revolution

It's doing the opposite unfortunately. A few months ago it was $25 (MS cut the price in order to sell out of all stock and make life miserable for new 1020 owners). When I got my 1020 in November, it was $50 on ebay. I checked this week and it's $100.

I ran into this problem as well. Unbelievable for a phone that's still on the market. My charging cover broke and it's literally impossible to get a new one anywhere but ebay. Cheapest I saw was $150.

Damn, should have snagged a couple at $25 and made a sweet profit lol.

I got one from Ebay for like $35 I think. Only in yellow though but works perfectly.

Yeah, one of the little connector pins on mine broke so I went to replace it only to find out it's no longer made. I spent a few hours and fixed it my damn self! It works more reliably now than it ever did before!

I want one but Microsoft takes forever to bring these accessories to Brazil! Probably will take 6 more months to...

In the UK its available for £59.99 (@ Clive.co.uk) which is more like $100. The Microsoft store has it for £45 :)

I would buy this but already have the Nokia chargers for home and car. That's a good price for the UK.

You mean clove.co.uk lol.

why, why, why can they not sell this in black? Not everyone wants bright glowing colors or white.

I can sell you my DT900..

Yep, will order the orange one. Edit: Ships, in The Netherlands only green and white.

No orange in the Netherlands? That's ironic.

I got it online on dutch webshop knaldeals. Orange and works great

Good price. $99 was too much.

Now THIS is what I've been waiting for. That and Icon Denim news has made my day. Thanks guys!

It was not today. Microsoft started selling them at microsoftstore.pt at least on Tuesday as I have placed an order for a White one. It arrived to my mail... Today :D

It was today for the US. Source: Microsoft who told me direct.

I have a question as I really want to get one for my 1520. I remember in the original unveiling it was said you can customise to turn off the light notifications at night and such. In reality does that mean it emits absolutely zero light if you choose it to during quiet hours? Last qi charger I had lit up the whole damn room and i couldn't get to sleep, so emitting absolutely nothing is important for me

Yes, it has 4 modes for the light: High, medium, low and disabled. I'm not sure disabled is 100% off but I believe it is. And it has indeed the option to turnoff the light (notifications, low battery information and charging information) between certain hours of the day.

Haha. Waiting for discount tho, been wanting this for so long, but over $50? Lets just wait a bit longer.

Nah, not for me. Still have two DT-910 stands and six DT-900 plates (hurrah for AT&T $5 firesale!)

Hahahaha. Same here. Also got 910 and 900... Though I love the glowing design.

What's a firesale for AT&T? Relatively new there.

Just slang for a big and fast sale

Heck yeah that was a great sale last year. Picked up 3 Fatboy Pillows for $5 each during that sale and I already had two DT-900 charging plates. Not buying any more Qi chargers anytime soon until either Qi or PMA win their format war!

Lol thought I was the only I have 6 dt900 3still in box may sell one online to soften blow of buying this one.

Off topic- where can I find the background of the phone in the main image?

There are 100,000 background apps on the Store.

Yeah, but that's not the answer to my question

Sorry I can't help you, but try asking in the Forums.

Sweet! I'm still hoping they make an updated wireless charging stand too. With a behemoth like the 1520, it's much easier to align on the stand than the plate, plus it's a convenient way to use it as a clock at night or conversation starter at work.

So let me get this straight... 60 dollars for a battery charging device that will add to my battery drain making me need to charge my battery more often?

No, I think you have that quite wrong. Bluetooth LE is called that for a reason...also, it's optional to enable.

I would be all over this if it had the form factor of the DT-910.

looks nice, can anyone say what apps you can include for notifications? is it limited or can any that are currently in the notification center make the light blink rapidly? my interest is whatsapp and tweetium. thnx

im waiting for Microsoft to release windows 10 for phones video.

Finally! Been waiting for this!!

Is it going to available here on Windows Central shop? Microsoft does not ship internationally.

What is the charging current?

So is this why my charging stand does not work with the ATT Lumia 735?

I think I'll wait until they merge qi with powermat. I'm afraid I'll end up buying more that won't work on my next phone.

You should just bite the bucket if you want it, that could be years...

The uniting is scheduled for this year according to their own reports of the merger

Well I hope Qi takes precedence otherwise there will be more than just grumpy users. Such as car manufacturers who have invested in Qi such as Toyota and companies like Tylt who have been pushing the Qi standard fairly aggressively. So for everyone's sakes I hope it is Qi not the non-existent pma.

I don't see it in the online store. I have a $15.00 off coupon for the store.

We provide a direct link to it at the bottom of the article?

Our proxy mangles those links because it has all the extra garbage in it. I found it.on the site. I was looking at it but not seeing it because it had the phone on it in the pic. Thanks.

Instead of adding all the NFC and Bluetooth parts in the charging plate to make it flash and do whatever as notification, why not add a flashing light on the phone itself. Like many phones did years ago.

One thing I would love is a flashing light on the phone for ANY notifications received.

I may have slept in a cave in the last 2 years, but since when has a simple damn charger became a premium product @premium price? This is not apple territory, hello wake up greedy wireless charging alliance! I mean ok, its wireless, thatswhy it cost not 10$ but maybe 20$, but hell not 60$ ! Its literally 2 damn simple coupled coils, the whole concept of this thing is really that simple: 1 coil in the charger plate and 1 coil in the phone, connected to the battery via some charger electronics. There is no expensive rocket science DSP in the charger plate! If they discovered the cure of cancer, or even better the elixir of eternal life, I agree, sell it for as high price as possible! But this is still a damn charger! Even the hype period has been over, as it was back in 2012 autumn when Lumia 920 went to the market among the first devices with builtin wireless charging capability. Fast forward to 2015: 2,5 years has passed since, so it would be high time to become reasonable with the price, and sell it accordingly.

It has a bunch of neat features and isnt simply a charger anymore. There are cheaper ones but dont have light for notifications, when need to charge or when full

The Nokia DT 900, which is literally that stupid simple charger (without any builtin battery or any of the extra BLE/NFC/notificationLED fanciness) I have described above, costs still damn 55$ in my country. I want a damn simple charger without the premium crap, for a max. 20$. Its so fking simple MS/Nokia/whoever producing these things. And I dont want to order those cheap chinese crap that will shock me the first time I plug it to the AC.

i would get...but I can't find a charging cover for my 1020 at a reasonable price :(

Walked up to a store at lunch time. No chargers. But, big line for the band.

I was excited to get this for the notification light since my Icon doesn't have glance or a notification light. I got the MS band when it first came out and it is great for notifications and now this has gone way down on my must buy list.

I have been searching for this for months. Speed to market is fantastic!! (hopefully you sense my sarcasm)

Waiting for something to use with my 1520.

Said the same up top, was led to Forums->Search Forums, typed in "1520 Qi", and found lots of helpful info. Best of luck!

Good point. Lots of knowledge in the forums. Thanks.

Not really hard I did mine

Got it a while ago. It's great and charges pretty fast for a qi plate

It lists the Lumia 822 as working as is, but I thought it needed a wireless charging shell. Does it have built-in Qi support or not? I've heard so much mixed info on this, and the Verizon employees certainly are no help.

I'll just wait on the dt-913 wireless charging stand...

This would be great if I could still find a charging cover for a L1020 for my father. They stopped making them long ago and the only one left apparently in the world is 1 last case on Amazon where they want over $200. Thanks a lot AT&T for ripping out wireless charging. This being said, I really hope the new Lumia flagship due out this fall has wireless charging built in. Otherwise I may have to hang on to my L920 even longer.

Is this the one that had the battery in it?

Yes I think it is. I can see 'recharge the charger...' in the description

wait, so the wireless charger is wireless itself? Which means it's has a battery in it. How big is the battery?

Hi Daniel- Does this charger support mutliple phones for notifications, or just one at a time?

It seems only one. Need more time to investigate

Now if only they would start selling it in Canada...

Still not sure if I want to pay 60€ for this just because it glows. Specially when there's not even a black version.

Got mine today from a webshop and its awesome. Fits my orange 930 perfectly

"Recharge the charger..." Hm? This isn't that wireless charger is it? I think this one needs to always be plugged in?

Meh. My phone Andy my MS Band bing, bong and vibrate to tell me what's going on. Don't need another notification thank you.

Just ordered one, had a $15 coupon code. Haha

That's a good price....for those who aren't on ATT and got their wireless Qi yanked out of their phones. I really miss that on my old 920 but they stopped offering it after ATT signed a deal with PMA.

Will consider it if ever I get 8.1.1. No Dev Preview here.

My next trip to USA I will buy one of those. I have DT900 and my wife has DT910, this looks like a good upgrade!

I've seen it for about a month at the Microsoft Store near me...

It seems the MS store got a rush of business from this story because the link now takes you to a page that says all three colors of the charging pad are out of stock. Glad I happend to see this post just after it went live.

Has anyone seen this in the MS Canada store? ​
Windows Central Newsletter
Thank you for signing up to Windows Central. You will receive a verification email shortly.
There was a problem. Please refresh the page and try again.