Hands on with Microsoft's next-gen Qi wireless charger the DT-903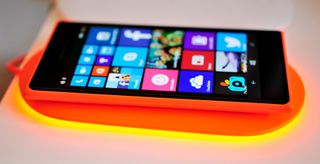 When it comes to wireless charging, Nokia can certainly be credited with pushing the useful technology to the masses like no other. Now, in 2014 their next creation, now under Microsoft, is getting ready to grace our desks and countertops. The DT-903 smart wireless charging pad, which still maintains a terrible name, at least makes up for it in features. The DT-903 is unique enough to be called 'smart' and there's a good reason for the designation.
We went hands on with the new DT-903 to show you what it is all about in our latest video. Featuring Qi wireless charging, NFC for 'tap-to-pair' and Bluetooth 4.0, the new Microsoft charger not only gives your Lumia power, but it tells you when you need to charge, or even if you have a missed call or text message.
How it works
The process works like this: Users pair their Lumia to the DT-903 via NFC, which then maintains a Bluetooth 4.0 connection. Whenever a user is in the area of the charger, the DT-903 pings the Lumia for battery information. If it is below 30%, the charging pad "breathes" with a slowly pulsing LED light that emanates from the bottom of the device. Placing the phone the pad results in a constant glow, the color of which matches the pad itself – so green, orange, or white. Visually, it is stunning.
Once your phone is fully charged, the radiance shuts off. Additionally, if you miss a call or text message, the pad can do a quick double pulse to serve as a visual indicator.
Do you want to control it? Users can set the brightness from low to medium to high, or even keep it off at night. Notifications are also optional. In other words, all of the potential annoying things can be disabled at your will, making the DT-903 truly personal.
As far as Qi wireless charging pads, the DT-903 is larger than its predecessors, which is better for devices like the Lumia Icon, Lumia 930 and especially the Lumia 1520, which cover greater areas.
When and how much?
The DT-903 goes on sale in October for 59 Euro / 59 USD. As a fan of wireless charging, I have to admit that the DT-903 caught my eye. It is not just another Qi wireless device, but a well thought out extension of that technology, or to put it another way, it is just damn cool looking and I want one (or three).
The recently announced Lumia 830 and Lumia 735 with replaceable Qi wireless charging covers can take advantage of the DT-903 in addition to other Lumia phones with Qi capability. The Lumia Denim firmware and Windows Phone 8.1.1 are also needed to interact with the advanced features. In the video, we use a Lumia 735 for demonstration purposes.
Windows Central Newsletter
Get the best of Windows Central in in your inbox, every day!
Daniel Rubino is the Editor-in-chief of Windows Central, head reviewer, podcast co-host, and analyst. He has been covering Microsoft since 2007 when this site was called WMExperts (and later Windows Phone Central). His interests include Windows, laptops, next-gen computing, and for some reason, watches. Before all this tech stuff, he worked on a Ph.D. in linguistics, watched people sleep (for medical purposes!), and ran the projectors at movie theaters because it was fun.
Notifications, the Bluetooth pairing and battery sync. The charging itself works without Denim.

Commenting on your own post, again? It seems others commented before you, you just made it so your comment was on top. Not saying it's bad, but why do many of you guys do this? Not all the time, but sometimes.

If someone deletes their post I responded too, well, this is what happens. So no, was not responding to my own post ;)

Ah, I see. Lol, my bad. It's funny it does that. Is that because of the new commenting system?

I'm going to cry now. My life has no purpose anymore. :'( People even down voted my apology to Daniel and asked him a question. Really? D:

i will up vote u for this comment.... :D

If Author = Audience then potential misguiding and inaccurate content.

What language are you using? Is that '=' an assignment or equality operator?

I might stay with Lumia if MSFT releases a high end smartphone before the M8 comes to at&t.

I can't wait to have your latest podcast, please~

So where is the DT-903? Still waiting...

I've tested my Lumia 920 (OS 8.10.12393.890 & Cyan FW) with the DT-903 and all the features are working: wirelless charging, bluetooth pairing via NFC, battery notification and application notifications. However some application notifications are not working (i.e. calendar or whatsapp), whenever I try to add them to the notification list, the device hub application crashes/exits. I hope this is just due to the "outdated" OS and firmware.

I'm gonna be broke if Microsoft keeps up with what they're doing cause damn.

I can't even lie, this joint pretty dope though. I want one.

Can the 920 work with this as well?

Once it gets Denim, yes. I mean, it will charge even without Denim, but for the notifications, etc. it would need that to work fully.

The bigger question is whether your carrier, like AT&T, would let you have Qi charging capability at all, Denim or no Denim. The charging standard issue is becoming a serious problem now that MS and AT&T need to resolve soon. It is getting ridiculous to put the burdens on consumers to worry about the standard of wireless charging. We just want wireless charging service at anywhere. Period. Broadcom came out with a new Multi-Standard chip (BCM59350) in May. It supports all three major Standards - A4WP, PMA and WPC(Qi). If MS adopts that chip in the Lumia design, the Lumia phones can be charged on any charging pad at anywhere regardless of the WC standard. That is the kind of service we want.

Denim? What about W.P. 8.1 update 1?

Denim is the name of windows phone 8.1 update 1

No, Denim is the name of the Nokia firmware with GDR1 incluided.

do you know, whether other apps (like whatsapp etc) would be able to make it "pulse' too?

But we all know that next week when Apple announces their phone and iWatch with NFC and Wireless charging, after having dismissed those as pointless, will be credited with having "invented" the features in a revolutionary new way.

I can't wait to point all those sheeple here lol

Let's not forget that Palm had this idea (having data flow from phone to wireless charger) years ago with their Touchstone 2; albeit with all proprietary technology. I really miss the nice angle, magnets (for alignment while using on the charger), and Glance-like screen (Exhibition Mode) that the Pre & Touchstone offered. While this is pretty cool since the Nokia's don't have a notification light on them, I really want something that would hold the phone in place while I used it on the charger. (http://www.webosnation.com/touchstone-v2-has-identity-not-nfc)

If the new iPhone had Qi then AT&T would have to get on board. Wish it would happen.

LOL more likely Apple will take one of the standards, copy that and "create" their own "new standard" based on a copy and market it as the most innovative wireless charging to date... and of course AT&T will adopt it as an additional standard to their PMA.

But they invented color in the 5c. I believe!

Hahaha. As a matter of fact, apple invented the smart phone and smart watch, right?

Should of shown the different color hues in the hands on review, love the hue effects!

This looks awesome but I suspect the dealbreaker for my 920 will be Denim firmware. I somehow doubt my sexy red phone will ever get to wear denim.

I dunno, I had not heard of any current Lumias not getting it, including 920.

Microsoft should also make those firmware updates available on other OEM devices. Like the M8

Firmware is very closely tied to the particular hardware components of a device. It's flashed into a phone's ROM rather than simply being loaded into normal phone storage (like the OS), where it could more easily be erased and lost in the event of a crash. Firmware updates are sometimes provided by a company as a way to fix bugs or introduce new functionality. Samsung, not Microsoft, has to create and deploy firmware for their devices, just as Nokia, not Microsoft, did before Microsoft bought the Nokia hardware devision.

Not nerdy enough...
Please, check your information

Firmware is specific to the hardware. It is up to the hardware manufacturer to implement firmware.

I'm not from the U.S. so don't take my word for it but isn't the 810 at T-Mobile not getting the Cyan and probably not Denim either?

Sweet! Just hope T-Mobile doesn't lag on Denim like they are lagging on Cyan! Hope they get a new Lumia flagship as well to upgrade to from my L925 (I don't want the M8 for WP).

All Lumias will support the Denim Firmware update, the only time that a lumia phone will miss a firmware update is when an 810 happens.

What happened with the 810? Wasn't it just a T-Mobile 820 variant?

yup, and T-Mo decided it would get no more updates.

Coudn't they devise a way to update the 810 by bypassing T-Mobile? I'm sure T-Mobile wouldn't care one way or the other since they've already EOL'd it.

The Developer Preview is the best way to go. However, theorethically with the right information and knowhow, you can cook a ROM, but we don't have much of either because security and the 810 is probably unique enough. Although I'd like to see what happens if someone tried to throw a 820 ROM onto that.

Microsoft *needs* to make Lumia firmware update an option in Developer Preview. Without that I don't expect to ever see a post-Cyan firmware update on my TMoUS 925.

Oh man, only if I could use wireless charging on my 1520

AT&T took the Qi charging capability out.

Bastards - I just got my wife the International version of the 1520 for that very reason.

You made the right choice to get an RM-937... This will help u out - http://forum.xda-developers.com/showthread.php?t=2515453 . It's easy to do, and well worth it. Rgds.

Yeah, and the wireless charging back cover is nowhere to be purchased! :(

That's ok though, because I prefer the fast charge.

I've got RM-937 international version with qi charging and am stunned that the Nokia CP-623 case does not support wireless charging! Nokia really let us down there! I emailed Stephen Elop yesterday to politely suggest they get that sorted and bring to market!!

Can you provide Elop's email address?

When it will be available here in middle east?

ممكن تلاقيها في مكتبة جرير على نهاية السنة.

هلاااااا سعــــــــــــــــــــــــــــــــودي Jarir Costly... :P

هلا والله! من جد ، جرير غالية بس هم الوحيدين اللي شفت عندهم الشواحن اللاسلكية حقت نوكيا

جرير لم تفتح فرع في الطائف :/

I hear my 925 could wirelessly charge with a cover or something....... Is it just a case or what?

The same as my Lumia 720, I need a back cover to charge my phone
Install Nokia connect app and see the available accessories for your 925

It's not really a case nor a cover. Doesn't add much to the phones size/weight but it does protect it. Looks very natural.

if Apple made the exact same product, people would go crazy for it. perhaps, this is something MS should feature in commercials.

Exactly. MS needs to show this and the new Lumia's announced today off in commercials and show the world how cool it is!

They already did some commercial(s) on it in the UK.

Can't wait to have this for my ATT branded 1520...... :\ yeah right.....

Love how it looks but how dies it affect battery life?

Probably very minimal. It uses Bluetooth 4.0 which is extremely efficient compared to the already low usage of previous versions of Bluetooth.

Replaceable back covers may be the key to getting QI on new phones. Especially AT&T.

This is what MS should do. Make the backs removable, but leave all the connections (like the 820 and I think the 730?). Then AT&T can continue to give their customers the shaft and include a back without wireless charging, but we can still buy one that has it.

Knowing AT&T they will probably gouge it out of the battery and replace it with either PMA or nothing :P.

It's attached to the cover. Not the battery. They shouldn't be able to prevent switching the backs.

Correct, but the high end models usually don't have removable backs. I hope the next high end model has a removable back like the 830 so that this is possible.

Who knows. Maybe this is the new normal for Microsoft.

Is this the new Qi standard that can connect at greater distances? Otter box type cases make it a pain to line up to charge

No, unfortunately Qi1.2 still under development

It can't be that bad, I use a quilted cover on my charge pad that my daughter made for me and it doesn't affect it at all.

An otter box adds probably 1/8 inch, it still charges but you have to line it up just right or it will not connect

Its slower to connect too. I used to use one on my 920.

I'm sure the quilted cover does affect it by reducing the charge speed. But of course it may be worth it to use your daughter's cover!

I have a fairly thick case on my phone and it isn't much of a problem. 1st day or two it would connect disconnect, but once you get use to it, it is no problem.

Lumia 822 with otterbox case works fine. MicroUSB port no longer charges on my Lumia 822.

Really like it. Will get one as soon as it will become available.

Wasn't there supposed to be a case for the 1520 like the 1020 had that allowed for wireless charging?

1520 has a built in capability as the 920 930

The AT&T version in the US didn't have it built-in because AT&T was/is trying to push some alternate wireless charging standard to Qi. That said, I think there is a case for it, but I don't know how widely available it is.

I have the 1020 and had three orders from AT&T cancelled for the wireless cover. Kept ordering from them because I get a 50% discount on accessories. Finally just gave up trying.

So, I gather that Bluetooth will have to be on at all times that they interact; but does NFC and/or Bluetooth need to be on for the pad to be able to detect that the battery is low or to receive notifications?

Yes, Bluetooth must be on
That will kill battery I guess

It is called Bluetooth 4.0 LE (Low Energy) for a reason. Killing batteries isn't one of them :)

So, I was under the impression that LE was referring to the ability to connect to low energy devices (forgive me if that makes no sense, I'm not that techie) as opposed to consuming less battery on the phone. I take from this that that's not the case?

No, it's low energy in general. These LE devices are designed to remain connected 24/7, so it has to be low-power on the device too.

What happens if you're paired up with a speaker. Can you be paired to both at the same time?

Cool, thanks. Do you know if NFC also has to be on, by chance?

I'd guess for just the initial sync then you can turn it off for good.

Yes. Bluetooth = communication and is needed for battery status and notifications.

Yeah, I get that. My concern is more about the role that NFC is going to play in this and, specifically, whether it has to be on?

NFC is simply a shortcut for the pairing and to launch an app on tap. After/without that you don't need NFC on.

Bluetooth needs to be on for notifications and low battery warnings. Nothing needs to be on for the wireless charging functionality. The Qi standard is used for the charging, but that isn't something that uses power or would be turned off. NFC is used for initial pairing and probably doesn't have to be on once the charger is paired to the phone. Bluetooth would be used from that point on.

I'd buy it but I don't have a device that supports Qi wireless charging.

It doesn't matter, buy it as a decoration and put it in your bed room :)

They make adapters, cases, external USB based coils to hide under a case. Really cheap too.. I think I paid $10 for a S3 coil

Where did you find those? I would live a way to hide Qi under my 1020's case!

"I see my red door and I want it painted black
No colors anymore I want them to turn black....
....I wanna see it painted, painted, painted, painted black
Yeah!" Hey...I just want it to match my Icon...

I just can't imagine how the black light should look like... Posted via the Windows Phone Central App for Android

Probably use (Verizon) red. Blue would look decent, but boring. Also a really muted white could work.

First I will get the 930 or 830 then I'll buy this one.
I'll take it with me everywhere, and show it to anyone I see ;)
Apple users, defied this

I'll look out for this bad boy been thrown in with the 830 here in the UK

Looks like this will be the next wireless charger I get. I like how it alerts you to charge :)

It would be better if it could do data over Bluetooth.

It's a charger. It does emulate notification functions. What data would you want a charger to transfer? From where to where?

"The DT-903 smart wireless charging pad, which still maintains a terrible name" Microsoft Screen Sharing for Lumia Phones HD-10 is worse :)

Of course this couldn't be made compatible with both PMA and Qi standards, you know, since AT&T doesn't like Qi.. *sobs while holding Qi-less 1520*

I hope doesn't get buried in the wave of publicity that's about to hit between Apple, Starbucks putting charging stations in their stores, etc. How many non-Nokia (ahem, Microsoft) vendors are behind Qi? FWIW, I own the charging plate and the JBL for my 1020 with a wireless back/"cover"

Broadcom came out in May with a new Multi-Standard wireless chanrging chip (BCM59350) for smartphone. It supports all three major standards that include PMA and WPC(Qi). It can select automatically the correct Standard that a particular phone adopted. If a Lumia phone is equipped with that chip, it can be charged on either PMA or Qi charging pad.

I like my my DT-901, but this one is so much sexier.

Im definitely getting an 830 and this charger in orange. Just beautiful!

I just can't wait for qi 1.2 so I can mount them under my countertops. Don't wanna notch out or chisel my counters or other furniture... I was hoping this was the first 1.2 device...

Wish it had more color options, or at least a black to go along with the white for neutral. I have a Cyan 920 and my wife has a red 1520 so no love there. I'd love to get the Green 1520, if it came in the international flavor.

Agreed. I feel like there should always be a black option, so as to appeal to the 'norms'.

I've got a sexy red 920 so no love there either. I don't care for the new trendy citrus colors. Orange is the New Black? Not.

59€ or $59... These "conversions" always infuriate me.

Don't need it thanks to six dt900 wireless charging plates and two dt910 wireless charging stands. Thanks AT&T for the fire sale!

ATT canceled my 5 plate order, bastards

LOL. I cleaned out the store on that sale. Now I have chargers everywhere.

Pretty excellent. I want.

I want one, but ATT needs to get their head out of their @## and not remove the qi charging from Lumias... I'm still upset about me 1520 not having qi.

Don't understand why a firmware update is required... Bluetooth 4.0 and an app should be enough...

Cyan or earlier may not have the APIs/extensions required to communicate this data to periphery devices. BT as implemented for pre-Denim firmware is not the problem. This is similar to the gyro and motion sense stuff that maybe supported by the devices but that wasn't implemented until firmware enabled them.

Want. But as a wireless charging stand (like the DT-910).

Agree. A stand version would be greatly appreciated.

Boo. I was hoping for red. Looks like white will have to do.

Can we switch to RMA soon?

A bit too expensive, should come "free" with all new high-end phones

Is the 730 dual sim going to be able to charge wirelessly? Please help, somebody who actually knows this.... Thanks in advance.

You need a separate charging shell for that.

Light notifications? I remember when windows phones had those... But in all seriousness, what are the potential use cases for the Denim features? I already get audio notifications on my phone, which is going to be in close proximity to this charger, so I'm having trouble understanding the benefits and the $60 price tag.

Is this charger got the new QI standard or is it the old stanadrd ?

It looks cool and it's got notifications and NFC. I wonder if I could strap it to my arm and call it 'smart wear'?

I really want the option to make it stop charging at 70% Posted via the Windows Phone Central App for Android

Why? (I assume to extend the life of the battery... But I thought they had overcome such issues now?!)

How long it will take to fully charge the phone??

Hope they make the Stand versions too. I have two of those and they are great for using with Glance as a Night-Stand Clock.

I'm on Verizon and have no hope to ever get it, but I lust after an Orange 930/Icon.

Question, I have an older 1520 with out the wireless charging circuitry, will this charger work with out this circuitry installed using the NFC and Bluetooth?

Unless you take apart your phone and put a Qi case, No.
BT and NFC is just for the custom notification stuff and light. Has nothing todo with wireless charging itself

People that bought AT&T Lumia 1520s, you should've researched instead of pouncing whatever catches your eye :P
Had you done so you may have instead a 1520.3 with Qi and such :P

I think most people on here who invest in a high end device such as the 1520 actually do research the product. While Att did go to bed via the PMA camp it's not a deal breaker for me.. Coming from a previous 920 qi enabled owner.

If I have the Lumia 1520 from at&t...the version that doesn't has the wireless charging option. I'll need to buy the case or it just works with NFC?

You'll need to get the case, the wiring and such installed to the case is what makes the wireless charging work.
AGAIN NFC & BT are only for the notifications feature. They have no correlation to your battery, in fact it uses up some battery.

Now if only ATT will stop stripping out wireless charging.

I asume that at least the charging works on Lumia 920 until I get denim right?

Yes. Already answered by Daniel above.

Will it work with Lumia 630

Gorgeous, but my Lumia 1520 has no Qi, shame on AT&T.

They look amazing! I would go with the white color but I'm worried that the notification "pulse" would be hard to see in lit areas. Otherwise I can't wait until they're released.

At&t will never let you have Qi charging and Microsoft will never make them

Dang! Lumia Demin. And I'm not even on cyan yet. Dang you MSFT for withdrawing the Cyan-on-WP8.1 developers preview from circulation. Aghrrr!

It is rolling out to select models for the pfd programme.

Thanks for showing the cable attached to the dt-903, at least it is not a proprietary charging cable so you can at least charge it from your pc or tablet if it has a full size port. I'm going to have to put this onto my bucket list lol and plug it into the sp3 dock :p.

I have my current wireless charger next to my bed to charge my phone during the night. So I don't think the glowing thing is a good idea, when you want to sleep ;)

& that is why it has a night mode......

I realised the wireless charging scenario works best in office where you sitting at your desk and the wireless charger is next to your laptop. So everytime you place it on the charger once u are done with the call. At home the wired charging is the better option.

Why is it that US made products have the same prices in dollars and euros? The rate is aroud 1,3 USD for 1 EUR so it's kinda ripoff for us in the old continent. 59 USD should be around 47 EUR. I refuse to believe that 12 EUR is logistics per piece.

Just a curiosity, notification for missed call, ecc work even when the phone is not on charge? Somewhere I read it work only when the phone is on charge but it will a bad thing

Any particular reason Microsoft has chosen the orange-green-white as their "official" color for devices? There are other colors too, but the orange and green is obviously emphasized. And i can't help but notice the shades perfectly match the colors on the Indian flag. I personally don't like the colors much. Cause they look really pale on devices (except for the orange sometimes; on some devices, it looks bright and glossy). But i'm not here to complain. I'm buying the white 730 anyway. I'm just curious if this has something to do with an Indian CEO. Just curious.

DT-903 looks sinestro-ish!

will it charge the phone any quicker than the older range? i.e. has the wireless charging technology improve in its efficiency to charge the device?

how do you sleep next to this?? :D

In the video Dan shows that there is a night feature (to turn off the illumination).

NICE - is there any word on a next gen QI charger stand?
I've got a couple these around the place and would upgrade when they become available

Can you turn off the lights when charging? Only ask as I have a wireless charger next to my bed and charge it over night. Be a pain if could not turn it off

According to the video there's a Night Mode that does just what you want.

I want this!!!
I also thinking when we will have table with wireless charging on it? :)

Thanks for the video review. I'll get one simply for the missed notification functionality - really miss having a simple LED on my phone that flashes when I've got a missed call or text.

So this charger can do notifications, but we still can't get the home screen button to flash for notifications? I'd much prefer that option.

Make an upright version like the DT-910, and they have my money!

If I get a pma charging case for my Nokia Lumia 1520 rm-940 att variant. Will it work on this wireless charging pad? Or do I need one that supports pma only?? Cause I really want this nokia accessories! Thanks :)

i have the lumia 1020 but ive done a bit of a conversion on it so its wireless charging will this charger work will i need a update ?

"The DT-903 goes on sale in October for 59 Euro / 59 USD." It's Oct. 28, and I have not been able to find it for sale anywhere.

Its now Nov 9th and the damn accessory is not available! ugh! this is sooo frustrating!!!!

Three months on and the DT-903 is still not for sale. Classic Microsoft sabotaging the WP ecosystem... "Look look look, cool new devices. Oops you cant have them yet, or ever" This is not how you sell products. You need to announce and then have them in stores the next week. All carriers, all accesories.

I have the original DT-901 pillow, it is all nice and gimmicky and used to be practical with my Lumia 820 (1600mAh Battery).
But now it is almost useless with my Lumia 1520 (+3000mAh Battery)! I was looking forward to this new one, but I need to know how much is the output current?
Will it be suitable for a huge battery like the one in 1520

Its cool... But the notification stuff is buggy... It will start blinking without having recieved any email, IM, or whatever you have setup in teh app section....

Will the DT-903 work with Win 10 Mobile or is Microsoft going to give the finger to users who shelled out $60 for this?

dt 903 can charge lumia 640 xl?

anyone know if this works with win 10 mobile
Windows Central Newsletter
Thank you for signing up to Windows Central. You will receive a verification email shortly.
There was a problem. Please refresh the page and try again.