Microsoft shows off the improvements on the Surface Pro 3 docking station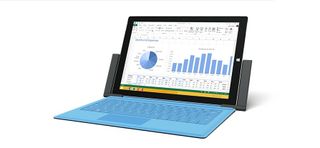 Microsoft's upcoming Surface Pro 3 docking station has a number of improvements compared to the dock that was made for the two older Surface Pro tablets, and the company goes over those changes in a new blog post.
The docking station, which is currently available for pre-order for $199, keeps the same basic design as the original Surface Pro model, but adds a number of extra ports to the mix. For example, the Surface Pro 3 docking station has three USB 3.0 ports, compared to just one port on the Surface Pro docking station product. The USB 3.0 port on the Surface Pro 3 itself can also still be used when docked on the station.
The new version also includes a security lock slot, which is something the original docking station lacked. The Ethernet port on the Surface Pro 3 dock supports 10/100/1000 Gigabit speeds, compared to just 10/100 speeds on the Surface Pro port. Finally, the new Surface Pro 3 dock can support up to two external monitors
The first shipments of the product are scheduled to begin on August 15. If you have a Surface Pro 3 already, are you planning to spring for the optional docking station?
Source: Surface blog
Windows Central Newsletter
Get the best of Windows Central in your inbox, every day!
I'll be getting the docking station day one. It is essential to using it as a desktop replacement. Having to plug in a bunch of cables every time I get to my desk is a real pain in the butt

Not sure how much of a "pain in the butt" it is to plug in a power cord, a hdmi cable, and one usb cable adaptor which already has the other usb devices plugged in. As opposed to closing the arms on the dock, which takes a second or two. Pretty much a savings of 10 or so seconds a day to add to the rest of your life at the end of it. And the dock costs $200. Now the use of two monitors would be nice for the price. Just saying.

Its annoying enough. 200$ is a weeknight out. That's certainly worth the reduction in cable clutter and quality of my life enhancement. Just preference is all. Its also a distinguishing feature of enterprise laptops. That's the message.

I chose not to buy the Surface until this comes out. I intend to use the Surface as my one device, tablet, laptop and desktop but I'm not going to ditch my desktop until the dock is available and I'm not going to buy the Surface until I'm ready to sunset the old desktop. So yeah, dock is pretty important to me. No cable clutter and a well organized designated work space is critical to me and while the cumulative effect of manually connecting all those peripherals isn't decisive, the fact is I won't use it (or even buy it in my case) in that mode makes the add-on necessary.

I have the first version of the surface pro along with the docking station and wow it really does turn the device into something remarkable...

It is a lot more often than once or twice a day for me since it gets heavy use as a tablet. I might go into a different room and want to take it with me for a variety of reasons. Having to connect and disconnect 4 cables (power, usb, monitor, and audio) is a detterrent from using it in those scenarios.

It was truly a pain in the butt before I got the docking station. I have the older Pro 2 and now I have 2 docking stations - one at home and one in the office. I use the Surface in very specialised circumstances, so I have a number of 2.5" hard drives preconfigured. That means I'd also have to disconnect the USB3 hub every time and carry it with me. I also have a tiny Rapoo mouse (tres cool) which means I have to carry a hub if I want to use the mouse and a hard drive. Has anyone found a cool and portable USB3 hub made for Surface? When 128G microSD cards come down in price I'll carry 2 or 3 of these preloaded so I won't have to carry a hard drive and can use the USB3 slot for the mouse. Surface is already replacing all my other devices - except my desktops which have 2 X 23" monitors. Now it looks like I'll be able to replace them too. Of course, iPad doesn't have a single external connector and no way to expand. Lucky I didn't buy one of those.

I really wish there was a better solution for using a wireless keyboard and mouse with the Surface. BT input devices are not very good and the selection is pretty poor and wireless devices with a transmitter will be anchored to the dock in most cases. Weak sauce.

I've been using a ThinkPad USB 3 dock (5-USB 3; 2 DVI, Ethernet, Speaker/Mic inputs) This has worked great on my Surface Pro and now my Surface Pro 3. I just plug in Power and the USB. Don't have to upgrade my monitors to displayport inputs either. I'm not sure if the Microsoft Dock is worth it. One good note about the MS Dock, it comes with the extra charger and that is worth $70.

I have one with my Lenovo Helix and I'm just pissed at my whole setup... I drive two 24"s, one on display port and one displaylink usb3 cause of lack of display port 1.2a My usb3 monitor drops out not often but more often than it should. The usb ethernet similarly drops out on large long transfers I use the doc for a usb headset and I get problems there too occasionally when it should be never. It's been impossible to know if it's my hardware combination or software and if you're saying you use your thinkpad usb3 dock a lot with no issues ever, then maybe this helix is a load of crap after all.

I actually have 3 of them - Office, Home office and wife's computer. I did have to return one. Lenovo was good about the replacement. I have not had any of the problems you describe.

Well were probably not using it the same way either. So hard to point the finger at something when it doesn't happen like all the time. Been trying to trouble shoot it on and off for a year. Any tech would just say hey it works. Can't simulate/repeat when it randomly fails to do what I need. While overall, things have improved it's not great

I have a Surface Pro 128 Gen 1 with a $150 Toshiba 3.0 Dynadock. I 21.5" monitor is connected to the miniDisplayPort. The DynaDock is plugged in to the USB 3 port on the Surface. Plugged in to the DynaDock is a 2nd 21.5" monitor via HDMI. A 3rd 21.5" monitor is plugged in via the HDMI port. The dock is connected to a Gigabit network via patch cable. Powered speakers are connected to the standard headphone jack on the dock. There is a surround sound 5.1 (?) output on the dock. I have a USB 3 1.5 TB Toshiba Canvio hard drive connected to one of the docks USB 3 ports. I have a 4 port USB hub plugged in to one of the docks USB 2 ports. From there I go to a USB transceiver for my wireless Microsoft keyboard and mouse, a Brother P-Touch Label Printer, my Nokia WIndows Phone, my Nikon D300 USB cable, and a 750 GB USB 2 external HDD. I have a USB 3 hard drive docking station plugged in to the 2nd USB 3 port on the dock. So when I need to leave for a meeting, I pull the mini DisplayPort cable, the DynaDock USB 3 cable, and the power cable. No muss, no fuss. Just for grins, when I set this all up, I had 4 different YouTube videos playing on the 4 different screens. No lag. Audio sucked<g>. $200 for a docking station is kind of pricy, but not out of line for someone purchasing a higher-end Surface Pro 3. Just my 3 cents....Mark

Thanks for sharing, this is the kind of thing I would do if I wasn't afraid or it not working on my helix, but with thinkpad usb3 dock, 1 24" on miniDP another 24" on usb3 thinkpad dock, a 4 bay harddrive doc on usb3, headset on usb3 dock, gigabit connected for my lan, the wifi is reserved for my hyper V VM (windows xp of course! ;)) It just hasn't been reliable. I think the only way I'm really going to find out also is by getting another computer! I wonder if the microsoft store will let me bring my haddrive bay and transfer to a surface a large file and see if the connection drops.

I have the Original Surface Pro and the docking station with a "Plugable 3900 display link" which cost an additional $109 at amazon. Yes, $309 get me the full desktop replacement which allows me to have 3 x 24" 1080p monitors running and the surface screen (although I have the actual Surface screen off when docked). With this setup I have 7 USB ports 2.0 and 2 3.0 on the pluggable available. I absolutely love this device!

Is this backward compatible as well?

Shouldn't be. Ports are in different positions. My guess anyway.

Size is different as well isn't it. 12in instead of 10?

No. The Dock for the Surface 3 is only suitable for the Surface 3. Conversely, the earlier dock is only suitable for the previous Pro devices. As stated, above, the ports are in different places and it has a different form factor.

Sweet I never realised both display ports could be used... Although it sort of wrecks the reasoning for a dock if an extra cable needs to be plugged into the device.

DP cables support chaining (with a DP screen), which basically will split you're output into 2 different monitors just fine. My question is can you do the same with the surface connection and have 4 monitors + the surface screen

Seems like it would last like crazy with that much load on the graphics. I also think my brain might explode lol.

Yes - Surface Pro 2 and 3's CPUs' iGPUs support DisplayPort MST, so monitors can be daisy-chained (or hubs can be used) - however, the GPU is limited to three monitors at once, I believe, so that limits you to two screens + Surface or three screens.

"i7 and i5 will drive 1x4K, or 2x2K (while supporting the Surface Pro 2K display). i3 will drive 1x4K, or 2xHD (while supporting the Surface Pro 2K display)."
Source : AmA Redit"

If it can support two monitors, why not build DP hub into the dock with two DP output connectors????

Because dp is still primarily a mac standard & not everyone can afford 2 1440 monitors

As soon as Microsoft decides to sell these amazing products in my country they have my money!

I thought I read somewhere that it also supports upto 4k?

The i5 and i7 definitely do. I'm not sure about the i3.

Yes, but the DisplayPort only has enough bandwidth for one such monitor

Again :
"i7 and i5 will drive 1x4K, or 2x2K (while supporting the Surface Pro 2K display). i3 will drive 1x4K, or 2xHD (while supporting the Surface Pro 2K display)."
Source : AmA Redit

Check your country's online Microsoft Store

What do SF pro 2 users buy?

The already available docking station, of course.

Of course... using HooToo dongle (3xUSB3.0, 1Gbps Ethernet) while waiting dockstation.

I wish this shipped to Australia :|

I believe the docking stations will come for SP3 to Oz. Not like the docking stations for SP2 - we never got to see them here. The docks for SP3 are on preorder in Australia too, releasing Sept 12, $229. I'll be investing in one. I have my SP3 (grabbed one from the States on release), and I love this new gen. http://microsoftstore.com and go to the Australian site.

I would love to have one, however the peripherals for the SP3 add up to a lot of dough. It would be nice if MSFT bundled the docking station, keyboard and mouse for under $250.

I could see $299. But most corporate docks (See Dell & HP) are $199 -- the same as this. I can't see any decent mouse being included. Besides, there's a pretty good touchpad on the Type Cover.

I see your logic, I just feel that they need something compelling enough to lure new customers, i.e. MacBook Air owners.

Is that two external screens AND the internal active at the same time?

So it appears in previous coverage. I wish our friends in wpcentral cared to go into a much more detailed specifics, especially the whole DP daisy chaining business, resolutions, etc...

guys at surfaceforums.net have been daisy chaining the SP2s

Did we ever get confirmation about the power slot being thunderbolt? I know they eluded that it was on reddit. But I haven't seen anyone confirm that since.

I don't think they were eluding to the power slot being a thunderbolt port specifically, just that it was a multipurpose port. My guess is the dock connection goes into the power port. Which means in theory anyway that we could have adapters like those Juiced adapter that connect to the side, but it could connect to the multipurpose power port so the adapter could have usb, display, and Ethernet. That would be bad ass.

Yeah, pre-ordered today. Looking forward to testing it.

No. I think the requirement of having to chain the monitors using DP kind of ruins it for me as my monitors do not handle that (and please tell me if I read that wrong). I will continue to use my USB3 hub which does require me to plug in a USB3 cable and the power cord but it really isn't that big of a deal.

I'm doing the same thing. I love my SP2 and I don't have the money for the special monitors that daisy chain the dp. As far as I'm concerned, the dock is useless and I'm pretty sure it does cover the display port on the SP3, just not the USB. I'm currently using an HP USB3 dock that pushes 2 HDMI and then I plug in to the DP for my third monitor without a problem. USB is so much better than the days of bending pins on my VGA port, but I wish the dock had multiple display ports or anything for that matter.

....at a loss as to why they tout it has a lock slot. The tablet (worth morth than $1000) does not and can still just be lifted off the dock. A lock slot on a $200 accessory is important but not on the device? Now there is some impressive logic.

The surface doesn't just lift out of the dock - you have to open it up by pulling the sides apart first. Maybe the lock slot also lock the sides in place so they can't be opened?

I do hope the lock slot does protect the SP3 when engaged into the dock! Otherwise, I don't see much reason there.

10/100/1000 Gigabit speed?! Was I asleep for a couple of years? -_-

It's a joke that they don't offer two monitor ports on a dock. Even if it is possible business users should not be forced to take steps back with connecting cables here and there to achieve it, and don't even get me started on daisy chain, no company will buy new expensive monitors for their users for this. For fucks sake MS just get it right for once.

It's a joke that some people slag off Microsoft before they read the article. It has two monitor ports.

Not on the dock, so every time you click in you would have to reconnect a monitor cable, or get a DP hub, or have the mystical daisy chainable DP monitor. The only reason I have a dock at work is for multiple monitor out from laptop.

The only feature that makes me consider this dock is the station's additonal mDP (the SP3's one still being available) to connect one DP monitor and another DVI one. That being said, the fact that I'm probably going to prefer using it in portray mode next to a Dell 29" UltraSharp 21:9 monitor at the office makes it a bit less interesting...

I don't understand how the Surface USB3 port can be available when it's attached to the docking station. I have SP2 and the docking station connects to the Surface by plugging into the USB3 port, the display port and the power port. Is the docking station attaching to the buss through the reconfigured power port?

Be going to college in a year, probably going to get MacBook Air, surface pro 3 is neat and awesome but still not good In lap. Have dell venue 11 pro too and great little convertible but need bigger screen for work and my mid 2010 MacBook pro is old and slow. Posted via Windows Phone Central App