Microsoft shows off 'Z-depth layering' 3D feature in its Fluent Design System
Microsoft's new Fluent Design System will be introduced in waves. "Z-depth layering" is a planned feature. Here's a first look.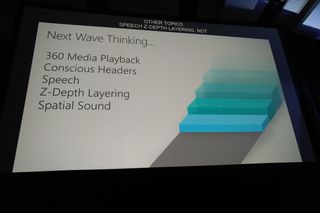 Microsoft's new design language for Windows 10 is taking developers on by storm. The Fluent Design System has already started showing up in apps with the Creators Update, and in the Fall Creators Update, we'll see Fluent Design show up in even more areas throughout the system.
What is Z-depth layering?
It's important to understand that although Fluent Design has now officially been announced, we're still several Windows 10 releases away from it being everywhere in the OS. The Fluent Design takeover is a journey that spans across Redstone 2, Redstone 3, Redstone 4 and beyond.
Microsoft knows this, and it has even outlined some of the plans it has for its second wave of Fluent Design improvements. In a breakout session at the Build 2017 conference last week, the Fluent Design team talked about what they're experimenting with for Wave 2 of Fluent Design, including bringing features such as Z-depth layering to the Fluent Design System.
Z-depth layering is a neat user-interface (UI) feature that will allow 2D apps to have a 3D viewing experience when in a Mixed Reality environment. For example, in the demo Microsoft showcased you can have the background of an app further away from the content being displayed on an app page, giving it a sense of depth when moving around the window.
This feature is specifically focused on 3D, with either a HoloLens or Mixed Reality headset. Microsoft is all-in on Mixed Reality and honestly believes it's the future. So it makes sense to hear that future plans for Fluent Design are evolving to fit the 3D world.
This functionality is only really beneficial when using either a Mixed Reality headset or a HoloLens. 3D is a big deal for Microsoft, and Wave 2 of the Fluent Design System may also include 360-degree video playback, conscious headers and more.
Make sure you check out Fluent Design in the Mail app, and in Microsoft Edge too. Stay tuned to Windows Central for more on the Fluent Design System and what's next for Windows 10.
Windows Central Newsletter
Get the best of Windows Central in in your inbox, every day!
Zac Bowden is a Senior Editor at Windows Central. Bringing you exclusive coverage into the world of Windows on PCs, tablets, phones, and more. Also an avid collector of rare Microsoft prototype devices! Keep in touch on Twitter: @zacbowden.
"Microsoft's new design language for Windows 10 is taking developers on by storm." Really, says who? Those with Microsoft employee badges?

Why do you even come to this website? Every comment you make is about how much you hate Microsoft and everything they're doing... Do you not have anything better to do than **** on Microsoft?

I guess some people just love the attention and feed on hate... lol

When on W10M!? ..... Sorry couldn't resist 😎

Not as good as "When in India?" Sorry. =P

Dear Windows Central, Please hire someone named "Wen" and send him to India for the sole purpose of creating an article called "Wen in India".

Makes me shiver as I think about css z-level... :P

Ouch, yeah. That. I was tired. :)

I'm really loving this idea, but the lack of a real demo is concerning.

When will Windows central get fluent design

When will anyone else actually develop technology as good as what is in the 3DS?
Also I assume this could also work in virtual reality, granted nobody is likely to be reading webpages in virtual reality, but if they did, this would work.

Its not a difficult technology to make. TV manufacturers are working on longer range glassesless 3d. But I myself wonder why MS isn't incoporating this tech into its tablets and phones. Given the OS is about to go full 3d, and with a camera it could make for a quasi-AR portal, I think MSFTs all in on VR should probably include 3d screens. A nice 3d OS, with a 3d screen would look stunning if nothing else, but it would also create another entry point for mixed reality and hololens apps - increasing the installed user base for developers. like all my likely ignored ideas, I put it in feedback a few weeks ago. Something like "3d mini surface AR AI"

Augmented Reality and "Smart" Surface Mini running "Windows on ARM"

You gave a new insight for new device category! Liked it;")

It's like iPhones wallpaper. Turn on gyro and voila, z-depth on any flat app without AR/VR.

I was going to say, that looks alot like my iphone wallpaper.

too bad ipone doesn't even know what VR or mixed reality is yet...not quite the same. the parallax effect is just mimicking what the demo was showing.

And Windows 10 Mobiles do?

I wish Microsoft would focus less on design and more on making features actually work.

I, for one, can't wait until I have to dig through numerous z-layers of advertisments in order to see web page content ...

Wish MS would support head tracking and gaze tracking for 3d cameras that support windows hello. That way devs could use that data to create that affect on 3d depth web cameras without the need for vr or mixed reality.
Windows Central Newsletter
Thank you for signing up to Windows Central. You will receive a verification email shortly.
There was a problem. Please refresh the page and try again.