Here's a first look at Outlook Mail with Fluent Design coming in the Fall Creators Update
Upcoming improvements to Outlook Mail include some pretty cool Fluent Design elements, including acrylic, motion and light. Here's a first look.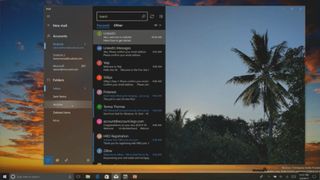 Fluent Design is everywhere at Build this year. Being one of the biggest announcements for developers, it's the new design language that should soon be coming to all kinds of apps. Up until now, we had only seen Fluent Design in a few select apps that Microsoft had updated, but now at Build we've had a chance to see everything they've got planned.
We've already given you a first look at what Microsoft is planning to bring to Edge with Fluent Design, and now it's time to take a look at some of the other in-house apps being updated with Fluent with the Fall Creators Update (Redstone 3). Outlook Mail is another hugely popular Windows 10 app, and later this year it too will be joining Edge and other apps with a fresh paint of Fluent Design.
in a breakout session at Build, Microsoft showcased Outlook Mail's new Fluent Design, in apparently working code meaning Insiders might start seeing this rather soon. The updated Outlook Mail client includes Fluent Design features such as light, for hovering over sidebar menus and items, motion with smooth animation when opening and closing certain user-interface (UI) elements, and acrylic for blur in some areas.
Another design improvement being made is that the app now feels "borderless". Microsoft mentioned during a session that developers can make elements stretch the entire window, including up through the title bar creating a "borderless" experience. This looks super impressive, and makes the app feel a lot more streamlined and clean.
Although subtle changes in most cases, the Outlook Mail app with Fluent Design looks incredible. It's a far better improvement over what the current UI is, featuring a rather flat UI design which Microsoft tells us they're now moving away from after 10 years of forcing it into apps and onto developers.
Fluent Design is very much the "new" Metro, expecting it to show up literally everywhere throughout the system and in apps, and even throughout Microsoft services, through the Fall Creators Update and even in to releases throughout 2018 and 2019. Stay tuned to Windows Central for more on the new Fluent Design System.
Zac Bowden is a Senior Editor at Windows Central. Bringing you exclusive coverage into the world of Windows 10 on PCs, tablets, phones, and more. Also an avid collector of rare Microsoft prototype devices! Keep in touch on Twitter: @zacbowden.
We're calling it the fall creators update now?

That's what MS officially named it. I just call it service pack 4

Sorry but I am not getting it... Are we not getting that white fluent design shown in the video with the fall creators update?

If I'm not mistaken, you will get to chose the color scheme you see. Much like Cortana on iOS. But I could be wrong.

You get to choose a theme colour, but it's far far from the concept design. But this is probably just the first step. Microsoft said it would take longer than just FCU to fully update to MFDS.

That's the official name.

They didn't even bother for 10 seconds for a better name. The Neon Update would've been so much better.

Well the whole reasoning behind the name is that it's still the Creators Update, but just with more features coming that were not in the first Creators Update

Keep up, now. Pay attention...

In the second screenshot, it looks like the Outlook Mail sidebar (Fluent Design System) acrylic color is based off the system accent color, while the top one is not. Is the bottom one just a screenshot of the current one, or does acrylic take after the system accent color like Aero?

The left-hand pane takes on the system accent colour in Light Mode now so they have presumably carried that over.

That's great to hear! I'm one of the many people who miss Aero Glass.

I don't like the borderless look, but that's just me probably.

No need to downvote someone into hell if you disagree...

There's always a need for that, that's why its there. I personally love doing it and think it's better than using insults.

I use it on occasion, but honestly Thunderbird is my go-to. It's much more bare bones looking, but a ton of functionality is built into it that Outlook doesn't have (not the full Office paid Outlook, the UWP app).

I'm so glad you can turn off the rainbow. Looks heinous with all of those random colors. Otherwise looks good to me.

You're referring to those obnoxious colored circles to the left of every email in the inbox? How can you turn them off? I've been wanting to turn them off in both the Windows 10 Mobile and Windows 10 Pro versions of the app.

You can turn them off in the mail settings, personalization.

Where? When I tap on "Personalization" in the Outlook setttings on my Lumia Icon running W10 Mobile, I only get the following options: Colors, Use my Windows accent color, Light mode, Dark mode, Use my Windows Mode. Is it only available in the Creators update (which my device didn't receive)? I'm using Outlook Mail Version 17.8126.42378.0

if they've got time to while tinker with design, maybe they can bring 'cut and paste' functionality to Mail????

?? You can do that already

Fluent Design on W10M? (Yes, I had to go there)

That much at least I think will happen.

It's happening in places. Groove has elements, Movies and TV has elements, Skype has elements, Maps has elements.

I wish the stupid background graphic could be deactivated and instead unused space would have that blurred transparency going.

I'm sure that'll be an option

You can already select a solid color instead of the graphics.

Looks a bit like Gnome 3 desktop and windows.

I want to see how it would looks like on phones

And how's gonna work on the actual lower end supported phones (550-650)

The current fluent design changes on Groove run quite poorly on a 650. The app judders and lags when scrolling whenever the blur is on screen. I doubt we will see much more for mobile, as the apps run outside of the start screen, rather than on top of a desktop background. The blur won't show up if it's placed over a solid black or solid white theme.

Yes YouTube beta disabled the blur design due to performance issues on mobile.

I really want them to provide an option to remove the useless thumbnail icons.

It looks awesome to me. Specially the borderless design.

Will it look like this in tablet mode?

first things first, do the app still has that 1px border? if so, the borderless state is still failing. secondly, i hate the current implementation of light:
1. it doesnt expand to the above and below items in the menu, it just lights up the hovered item.
2. it "lights up" the entire rectangle representing the menu item instead of applying light only to a "circle" around the cursor and fading it on the rest of the rectangle, as is was first presented in the mock-ups... lastly, i hope they will deliver it more polished, even if they wont have enough time for a complete delivery. so if they choose to deliver blur on all stock apps, the blur should be polished (ie less grained, same amount of transparency, etc), and then they could continue to deliver the rest of the Fluent elements through updates.(especially the animations, they MUST be consistent even MORE than the freaking amount of transparency) PS: i hope they will push this update with clear guidelines, code examples, predefined controls, etc, similar to how google pushed material (they even got a freaking dedicated website for it). devs should have all the freedom ofc, but there is nothing wrong in having some strict and clear guidelines if you want to apply them, instead of "discovering" them from 1st party apps.

I believe you are mistaken. I just watched the session replay and I could clearly see the item above and below subtly lit as well as a much brighter spot directly under the mouse cursor. Also, when long-pressed, the light seemed to emanate out from the clicked area and very slowly grow towards the edges.
I seems very nicely done.

When is Windows Central planning to incorporate these impressive changes? Or have plans already begun?

Nice, now how much longer will it take them to have their first party apps have consistent ui/ux amongst each other and for the ones concerned having functionality on par with Outlook.com web ui? Not to talk about improved functionality in the OS for connected services like Facebook, Drop Box and apps like Photos which are still not a functional replacement of the no longer available Photo Gallery?

HTML Signatures for Email? No?

That would be useful, especially on phones.

Well, this is lame compared to the concept designs.

Don't understand how it is important

Won't be much of an update if all my customers that need to email book club still can't do that basic task.... What exactly are they waiting for in this department?

It's pretty enough and an improvement. But we're talking about email which is still primarily a means to carry the written word to other people. Writing as in text. Sure they also sometimes attach docs and photos or files with the email, but the main communication is through words inputted into a keyboard. . . . . and for all the work and polishing, that critical text is just flabbily displayed across a small portion of the screen with dead or blank space between individual emails and the whole app is just floating there in the middle of the display. No real effort has been made to scale the text to fit the screen. When it comes to emails, why can't developers look as all that available widescreen real estate as an opportunity to convey so much more information (in the form of text) rather than ensconcing the crucial information in a lot of distracting dead space, and a whole of other space gratuitously crammed with pixels that don't convey any textual information.

Well I don't want to complain to much but does MS again is forcing us or at least telling what we should change in apps? They have no idea how badly we have to explain even app development FOR Microsoft platform in front of brand managers etc. All of this is not a good sign for UWP market :/ Despite this look and feel of fresh design is very nice. It's still Microsofts weird policy :/

Fluent design in future maybe need more RAM. In future, for installation window need min = 5GB of RAM

Bring some changes to Mobile version of Outlook Mail app.

"Fluent Design is very much the "new" Metro" Applause!!!!!!!
Windows Central Newsletter
Thank you for signing up to Windows Central. You will receive a verification email shortly.
There was a problem. Please refresh the page and try again.