The Microsoft Store needs an 'Extras' tab, not an 'Edge Extensions' tab
The Microsoft Store is fast becoming the home for all kinds of different content types available on Windows, so perhaps it could do with an "Extras" tab.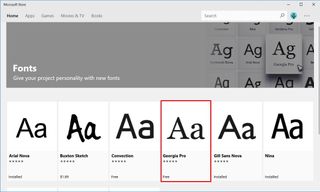 Earlier this week, Microsoft rolled out an update to the Microsoft Store app on Windows 10 that added a new, dedicated "Edge Extensions" tab at the top. This means that Edge Extensions are now a prominent "category" of content that the Microsoft Store provides, which I think is wasted potential. Microsoft should be looking into adding an "Extras" tab that specializes in more than just Edge Extensions. Here's what I mean.
So far, in the latest version of the Microsoft Store, we have six categories. This includes Apps, Games, Movies & TV, Books, Devices, and Edge Extensions. Six is a fair few categories, but that doesn't even cover everything the Microsoft Store has to offer. The Microsoft Store houses other content, including themes, fonts, and even languages. If the Store has it to offer, it might as well be easy to find.
But, we don't necessarily need a dedicated tab at the top of the app for all these things, so why not create an "Extras" tab that incorporates these additional content types, including Edge Extensions, for easier discovery. The Extras tab could contain miscellaneous content like themes and fonts, as well as other system-specific content. And there is a lot of content that doesn't make sense under any of the other tabs in the Store.
The two most prominent content types under the Extras tab would be Themes and Edge Extensions. Microsoft recently launched its first paid Windows 10 theme, which would be right at home under an Extras area in the Microsoft Store. What's more, if Microsoft ever decides to add more content types to the Store that don't fall under the main contenders, it can find a home under Extras easily and conveniently.
Microsoft also sells Windows 10 Pro licenses directly in the Store, which you can't find unless you search for it or go through the Settings app. A Windows 10 Pro license would be right at home under an Extras tab, and if there's ever any more Windows 10 SKUs that go on sale, they can be easily purchased through the Store under the Extras area.
Microsoft could even have a dedicated place under Extras for older Win32 programs like Paint or Notepad. We already know that Microsoft will be moving these older Win32 in-house apps out of Windows 10 and into the Microsoft Store with an upcoming update, and I think the "Extras" area would be the perfect place for them.
All about discovery
There are many things Microsoft could put under an Extras tab, and "Extras" itself is ambiguous enough for people to click on it and see what it's about. Once they click into it, they'll find a world of additional content in the Microsoft Store, including Edge Extensions, themes, Windows Pro licenses, and more. Let's be honest, there aren't enough people using Edge for there to be a dedicated tab for it in the Store. It's not like people are looking specifically for extensions for Edge.
When it comes to the Microsoft Store, it's all about discoverability, and right now the Microsoft Store is pretty bad at that for some content types. You wouldn't think the Microsoft Store offers themes or fonts, and that's because the Microsoft Store doesn't advertise them well. Themes have a category on the home page, but that's it. I think people would have an easier time finding and discovering themes if they were included under an Extras tab.
And it's not like an Extras tab would be void of content. There are hundreds of themes in the Store already, and quite a few Edge Extensions. An Extras tab would be just as filled as any other tab, and I really do think it would increase discoverability of these lesser known content types in the Store.
What do you think? Should Microsoft consider adding an Extras tab to the Microsoft Store for miscellaneous content? Let us know in the comments!
Get the Windows Central Newsletter
All the latest news, reviews, and guides for Windows and Xbox diehards.