Microsoft Store lists Verizon Lumia 2520 tablet for Preorder, $499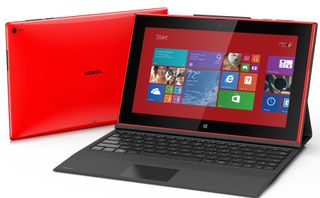 Update 1PM ET: As expected, Microsoft has pulled the pre-order page
Microsoft has been busy lately with listing preorders on their Store and then pulling them once we report on it. That tells us that these pages are made in advance but are not meant to go public quite yet. Still, we have reports that Microsoft are honoring preorders that are placed before the pages are pulled.
This morning we have the Verizon Lumia 2520 Windows RT tablet available—in both red or black—for $499 with no contract. That price falls in line with what we are expecting, although we did reveal that Verizon will be offering the Nokia tablet for $399 on a two-year contract.
Seeing as Verizon does not have this tablet up on their site yet for preorder and Microsoft or Nokia have not announced it, we're leaning on this being another error. (Verizon does have a generic landing page in place (opens in new tab)). Still, if you're keen getting this tablet and have $499 to spare, you might as well get your preorder in.
The site also lists the availability as November 17, though our sources tell us that Microsoft Stores won't be taking stock until the 22nd.
The Lumia 2520 will be the first 10.1-inch 1080P tablet from Nokia featuring the Windows RT OS. It will only be sold with Wi-Fi and 4G LTE on board, making it one of the more rare connected Windows tablets on the market.
Source: Microsoft Store (Red (opens in new tab), Black (opens in new tab)); Thanks, Robert H., for the tip!
Daniel Rubino is the Editor-in-chief of Windows Central, head reviewer, podcast co-host, and analyst. He has been here covering Microsoft since 2007 when this site was called WMExperts (and later Windows Phone Central). His interests include Windows, Microsoft Surface, laptops, next-gen computing, and for some reason, watches. Before all this tech stuff, he worked on a Ph.D. in linguistics and ran the projectors at movie theaters, which has done absolutely nothing for his career.
Wish they also had a WiFi only model.

Yes. But Suddenly there seems to be great collection of Windows 8.1/RT models available now. 8 inch: Dell Venue 8 Pro($299, $349), Lenovo miix 2($299, $349), Acer W4($329), Toshiba Encore ($329), 10.1/10.6/10.8 inch: FULL HD Surface 2 ($449, $549), Lumia 2520 with LTE ($499 - 32GB), HP Omni 10 ($399 - 32GB), Dell Venue 11 Pro ($499 - 64GB). I hope all OEMs make more Windows small and large tablets.

None of those are Nokia :/

Lumia 2520 is from Nokia only :)

I would definitely argue that the Dell Venue 8 Pro is the no-frill, best bang for buck here. A compact form factor that not only can run all W8 apps but can run full desktop programs and is powerful enough to play games like World of Warcraft, Starcraft 2, Path of Exile, and Torchlight 2. The only downside really is if you want a larger screen, and that is per preference.

It wasn't listed but Asus t100 is very good value also

The other negative with the Venue 8 Pro is the horrible pen.... really bad according to user reviews.

I've used it and it's actually not bad, depending on what you're doing. It works pretty well in OneNote (which is all I needed it for). However, it doesn't work AT ALL in Fresh Paint, and it doesn't have an eraser end.

$499 for Windows RT tablet? Nokia please don't make me laugh. We all know that price will drop shortly to more realistic $400 mark. So, why don't you get the price point right to start with? Last time I've checked you don't have the iSheep followers who will buy blindly overpriced products. Shame...

You forgot the absolute best "Value" 2 in 1 the Asus T100 ($349 with full windows) As much as the 2520 is cool, there is no way it can compete with the full windows experience of the Asus T100 which all so comes with office, and has the keyboard included. even the 64GB version is $100 cheaper than the Lumia 2520...

It can if you care about build quality, don't need to run .exe programs, and want the best display possible. T100 looks cheap.

Few more: http://lucienkblog.wordpress.com/2013/06/03/list-of-new-windows-8-tablet... The 2520 is unique in that it has 665 nits with lower reflectivity. Ideal for outdoors in theory. But I wish Nokia would come up with non-RT version. I don't see a need anymore for RT. RT is not cheaper or more powerful so why not buy Bay trail with full compatibility...

I read a good overview on why RT, maybe from Paul Thurrott. RT is more in line with future direction of MS or something like that. Also more contained system with less chance of screwing it up with viruses over manipulation. I don't believe you can load legacy programs on iPads can you?

Thats a terrible argument. The iPad is not marketed as a productivity powerhouse, its marketed as a consumption device and its pretty damn great at it because of the amount of polished apps in iOS. The WinRT has always been marketed as a productivity OS, but unfortunately its not as good as full W8. Developers refuse to make metro apps because of MS' 30% cut, and since the metro only market is so small they are not losing that much market oportunity anyway. The only meaninful advantage of having a Snapdragon 800 vs a Bay Trail chipset is that you have built-in LTE and its slightly cheaper (so you can have better build quality on devices). I'd expect intel to address all of these issues in one or two generations. Windows RT will ultimately die not because its a bad product, but because Intel is too damn good at building chips and has nearly unlimited resources compared to the competition.

I figured it out. RT includes Office. Want Office on your Dell Venue 8 Pro? Fork over an extra $279.

Actually, some devices, like the venue 8 pro, come with office 2013 student. So, no, they don't need to pay that much more money. :P

Ugh. You just answered a question I was about to ask... Non-carrier related devices, at least for tablets! WiFi only models a bit cheaper would be awesome

I wish they had a non-carrier version with all LTE and 3G band support that you could use with any carrier.

Dell venue 8 is nice but it uses a Z3740D which means single channel ram. I don't know about the others though. Also, not a single one of those computers would be capable of playing starcraft two sadly :P I can drop my 4.5ghz 4670k down to twenty fps or lower with the right situation. Also what happened to my post o.O Anyways, a $399 WiFi only 2520 would have been amazing. I have no idea why they didn't do that :(

The Dell tablet sucks compared with the Nokia one because it does not have any portable device antennas and sensors such as GPS, NFC, etc... The only slight downside of the Nokia is that it runs RT, and the major downside will probably be that there will be no non-carrier all band supported versions.

I'm connected via my Surfacr RT wifi. thanksgiving is around the corner...I'll be giving that $499 in my account. Solid product though. I will have to wait till the next big clearance b4 making a $499 dent in my pocket.

So if you order off-contract, you can go month-to-month or just use as WiFi only?

On Verizon, if you have the Shared Data Plan, you just pay $10 a month to add the 2520, and it just uses the data you already have. You can cancelled that at anytime. It is $10 a month to add another 2GB to the plan, if necessary. Or you can always just use it as a WiFi only device, and use Internet Sharing on your phone when needed.

So $10 a month to have access to the data you already pay for? Am I understanding that correctly?

Or pay another $10 to use theirs, up to 1 fl oz. After that, you get coarse sand.

Don't think of it as ten dollars to use your data. Its ten dollars a month to have another device with LTE naturally. If you don't want to pay for that convenience, use tethering. Carriers steal a lot of money for people, but rates on tablets really aren't that bad.

Tethering is not a free option on AT&T. Although my hacked focus can do it, but using a L920 now.
The whole BS of charging more to access data from the plan you already pay for from other devices is absurd.

I have 6GB data share plan on ATT and tethering is free. I connect my Surface to my 1020 all the time.

Good for you. But that's not a plan you can buy today (that I can see on their site today). The point is unless you have an old plan or hacked phone, AT&T is going to charge you for the extra device to share the data.

ninjaap is correct. This is the same with the Verizon Shared Data Plan. Teethering via the Internet Sharing is free to use, the tablet or PC gets the connection through the phone. If you have tablet with a its own cell connectivity and you want to use that instead, then you need to add the tablet to the plan and pay the $10 a month.

Its free on the new shared data plans. You just use the same data allocated to your plan. If you have an old unlimited plan, then it is not free.

I will happily eat my helping of crow! We switched to a shared plan a few months ago and didn't realize that enabled wireless tethering. Works!

Great! I don't use it alot. The one month I did stream a Netflix video on my Surface via my WP, we went over our data. So, we would probably have to up our data another 2GB ($10 more a month) if we did that more often.

HAHAHAHAHAHAHAHAHAHAHAHHAHA! *Edit: I was originally responding to Sundawg#WP's comment. Not sure how it didn't connect to his.)

Yes, but it is better than having a separate plan for the tablet, which is probably like $40 a month for 2GB. If you wanted to added another smartphone to the plan, that is $40 a month. Voice and Texts are both unlimited.

It's still cheaper than an iPad on Verizon. Best Buy sells them on the high end for at least $799

If I want one why the hell I have to buy it with a network for, it's not a damn phone I'm not going to use it on the road!

It's 500 for no contract... So just buy it and never put a SIM in it

Or stop by Tmobile and get the 200MB/mo for free.

Right... But is it compatible? I hear Verizon devices will not be compatible with T-Mobile. Any word on that?

The AT&T device should possibly be compatible with Tmobile network.

You are right as I understand it. buy it from AT&T then use T-MO and save a bundle

Wow... $500 is $200-300 cheaper than a new Lumia here (925,1020etc)

Why are all of the reviews screwed up on this device? Obviously they shouldn't be available yet, but they are all for a "phone". Talking about the reviews on the link btw.

What is SO dodgy about this is, its not public, devices are not in their hands BUT its got 10 reviews with 5 stars already? FTW!

Bummer...It shows as 16gb only

Should be 32GB, says that at the top even though the specs show 16GB.

I wish I wouldn't need a full blown Windows on my tablet... this is really a beauty and I would so like to get it... But since I have to deal with legacy software and want my tablet to be a laptop replacement, I will just admire it and have a pass on this one... But darn, is that a beautifyl tablet.... well worth every penny

256GB SSD... Jk, it would be nice though. Wouldn't it?

I don't know why anyone would want a tablet on a data plan. To pay all that money for a tablet and then you have to pay a monthly fee on top of that, pretty pricey toy. Most work places have WI FI, you have hot spots all over the place, most people use them at home I would assume. Seems like alot of money to invest for a tablet, especially an RT tablet.

Yeah bro, you're right but I have a different theory... I presume that the prices don't vary as much because their goal is for the customer to just pay full price on the tablet without a contract. Also, your 350z can't beat my 6.0 GTO... Lol.

Lol, I think you'd be surprised. I eat mustangs for lunch! Plus its a GTO, I don't think I need to say any more bro.

Agreed. For the casual consumer a data plan on a tablet is not really a sellng point. For a professional this is a whole other ball game, but they would probably not be too happy with RT... I am still surprised that the Surface Pro 2 doesn't have 4G support... I would love to be able to work everywhere without having to look for a WiFi hotspot..

Having owned a Surface RT since release day, I've lost count of the number of times I've wanted a data connection without having access to free, reliable WiFi.

I think WiFi only tablets are worthless. Why would I want a mobile computer that isn't guaranteed to work everywhere? Most places have WiFi, yeah, but 9/10 an LTE connection is gonna be way better. $2.50 a week to have guaranteed access on my tablet is more than reasonable.

Daniel, Dell Venue 11 Pro is now available for $499 (64GB). http://www.dell.com/us/p/dell-venue-11-pro/pd?oc=ftcwd02h&model_id=dell-venue-11-pro

hmmmm...$500 for a 32gb RT tablet or $500 for a 64gb Pro tablet...decisions decisions...

Dying to see the reviews on this puppy. also, did you notice Surface Pro 2 are all out of stock. Impressive. All the BB around me are also out of stock.

Not many apps available. Probably I'll pass.

That depends on what you consider to be many. Give me a choice of roughly 20 good apps and I'm set for life. I'm not gonna install and try every app made for it neither.

I feel like this is going to be just like Windows Phone where Nokia gets all the good exclusive apps.

Windows Phone has enough apps for me, but I cannot remember when I saw an useful new app for my laptop. The new ones are mainly cookbooks etc. and therefore I hardly use them. A tablet is different thing. It is essential to have good apps for example for reading books, banking etc. Don't take me wrong, I have always been a Windows-minded, but cannot deny the reality.

I'm old school bro, give me a music app and I'm set, maybe TuneIn Radio and Pandora. Other than that, I think I would use a YouTube app and maybe the Kindle app. I have bought a few books from Amazon but I'm not a big reader.

If Microsoft doesn't fix the NVidia driver crash on the Surface 2 within the next week or so, I'm going to demand a refund and get this instead even though I dont like the 32gb limit or the plastic body.

Tell me more about this. I got a S2 and have been having issues.

There is a NVidia Graphic card driver issue that causes the whole tablet to crash with multicolored rectangles all over the screen. If you watch videos or a game that uses the card considerably it will cause this to happen. Most that say they don't have it, dont use it for the above mentioned as much. I find it ironic that three of the four Surface 2' I have had do it (including once in the store with a Microsoft employee witnessing it), there is a thread in the WPCentral Forum covering it with many people having it, there is a large thread in the Microsoft forums covering it, yet when you call support they claim they have never heard of this. Which in turn makes me even madder. I am in no way an Apple fan, but it always seems when Apple has a major problem like this, it is fixed within a week. Microsoft? If it is fixed in two months your lucky.

Never had that issue, knock on wood.

Try running Metrotube in a side window while you mess around in the marketplace for like 10 minutes. I'd be shocked if it didn't lock up.

And suddenly I can't decide between this and the Surface 2!

Curious if I could put my existing AT&T SIM from my phone in a 2520 in a pinch (to access carrier data).

Nevermind. I learned today that Internet Sharing now works with our newer data plan.

Is this carrier locked, or can I pop a T mobile sim card in? It appears to have the right bands for T mo.

+1 If anyone knows, please do share if the Verizon version can be used on T-Mobile.

No the Verizon version will not work on T-Mobile. Verizon uses towers that broadcast a CDMA network like sprint whereas AT&T + T-mobile both use GSM networks. Also this tablet only recieves and broadcasts in the 1800 and 1900mhz frequencies which will not be compatable with T-Mobile's 1700 and 2100mhz frequencies. Sorry about that :-/ the tablet still looks awesome though.

I thought LTE didn't use the same CDMA technology. I think all 2520's are pentaband

Verizon model has LTE is on bands 4 and 13. I thought I was using band 4 on my unlocked ATT 1020 to access T Mo's 4G LTE.

T-Mobile uses Band 4 for LTE, Band II 1900 PCS and IV AWS 1700/2100 for HSPA+, and 850/1900 for GSM. The Verizon model supports ONLY LTE Band 4 and 13.

Verizon Lumia 2520 supports 4 and 13 LTE network bands
Verizon Lumia 2520 does not support WCDMA network
Verizon Lumia 2520 does not support GSM network

The AT&T model supports LTE bands 2, 4, 5, 17, WCDMA bands I, II, V, VIII, and quad band GSM. Therefore if you are planning to use it on T-Mobile then an AT&T version (assuming you can get it unlocked) is obviously better. Also note, that if you do not have LTE, you will only have HSPA+ on Band II 1900 PCS in refarmed markets. Also note your max theorotical speeds on HSPA+ are 21 Mbps, not the 42 Mbps T-Mobile's network is capable of becuase the hardware does not support it.

Very helpful. I spend 95+% of my life travelling between areas that are in the refarmed LTE market, so the color red may win over clearly better coverage as long as i can access LTE. The Verizon logo is awful though, and I really wanted white or cyan.

Can anyone tell me, is the keyboard cover included?

I don't think its included.

Newbie: How's the app selection for RT? As good as WP? Better? Similar?

Worse than Windows Phone. Flooded with 1000's of "clone apps" (same dumb app that has one small thing changed in it in order to flood the market). Most of the apps are horribly amateurish, though they were also in Widows Phone when this thing started. Im just shocked that the Windows market place hasnt taken off quicker and larger with the huge base of Windows users already out there. Devs used the low volume as Windows Phones as their excuse to not make apps, but that is the complete opposite with Windows and just is starting to shine light on the fact that most dev's have their head so far up Apple's arse, that they refuse to see how much more is capable on the Winows 8.1 platform.

Doesn't the windows store already have big apps like instagram and vine....before Windows Phone? I could be wrong about that, but I could've sworn I saw a picture for them in the app store.

Seriously if you were a big developer why would you fork over profit just for the privilege to be in the RT platform if you can get your software across while maintaining all of the revenue for yourself? Most developers have Windows versions of their apps, just not Metro style because it doesn't make sense right now.

I am getting error with the source link ..."Sorry, there was a problem with your request." Looks like page has been pulled!!

Will the first person that gets this put a loud speaker test on please

Aaaand... it has been pulled before I could pre-order.

Too bad Microsoft Store won't sell all the colors the tablet comes in for BOTH carriers. I really wanted a red one on ATT.

That's beyond stupid. Is AT&T singlehandedly trying to destroy Nokia and Microsoft is complicit in this. Why the hell do they even show the color models if you can't buy them on all carriers.

Good question. Even if it's limited quantity, they should still sell the other colors. If the carriers won't do it, I wish Microsoft store would...or something direct from Nokia.

It was probably some middle-age clueless suit making the decisions: AT&T suit: "Black is more business-like, people will love it. The baby blue is interesting, but we'll pass." Verizon suit: "Black speaks to business men like me! I'll also take the red one since it's the company color."

I will have to go with the red one. I really wish for a Cyan, but getting an imported unlocked one is I am afraid going to cost too much. Damn ATT and Verizon and their usual stupidity gimping devices.

I heard that AT&T have had the WiFi antenna removed so you are forced to use their data plan. As an added bonus, with every 2520 purchase you get a free Apple t-shirt.

That's the most absurd crap I've ever heard. Yeah right.

Does the WiFi support MIMO, too?

Windows 8.1 with LTE built in! And $400?! Ugh...and I wanted a Surface 2! Which do I choose?! Ahhhh!!!

Anyone know if this will be available on Amazon unlocked in white or blue?

I know this might be much to ask from at&t,but I want them to to do the same deal they did with the buy one get one with the SG4 and Samsung tab @ $199 on contract.

Can any1 tell me wen l2520 gonna launch worldwide, particularly India. Nokia India website doesn't show 2520 & 1320. Only shows 1520 as coming soon.
Windows Central Newsletter
Thank you for signing up to Windows Central. You will receive a verification email shortly.
There was a problem. Please refresh the page and try again.