Select Microsoft Stores to hold midnight Surface 2 launch parties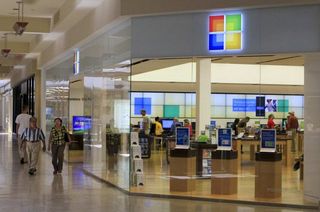 Are you so excited for Microsoft's launch of Surface 2 and Surface Pro 2 that you wish you could lineup outside a Microsoft store and wait till 12:01 AM to get one? If the answer to that question is yes, then you just might be in luck! Ten Microsoft retail stores will be hosting midnight launch events – and one might be near you.
Microsoft will have a midnight launch for their latest Surface products at ten different retails locations across the United States. The event will start at 10 PM local time on October 21st during which, attendees will be able to jump into Surface related activities and earn a chance to see Pitbull live in Orlando, Florida the next day:
The Surface 2 is a much improved device over the original and addresses many complaints that first generation users had. The device now features a multi angle kickstand for easier use on your lap, along with what Microsoft claims to be a battery that lasts up to 75% longer.
With sales of Microsoft's first generation hybrid tablet device not selling as well as expected, the company needs a strong comeback with Surface 2. Currently analysts are more positive about the device and feel it has a higher value over its older generation brother. Questions is, are you picking one up?
The list of stores participating in Microsoft's midnight launch are listed below:
Bellevue Square Mall
Westfield San Francisco Centre
Scottsdale Fashion Square
Dadeland Mall (Miami)
Lennox Square Mall (Atlanta)
The Shops at Prudential Center (Boston)
The Westchester (White Plains, N.Y.)
The Domain (Austin, Texas)
The Fashion Centre at Pentagon City (Arlington, Va.)
Oakbrook Center Mall (Oak Brook, Ill.)
Will you be heading to a midnight launch party for Surface 2? Make sure to send pictures our way if you do!
Source: Microsoft (opens in new tab)
Hey Daniel, you gonna head up to White Plains? =P

Nah, will be on my way to Abu Dhabi instead! Trade-offs... :/

That's going to be an amazing experience Dan. Enjoy!

Sounds like an excellent trade-off to me!

He wasn't invited to the Apple event so he has to settle for second tier.

The least they could have done is give a touch cover or something. What if you don't want to go to see pitbull. stupid promotions.

I don't know what pitbull is, but I'd get down there at midnight for a free cover.

I don't need to see PitBull, I have an Italian Greyhound at home that is much cuter. Too bad they don't have a midnight event in Toronto, I'd go to check out the Surface 2, guess I'll just gave to wait for the next day.

I'll be at Scottsdale with an IPad 2 to trade in... they should at least offer a free touch cover and $200 credit if you bring an IPad to trade in at midnight!!!!!

I'm sticking with my Surface RT. Maybe I'll buy Surface 3.

I hope we get Xbox One launch here in Canada. Yorkdale mall, PLEASE PLEASE make it happen.

Yea that would be good. I preordered one and just recently saw Major Nelsons unboxing and realized I can't connect it to my current TV and home theater system since it ONLY has HDMI. Right now I use HDMI to DVI-D to my TV and optical out for audio. I hope MS will have some adapters for Xbox One.

I am waiting the day when RT and WP merged.

That picture is Mission Viejo Mall, Ca. Cool!

I'm heading to the one in Detroit, but apparently it's going be weird as its not on the list.

Are we sure we aren't confusing two different stories into one?

MS *is* opening a new store in Orlando on Oct 22nd at Mall of Millenia. They are giving the first 100 customers in line tix to see Pitbull as well as a chance to win a meet-n-greet. But what good would that do someone in Bellevue, Austin or White Plains during a midnight Surface party 1000+ miles away?

Also doesn't make sense that neither of the Orlando stores are listed for the midnight launch party.

Might want to check sources to make sure this isn't a combination of two very different/very distinct stories...just sayin...

Yep, we are sure. :)

"...for a chance to be whisked away to Orlando, Fla., the next morning for the Mall at Millenia store opening, where Pitbull will perform."

Ah, didn't hit the link at the bottom of your story, my bad :) gotta say though, it sounds like they're going to a lot of trouble for a Pitbull show...that's why i thought it was a bunch of, well, bull ;)

thnx for checking and posting :)

It's 2 different things: stores will hold a competition and a challenge winner from each store goes to Orlando. At the Orlando store, 100 people get the meet and greet tickets, and 1500 others tickets for show.
"The challenge winner from each store will be whisked away that morning to meet Pitbull and enjoy VIP treatment at this special concert event!"

yeah.. i'm thinking the same thing here. How am I going to make it to Orlando in time right after scoring my free tickets in Virginia?

If only there were some sort of flying machines that could move across the country in mere hours! Oh, one can dream...

would you pay in advance for a seat in one of these flying machines that you speak of, not knowing whether you would win a free concert ticket later? that's what i meant, einstein.


SWEET! I preordered the Surface Pro 2 at Oakbrook Center. I'll be there at midnight. OHHHH YEAHHHH!

Why do they continue to neglect the Beachwood, Ohio store?

My Cincinnati store gets no love, I'll definitely be in line for the shiny Surface 2 and a purple Type Cover2 though.

Heeeeeeeeey, Party in the hizzy!!

No southern California? Laaaame!

Interesting, my local store is one of the ten. Cool, but the interesting part is that it's inside a mall that closes at 10pm, to my knowledge. How that will work, I don't know... Doesn't matter, though. I can't attend anyways, with school and all.

The businesses inside the mall will be closed except for the Microsoft Store and perhaps a theatre but the mall entrances will remain open.

Yeah. No different than how mall movie theaters work. Not that hard.

Bad idea Microsoft--a potential interview with somebody who will be waiting in line "So you are in line to get a new Surface 2 tablet? No not really...I just wanted the tickets to Pitbull..."

Every time I see people waiting outside of an apple-store i think to myself "All these poor kids, victims of devilishly good marketing".
Windows-users do not queue. Never ever.

They did for the opening of the Schaumburg store at Woodfield Mall - tickets to see Weezer were given away, and there was quite a crowd in the morning.

I had to work and missed the grand opening.

I would go if they did it in Houston. I was second in line for the first Surface.

GDR2...just kidding lol. Not sure if I'm 'that' enthusiastic to be there at midnight for one. Ahh online shopping.....

Haven't been to the Pentagon store usually just hit up Tysons Corner. Crazy to think I live in an area with two Microsoft stores within 10 miles of my job.

Apparently my type cover is shipping on the 29th, a solid week AFTER I pick up my S2 in the Austin store. I would definitely stay up past my bedtime if my cover was waiting in the store for me instead of Pitbull tickets.

Your personal cover waiting nervously in the store to meet you for the first time. That is so sweet ;-)

Surprised the Times Square location isn't doing anything

Not for the last time I wish I waited for Gen 2.

I was told that my Corte Madera store would be doing this a few days ago, then last night, they told me no... Now I see it will be held in san Francisco... Dang, maybe o should cancel my preorder and get it in san francisco. This way I don't have to leave the office to buy my toy, I will already have it.

There will be a line only if that includes updating AT&T's 920 to GDDR2. Else the line will be "served" in like 5 minutes. Ballmer sure still is out of touch of the demand.

I just bought the Nokia Play 360 wireless/ Bluetooth speaker. It's one nice piece of hardware. I'm bringing that with me to blast some Dimmu Borgir to the midnight release.

Update released, applying it right now.

Will I be getting one? Yes.

Will I be getting a Surface 2? Probably not, as my Surface Pro is still humming along quite nicely. Looking ahead, I could see a Surface Pro 3 in my future...
Back to the original question, doubt I will be attending a midnight launch party as there won't be one anywhere near me. Even so, this party will beat the pants off the last one, given that there was nothing but an unnannounced early store opening for that one.

To bad I dont live in one of those cities. Or in one of those states. Or in the USA. Or in America.

Living on the dark side of the moon is cool most of the time. But there are moments when it just sucks. I know that feeling ;-)

Na at least my country has a government. And free healthcare.

I like it too. But come on, just between you and me, healthcare AND Microsoft-stores would be nice.

still waiting for the Jacksonville, FL store to open. I keep checking the app to try to schedule an appt. Says you can schedule if the store is opening within 2 weeks.

Hmm, that MS logo looks different compared to the one in Bridgewater, NJ, where it's all solid (like it should be).

I'll be going to the White Plains, NY though I have to be at work before sunrise! :/ But def worth it! I want the prizes!
Windows Central Newsletter
Get the best of Windows Central in in your inbox, every day!
Thank you for signing up to Windows Central. You will receive a verification email shortly.
There was a problem. Please refresh the page and try again.