Microsoft Surface and consumer Windows Q4 rev surge due to strong remote work demand
Microsoft's Surface and consumer Windows revenue are up sharply due to increased demand from the COVID pandemic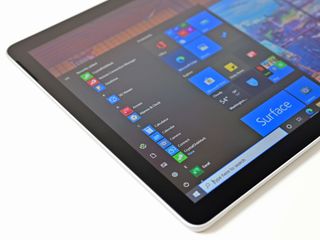 (Image credit: Daniel Rubino / Windows Central)
What you need to know
Surface revenue is up 28 percent (year over year).
Microsoft pulled in $1.74 billion in Surface revenue, up from $1.3 billion last quarter.
Windows non-Pro licenses saw a massive 34 percent jump.
Microsoft beat overal Wall Street expectations, again.
Update: Microsoft expects another big quarter (Q1 FY2021) for More Personal Computing (Windows, Xbox, Surface) with guidance revenue between $10.95 billion and $11.35 billion. More specifically, double-digit growth in Windows commercial; mid-teen growth, "solid demand" for Surface hardware; high teen growth for gaming.
Microsoft reported 2020 fiscal year quarter four (FY2020 Q4) (opens in new tab) results today with healthy revenue growth mostly driven by a surge in work-from-home scenarios and education-related needs.
Surface revenue is up 28 percent ($1.74 billion) compared to the same time last year ($1.35 billion), and up from the previous quarter's $1.34 billion. The increase in sales is still just below Microsoft's prior record of $1.92 billion due to the holiday shopping season.
In the last quarter, Microsoft released multiple new devices, including Surface Go 2, Surface Book 3, Surface Earbuds, and Surface Headphones 2.
Microsoft recently announced a refocus of its forthcoming Windows 10X operating system to go to single-screen devices first instead of planned dual-screen ones. The explanation given was the rapidly changing environment of Microsoft's customers, and the company wanting to meet that demand. That decision becomes more clear once this quarter's revenue is taken into consideration.
Windows OEM revenue saw a dip in Pro licenses – down 4 percent – due to weakness in small business demand, likely driven by many companies still operating at reduced staff, or not being able to open at full capacity.
However, the surprising news relates to Windows non-Pro licenses, which saw a massive 34 percent jump driven by high consumer demand. Microsoft cites "remote work and learn scenarios" as the primary driving factors for the sharp rise in Windows sales to OEMs. For context, Microsoft projected low single-digit growth for Windows OEM revenue.
Overall, Microsoft beat Wall Street estimates with a total of $38 billion instead of the projected $36.54 billion by financial analysts. This beating of expectations is a continued and welcome trend with Microsoft, further driving up its surging stock price.
Windows Central Newsletter
Get the best of Windows Central in in your inbox, every day!
Daniel Rubino is the Editor-in-chief of Windows Central, head reviewer, podcast co-host, and analyst. He has been covering Microsoft since 2007 when this site was called WMExperts (and later Windows Phone Central). His interests include Windows, laptops, next-gen computing, and for some reason, watches. Before all this tech stuff, he worked on a Ph.D. in linguistics, watched people sleep (for medical purposes!), and ran the projectors at movie theaters because it was fun.
We bought two (non W10-Pro) Surface devices, plus some accessories, only because of the stupid, stupid pandemic. What we saved on our public transit monthly passes has yet to pay for it all! I could have bought a new lens ... and taken a trip where I'd actually use it. No offense, MSFT, but I'd rather that money went to hotels.com and Nikon. (Also I'd rather 500,000+ people hadn't died and millions hadn't lost their jobs or businesses.)

I believe most of us would prefer that 1000s or 10000s or 100000s didn't die or get sick, but we have to live....I go out of my home and work every day. I'm very thankful I am able to work. We will get through this if we all just stick together, use common sense, like social distancing and wearing a mask when you can't social distance. Peace!

Couldn't agree more. Stay safe!

It may be premature, but it seems to me that this news is contributing to the thesis that Xbox and Surface, while both also-rans in comparison to Windows/Office and Azure, are areas where they do have traction and momentum to build them at an accelerated pace. There's opportunity here to extend Xbox and Surface brands into more devices and experiences and to reinvigorate their engagement with the consumer markets.

I don't know that work laptops are a route to consumers. People are buying these devices because they have to, not because they want to. See the post above as an example.

Not sure I would take 1 snarky post as proof that people are buying these devices because they have to vs want to. I would imagine Dell's, HP's and Lenovo's Q4 surge is increased. Simple fact is people could buy may other devices other than surface devices. Also Microsoft didn't cause the pandemic but they are not the only ones who have made some profit from it.

'People are buying these devices because they have to, not because they want to."

So, Microsoft/Windows is like cars, health care, college, cable TV, electricity, home internet, local taxes, refrigerators, washer/dryer, lawn mower, day care, rent, sealing your driveway, insurance, mortgage, dentist, shampoo, cellular service, underwear, socks, work clothes/ties, and $1,000 smartphones? Got it. I didn't take you to be an anti-capitalist, but hell, welcome to the revolution my brother! ✊

"Oh curse Microsoft for selling things that people need!" Really? heh where do these bitter posters come from Also, when did Xbox and Xbox related services become a "necessity"? Teams was practically being handed out for free

It really is a bold argument to spin as a negative: "Microsoft has created a product that is so necessary, that the world effectively needs to buy it to function." It's unbelievable how far people will go to hate on Microsoft, even when the company is making billions and beating everyone's estimates. Anyone in business would love to have products that people feel compelled to buy. Billions are spent each year convincing consumers why they need to buy this thing. It's the actual goal of marketing. Whether you want to spend your money elsewhere, is completely beside the point. This is a business, not about your feelings.

Well bleached, natural for you to read my post as snarky - I am often snarky, and you are the pope of WC snark. But let me clarify: 1. We bought a Surface device for my wife because her old laptop wouldn't cut it for regular work-from-home use (it's 6 years old and flaking out, and the keyboard is terrible, and ... I could go on) and we didn't want to get a new dock system. We also lucked out on a good deal. Overally she's very happy with the device. 2. I ended up getting a new device about a month later because my fanless Windows tablet didn't have the thermals do to - I am not joking - FOUR HOUR remote classes. The machine would start throttling badly. Part of this is the AC situation in our place (it's not very efficient, and the summer was about to start). Part of it is also how I teach - I have lots of programs and windows open and I switch between them. I could have toned down the programs, but that would ruin my flow (plus I'd have to load them anyways) and fixing the AC situation is awkward. So I got a current-gen Surface Pro with a fan. Works great! I still would have preferred to go back to teaching in person, to not buy two expensive laptops, to buy a 200-500mm birding lens instead, and to take a trip to Maine. (This is completely and selfishly putting aside the human and economic disaster that is Covid-19. I am lucky to remain in a home with two working and healthy people. Others aren't so lucky.) Sincerely, your brother in snark, Andrew G1 P.s.: I'm going to call you Your Eminence from now on.

P.s.: I love using a Surface Pro for nerdy hobby stuff like calligraphy and doodles and graphic design. So saying it's just necessity isn't quite it. Also, I actually enjoy using my new Surface Pro for work, just like I did my old one. Giving presentations and teaching are actually fun.

The Surface devices make also more/extra sense now considering good webcams are more important for the increased amount of online meetings.
Windows Central Newsletter
Thank you for signing up to Windows Central. You will receive a verification email shortly.
There was a problem. Please refresh the page and try again.