Microsoft Surface Precision Mouse review: The perfect Surface device companion
The Surface Precision mouse is Microsoft's take on the pro-level features found in the popular Logitech MX2S peripheral for PCs. How does the $99 accessory stack up? Surprisingly well.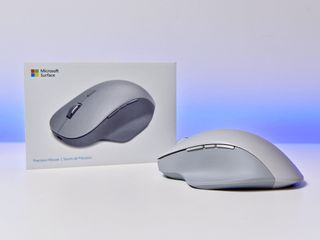 The Microsoft Surface Precision mouse went on sale earlier this fall for $99 at the Microsoft Store. Co-announced with the new Surface Book 2 series the Surface Precision mouse brings desktop and professional-level features to the growing Surface mouse line.
I've been using the Surface Precision for the last few weeks and don't have anything negative to say about it. The features are useful, the ergonomics are fantastic, and if you are looking for a high-end, non-gaming mouse for work the Surface Precision mouse should be on your shortlist.
Surface Precision features
The Surface Precision mouse brings many semi-unique features to the table including support for running on three PCs at the same time. Its focus, however, is on the build quality, ergonomics, and overall usage.
Swipe to scroll horizontally
Features
Surface Precision Mouse
Design
Ergonomic desktop
Materials
Machined aluminum
Molded TPE side grip and thumb rest
Buttons
Three customizable
Connectivity
Bluetooth 4.0/4.1/4.2 Low Energy
USB 2.1
Range
At least 16 feet (5 meters) in office environment
Power supply
Rechargeable (USB)
Battery
Three months
Dimensions
122.6 mm x 77.6 mm x 43.3 mm (L x W x D)
Weight
135 g
Compatibility
Windows 10, Windows 8.1, Windows 7 (USB only)
mac OS X 10.12+ (USB mode only)
Eschewing 2.4GHz connection and requiring a dongle, the Surface Precision mouse uses Bluetooth Low Energy and is compatible with all modern Windows PC and even Apple Mac OS X (but wired).
For those who disapprove of wireless connectivity besides used to recharge the non-replaceable battery, the micro USB port also serves as a wired-connection overriding wireless. Surprisingly, not many mice offer a true USB mode, so it's great to see here as an option.
There are three buttons on the side – all of which are programmable – and a metal scroll wheel that offers detent or smooth scrolling options by clicking a button behind the wheel.
There is also a toggle switch on the bottom for three PCs. Users can switch between 1,2, or 3 on the bottom for each paired PC on the fly.
The mouse supports 400 to 3,200 dot-per-inch (DPI), which is user configurable in the accompanying Microsoft Mouse and Keyboard Center software.
Surface Precision design
Made from plastic and machined aluminum and weighing 135 grams, the Surface Precision mouse has an ergonomic rounded back and thumb rest. That rest prevents your thumb from dragging on a mouse mat and makes a big difference for overall comfort.
The scroll wheel is grippy with little wiggle or rattle. The detent scrolling (a.k.a. "clicky") feels nearly as perfect as using a Precision touchpad tuned by Microsoft. For those who prefer free scroll that option is here and can be manually enabled on the fly.
Image 1 of 2
My only concern with the Surface Precision mouse is long term that gray Surface color may pick up – or at least show – dirt more easily than traditional dark or black mice. Of course, being mostly plastic/rubber (Thermoplastic Elastomer or TPE) it should be readily cleanable, but time will tell if it stains or not.
Surface Precision software
While users do not need to use the Microsoft Mouse and Keyboard Center software Windows users are strongly encouraged (and even prompted) to install it.
Like all high-end mice with configurations, the Mouse and Keyboard Center lets users configure the buttons, set DPI, add macros, check battery life and more. It's excellent software that is also quite stable.
That software also lets you use the Smart Switch feature which allows users run the mouse on three PCs at the same time. The process is simple: pair the Surface Precision mouse to three different PCs. Each PC also needs to be running the Mouse and Keyboard Center software. On any PC, enable the Smart Switch feature.
Once running, when you bring the cursor to the edge of the screen it will pause for second and jump to the other PC seamlessly. Users can configure the ordering of the PCs too and change them at any time. If you don't want to include a PC, you can just toggle it off. There is also an optional notification that can pop up to let you know the mouse as jumped to another PC.
While not everyone will use Smart Switch for those power users who work on a desktop PC and a laptop, it's a killer feature. I had no problems using it.
Additional options like program-specific settings, assigning macros to those programmable keys, or even running keyboard shorts are all possible, but reserved for those who need particular functionality.
Finally, it should be noted that for those using the Surface Laptop and running Windows 10 S, they will not be able to install the Mouse and Keyboard Center software as it is still a Win32 app that needs to be downloaded. Hopefully, Microsoft will be able to port it to the Microsoft Store using its desktop bridge in the future to fix this oversight.
Surface Precision performance and conclusion
The Surface Precision mouse feels great to use. The ergonomic design is bang on, and the scrolling and clicking feel great. Indeed, the clicking is on the quiet side, which is a good thing for those who hate sharp, high-pitched clicks from constant usage in quiet environments.
Relying on Bluetooth is not without its risks, however. Depending on your device, drivers, and any possible interference from nearby devices, you could experience the usual Bluetooth oddities. Many companies avoid this by using a dongle with a 2.4GHz channel for the radio. While more reliable, that technology does require a USB Type-A dongle, which not only takes up a valuable port but is quickly lost. Moreover, it does not help when using across three devices at the same time.
Being able to plug in for USB wired-mode is a great feature, however. While you do need to plug in to recharge the battery should last around two to three months. I have seen some complain that Microsoft should have used a USB Type C plug, but that component is larger than the micro USB, costs more, and it's not clear what real advantage it would have for everyday usage.
I found the DPI settings OK as well even on a large 27-inch 4K display where high precision movement is needed.
Compared to the Logitech MX Master 2S, which I reviewed recently, there is not a whole lot of difference. Both run around $99, are ergonomic, run over Bluetooth, have similar DPI settings, and excellent software. The Logitech does have an optional 2.4GHz dongle, but it cannot run in USB wired mode. I also found the Logitech louder for clicking and not quite as comfortable compared to the Surface Precision, but those are personal preferences. The Logitech does have a favorite thumb scroll wheel, but in my usage, I never took advantage of it – your experience may vary.
Pros:
Very good design and comfortable to use.
Excellent buttons and scroll wheel behavior.
Wireless (Bluetooth) or wired (USB) options.
Long battery life.
Robust software that lets you run on three PCs at once.
Cons:
Reliance on Bluetooth can be problematic for some.
Not overtly better than Logitech MX Master 2S.
Overall, I can recommend the Microsoft Surface Precision Mouse. It looks great, runs well, and it brings some advantageous features to the table for those who need advanced and customizable features. While not a travel mouse per se it is a bit flatter than the Logitech MX Master 2S making it not a bad choice for slipping in a bag. Of course, if travel is your priority Microsoft has the very portable Surface Arc Mouse, which is a better fit.
See at the Microsoft Store (opens in new tab)
Windows Central Newsletter
Get the best of Windows Central in in your inbox, every day!
Daniel Rubino is the Editor-in-chief of Windows Central, head reviewer, podcast co-host, and analyst. He has been covering Microsoft since 2007 when this site was called WMExperts (and later Windows Phone Central). His interests include Windows, laptops, next-gen computing, and for some reason, watches. Before all this tech stuff, he worked on a Ph.D. in linguistics, watched people sleep (for medical purposes!), and ran the projectors at movie theaters because it was fun.
It would have been nice if it matched the colour of the Dial and Surface Ergonomic Keyboard...

CONS: not avaleble for left hand

I too am a lefty, but for some weird reason I use my mouse with my right hand. I do know what you mean though. Scissors as an example.

Wondering why not being overtly better than the Logitech is a Con... Would you consider the Logitech a standard for comparison that all other mice would endure? Thought you might have listed something like the light color which may attract dirt as a Con rather than a comparison to another product.

Yes the MX Master line from Logitech is a standard, they have been producing the line for some time and refining it. MS just joined and their offering is nice but sadly behind. MS used to be known for excellent accessories for PC but now they play catch up. If i were voting I'd say stick with Logi for this accessory.

Okay, thanks. Fair enough. I would normally consider cons what is wrong with the actual device, not how it compares to something else (unless of course you are doing a head to head comparison).

Does anyone know if it will ever be available in UK? If not, I'm wondering how good the logitech mx2s looks with the surface keyboard... If anyone got this combo, some feedback would be appreciated! Thanks.

I still can't get over how it's a complete ripoff of the Logitech Triathlon and such.

At first I thought I it was same as my cheapo $20 Logitech mouse but as I started using it more often, I began to realize how precise it really is. The other nicety is the scroll wheel which gives you 2 scroll options: smooth or graduated. It also feels very premium since it's metal. The side buttons are customizable but a little small and cheap plastic feeling. I have yet to try the multi pc option. The color not matching does not bother me so much. It is a little pricey though.

The laser is probably more accurate but the similar Logitech mice do have the wheel alternation button. Basically, all their features were copied by Microsoft.

The side buttons are not plastic. They are metal. Daniel even mentions that in his review and it is quite obvious if you actually use the mouse.

I'd still take the newer Arc Mouse over this for Surface devices. The only one I can see this pairing with nicely is the Studio. To say this is the perfect Surface Device companion, is just bad I think. You can't use it with the Surface Laptop for one thing because of Windows 10 S, then 3/4 of the Surface devices are for mobile, and this thing is bulky, not meant for mobile really, but more for desktop extended use. So that cuts it really effectively down to just 1/4 of the Surface devices. I'm sure it is a great mouse, but the title of this review is bothersome on a technical level. Then there's also no horizontal scrolling. In the day where natural scrolling is almost expected, a touch surface might have been a bit more effective for modernzing the mouse. Take the tech from their previous Touch mouse and put it in here like they did with the new Surface Arc mice. Make it like Apple Magic Mouse, but ergonomic (that's the number 1 complaint of it) and I think we'd have a really exemplary mouse.

You can use it with the Surface Laptop, just not all the customization options tha require the software. RTFA.

.....and this is another excellent example of ms's left hand not knowing wth the right hand is doing. Why is this using Bluetooth technology when it should be using the Xbox wireless technology? At the very least include the option to use both technologies in there like the latest Xbox controllers. Leadership at ms sometimes pisses me off as they are making some elementary mistakes.

I'd suspect the reason this mouse doesn't use Xbox Wireless is that Microsoft is targeting the mouse for far more than just its own Surface products: such as all other PC's and the Mac. The new Surface Book 2 15 inch model is the only Surface with Xbox Wireless built in. Adding the tech to the mouse is a cost that isn't justified, and not a mistake.

If they want to push their Xbox wireless standard then that means they have to invest in it. It means that the whole company needs to implement it in their products. The Xbox controller uses both Xbox wireless and Bluetooth technologies, so there is no excuse for this mouse not to be the same. This is why MS always seems like a fractured mess, when it comes to consumer products, compared to the single focus of Apple and Google. This would be akin to Apple NOT including Thunderbolt ports in their machines when it is something the company decided to push. This omission just makes no sense no matter how you slice it. Either go all in on Xbox wireless or go all in on Bluetooth....this halfsie bullcrap they always play benefits no one.

Can anyone compare to the sculpt ergonomic mouse? That's the most comfortable mouse I've ever used.

FWIW, I'm currently looking for a premium wireless mouse for office work, and after visiting BestBuy I found the Precision ot be much more aggreable to my hand. After using a G502 for quite some time now, I didn't expect to like Microsoft's offering better over Logitech's.

So at the end, is there any compelling reason to buy this cheap rip off, instead of the king of all mice MX 2 for the same price?

I think buying it just to spite you and your arrogance might be reason enough.

It's personal preference. There's no huge advantage either with the MX 2.

Using a dongle, this thing is DOA for me. A shame actually because I think it looks great! But hey buddy, you're not taking up my only USB slot on my Surface Pro.

It doesn't use a dongle, it uses Bluetooth (or USB via cable).

I think you misread the entire review or didn't watch the video. This *does not * have a dongle; the Logitech does as an option.

I have two Microsoft mouses and both have soft plastic coating degradation problem, after a few years, soft plastic layer becomes sticky and glue like...
The same problem was with Microsoft Sidewinder joysticks.
No more Microsoft mouses for me, i wanna something that will last longer than a few years!

What mouse is the pale blue mouse in the background? Looks like it has a W10 logo on it.

Surface Arc Mouse: https://www.microsoft.com/en-gb/store/d/surface-arc-mouse/8p5sv2rx3rn5/L...

Dan, questions:
1) Can you change the color (not shape) of curser in the software to anything other than white?
2) When connected with wire, is it more sensitive and responsive than wireless mode? Hence, better gaming experience.
I like your beard btw...M. X-Mas

just got this mouse. in USB mode, the report rate is much higher (1000hz), the DPI shown in mouse and keyboard center is same as bluetooth. in fact, I can't feel the difference between USB and bluetooth

I'm an Excel user and needs a mouse that can side scroll as easily and accurate as vertical scroll. It doesn't look like this is capable of that. Is that right Dan?

I found that in the mouse and keyboard center, there is a command called "horizontal / vertical scrolling toggle". I assigned this command to the middle thumb button. it can scroll side by side in Excel with the wheel, when I hold that thumb button. I like this. And, i found that the wheel can simulate "spin" when I scroll fast enough. it physically stopped, but the windows kept scrolling for a while

The issue with Smart Switch I see is that many users will not exclusively use just a mouse. If it allows a keyboard to tag along, and follow the device switching dictated by the mouse then that could work very well. Admittedly I have not looked into the feature, so it may well offer that already.

did not see microsoft has a keyboard supports 3 hosts simutanously. is there any?
Windows Central Newsletter
Thank you for signing up to Windows Central. You will receive a verification email shortly.
There was a problem. Please refresh the page and try again.