Next generation Microsoft Surface Pro 4 announced!
Microsoft has just officially introduced the Surface Pro 4, the "thinnest Core PC ever released."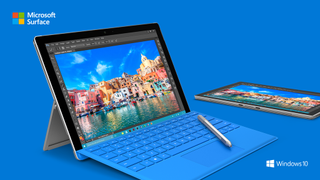 The footprint of the Surface Pro 4 remains the same as its predecessor while increasing the display size to 12.3-inches with slimmer bezels round the edges.
Hardware wise we're getting a 6th-gen Intel Core Skylake processor, 50% faster than a MacBook Air and 30% faster than a Surface Pro 3, up to 1TB SSD storage options and up to 16GB RAM. We're also looking at a fingerprint scanner (hello, Windows Hello), a hybrid cooling system and all wrapped up in a body that's just 8.4mm thick.
We've also got an 8MP rear facing camera and Gorilla Glass 4 around the front that's just 0.4mm thick. Beneath that the Pixelsense display is optimized for both touch and pen input, and there's a new Surface Pen coming too with the Surface Pro 4 with full year battery life. It's got 1024 levels of pressure sensitivity and will stick to the edge of the Surface without the need for a pen loop. Oh, and the pen can also be used to call Cortana by holding down the button. Pretty nifty. A double click will still open up OneNote.
The Type Cover has also been updated for the Surface Pro 4 and it's the thinnest ever while also promising to be faster and quieter to type on. It's got a 40% larger trackpad with 5-point Multitouch support.
Check out the first promo video for it below.
The Surface Pro 4 is available for pre-order today, starting from $899 (opens in new tab). The official release date is October 26th.
Pre-order at Microsoft (opens in new tab)
Richard Devine is an Editor at Windows Central. A former Project Manager and long-term tech addict, he joined Mobile Nations in 2011 and has been found on Android Central and iMore as well as Windows Central. Currently you'll find him covering all manner of PC hardware and gaming, and you can follow him on Twitter and Instagram.
Wow!
Where are the other specifications?

Exactly..!!! They sure can make the coolest pc ever. Hope the can do the same with their mobile devices.

Sh**********t bring on the pre orders

yep. I want to know the exact screen resolution. Damn, MS is going the Apple route - PixelSense display, adaptive hinge (forgot term for it!) .. not that its bad, but they sure had their own "MS reality distortion field" today. Awesome demo and great products to back it up. Well done. Can't be happier.

Specifically Battery LIFE please. I wanna know batt life.

$899, eh? FOR WHAT???? I mean, what is the lowest spec SP4? Throw us a bone. This is the big release, and they are still keeping this stuff a secret?

You'll probably see detailed specs and price points once pre-ordering kicks off tomorrow.

If you click on the "Pre order from Microsoft", you can find all the specification and prices.

Sold
A beast Posted via the Windows Central App for Android

What is a chub? Depending on your definition, I may have just had one myself...

A circus tent raising of the pole.

WOW! This is indeed the best PC ever!

"Best PC ever" until the next event at least.

This awesome surprise from MS made me literally forget the new flagship Lumias. Now I want a Surface Pro 4 first :D

Haha, you mean until the next presentation!

You definitely pay big bucks for these specs dude. :P

Click on the "Pre order from Microsoft" link, and all your questions shall be answered.

Pretty sure he said from $699.

This is the hottest sex in Japan with all the debauchery and bacon you can think of.

Shut up n take my money!!

Why is the finger print scanner available only in the US? Do Americans have different kinds of fingerprints?

Yes, awesome fingerprints.

Yes!!!* *NSA-approved freedom fingerprints.

It could have to do with legal issues that will arise in the rest of the world as your fingerprints are stored on the cloud.

But Windows Hello doesn't store anything on the cloud...

Iris scanner too? The presentation left me confused as to all available methods of Win Hello on Surface and Book.

Hopefully if they are busy scanning fingerprints they may stop shooting each other.

Any pricing on these? CPU model ranges? Will the Surface 3 keyboards still be compatible? Where's the investigative journalism, WC?

Surface pro 3 keyboards still compatible with surface pro 4 . 838 $ for the lowest setting

Thus far: All keyboards have all been forwards and backwards compatible. I would assume the same case here. After all, the Surface connector is just a modified USB port.

"Thus far: All keyboards have all been forwards and backwards compatible." I don't think 1st Gen Surface Pro is, fit-wise. That's why I asked.

Believe it or not: You can use a Surface Pro 3 Type Cover on an original Surface Pro, it just won't fit correctly. It'll work just fine, but obviously it'll be much larger than the display, and you don't get the extra magnetic fold on the front. But every Surface thus far has worked with every Type/Touch Cover. The only exception is the Surface RT, which lacks a few extra pins. Otherwise: Every Cover works with every Surface. Unless something else has changed: I'm assuming that Surface Pro 3 users can upgrade the keyboard and MAYBE the pen (They're both N-Trig based) to get a Surface Pro 4-like experience, without shelling out another $1,000. That's personally what I'm doing. It's not worth the money to get a Surface Pro 4 (Even though I would LOVE one), but the new Type Cover and Pen would definitely be welcome upgrades.

I use a Type Cover 3 on my Surface RT ( long history, a retail mistake ).
It doesn't use all the functions (NO gestures), but the basics, just works.

Probably has to do with the RT not having all the pins. The Surface RT is also notably the only Surface that couldn't use the (Now discontinued) Power Cover for a lack of connection pins.

The product page says it's officially compatible with the SP3.

Yeah, because they totally paused the presentation to take questions and the WC staff just sat there in silence.

The problem is not the hardware, it's the software. It's a poor tablet OS. So I'll pass on this. Only reason to get it is if I also wanted to use it as a tablet, otherwise it's a waste of money compared to c cheaper ultrabook.

It's a much more portable ultrabook, it's not really meant to compete with a traditional iPad which is very limited in it's use. It's something you can throw in a small backpack, unfold, and get a full computing experience.

Dude, what are you doing here? You're a Clansman at a Panthers rally.

I can see it's not for everyone, but for me this is the only tablet that tempts me. I'm into digital painting, and the Surface is really the only thing other than a Cintiq Companion that's a sensible option for digital art in this area. There are some great monitor tablets for home use, as second displays attached to a PC, but portable PC units which run the software directly are in a small pool. So, for my purposes, this is incredibly impressive, as was the Surface 3. They didn't need to do such a great job with the pen and the pressure sensitivity, but I'm so glad they did. You're absolutely right, though - for many people who aren't creative, they'll be fine with a cheaper device.

I'd agree to a point, in Windows 10 they removed a lot of nice touch features that were in 8.1. but they seem to be slowly rolling some back as time goes on (in the Insider Previews)

Want. Really want. Just send it now! /Impressive

YEEEESSSSS......take my money. Cant wait to have it!!!!

whats the battery life of the pro 4.. i dont think he said.. will the pro 4 pen work with the 3 like the pro 4 keyboard will?

Lumia 950 XL and Surface Pro 4 shall be my next daily drivers...

For sure the best and sexiest tablet ever. I'm sold! Only wish that the Lumias 950 and 950XL had at least a little of the new Surface Pro's design :(

With all that computing power can the pen finally open the desktop version of OneNote?

Is the $899 without the keyboard?

Microsoft and oems have started making good light weight laptops now.

What happen with the battery?

Having a SP3, I wasn't really worried I'd be jealous about a new iteration of the Surface Pro line. I was wrong. So, so wrong... Well done MS.

I forced my self to hold off on buying an SP3, and the deals they've been running as of late made it really difficult. But I did it...Surface Pro 4...I'm ready. Glad I waited.

Will the new typecover have backlighting?

FINGERPRINT READER US ONLY What the *** ​*?!?! Check out the tiny caption in the video. would like to know the reason for that.

Well we'd get into a lot of trouble if we were cataloging fingerprints worldwide so we just do it here in the U.S.

Played an Aussie Song, but no fingerprint sensor for them..

He went on about the FFC and facial recognition. Didn't his first daughter in the video use that with windows hello to log in, the second daughter used the finger printer reader on the keyboard

Wow MS you nailed it..All the devices are mind blowing. Looks like MS is back with a bang.

I take it this means it doesn't have a USB-C connector port? Was really hoping that would replace the current SP3 charger port : /

I've been so excited, and then it's not passively cooled and all the excitement just died. The SP3 also has hybrid cooling. They made the Surface book for those seeking performance. I detest laptop fans, yes I really do, the noise a small fan makes is one of the most horrible sounds I know, like nails on a chalkboard.

i do not know which one is better, surface 4 or surface book.

The answer is obvious. Surface Book of course but it's more expensive. If you want a lighter device, go for the Surface. But if you want everything, Surface Book is the wat to go.

Next Generation Surface Pro / Book launched with Last Generation USB ports. Maybe they'll get it right with the Surface Pro 5 / Book 2.

they apparently used up all the USB Type C parts in the new 950 series Luima phones. ;)

No face recognition. No tiny bezel. Still waiting to invest!

wait, didn't they show Windows Hello on the SP4 in the demo (with Panay's kids)? Or was that the Surface Book?

Damn thats a sexy piece of hardware

Microsoft is back. This is what you call INNOVATION.

Honestly, I want this more than that book.

The touchpad's size increase was so necessary.

Pre-order tomorrow, available 26th Oct. Hope that isn't USA only..

I think it's hilarious that Microsfot re-brands it's "Surface" tables to "PixelSense" so they can call their tablet line "Surface", then 3 years later they bring the "PixelSense" branding into it's Surface line as a way to describe it's screen resolution --- and still, the world really doesn't know the orgins of the Surface & PixelSense brands.

I wonder if the new pen sticking to the side will have the same problem as the Surface Pro 1 & 2's pen did, which was falling off all the damn time because the magnet was so weak. I hope it's better implemented this time around.

It looks like the magnet on the new pen is longer. It should hold on stronger.

I just preordered my Surface Pro 4 with an i7, 16GB of Ram and 1TB SSD for $2,699. OK I didn't actually preorder that model (a boy can dream can't he) But, I did just preorder i5 with 16Gb and 256GB SSD for $1499. I was really excited about the Surface Book but, I will wait an interation and see how it holds up and how the competiton reacts (plus I bought a Dell XPS 15 last year for a good chunk change )

Wow! My surface Pro 3 getting sold Posted via the Windows Central App for Android

My biggest gripe: Why is the rear camera better than the front-facing? Tablets are used for front-facing cameras for video chat. Who seriously takes pictures of things with their tablets instead of their phones?

You don't have a lot of tourists where you're at do you?

I've seen the odd person walking around with tablets taking pictures, but it looks ridiculous and erasure is right. The front facing camera it used far more often on a tablet, especially a laptop tablet like a surface.

As folks in the UK would say, some serious kit. I'm taking it across the pond.

Specs Released: http://www.microsoft.com/surface/en-us/devices/surface-pro-4 Processor
6th Gen Intel® Core™ M3, i5, or i7 Graphics
M3: Intel® HD graphics 515
i5: Intel® HD graphics 520
i7: Intel® Iris™ graphics Memory
4GB, 8GB, or 16GB RAM Storage
Solid state drive (SSD) options: 128GB, 256GB, 512GB, or 1TB Display
Screen: 12.3" PixelTouch display
Resolution: 2736 x 1824 (267 PPI)
Aspect Ratio: 3:2
Touch: 10 point multi-touch

You missed that the Surface Pro 4 also has a Windows Hello compatible front facing camera. The fingerprint reader keyboard was designed for Surface Pro 3 users with Windows 10. The demo of Panos' children showed them using both technologies. They didn't mention the Intel Real Sense camera, so that is probably not what they used. Panos did say his team worked on the front facing camera.

Good info. The real sense appears huge as an accessory. No point in making devices huge when other, smaller tech does the job.

The information on the surface pro 4 is on Microsoft's website!

I just preordered it in Canada. I miss the days when our dollar was close to or above the USD. The price here starts at $1,179.00 for the M3 and the keyboard cover is $169.99. I still think it's worth it considering how much you can do with the them. I haven't touched any other device except my phone since I got my SP3. My i7 Thinkpad is covered in dust. I guess I'll find out soon if the improvements over the SP3 come close to justifying the cost.

Are these new pens still N-trig or was Wacom brought back? Or something totally new? The 1024 pressure points, eraser and replaceable tips smell of Wacom.

MS bought N-Trig about a year ago so it's almost certainly N-Trig. I assume they have been modifying the technology over the past year to compliment Surface devices.

aaaand no more i7 models until November 20 :-(

Did Tim Cook watch this and take notes?

Holy...$2,699 to max out this bad boy.

ipad pro is dead.. surface pro 4 wot dunnit! Apple should get an abortion.. like right now..

Not sure I will be updating to Surface Pro 4, not enough of an upgrade over Surface Pro 3. I was expecting a much larger display, perhaps the surface laptop is in my future, that depends on how it acts unattached to the keyboard.

I'm coming from an SP2, so the big question is the SP4 or the Book. Likely I'll stick with the SP4. But the cost of an SP4 with a new Cover gets it within $250 of the Book. Hmmm. Not knowing how long the battery in the Book's screen lasts on its own is a big question mark for me.

Anyone else still wishing they would've put out a Surface Mini?

I use a WinBook TW801 with Windows 10 currently and I like it, Though I wish MS would make the Windows Mobile "shape keyboard" work on 8" devices. it would come in really handy.

Okay lemme requote,"When in India"?

I have to say Microsoft Surface Book looks very nice concept and it's cool. It has a bigger screen than Surface Pro 4 which I really wanted and all that GPU power and other features are amazing but still I went with Surface Pro 4 and pre-ordered SP4: 1- When detach from base it doesn't have stand like Surface Pro 4 and lacks stand like most of other tablets in market (with no stands). 2- Still too small for me to consider it as my main laptop, this holiday I will go with new upcoming Dell XPS 15. And Microsoft Band 2 was no brainer and even tough I am very happy with my current Microsft Band I had to pre-order it! As for Lumia 950/950XL still I think their design is boring and uninspiring even tough hardware inside is amazing and ahead of any other phone in the market. Lumia 950 is ugly (for my taste) and 950XL is just ok but I have to see it in person to decide to go with it or not and maybe just wait and see what is coming in 2016, Maybe Surface Phone with Intel CPU!

Wow. I only recently picked up a Surface 3, but now I'm thinking of upgrading already. Between this, the 950XL, and possibly a band I need to find some cash, and fast. Nothing on the MS Australia store yet, but they are probably still asleep. Probably won't get the Band 2 here so will have to take a chance if I import one that I'll like and actually use it. Goodnight Apple (for me in my house anyway)

Only 1024 Level of Pressure sensitivity, I'll pass. Maybe the Surface Pro 5 ? HaHaHa Thunderstruck, whos idea was that ?

The surface pro 4, for me is a piece of trash, I mean look at that surface book. The price range though will make a difference for a lot of people.​

Whats up with the SP4 i7 models not being available until November 20th?

I really want both Surface Pro 4 and Surface Book!

I would prefer to buy Surface Pro 5, because it will be better than Surface Pro 4.

Ahahaha, I wasn't expecting AC/DC in a MS ad :D That "you've been thunderstruck" punchline really carries a message. MS really outdid themselves.
Windows Central Newsletter
Thank you for signing up to Windows Central. You will receive a verification email shortly.
There was a problem. Please refresh the page and try again.