With Windows 10 S and Surface Laptop, Microsoft takes aim at Google and Apple
On May 2, 2017, Microsoft issued a one-two punch at Apple's MacBook, Google for Education and Chromebooks, with the introduction of the Surface Laptop and Windows 10 S.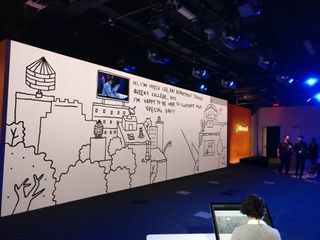 For decades, Microsoft has dominated personal computing on the desktop in businesses and homes. Its closest rival was Apple, which for more than 30 years strove to reach a mere 10 percent of the PC space. With the advent of the smartphone, both Apple and Google were instrumental in shifting many personal computing tasks to a mobile and app-based platform.
As the dominant players in the smartphone space, this shift resulted in the positioning of Apple's and Google's broader ecosystems in front of millions of users.
Consequently, Apple's and Google's desktop alternatives to Microsoft's PC hegemony have been embraced by users. To Microsoft's dismay, many college students seem to prefer MacBooks over Windows laptops. And schools, particularly in the U.S., have increasingly adopted Chromebooks and the accompanying products and services Google provides.
To stop this progression into its personal computing space Microsoft is positioning the Surface Laptop for college students and the app-based Windows 10 S, along with affordable OEM laptops, for primary and secondary school-aged students. Will it work?
First strike, the Google advantage
Google has had great success in the U.S. education sector with Chromebook deployments and the implementation of Google for Education. Many IT professionals find that managing lightweight Chromebooks, which essentially employ a web-based OS, is far simpler than managing Windows-based devices.
School districts also find the associated costs of Chromebooks (often $149) are less than Windows laptops. Furthermore, because Chrome OS, (the OS on Chromebooks) is web-based, deploying updates, and protecting against viruses has also been a benefit of a Google environment.
Educators have the ability to easily manage multiple Chromebooks within the classroom, as well.
Many of these same benefits have been reasons a growing number of small businesses have embraced Chromebooks and Google's free web-based services. Gmail, Google Docs, Google Drive and other Google services are becoming more relevant tools in both schools and small businesses.
Google Expeditions, an implementation of the low-cost Google Cardboard VR option, has even been used to broaden student's experiences, as seen in the video below.
For Microsoft to adequately combat Google's strengthening position in the education sector it needed to address:
Hardware costs.
Device manageability.
System integrity (protection against viruses and malware).
Ease of deployment.
With Windows 10 S, a host of tools and OEM partnerships, Microsoft has created a comprehensive education solution that it hopes will be a sufficient to defer Google's thrust into the education sector.
Microsoft empire strikes back
Low-cost PCs have always existed. So resting the success of reclaiming ground lost in the education space only on reasonably priced hardware would not suffice. Microsoft needed a platform that low-cost hardware would run on and would also provide benefits in manageability, system integrity and ease of deployment. Windows 10 S, the app-based Windows OS that allows only Store apps (Win32 apps can be accessed via a $49 upgrade to Windows 10 Pro) is the company's offensive and defensive parry to Google's strategy to gain the next generation of users.
Hardware costs and OEM partners
Microsoft announced that this fall Acer, Asus, Dell, HP, Samsung, Toshiba and Fujitsu will launch Windows 10 S devices starting at $189. This is a benefit to both schools and families. These affordable devices are comparable to what school districts would be paying for Chromebooks. Furthermore, families who like to provide their children with the tools they use in school may purchase these devices for home just as they have with Chromebooks.
Manageability
The ability to manage devices is essential to device maintenance as well as to how educators use them in classrooms. Windows chief Terry Myerson demonstrated that with the "Set Up My Schools PC" tool, a USB stick key could be used to configure a PC from any state in seconds. He reported that one school set up 600 PCs with 30 USB sticks in one day. The ability to set up devices with such a level of simplicity was a needed advancement for Microsoft to compete with Google and Chromebooks.
Set up a classroom in an hour.
Myerson also shared that Intune, Microsoft's enterprise-class management tool, has been customized for schools as Intune for Education. With Intune for Education, an administrator can manage the attributes of any device connected to the system. He could turn the camera off for all devices in a particular school for instance. Intune for Education has been made available to administrators worldwide.
The ability to manage devices with this degree of specificity over a broad range is another area in which Microsoft needed to compete with Google's education solution.
Intune for Education.
Logging into devices could hamper productivity and efficiency within a classroom. Myerson demonstrated that a student could log into a device for the first time in 15 seconds and each subsequent login to the system would take just five seconds. This should help Microsoft's solution better compete with Google's.
Finally, Myerson shared that because Windows S runs only secure Store apps, Windows 10 S PCs will have the same performance on the last day as they do on the first. This improved device integrity and security is another area that makes Microsoft's solution a better competitor to Google's. Microsoft has made Windows 10 S free for all schools that are currently using genuine Windows Pro.
Best in class
Microsoft also introduced solutions that improve collaboration and enhance the learning experience.
Office 365 for Education, and Teams
Microsoft Office for Education and Microsoft Teams are meant to enable modern classroom collaboration, content creation, personalized learning and encourage creativity. Google's collaborative tools have been a strong point for the company's education play. Microsoft may have introduced a viable alternative.
Mixed Reality
Mixed Reality is considered by many to be the next paradigm shift in personal computing. Microsoft's HoloLens creator and futurist Alex Kipman declared the smartphone dead in anticipation of a coming mixed reality device that will do away with many of our screens.
As a leader in mixed reality Microsoft provides a platform for many VR devices. Microsoft also created HoloLens, a tetherless, wearable Windows 10 computer that superimposes holograms in the wearer's field of view.
Microsoft has positioned Hololens in various industries including the U.S. military and NASA. The company's now bringing that technology to schools to help students learn by experiencing interactive content via mixed reality opposed to only reading it in a book.
Inking and Edge
Windows Ink allows users to write directly on the screen and in various apps. The Edge Browser also takes advantage of this feature. Students can save tabs that they've used for research and write notes directly on those pages, and then share them. This natural way of interacting with technology is an edge Microsoft has over Google's solution.
Myerson said that Microsoft's education solution was inspired by students, runs rich applications, is easy to manage and setup, and that Windows S devices have the same performance on the last day as on the first. Will this be enough to stop Google's assimilation of the education sector? Time will tell.
Students love Windows Ink.
Surface Laptop
Microsoft also addressed college students as a strike against Apple. Whereas Google has assimilated school systems and made headway with low-end Chromebooks, Apple has appealed to college students with the MacBook. As a thin, light, and attractively designed device with good power consumption, the MacBook is an attractive laptop for students.
Microsoft claims the Surface Laptop strikes the best balance between all the features users look for in a laptop.
Besides the specs, the Surface brand may make the Surface Laptop an appealing option. Microsoft's Surface team, led by Devices Chief Panos Panay, has succeeded in building an industry-respected brand around the Surface. Quality, design and category creation are its hallmarks.
Though the Surface Laptop forgoes the detachable display common to the Surface and Surface Book, Panay says the Surface Laptop, running Windows 10 S, is resetting the laptop category.
Inspiring a new class of laptops
As an aspirational device, we can expect OEM partners to build similar devices to this $999 Surface that will also target college students. As a range of laptops that will certainly come with an equally varied price range, Microsoft is hoping the Surface Laptop and inspired OEM devices will appeal to MacBook owners, just as the Surface Studio has done with Apple's creatives.
Furthermore, given the tepid reception of the touch strip-enhanced MacBooks Apple introduced earlier this year, the Surface Laptop with its touch screen and attractive design may appeal to disappointed MacBook users. Inking, mixed reality and 3D Paint may also make the Surface Laptop and future Windows 10 S options more appealing to MacBook users.
One downside is that some users may find the app-focused nature of Windows S limiting even with a full Universal Windows Platform (UWP) version of Office. The prompt to upgrade to Windows 10 Pro for $49 may be off-putting to some who may not have been aware of the new OS's limits.
All said, Microsoft has gone on the offensive to defend its position in education and on the desktop. But will all of this be enough? Let us know what you think in the comments.
Related reading:
The truth about the new iPad ads, Microsoft Surface and Windows
How the Surface changed Microsoft forever
Getting in touch with creators: How Microsoft is courting Apple's Creators
Microsoft's reimagining the PC for creators heralds a new generation of PC
Get the Windows Central Newsletter
All the latest news, reviews, and guides for Windows and Xbox diehards.
Jason L Ward is a columnist at Windows Central. He provides unique big picture analysis of the complex world of Microsoft. Jason takes the small clues and gives you an insightful big picture perspective through storytelling that you won't find *anywhere* else. Seriously, this dude thinks outside the box. Follow him on Twitter at @JLTechWord. He's doing the "write" thing!