Microsoft Surface Laptop specs
At the #MicrosoftEDU event today in New York, Microsoft unveiled its new Surface Laptop.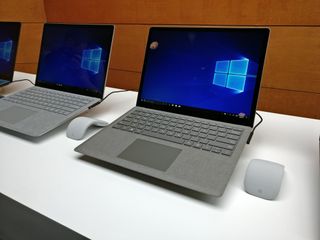 The new clamshell notebook leaked ahead of time, revealing a remarkably thin device that comes in four different shades. But what's inside it? Here is a full list of Surface Laptop technical specifications.
Surface Laptop tech specs
Swipe to scroll horizontally
Category
Specification
Display
13.5-inch Pixel Sense display
10 point multi-touch
Display Resolution
2256 x 1504, at 201ppi
Aspect Ratio: 3:2
Software
Windows 10 S
Processor
7th Gen Intel Core i5-7200U or i7-76660U
Storage
128GB, 256GB, 512GB Solid State Drive (SSD)
Memory
4GB, 8GB or 16GB RAM
Graphics
i5: Intel HD graphics 620
i7: Intel Iris Plus Graphics 640
Rear Camera
None
Front Camera
720p
Windows Hello face-authentication
Speakers
Omnisonic Speakers with Dolby Audio Premium
Ports
One full-size USB 3.0, Mini DisplayPort, Headset jack, Surface Connect
Sensors
Ambient light sensor
Security
TPM chip for enterprise security
Battery Life
14.5 hours of use
Pen
Surface Pen
Weight
2.76 lbs
Dimensions
12.13 inches x 8.78 inches x 0.57 inches
Stay tuned for pre-order information.
Windows Central Newsletter
Get the best of Windows Central in in your inbox, every day!
Jez Corden a Managing Editor at Windows Central, focusing primarily on all things Xbox and gaming. Jez is known for breaking exclusive news and analysis as relates to the Microsoft ecosystem while being powered by caffeine. Follow on Twitter @JezCorden and listen to his Xbox Two podcast, all about, you guessed it, Xbox!
It works with the surface pen, but it is not included.

Can the screen tilt all the way back like a 2-1? Seems pointless for pen enabled if the screen can't do that. Can't really write on it then.

Yeah it's a nice thing to have I guess but even Panos had to hold the screen steady and later on a women presenter was holding the base down while writing.

They could have just made it like the specter x360

Terrible specifications for the price, 4GB RAM, No pen, no rear facing camera (meaning that mixed reality view is pointless for these users) and a gimped version of Windows that can supposedly run faster. The only selling points are it being lightweight with a long battery life, which is probably only a knock on effect of running a watered down Windows.

You can upgrade it to w10 pro

For an additional cost. That doesn't help with the premium price. EDIT: I didn't hear the part of it being upgradeable for free, that's at least one thing that can be ticked off the list.

I thought free was only for EDU customers?

It's supposedly free to upgrade until the end of 2017, no idea what the plan is after that.

Then buy from another OEM. Microsoft sells P R E M I U M hardware.

Yes, they do sell premium hardware, which is why there is a Surface Book and Surface Pro 4 in my household, but what gets me here is where the market is for this device? Microsoft have put an Apple marketing spin on this product to try and sell something that looks pretty, might appeal to college kids and has a long battery life but has a number of drawbacks compared to their other products. What I'm saying is, this doesn't feel like it fits in with the innovation associated with other Surface devices, which would be fine if the price point wasn't so high. There's no key differentiator here in function over form.

Exactly!! $1,000 device for windows store only does not compete with really nice $400 chrome books. Also not putting 2 in 1 function to detatch or fold back to tablet makes no senss on a device for apps that were soecifically designed for touch.

A "really nice chromebook" is just a browser on a netbook that is not upgradeable so you are paying for even less.

Yes, and the less expensive Chromebooks don't have the same display quality - the Pixelbook is much more expensive.

"Chromebooks" are not "really nice" for almost anybody. It's just a device designed for consumption of Google's services. So go figure.

The market is the same as the Dell XPS13 or the HP Envy/Spectre.

Yeah, like the premium wifi and battery issues that paid the surface devices previously. Anyone who buys this straight away is an idiot, Microsoft's track record for functional devices on release isn't great.

So...a good fit as a premium EDU marketed 'aspirational' device then. The last thing High School kids need are more camera's in the classrooms.

hehe, i dont think students need expensive devices like this... everything they need is a working brain and 2 hands. Nothing else. Back in the 90s. we had a pen and papper and guess what? We became doctors, engineers, programmers etc..

probably the price will be heavily subsidized

Times change, got to go with the flow

you will get better grades just because you have a super overpriced Surface book or Mac?? Oh dude... poor people are f* up without all those fancy high tech s*it around the corner, right?

Fine then get a Surface 3, it's perfect for students and costs much less. there needs to be a range of products. Some college students want the premium device and the fact that it's upgradeable to W10 PRO is a pretty good feature.

One of the largest draws for students getting the Surface line is the ability to write on the screen. Even my some of my fellow MDs use Surface Pros (myself included) during lectures and seminars for that very reason: we can freely write on our screen without impeding others. I can switch from typing notes to drawing a Lewis structure of a new drug to using my shorthand to describe side effects in a matter of seconds. Very powerful tool in the STEM community. My biggest issue with this is the lack of the ability of the keyboard to fold completely underneath the screen. This means that if you want to use the screen for writing, you're going to be spilling over into someone elses space, which given the modern university setting with 25+ students in one classroom is limited. That just seems like an oversight on what would've been a great STEM student's product. That and the lack of rear facing camera which I used extensively during med school with my Surface Pro to capture dissections of cadavers as they were occuring and then labelling the anatomical structures myself later as review. Will it sell ? Honestly, I don't know. All I can tell you is if any pre-med students that tour my hospital ask me for advice on what to get for medical school, I'm still recommending the Surface Pro 4. $799 for the tablet + $129 for the keyboard < $999 Surface Laptop + $49 for the pen

But that's the point, this gives you options. If you want to draw extensively you have SP4 and Surfacebook, if you prefer the traditional laptop setup than this device is for you. (I know a lot of people who have Surfacebooks that never use the pens.)
Myself, I prefer to write and draw, so instead of getting one of these I'll be purchasing a Surface Pro 5 in the fall (or whenever it comes out). This Laptop just adds to the lineup.

Except - whats the draw of this over say a Lenovo Yoga? In America, kids on FASFA get money for new school equipment every year (I live in a college town) so they're not spending their own money persay, and build quality isn't a huge issue at that point either. So minus the amazing pen abilities that this laptop cripples through it's lack of flexibility, what's to draw students to this $999 laptop vs some of the other Ultrabook options out there ? It's not like Microsoft has the reputation that Apple has towards being 'trendy' where they could make an I-rock and people would line up to buy it. Their surface line is supposed to be innovative. This is simply another premium laptop at a premium price, but without the ability to discern it as premium. This seems about 3 years too late in my opinion. Had they made the Surface Pro 4, and then this - and then in 2017 came out with the book, the progression would make more sense. This just seems...backwards.

That's a fair point. Regarding the YOGA, does it have it's own Pen? I honestly don't know, Most of these 2 in 1's don't have a pen. I like this product, but I prefer the Surface Pro line personally, because I like to draw take notes and like you I use OneNote extensively for work and for research.

As a parent of 2 college students...where's this FASFA money they 'get' for new school equipment? FASFA is only there to apply for Loans...they're not getting anything but money they have to pay back later...see the $1 Trillion+ in student loan debt for proof.

You don't know much about how financial aid works do you. They don't get money for new school equipment every year, and the vast majority of them are getting loans not grants.

Unless you're major requires a more powerful laptop...

Surely the Mixed Reality aspect is something Microsoft are trying to push? And that was something they actually demonstrated at this EDU event on the Mixed Reality View app. Regardless, whilst some people don't need it, you would think that if they would remove the camera, the price of the unit would come down.

you can update to Win10 Pro for free until next year.

Surface products always come with a price. They can't compete directly with the OEMs because that would be cannibalism.
It does come with a pen though. But I really do not like the Windows 10 S part of it.

Well, it turns out Microsoft is offering a one-year free upgrade opportunity for everyone. So that won't be a thing if you really want this.

I'm curious, does it have anywhere on the device to store a pen?

On previous Surface devices, you attach the pen magnetically to the side of the screen.

I am fully aware of this, but I've seen no demonstration of this being such an option on the Laptop.

Works with pen, upgrade to Win 10 pro is free for this year, performs better than the MacBook pro. I am not sure what your issue is here...

- No demonstrable place to store a pen, from what I can see. Also it's going to have the same issue as the Surface Book in terms of hinge flex if you wish to use the pen for drawing, but with no option to lay it flat or keep it firmly in place. - What happens after the year ends regarding the update? Will the price of the Laptop decrease or will MS offer another alternative? - It supposedly performs better than a MacBook Pro out of the box, but how will it compare running full Windows 10 Pro? I guess we need to see benchmark tests for this, but being 4GB of RAM doesn't fill me with enthusiasm considering the price point.

After a year, you just pay for the upgrade. It's just software... All, but the lowest priced version have 8 to 16 GB of RAM. As for the pen, the fact that you can use one doesn't mean it's designed as primary use case. I have the Book and I see zero need for a pen in laptop mode. Once I switch the screen to flat, the pen makes sense. It's a laptop. Simple as that.
A pretty well speced one and it looks very good. It does what it needs to do - aim at the MacBook.
And that it clearly does.

My point here is the entry level price of the device is too high reflective of the $999 price tag. For a device that has 4GB RAM, requires a limited time software upgrade to get the full functionality of Windows, doesn't consider the pen as a primary function (or give anywhere to store it), doesn't have a 360 degree hinge or is detachable from the base makes me wonder why you would choose one over an SP4 for the reason other than battery life. Don't get me wrong, it's a gorgeous looking device, but functionally it's a backwards step at this price point when compared to what the Surface Pro line has done and it just seems like they're doing it to showboat their style and design next to a MacBook Air.

The reason I might get it to replace my book is that I hardly use my book in any other setting than the classical laptop setting.
To be honest, if this was available when the book came out, I'd have bought it instead of the book.
Don't get me wrong, the book is awesome, I just want to get back to a laptop.
The price for the entry level is a bit steep, but on the other hand, you get a full Windows Pro touch screen laptop with pen input enabled and decent specs.
That's not too bad.
I might go for it (highest specs) to replace my book.

I suppose it comes down to what;'s important for you, if it's battery life and lightweight over performance I get it. But I would never pass up my Book for this. The ability to change around my screen is of great benefit to me when it comes to working on a canvas, the discreet GPU works beautifully for doing Video DJ work as well as anything else that requires editing or 3D rendering, the pen storage means I'm not likely to lose it or leave it behind and if I want to use it as a tablet I can (albeit with a considerably short battery life). Like I say, the product is beautiful, it likely has the same amazing typing experience as every other Surface, but I would only consider one if it was a fair bit less than an SP4, and even then I would still have a hard time justifying it over an SP4 for my use cases.

I feel the exact same way man. I am sure lots of people do. We definitely aren't alone.

Not watered down, tailored to run UWP apps only.

Which is fine, as long as all the applications you need are in the store. However, we know that isn't always the case for everyone. Two programs I use heavily aren't even being considered for the store, so for me this laptop would be useless out of the box without going straight for the upgrade. I would say either go for an SP4 or shell out extra for a Surface Book, the premium price on this doesn't seem overly justified when compared to the other products in the line up.

And STILL no USB Type-C ports......

Yep... an insult from a device over $1,000

The price is mainly due to build quality and manufacturing... not just specs but getting it together 🙄

4GB RAM for $999 is not what I would expect in 2017. 8GB RAM should be the standard for high end (or at least priced) Laptops. And why is MS hating on USB typ C?

I dont get why the SP4 didnt come with USB C. This is even more baffling.

SP4 was announced 1.5 years ago. It wasn't needed then - and for this education-focused device, USB C still isn't needed that badly.

Considering their talking about this lasting 4years for a student, I'd be surprised if you think that will still be the case. Even though many think it already is needed

That's more for the SP4. I get what you're saying about the four year lifespan, but as a student, this isn't a deal breaker for me. It'd be nice sure, I'd happily take it, but its easily lived without.
I mean, what serious problems will students run into without USB C? If they're the kind plugging in GPU's, I doubt they'd spend their money on a device like this anyways, they'd want something more powerful.

Can not run two 4k displays without usb-c thunderbolt 3 port. Graphics designer students, and photography students would need it.

you can run two 4k moitors from the display port. and if you can't daisy chain you can still get the dock and run them plugged in there.

Hey, 8GB of RAM is on the $2999 Surface Studio... Getting that in a laptop for less than half the price is amazing! /s

4GB of RAM should not be a thing in any PC in 2017 priced above $499, period.

Most students don't need more than 4 GB of RAM.

That is completely beside the point on a PC way above $500;

I see your point and agree. It seems that 6 or 8 GB should be the starting point.

I could share my Onenote Notebook with you from Medical School. Over 100 sections, probably 5 or 600 tabs, and well over 5000 pages of notes with a combination of text, pen input, video and audio capture, and mixed web content And that's not really that uncommon nowadays. The more professors move to online media and away from physical textbooks, the more notes students have to take in order to keep up with lectures. Most take them digitally. But you couldn't open books like that with 4GB of RAM without bogging down your entire system.

Wow. My first ever downvote, and its for pointing out that large OneNote books can be very memory-intensive, and that college students nowadays do more digital notetaking than ever before. Tough crowd.

14 hours of battery life. This is perfect for the high school student, business major in college.

I wouldn't trust those numbers.

Magnificent device, beautifully crafted, beautifully engineered and beautifully coloured. The surface team keeps on pushing the boundaries on every product it makes. And it seems they finally managed to make the fanless i7 device they always dreamed off. With an impressive battery life as well. Anyway, much to marvel about. I'm not really sure about its marriage with Windows S though - it seems more like a afterthought than a fundamental principle of the device. For a radical Windows S machine one would expect hyper efficient and value-for-money Snapdragon chips. A full blown i7 processor deserves a full version of Windows, wouldn't you say? And how about price?

I think its more about Windows S and this came out at the same time, so they are using this to promote Windows S. Its upgradable to full Windows.

I cant believe it doesnt have USB Type C?!?! Whack!!

I don't understand all the fuss with USB Type-C. I have a Lumia 950 which has USB-C and it came with a USB-C to USB 3.x cable and charging plug. As long as there is support between Type-C and USB 3.x interfaces via a single cable, which is the case for a lot of new USB cables out there, what is the problem?

Its futureproof. I dont want to carry additional adapters just to use stuff. It can charge faster. It can transfer faster. It can output video/audio. Just a few reasons, why all new laptops should have Type-C/Thunderbolt.

So basically can't be used for Gaming?

No, but basically can be used for school

Unless you're studying to be a game programmer.

Interesting that it has 4 SKUs coming and only the i5 - 256GB - 8GB model is offered for any of the colors other than Platinum. i5 - 128GB - 4GB
i5 - 256GB - 8GB
i7 - 256GB - 8GB
i7 - 512GB - 16GB https://www.windowscentral.com/e?link=https2F%2Fclick.linksynergy.co...

I'd guess they don't expect to sell many of the others. The 265GB with 8GB RAM looks like the sweet spot for the average user.

4GB RAM,128GB SSD for $999 Somebody Kill me. Should have had 8GB RAM, 256GB storage for base model.

$1300 for 258GB/8GB. That's the same as the stock price of the XPS13.

Yes, but XPS 13 has thunderbolt 3 and a full Windows 10 operating system. So the XPS 13 delivers more.

But the Surface has a better GPU (620/640 vs 615), and the screen is probably pulling the price up as well. Downside is off course the lack ot 3:2 monitors for docking.

An XPS 13 Touch with 256/8GB is $1650.

Pretty sure they demoed Mixed Reality for education using a Surface device with a rear camera...

Yeah, it seems a bit of an internal miscommunication at MS to eliminate that from this device. I really can't grasp why anyone would consider this over an SP4 other than the long battery life.

People that write alot would probably prefer the keyboard. So if you're taking an artistic education Pro/Book is better, but if you're more business/writing etc oriented, the Laptop is probably the best choice of the three.

Disappointed. Neither innovative nor intuitive. A good competition to Microsoft's OEM partners in laptop space though.
I'll be highly disappointed if this doesn't come with pen inking support out of the box and tablet mode. In education sector this makes sense. Reading books in tablet mode,annotating, highlighting are all important points for education sector. If its significance relies on Windows 10 S, Surface division shouldn't even have been part of this project. There is no innovation here. It is infact a step backwards even by Microsoft's standards. What will be the point of such a device? We already have good enough clam shells by the likes of Dell, HP and Lenovo. It might well be Core Y series Dell XPS 13 with Windows 10 S. That too has a 360° mode and this might not. How is such such a device gonna be aspirational in any way? It should've had pen support out of the box, tablet mode. How's gonna next generation of mathematicians gonna learn on a laptop class device with keyboard? You have inking. Use it to your advantage. Integrate mathematics, numerics, arithmetics, algebra, trignometry, calcus to One Note for Education, it's recognition through pen input, ability to solve it all there with detailed steps. And now you are talking. As for criteria to compete with chromebooks, startup times, battery life,management, pricing are all very important metrics. Without cShell, Windows on ARM, combination of Windows 10 S with a Surface laptop is a very careless execution by Windows and Devices Group of Microsoft. And to think they were doing so good. Still hoping they will take us by surprise in some manner. If not, these leaks might have done them a favour and toning down the expectation and cushioning the backlash. All in all, it seems like this event is gonna be meh.

Did you even read the article? 1) It has Pen Support out of the box which you claim it didn't 2) You mention "Leaks" when you posted this after the show is done and everything is announced 3) It can upgrade to Win10 Pro

No pen included in the box. No mode to intuitively use the pen on. A me too device. So unlike what Surface division has been doing previously.
If it had a 360° hinge, Pen included, USB C with Thunderbolt 3, Full Size HDMI, Card reader and Windows 10 pro out of the box, it would've been a world class laptop that people wanted. Not an innovative device still. I still think Microsoft has nailed the design in Surface Book. In its current iteration Surface Laptop misses out on these few points.

This is definitely not a device for you, go get your $750 16GB RAM, discrete GPU, Quad Core CPU, 1TB HDD laptop with 3 pounds and 2 hours of battery life. There are plenty in the market for that price range.

I doubt it's touted battery life of 14 hours Windows 10 S or no. I'll be more willing to believe these numbers when Microsoft announces that cShell and Windows on ARM is ready for mainstream.

Terrible design. Proprietary charging port, no USB-C or Tunderbolt 3. This is why I would never buy a Surface device, they are really anti-consumer.

Yep, i keep wanting to buy 1. But they keep omitting features that are deal breakers for me.

The lack of USB C or Thunderbolt 3 is absolutely mind blowing to me... Honestly cannot fathom what they were thinking.. When i saw this being announced i was regretting purchasing the Spectre a month ago... But without Thunderbolt 3 in the Surface, I feel no remorse. Inexcusable.

I imagine this is going to cause confusion, somebody is going to buy this because people buy laptops without diong research and try to install chrome and find out they can't. Try to install their video editing/photo editing software they cant and the windows store doesnt really have a great suite of apps other than office. At this price point starting at $1k, this is a misread on MS part and doubtful they will sell much, but i imagine there inventory levels will be managed pretty hard.

Apparently you missed the bit where if you try install something for normal Windows it will recommend an app from the store and also give you a link to the $50 Pro upgrade right in the UX. So much for confusing.

Just like you confusing people by not reading the entire article and just assuming....well done sir...

Nice. I really like it. finally a competitor for the macbook running real OS software (once you upgrade).

Pretty nice specs for $999. Just the 3K display, Intel Core i5, Surface Pen support, 14.5 hours and SSD storage make this price very competitive in the market. Where I live an Ultrabook of Acer brand with these specs cost more than $1250, so for those saying that base model is expensive, you need to do more research.

total battery life is cool, but probably much less than 14 in practical use. The statement about sleep absolutely not using any battery is the really intersting thing.

That soft alcantara topping will get dirty/worn out at the places you rest your palms and around the edges. Probably looks horrible after a year...

Love the commercial.. I think this new Gen of kids will want one. Heck I need to upgrade our family PC, might be buying this one..Now just gotta convince the wifey ha ha :D

ok nevermind...$999 HELL NO!!

Haha!!! Yep! It should have been $499. Or maybe starting $599 at most since the display is really nice.

Find me an Ultrabook with these specs for $599.

I didnt get about the speakers thing he said.. Can anyone explain?

there are no speaker holes in the chassis anywhere. the speakers are under the keyboard and sound radiates out from the keys and the fabric cover since there is no solid metal hand rest.

Meh. I want an external gpu to use with my surface not just another surface.

Why hate on the surface charging port? It's reversible and magnetic, so you don't smash your screen tripping across the cord. The Apple fans are in the exact opposite uproar about losing their Mac's mag-safe connector for USB-C. I have a Surface Book and I don't mind the connector at all. That and I can't remember the last time I took a picture with my laptop's rear facing camera...

The convenience of having one charger for your phone and laptop comes in very handy.

Truth be told, if they simply included quick charging on the USB port that's built into the Surface Pro charger, that would probably suffice. I use that when I'm at coffee shops. Charge my phone right from the same charger that I charge my SP4.

True. But what if you're at your friend's house and didn't pack the charger? If your friend has a Galaxy S8 you can use the same charger as well.

ONE usb port??? You know where you can shove that crap Microsoft. So if I want to use a wired mouse and a USB stick (or countless other scenarios), I am **** out of luck.

Hey, you can always buy that Surface Dock for $199 only /s

It's the same setup as all the other surface devices. Why is this some sort of shock to you? Also, why would you want to use a wired mouse anyway?

I don't know, how about not having to mess around with damn batteries all the time.

Wait a year for the bugs to be worked out. I had the Surface Book and Surface Pro 4, and both were a disaster on launch due to bugs.

This thing is Surface Pen enabled. But is it a 2-1? Can the screen flip on the way back? Seems weird to have a pen enabled laptop that can't flip back. I haven't seen anyone say it is though.

Rear camera: None. So the "View Mixed Reality" feature of Windows (RS3?) they introduced today won't be available on the new member in the Surface family. Interesting.

Rear camera: None. So the "View Mixed Reality" feature of Windows (RS3?) they introduced today won't be available on the new member in the Surface family. Interesting.

I have 3 major problems with this new product. 1.) The biggest problem is No tablet mode. Seems to defeat the purpose when its Windows store only, which are apps specifically designed for touch. It doesnt even have to detatch, just at least bend back. 2.) If this is meant to compete with chrome books, then this should have been $500 at most to compete with any chrome book. So its wayyy over priced by double. 3.) Any device that costs $1,000 or more needs to have a thunderbolt 3 port. Most other manufacturers put it on their new 2017 laptops priced over $1,000 so Microsoft should be too. Microsoft should be leading the way with thunderbolt ports, not omitting them from ALL their devices so far. These specs definitely do not make me regret buying my Lenovo Yoga 720 15 inch a coupke weeks ago. Best laptop under $1,500 without a doubt.

This really was sooo close to being a perfect laptop with Windows 10 Pro. If only it was also a 2 in 1 with tablet functionality, and if only it also had a thunderbolt 3 port. If it had those 2 things I would likely get 1 and install Windows 10 Pro on it. Hopefully Surface 5 or Surface book has thunderbolt 3 port.

Surface Pro 4 with keyboard looks the same and more comfy

A similarly equipped surface pro 4 is also about $100 cheaper $799 for the tablet + $129 for the keyboard = $928 before tax $999 for the laptop + $49 for the pen =$1048 before tax

I don't know about being more comfy. The Surface Laptop is definitely more "lappable".

Wait a starting at $1000 laptop that has Windows 10 s installed? Pay that much to be only able to run Store apps....what idiots would do that? oh you can pay more actually get a version of Windows that's worth a damn...this has to be a joke right?

..../sigh....Please read the key notes....its not really that hard...

And no specific call out on the WiFi/Bluetooth so we can only assume statues quo on terrible performance, no features, and plenty of buggy behavior coming out of sleep onto enterprise access points. All hail another generation of Avastar.

Microsoft needs to release this song as well.

Why would anyone buy 1000$ device in which you cant even install software :D

This thing is a major fail at this price for those specs.. It doesn't even fold, why bother with a pen?? Why not buy a Surface Pro 4? Fail. This PC will be the Windows 10 Mobile of PCs. That's how FAIL it is.

It's just an ultrabook that's priced similar to other ultrabooks. I don't see how that's a fail.

Ridiculously overpriced, who does Microsoft think they are, Apple?

So it's got the specs of a $700 laptop, but at $1,000...they're really overvaluing their "build quality" and overestimating what most schools deem worthwhile spending on computers, I think. Then again, I dont' work for a school and the education funding in America is a mess, so maybe they WOULD buy these. Personally, I wouldn't recommend them with HP, Dell, and Lenovo offering very comparable devices for hundreds less. I just don't get what market MS is looking at, other than the fashion crowd that won't leave Apple anyway.

This isn't for schools to buy. It's for consumers to buy. Perhaps for the purpose of going to school, or almost anything else

Find me a $700 ultrabook with these specs.

http://www.bestbuy.com/site/searchpage.jsp?cp=1&searchType=search&_dynch... Of note, they have 2 under $700 with 4 GB and 128 GB with an i5. Then, right at $700, they have 2 at 8 GB of RAM with a 128 GB SSD and i5. One is a 12-inch, rather thna the 13-inch setup on the other 3 and the Surface Laptop, though. If you switch the filters, you can actually see that there's a Lenovo on clearance with twice the RAM and SSD for $722 right now, though it's not an "ultrabook," since it's got a disc drive and dGPU as well. ASUS has a couple up at $750, then there are about 5 more at $800.

https://www.microsoftstore.com/store/msusa/en_US/pdp/ASUS-ZenBook-Flip-U... Get this for 500$ and be happy excepting backlight keyboard. this surface laptop is a bunch of bullshit at 1300$ for similar specs. they should have put 8 gb and 256 GB ssd at 999$. then it will be a mass market product. MS never learns.

It wouldn't even be a mass market product. I don't think they want that because they don't want to undercut/heavily compete against the other OEMs. However, like you said (and I said), 4 GB of RAM and 128 GB of storage at that price is utterly embarrassing. The downside is that you're proposing an m3 CPU with that laptop, where as I'd prefer to stay in the i5 class. It's a pretty sorry setup, since it's still on DDR3 and has a base clock of 900 MHz. It might be a decent option for someone who is very light in their laptop usage (heck, that means me), but I wouldn't offer this as an option to ANYONE going to school or looking for a primarry computing device.

so MS managed to put the Hello camera at the top of the screen while other manufacturers have had to put the camera at the bottom looking up your nose.

I have an Alienware 13R3 w/OLED touch screen that has a hello camera at the top.

This feels overpriced when compared to a Surface Pro 4, you'd expect a regular laptop to be cheaper than a 2 in 1.

$1,000 device for windows store olny.. Microsoft never learns

$1,000 device for windows store only.. Microsoft never learns

I love the fantastical use case scenarios everyone dreams up. Come on guys, it's a laptop. It functions like a laptop

Too expensive for incomplete OS! Why would one choose this over SP 4? SP 4 is even cheaper at this point. Forget free upgrade for now. Windows store at this point is completely useless. After giving away windows 10 for free to all devices for over a year, MS can't provide full windows for its own customers. The price would be fair for this device with full windows. And it seems MS also throws away its resource again developing S version.

Why is this better than an SP4? Also, No USB Type C?!?!?! For $500, I can get a Samsung Chromebook with a pen, Type C ports, a similarly-restricted OS, and it rund mobile apps, of which MS has a dwindling number.

Curious to know what SSD is under the hood...
If MS history is indicative, it'll be a slow OEM Samsung or Toshiba!
Will wait for iFixit to find out the upgradability....

Not to mention the contempt for the purchaser Microsoft shows by failing to list the WiFi implementation in a WiFi only device. SMH

Not too shabby. I'd get one.

Amazing specs for a surface laptop. Surprised it supports pen. I've used a surface pro for years, but this laptop setup is less than ideal to use the pen. You really need a tablet formfactor to use the screen optimally with the pen without fatigue and with better ergonomics. A pity the screen isn't rotatable 180 degrees. I think adding a touchscreen is an interesting, but good spec. Windows 10 has a lot of elements and touch optimized apps that make a mixture of keyboard, trackpad and touch a great experience. I've read dicussions about the missed opportunity to have a touch screen on a Macbook Pro. The compromise was touchbar. I'm still worried about the viability of the UWP platform. The consensus is that UWP hasn't really taken off, despite expectations. In my knowledge many education instituations still use a lot of proprietary legacy software. It is not clear to me how Microsoft plans to ease and optimize the hastle of converting many programs to UWP apps or provide as good or better alternatives for local and global education. I appreciate the other relevant problems tackled and solved with windows 10 S, but it is a pity they didn't shead any light on this issue by showing concrete examples of tackling this problem. Aside from the semi-steep entry price for the surface book, I am also curious to know other-"hidden" costs and compatibility issues for the adoption of windows 10S for education. I think then I would have a better insight and trust in microsofts new push in education. My first impression of the surface laptop was a feeling of disappointment and anticlimax. Like many (not all) I couldn't help ponder on the thought of a the current saturated market with windows 10 pc/laptop devices to choose from. In that regard I think the surface pro, other than brand recognition and appeal, might have a touch time existing and sell numbers. The starting steep price doesn't help, despite the premium branding, build and specs. As I understood microsoft wanted the surface to be a platform for innovation and raising the bar for its oem partners. With the surface book it feels more like microsoft is trying to join the croud, rather than head ahead of the pack. Not bad per se, but food for thought. The specs have given me pause to appreciate the device. On the surface I was not impressed, but digging deeper I can still see potential great appeal. With Microsofts clear mission statement to focus this device for education (.. and business perhaps) I can follow their reason for introducting this device. I guess its great to have options to upgrade or not to pro. From many articles and comments I get the idea the pitch is focussed around security and accessibility to non-uwp apps. I think Microsoft did a very smart PR here by providing this solution as an option. The choice between more vs less battery life, secure vs less secure, a locked OS vs an "unlocked" OS, Free vs paid (although curious to know how "free" 10S really is). I'm very curious if this model is going to help push more apps to UWP. In the long run I could see this, if succesful, catapult the further development of continuum and uwp support (that now seems to have stagnated). I can't help think that a lot of interesting push and pull is going on here as a front end stage strategy to tackle the UWP and app support issue. Aside the conspiracy theories, I think they made a sexy video. I hope they make a just as sexy one for the upcoming surface pro 5. I hope they do take the frist feedback to heart and consider also upgrading the port specs on the surface laptop 2 and surface pro 5 (usb c thunderbolt and chargingport combo). Looking forward to the upcoming myth busting reviews of that 14,5 hour battery life performance of the surface laptop.

Edge seems to have problems with windows central. apparantly can't edit at this point in time. 4th paragraph: touch = tough
book = laptop

Needs more cow bell 🔔...I mean usb c. LOL

Dell XPS 13/15>>>>>Surface laptop

They need to make a cheaper version to match Surface 3 at $299.

Beautiful machine be there a few major issues with he base specs of this machine 8GB should be minimum RAM installed on a machine today 1 USB A is huge problem. I would like to have 2 USB A ports The power port should be USB C. I have never used Microsofts magnetic charging port but I have had terrible experience with Apple magsafe

I guess I'll go with last year's Xiaomi Air 13. Microsoft still didn't put a USB C port in, WTF? For $800 I'll be getting the same thing plus USB C and dedicated graphics.

Do they even sell that device outside of China?

This laptop should be able to flip like YOGA..

After reading the comments I couldnt find someone completly agreeing with me sow hier is my 2 cents on the mater. I think it looks perfect and that screen is probably extremley wonderful. No rear camera is perfectly fine by me.
If the base model had 8 Gb ram I would get one. That would make it a real alternativ to Surface Pro 4 in my opinion. Alsow the propreatari charger is acctualy a plus in my book. I have the surface dock at work and home, and I have a Surface Pro 3 charger, and the usb port on that is quit handy (a bit weak though). But this should have had a USB type C connector, it could have dubbeld as a secondary charging point sow you could charge on the fly if some one had a usb-c. Alsow a usb-c would make students and workers more adaptable and future proof. And no for the controversie. The usb-c this dosent have should have been there to charge you Windows 10 Mobile, yes I stil want Mobile. If this USB-C alsow gave the laptop a continuum window to run you phone in it would be amazing. And beefor any one says "No one uses Continuum" I use it 3-6 houres a day and find it extremley helpful (this for another post though) I was expecting a 400-500$ laptop with lower specs (stil 8 Gb ram but maybe Core M ore Y prossessor), sow tgis is a bit hard to swallow. Why dident they come with a Surface Book "mini" a Surface 3 upgrade with this ports + usb-c and a performance base uping the batteri to the claimed 14 hours. and the ability to detach for sketching and note taking. That would be a proper Windows 10 S launshing unit.

Not even thunderbolt for external GPUs. x.x
Windows Central Newsletter
Thank you for signing up to Windows Central. You will receive a verification email shortly.
There was a problem. Please refresh the page and try again.