Microsoft Teams to exit preview with March 14 global launch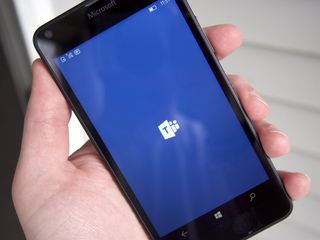 Microsoft Teams, the Redmond giant's answer to workplace chat app Slack, is all set for a general release on March 14. Microsoft announced the service will see a global launch next week (opens in new tab), accompanied by a special online event to celebrate.
From Microsoft:
Microsoft Teams launched into preview in early November, and has been available for organizations to try out in 19 different languages across some 145 markets worldwide. And so far, it appears to have been a success, with Microsoft stating in January that Teams was already being used by around 30,000 organizations.
If you're interested in tuning in, you can register for the launch event (opens in new tab) now.
Windows Central Newsletter
Get the best of Windows Central in your inbox, every day!
Dan Thorp-Lancaster is the former Editor-in-Chief of Windows Central. He began working with Windows Central, Android Central, and iMore as a news writer in 2014 and is obsessed with tech of all sorts. You can follow Dan on Twitter @DthorpL and Instagram @heyitsdtl.
For O365 Education please!

This and ProPlus. (my school uses O365 ProPlus instead of Education). Like group work is such a pain. Working over WhatsApp is not nice or convenient for that matter

It's interesting that the mobile app says to log in with "work account" but the desktop version says "work or school account." School account doesn't work, of course - all I get is: "Sorry, but we're having trouble signing you in. We received a bad request." But I suppose it will soon be extended to education, considering the desktop app placeholder text.

Lord. Beta, Preview, etc. When is the mess known as Skype going to drop the "preview" label and become commercial as well as functional? It was great when we had it merged in with our SMS native service. Now it ls just a game of "let's try this, let's try that". While we are at it...when are we going to stop being told Windows 10 Mobile is Beta? Let's be honest this "Preview" and "Beta" tags they love to use are no longer labels but just excuses.

What the hell does this have to do with the article?

Disregard my comment. It was a "preview" comment and will be upgraded to "beta" in a but. Hopefully sometime next year it will be ready for commercial and I will be able to drop the labels.

Here here.. that mess of skype preview has been terrible. It also hits many firewalls that SMS sync didn't.

I suggest not using it and / or leaving Microsoft feedback. Nothing you can do here.

My organization participated in the Preview and liked what we saw. There are some changes we need to make it more useful for our organization, but it's definitely a solid product made useful by integrating many of the features and functions of O365 with services that Slack cannot provide. If it is good enough, we'll deploy it along with S4B, but will make Teams our standard as it can almost do everything S4B can do plus all of the additional integration of services Teams offers. It will be interesting to see how well this is received.

Out of interest what is missing that still requires S4B?

​Desktop Sharing that doesn't require a call first. and Calendar integration for meetings are the first two that come to mind, but I actually put together a list and sent it to a couple of senior MS Teams personnel who told me that they would "make the list happen" but it might not be at launch. I'm in charge of our O365 roll out at the NHL so they were interested in my assessment of the product. We're only migrating users basic functionality for the time being, but will eventually make all of the services available to our staff. Right now the plan is S4B and Outlook to replace Sametime and Notes (shudders), but if Teams is good enough, we may roll both and emphasize Teams as the preferred client or may only roll out Teams. It depends on how good it is at launch as we are closely approaching our 50% mail migration target.

thanks for the info. We use desktop sharing a lot in S4B, but tend to call anyway.
Might give Teams a go.

Meanwhile skype preview will become a new brand apparently

Off topic: When will we get Tuesday patch ???

March 14. Second Tuesday of the month. At some point after last month's delayed released they announced that it would just be rolled out with this month's.

Why is it that new software by Microsoft doesn't come as universal apps for Windows 10? The download for desktop is win32 (or 64) compatible with Windows 7 "or later" and then there's a standalone Windows 10 Mobile. Is there a point in not allowing Windows 10 users to use the same app on different (types of) devices?

Saw this construction before (Yammer). I guess it has to do with the legacy OS's often used in workspaces (so it needs compatibility with W7 and W8). And off course to the fact that MS not shows commitment to their store.

I can speak for the ms teams app its a wpf application that mirrors the web app on the desktop which makes a lot of sense since you don't have to have the app to get the same functionality as the web app. The mobile app is nerfed in functionality compared to the desktop app so its not the same.

One of my favs, but if they want it to succeed, they really need to make it an app for everybody. Not everyone wants to pay for 365.

What they want to succeed is Office 365. Teams is just one more thing to drive O365. And it helps keep Slack out of Microsoft's clients, and closes off some of the monetization options for Slack (they can't go forever giving it away to people for free).

Using at work. Love it. Interesting you can make calls on the iOS client but not on Windows phone.

Just to be clear - this is still business and enterprise only, correct?
I wish there was a free version to use with Microsoft accounts just like there is a free version of Slack.
And one version for Office 365 Home / Personal.

Yammer, teams, skype, and the list goes on and on...

I know...thats what I was thinking... But this won't replace Skype it couple replace SKype For Business, especially after reading the above opinions. That is already two different items just with similar branding...

Wonder where they are at with external sharing? Pretty much useless until they have that solved because why would you choose this over Slack?