Microsoft appears to be teasing new Surface Book 2 hinge on Instagram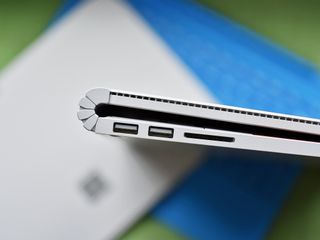 (Image credit: Windows Central)
Typically, when people spot odd things on official company social media the concept of a "controlled leak" becomes a topic of discussion. However, more times than not what we are dealing with is sloppy Photoshop work rather than an actual new product tease.
That's not quite the case with a recent Instagram image posted by the official Surface account. Many people in comments questioned the image posted with the topic "Surface Your key to success." The reason? That is not any Surface design we have seen yet.
In this situation those people are right, this is not a current Surface Book.
I can confirm that the image posted (it's not a photo) is from an internal Microsoft 'sizzler' reel meant to demonstrate some ideas for the new Surface Book 2. The video has recently been shown within Microsoft's various departments and meetings starting in July, and multiple people can confirm seeing the video where this image originates. That lends credence to the idea that Microsoft is purposefully teasing the new Surface Book 2. Nonetheless, it could also be posted in error, but that seems less likely.
New hinge on the way
Recently, I reported that the hinge has been reworked for the new Surface Book to have less of a gap when closed. When you look closely at the image posted, you can see how it has fewer ridges when compared to the current Surface Book, or, at the very least it has a shorter throw. Perhaps that is the other news I can report that this is the Surface Book 2 and not just a refresh with some new internals.
You may also be wondering if it is black or if that is some lighting trickery. Here, things become less clear. I have heard internal prototypes are black – or at least of a darker metal – but it is not yet known if those are because they are prototypes or if Microsoft will offer a new color variant or even replace the current silver/magnesium design.
As far as timing there is nothing new to report. Some intel suggests Microsoft will hold another Devices event in October in New York City, but I have seen some information that may indicate any October event may be to highlight new devices from partners only. I still hear of a Spring 2017 push for new Microsoft hardware timed with the release of Windows 10 Redstone 2.
Microsoft's new devices could include the Surface Book 2, Surface All-in-One (AIO), and the alleged "Surface Phone". All of that makes the timing of this Instagram post suspect as a teaser campaign started now suggests a Fall launch instead of Spring. Some circles think that Microsoft may just divide their hardware launch with some in the Fall, and others in the Spring.
For now, we'll have to wait and see what Microsoft has planned.
Windows Central Newsletter
Get the best of Windows Central in in your inbox, every day!
Daniel Rubino is the Editor-in-chief of Windows Central, head reviewer, podcast co-host, and analyst. He has been covering Microsoft since 2007 when this site was called WMExperts (and later Windows Phone Central). His interests include Windows, laptops, next-gen computing, and for some reason, watches. Before all this tech stuff, he worked on a Ph.D. in linguistics, watched people sleep (for medical purposes!), and ran the projectors at movie theaters because it was fun.
Reread it again, and you will know what he said

The current hinge doesn't look bad at all, but the alleged new hinge looks good! :) There's always room for improvement

Its not reall a surface book 2 teaser. its a false report. https://verdictforu.com/2016/08/29/reports-of-microsoft-teasing-the-surf...

Give me that black color!

Ever looked at a year old Lumia 830 in black vs. the silver? I'll take the silver all damn day.

I have a year old Lumia 830 in black, there are a few little scuffs on the frame where silver shines through, mostly on the edges, but it's really not that bad

It's just the lighting playing tricks on you guys. It's a Surface Book 1 hinge. It looks different because there is only one "facet" reflecting light and the rest are in darkness. Also, logically, Microsoft would NEVER tease a device that hasn't been announced yet on their Official Instagram, especially for a product line as top secret as Surface.

Interesting. Yet, accidents happen. Although I completely agree with you, the Surface team has been the most confidential that I've seen

Problem is, this is not the Surface team. This is the PR wing. Have you seen internal documents and sizzler reels before from Microsoft? They exist and are shown at specific internal events. I've seen them, others have too. Shorter version I'm not speculating here. But hey, feel free to ignore, that's fine too.

The PR team most definitely DOES NOT have access to Surface labs, escpecially for products under development.

I'm aware. However, this is not a photo. This is from an internal buzz reel shown at some recent events internally. Do you think Panos and his team make those videos? No, they do not. I stand by my claims here and my previous reporting. You are free to dismiss them. Once again, I am not speculating.

Now that this has been shown to be nothing but the SB 1, in the dark to highlight the keyboard light, do you want to modify this comment?

Except you're disregarding everything I wrote. I didn't analyze this on my own and come to a conclusion. Also, as to the "it's just the lighting" thing how to do you explain why everything is black except the silver line at the bottom of the display? For one, this is not a photo, but a render from a video. That means there are no odd lighting issues as it is computer generated. Number two it's because it's black.

This is super easy to explain. A pale matte device can easily look "black" when in very dim lighting conditions. You're right that this is a render, but renders are created to simulate how lighting behaves in real life - if anything, they can be even more pronounced in contrast as in what's seen here. If you're still in doubt Daniel, look at the edges of the keys - they have the same high "sheen" as the hinge, which should give you a very clear idea of the render lighting used here.

I'm in doubt because I know people who have seen these videos recently and are telling me that this image is from that video of the Surface Book 2. We can debate optics all night, but at the end of the day, I trust my sources more than debating in comments, sorry.

Lol. You are wrong. Deal with it.

Please... Calm down and then say sorry to him because you were wrong and he is completely right actually.

It's lightning. Or is this picture also teasing Surface Book 2? (PS: It's from 2015) (PS2: Just rotate it a bit) http://betanews.com/wp-content/uploads/2015/10/Microsoft-Surface-Book-keyboard.jpg Source: http://betanews.com/2015/10/23/5-great-reasons-why-you-should-buy-microsoft-surface-book/

Rudy Huyn actually already did the visualization for me.

Hey @verge and @windowscentral, sorry but it's a promo image of the original Surface book... ;) https://t.co/jTav2tJjwv

Dude! You're awesome! I always appreciate your participation in the comments.

Fingers crossed for the Surface Phone in October! But, I'm expecting it with RS2, makes more sense than October. I can have hope though!

I would really be shocked if the phone happened in October. Way too early, and too little for them to sell it on. I think we all want RS2 to make Mobile compelling and that needs to happen for a "surface phone" to succeed. Also, they're keeping that project under super tight wraps at the moment.

Yeah, that really makes the most sense. It would be really cool to see Microsoft come together with a big event showcasing the best of every sized device and how they work together. It would really make us Windows 10 Mobile users proud to be part of their ecosystem! I think they can do it!

We can still hope. Microsoft needs desperately to prove to the public thay they still have dedication to the mobile market. It's strange to go into the Microsoft store and the only employee that was a phone enthusiast was saying how much he loves Android. Doesn't even have a Windows Mobile phone. Working in the Microsoft Store???

Someone has to promote Cortana on Android, besides Microsoft isn't trying to sell phones to consumers so why does it matter?

Yeah, like maybe bringing back quiet hours when busy in calendar lol. Maybe RS4?

Looks sexy! :) Good bye ugly hinge!

I trust the 'leaks' done by Daniel more than any other leaks. I guess he has got some good contacts in Microsoft. Lets hope evrything written here is real.

Thanks. The only reason I'm posting this article is, let's just say some people internally are surprised to see that Instagram photo too.

but I love the gap, I will miss the gap microsoft :(

Yeah, I thought it was distinctive too.

I hope they keep the gap and dynamic fulcrum design, but the gap can be made more narrow so the entire profile is thinner when closed. A gapless design will force the keyboard to recess more, or end up with keyboard prints on screen.

The gap is indeed rather unique, odd for among virtually any other modern laptops but it does looks rather iconic. Though having small objects going through it is a legitimate concern, not to mention dust is freely roaming in those gaps (unless of course when Surface Book is mostly on sleeve or bags). The only practical thing that the gap does have a benefit is when you want some slight angle to be used on the table or lap. Those added height and angle is subtly better than just pure flat, but of course not on all cases. When you just want to close the device though, there isn't really much of a benefit on having that gap except the extra more ergonomic to hold on the hindge. Having a gapless design will indeed have to make that keyboard recess to the laptop base, which likely going to compromise either of the batter or the keyboard travel or both, which unfortunately a physics and engineering problem. I could only hope that they can manage to have a thinner but very dense battery. Also there will be a challenge for the GPU components on the base, especially when it comes to airflow.

Can't wait for its release

didn't WC say the surface AiO is supposedly released towrds the end of 2016?

I noticed that. But honestly I was more intrigued by it being black than anything else.
If the SB2 brings a flat design (no hinge gap) AND comes in black, I might actually drop the SP3 for it. Posted via the Windows Central App for Android

Me too! I missed the black color options of the Surface and having it back would be really great. This would hopefully refects to any of the Surface products. If there would be even more color options even just dark gray, that would be at least better than just having only one option.

Hi Dan,
You said ,,,""Surface Book 2, Surface All-in-One (AIO), and the alleged "Surface Phone"""
Any news about the band 3 or SP 5 ?
Also when you say spring time do you mean first half of 2017?

Surface team is really good at customisation lately.
Daniel, do you think it's possible that this is a limited/ launch edition? Because I think Surface had made it's distinctive style with their magnesium. It really stands out. There are tons of black laptop out there.
Or May be this is designed having business in mind.

Since we may well have 6 months to wait (and for things to change internally as well) until we get the real thing - probably we should just soak it in and see what comes over the months ahead. Personally the silver keyboard was a bit of a showstopper for me on the SB1. It would be nice to see it black, but I know Magnesium is a difficult material to get to a black state without scratching or peeling. So I'm taking the "we'll see" side of this one. More will come I'm sure.

Awesome news. Can't wait for the real announcement from Panos himself. My Surface Pro 3 needs to be replaced soon. And I think I'll go for a Surface Book this time.

If it is black, it needs to be black through and through. My Surface 1 was kinda blackish, and that wore out when it got scratched. So hopefully it is better than that. And I hope the screen went be wobbly like the current Surface Book, that is kind of a bummer for me.

This is all so cloak and dagger.

Yeah, baby! Ready for new devices!

Ugh, I don't know what to do. I wanna get a Surface Book for class. I think note taking would be perfect and I wouldn't have to carry around any notebooks, but if the SB2 comes out in October and I buy the SB1 now, I'll be pissed. I wouldn't care if the new one came out in the spring because I'd get plenty of use with this one until then..

It looks like the hinge gap is easier to close by Microsoft than the app gap ;-)

Please update your article showing that this is just a crop of an old Surface Book 1 photo: https://twitter.com/RudyHuyn/status/770209856749830144

Guess Mr. Rubino won't update this article after telling us about his sources who have confirmed that it wasn't SB1 :D

It's a Surface Pro 4 with the keyboard in the flat position. Absolutely 100%. Just the kind of thing they would take a photo of, after all...

It's from the original Surface Book. Nothing new

Daniel do you think that only seeing the release of the surface phone, SP5 and SB2, in 2017, they will revamp the designs or just do a Surface phone to the already know surface image? And btw any chances for a surface band\watch?

I hope they keep the Magnesium body color, I think it's sharp. I'd like to see them offer two different color options. I can't wait for the Surface Phone. I think more logically the devices that will be released this fall will be the new SURFACE 4 (the Surface 3 is now 18 months old-- it's a great device and I think they'd be foolish to discontinue the form-factor). The BAND 3 as well as the SURFACE AIO. Next Spring I expect to see a SURFACE BOOK 2, SURFACE PRO 5, & SURFACE PHONE.

Thurrott called it out, this is not Surface Book 2...awkward...and too bad, because it looked nice.
Windows Central Newsletter
Thank you for signing up to Windows Central. You will receive a verification email shortly.
There was a problem. Please refresh the page and try again.