Microsoft tops Fortune 500 charts for diversity and inclusion
Microsoft ranks highly in terms of racial and ethnic diversity but has room to grow regarding gender diversity.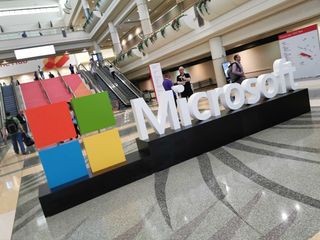 (Image credit: Daniel Rubino / Windows Central)
What you need to know
Microsoft is the top-ranked company on this year's Fortune 500 list on diversity and inclusion.
This year's list includes data from Measure Up, a ranking of progressive companies.
Almost 40% of Microsoft's board and 50% of its staff are racial and ethnic minorities
Microsoft regularly discusses the importance of diversity and inclusion, whether that be about Pride (opens in new tab), race, ethnicity (opens in new tab), gender (opens in new tab), or people with disabilities (opens in new tab). The company appears to be backing its words up with action, because it is the top-ranked company on this year's Fortune 500 list in terms of diversity and inclusion.
Fortune and Refinitiv partnered together to gather data and rank organizations based on 14 key metrics, including the percentage of minorities on a company's board, the percentage of employees that are women, and the percentage of employees with disabilities. This list also includes Measure Up, a ranking of the most progressive companies based on diversity and inclusivity.
Microsoft measures well in several key areas. Fortune highlights that it provides day-care services and has an employee resource group voluntarily formed by workers. The company also has targets for diversity and inclusion and policies regarding gender diversity.
According to Fortune, 39.7% of Microsoft's board is made up of racial and ethnic minorities. Overall, Microsoft's workforce is 49.8% racial or ethnic majorities. 41.3% of managers at Microsoft are racial or ethnic minorities.
While Microsoft has positive figures regarding racial and ethnic diversity, it falls behind in gender diversity. According to 2020 data reported by Microsoft, only 28.6% of its employees were women. 26.3% of managers at Microsoft were women in the same timeframe.
The data for Fortune's list is from 2020 when available and 2019 at the earliest. In the case of Microsoft, all data highlighted in this article is from 2020.
Windows Central Newsletter
Get the best of Windows Central in your inbox, every day!
News Writer and apps editor
Sean Endicott brings nearly a decade of experience covering Microsoft and Windows news to Windows Central. He joined our team in 2017 as an app reviewer and now heads up our day-to-day news coverage. If you have a news tip or an app to review, hit him up at sean.endicott@futurenet.com (opens in new tab).
<conservative insecurities about Fortune even having this kind of list triggered>

TBH, I'm pretty impressed with Microsoft's handling of diversity. Except for the completely cringe BUILD 2021 introductions where we learned what type of hair and complexion someone had and what, if any, native american tribe they were apart of (yeah yeah I get it, they were trying to aid the descriptive audio for better inclusion, but it was still cringe AF), Microsoft has never let diversity stand in place for products and services. Too often with diversity, companies seem to expect a pass for demonstrably bad work because they strategically hired a diverse and engineered representation of the populace, as if that's a replacement for personality or good design. Microsoft, for better or worse, has always kept diversity a matter of them putting their money where their mouths are and actually investing in generational workforces. Even if you're against diversity for some reason, you have to at least respect that. And it seems to have worked out for them. They have managed to not only be diverse but successfully cultivated a talented workforce. Well, except for their UI initiatives over the last 9 years, they successfully cultivated a talented workforce.

I'm not sure if it is important.

It's extremely important for global companies to have representative workforces if they want their products to succeed across the board and around the world. I got to see it in action when I was at Amazon, for years the common belief was that foreign products didn't sell in Japan, Sony dominated electronics and even companies like Apple struggled back in 2011. When we worked on launching the Kindle in that market Sony dominated eBooks and was seen as unbeatable. We hired Japanese engineers across age, gender and socioeconomic backgrounds to ensure that the product we built would appeal across the board in that market and studied Sony's reader to determine it's strenghts and weaknesses. The Kindle released in Japan was built for the market, including handling Kanji and helper characters better than Sony's readers did. It took us 72 hours after launch to pass Sony's marketshare in Japan, and we never looked back. Having a diverse team with strong representation from both western US based engineers and talent from the market we were launching in led to Japan becoming one of the largest markets for the Kindle and defeating a supposedly undefeatable opponent that Microsoft and Apple to that point had failed against in the consumer electronics space. Similar efforts within the US have led to Amazon's penetration into lower income and minority communities (for better and worse, honestly), and always started by making certain we hired, retained and listened to people in the spaces we were trying to reach. More important was hiring in spaces we were not in without any intent to sell into those spaces, they often revealed markets we couldn't see due to our own lack of awareness, and multiple projects I was a part of were behind the scenes successful in ways I didn't know existed because talent we had brought in pointed out things we were not aware of. IMO companies only ever get stronger the more diverse their workforce, and especially their leadership. They have hit a lot of walls the last few years as a company, the overwhelmingly white, male C suite executives have become an impediment to continued success and it's obvious both in terms of the type of growth they have at the moment and the general perceptions of the company starting to decline. I spent nearly 9 years there, and the lack of innovation over the last couple years was disheartening given the early promise.

That's not anywhere on my list of reasons why I buy a product or service. If a company produces something at a value that I wish to pay for, then we have a business transaction.

My own work life experience in a technical organization was for years that the organization looked for its STEM talent wherever it could and actively tried to steer local minority youth into STEM careers with paid internships, coop hiring, and summer fellowships. Good STEM talent is rare, finding more is always good regardless of source. However, this needs-driven approach was not sufficient for certain (politically driven) powers and a new regime came to power focused on demographics above all. Their solution was to "fluff up" the organization by adding non-technical jobs and filling them primarily with diversity hires. The line of business productivity wasn't improved in any meaningful way but at least tbey got the demographics they wanted to get the external pressure off their backs.
Didn't do much for morale or overall efficiency, though, when high visibility jobs were...constrained.
The job used to be fun and got...somewhat less.
I moved on. I have no idea how MS gets their statistics but I do know that as a broad based multinational they have a chance to recruit competent-to-brilliant personnel from everywhere. If their approach to diversity is to actively seek out top contributors with a fixed minimal talent level regardless of source then a (secondary?) focus on diversity makes sense: it is a matter of finding talent wherever it might be found. No reason to object. Diversity for diversity's sake, though, is meaningless-to-counterproductive.

There is literally no such thing as a diversity hire.

Oh, there definitely is.
People hired solely to improve the organization's statistics. They end up in high visibility minimal productivity jobs. Window dressing. Some know it, many don't.
Maybe not in your world but they exist; I've seen it. For that matter, in the government contracting world there are hundreds of small, minority owned business that exist solely to bid on federal contracts and then sub-contract the work to majority-white companies that aren't allowed to bid on those set-asides.
There are dozens of documented cases including a 2008 SCOTUS decision putting strict limits on the practices of set-asides.
This is but one: https://pacificlegal.org/chicagos-racial-contracting-set-asides-hurt-min... Note the case of the guy who got hired to get the company to qualify for a contract and fired once they got it. Mixing racialist policies with business is...tricky.
I'll go no further but if you do an online search you'll find abundant documentation of how...tricky.