Microsoft makes it easier to find TV episodes you don't own in latest Movies & TV update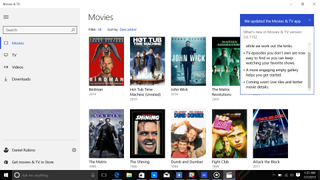 Microsoft released a new Movies & TV app to replace the previous Xbox Videos hub. This new app offers tighter integration with the Windows Store for purchasing or renting movies and TV shows, as well offering personalized recommendations to help you discover media you may not be aware of. Microsoft since has rolled out an update that implements a few things.
The company has made it easier for you to hunt down and find TV episodes you do not currently own, making it almost a breeze to bolster your collection. Microsoft has also implemented a more engaging empty gallery to help get you started when you first fire up the Movies & TV app. It's noted in the release notes that plans are in place to bring Live Tiles support, as well as improved movie listing details.
Movies & TV expands on the solution offered by its predecessor, including an improved array of supported file types. Movies and TV is now readily available on the Windows Store and you can download the app to see what's what. Grab the update (3.6.1152) from the store and give it a go.
Download Movies & TV for Windows (opens in new tab) (Free)
Rich Edmonds is Senior Editor of PC hardware at Windows Central, covering everything related to PC components and NAS. He's been involved in technology for more than a decade and knows a thing or two about the magic inside a PC chassis. You can follow him over on Twitter at @RichEdmonds.
Not available in your country

Movies app needs a dark theme.. Plus there's alot of wasted space in the app. It feels barren.

Dark theme does seem like an obvious miss.

No dark theme! Unbelievable really, produce something new that is less than what was offered before. I simply do not understand this logic, really Microsoft!!!

Does it mean the mobile version got updated too?

Waiting on Cortana support, Get a quick reminder on the x1 (or what ever device your using) that the latest episode of so and so is about to air, with a prompt if you wish to record to watch later (depending on legalities on your region) or watch now and record or just watch. Also the ability to watch something where you left it, on another device. Well I'm hoping the app evolves into that; would be pretty darn amazing.

Re: TechFresk1,
Great ideas.
Some of the features are available now with the My Media Center app (from Ceton) and using Windows Media Center (WMC). The remote scheduling of newly discovered TV shows or movies, to record, on WMC. The ability to watch something where you left it, from room to room is available using WMC and Xbox360s on each TV. We have it set up as a Whole House Media Center using Xbox360s on all TVs. We can record or watch live, over the air (OTA) and/or Cable TV, even copy protected (DRM) cable TV (HBO, Showtime, ...)
I hope all your features come to the phone as an app.

Something is still missing from the store is a wish list option. With that I don't need to search every time something that I want but I'm not buying at the moment.

Yes! They need to add that wishlist option. Why dint MS come with THAT till now¿

As far as I know, there has never been a Xbox Videos hub. There's only a laggy Xbox Videos app.

They could have named it groove all in one right. Includes music streaming movies and TV etc.

Groove lends itself to music more.

Thats why I think it isn't a good name. They needed something like Google Play that encompasses every service they have now and more they will have in the future

Well the google play tv and movie is a joke. All thsoe content one gets it at torrent or sometimes at u tube. And no one can stand in front of torrent when it comes to downloading great free contents. So like google play movies and tv this app might be a flop for majority for the users. Except the music service which microsoft has renamed it to groove.

The same can be said about music.

That is why I am wondering why they want to leave Media Center which covers the gamit of photos, music, videos and Microsoft could have added live concerts to the menu.

The more I think about it, 'Limelight' could be a great brand name... They could suffix anything on the end of it... Limelight Music, Limelight Video, Limelight Apps etc... All available from the Microsoft Limelight Store.

Is the service worldwide? I'm asking because Xbox video and music services weren't available in Greece!

I know they're trying to promote it as their store service, but honestly I won't be using it as I already use ultraviolet for my bluray collection as well as plex for the rest of my media. At the very least I'd have expected Microsoft to include support for the bluray digital media standard of ultraviolet movie collection/streaming via a linked in service. At least give me a reason to keep going back to the app in the first place with the content I already own. Until then, I'll be sticking with Plex and flixster poor excuse for a ultraviolet app in the UK market.

Is it only in the us or also in other countries like Malaysia?

Fire it up and let us know!

Its not available in Malaysia. Thank god we had google play movies& tv, so shame on u Microsoft!!

So this is the default video player in Windows 10?

It's up to you. WMP is there and as of now it asks what you want your default to play on when you first open a file.

still no subtitles .srt support?

I wentback to windows media player after using these apps....these apps are just toooo simple to use on a PC. Theyre ok for tablets

Same. Need playlists of non-store content.

Incorporate options to inlude accent colours? Posted via the Windows Central App for Android

When will they give us dark theme !! We want dark theme in every single app !! Even the Microsoft edge's new tab page needs to have dark theme !!

I am fine with the app... the thing that gets me very frustrated is that Microsoft are still failing to be able to deliver all of the services worldwide... this includes Music, Movies, Xbox Live, Cortana and so on. iTunes on the other hand gives me all of the options as well as Spotify for my music needs. Looking forward to the ability to use Microsoft's services for all my multimedia needs soon!

Tv and films are way too dear in comparison to a Netflix or sky now sub. I have a music pass, but won't use their video service

Still can't delete shows from years ago. This has been a problem since Zune.

I must to ask you Daniel do you really think that it is good name grove for music player and movies and tv for video player ? I really this it is really bad move and I will explain Microsoft need to advertise this apps as the best player for music and video with unique name because it is going to be on apple and google platform so OneMusic One Video or Groove Music and Groove Video and it is the easies way and cheapest to tell people you can buy content from one place Microsoft Store to play it on Music and Video Apps at any device or play the media you already owned Because Now Groove tells me nothing and most user will think you need to buy content to it also will might go find other player to play their owned media and so on Moreover this service only on USA and Uk maybe more but the point is not most of the people will be able to use this service and will look out to another media player or service OneMusic and OneVideo or GrooveMusic and Groove Video is the easiest and cheapest way and with with almost no risk on it

Video player still won't let me create a playlist from local content and doesn't display files in my UNC share. WMP for me. Hope Emby gets updated soon to 10.
Windows Central Newsletter
Get the best of Windows Central in in your inbox, every day!
Thank you for signing up to Windows Central. You will receive a verification email shortly.
There was a problem. Please refresh the page and try again.