Microsoft updates OneDrive app for Windows Phone with some bug fixes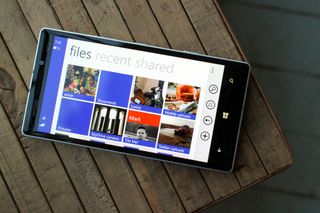 It's Monday, so it's time to kick off some app updates. Microsoft goes first with their OneDrive app, which recently received a fairly major update a few weeks ago. Since that time it received a bug fix update for duplicate folders and today, 4.1.2 is live in the Store bringing even more improvements.
So what's new? Nothing much, as the changelog simply noted 'bug fixes and performance improvements', which while not detailed at least tells you something.
OneDrive 4.1.2 is fairly new, so you may not see the update live just yet, but give it a few minutes or force-check the update if on Windows Phone 8.1. Head to the Store here to pick up OneDrive for Windows Phone.
Thanks, everyone, for the tips!
Windows Central Newsletter
Get the best of Windows Central in your inbox, every day!
Daniel Rubino is the Editor-in-chief of Windows Central, head reviewer, podcast co-host, and analyst. He has been covering Microsoft since 2007 when this site was called WMExperts (and later Windows Phone Central). His interests include Windows, laptops, next-gen computing, and for some reason, watches. Before all this tech stuff, he worked on a Ph.D. in linguistics, watched people sleep (for medical purposes!), and ran the projectors at movie theaters because it was fun.
Eh I need Google Drive but this works as a replacement for now.

Who wants Google drive when you have OneDrive, works so much better and is integrated in Windows 8 and Windows Phone.

School its not blocked so i save my documents on them. But when it comes to OneDrive its blocked for online storage...

Seriously? What kind of school do you go to? Most organizations including school and universities now days go with Microsoft services especially office 365

You should seriously go to your school's principal and complaint about it.

Agree, i din't use google drive, but i use to use dropbox a lot, ever since i got wp i been useing onedrive and its kind of replaced Dropbox for me..

Here's a very obvious problem with OneDrive. If you save photos to the cloud that include location data, it STILL is not possible to hide that data when sharing photos.
This is a laughable omission from Microsoft - and puts its user at risk.
Don't get me wrong...I like MS services - but they aren't nearly the best out there...

Those concerned about it usually disable location data on photos. I'm personally not a fan of leaving that in the photo data anyway. Cannot fault the company entirely if people fail to police themselves.

Sorry Kevin, but you are wrong on this one. Any photo sharing platform worth its salt has the option to disable location data. Facebook and Twitter automatically strip such data from photos - and platforms such as Picasa WebAlbums allow users to selectively enabe/disable location data when sharing a particular photo. Microsoft's services shouldn't be full of such compromises. Oh, here's another compromise that is forced upon us by Microsoft. I backup my Wordpress website to DropBox. I would rather back it up to OneDrive - but surprise, surprise, Microsoft do not allow us to use OneDrive as a backup solution (pretty much every Wordpress backup plugin singles Microsoft out for this limitation). Oh, and I am also not allowed to upload 'naked' pictures to OneDrive. Why exactly? Microsoft seriously need to look at the service they offer. It just has too many limitations to be considered a proper backup solution

I know you're definitely wrong about naked pictures. There are limitations on sharing it for obvious reasons.

It would seem I am! I remember threads on WPCentral a while back discussing the limitations of Skydrive. Those limitations or fears have been cleared up in subsequent OneDrive Reddit AMA's. http://www.neowin.net/news/microsofts-skydrive-reddit-ama-info-on-storing-nude-images-file-size-limits-and-more Still, not being able to use OneDrive to backup Wordpress websites is a clear limitation...as is the location data issue. Both off which I REALLY hope Microsoft resolve as OneDrive is central to my computing life. (I have a 1020, an Asus T100 and a desktop - all of which use and share data via OneDrive)

What is so wrong with location data in photos? What do you have to hide so much?

There are a lot of bad people on the internet...I would rather they couldn't discover my exact location (and that of my family). You shouldn't be so lax about giving out such location data. Oh, and for a real world example of the risks people are facing...
Strava recently gave users the option to mask their exact location. They did this because thieves were using Strava's heatmaps feature to determine where cyclists were living ( and thus who to target!). You should be questioning WHY Microsoft has yet to implement this feature rather than wondering my reasoning for wanting such a feature implemented.

I just took a picture in my home, it says it was taken in Mountain House, CA which is where I live. It in no way shape or form has the exact location of my home or anywhere close to it except the city. Good luck robbing me. I highly doubt it puts anyone at risk.

Try copying the exif geo data into google earth...it'll take you to your house!
Then again MS may have plugged the security hole. If they have done this, then that'd be great. I'll confirm later when I get back to my PC.

I understand your concerns, but wouldn't the only people seeing such data be the people you allow to, via sharing? Not arguing. Just trying to understand.

I am a member of a few consumer orientated websites in the UK. One of those websites has a known problem with fairly vicious internet trolls (I found out the hard way!)
I had posted some user guides for a few products I used...the photos from which were embedded from my Skydrive albums and included my geolocation exif data.
I have since stopped sharing photos on that website - but I can see that lots of Windows Phone users still do...
So yes, I think Microsoft should better protect oblivious users from giving out geolocation data when embedding photos on public websites...
I have learnt my lesson - but I perish the thought of anyone unwittingly giving their location data to such vicious sorts.

Ok...that makes since to me.

Not sure why you would say that about naked pics. Backing up and sharing works for me.

Turn off location data saving.

That is not a solution. That is a compromise (and an annoying one at that!).
I want to save my location data for my own personal use...I do not want to share that data with people on the web... Dropbox, Facebook, Twitter, Picasa Web Albums --- these services all either strip the data completely, or allow us to share photos with location data disabled. Microsoft really should sit down and look at all the features offered by their competitors. They then need to apply the things that competitors do to OneDrive. They simply can't claim to be the best when they are so short on features! (As mentioned above - another big limitation of OneDrive is that it cannot be used as a backup plafform for Wordpress backups for example. This forces me to continue to use DropBox - which has no limitations whatsoever in that regard). I also don't have to worry about uploading risque pictures to Dropbox. Microsoft's moral standards prevent me from doing so on OneDrive.... Sorry - OneDrive just is not the best service at present.

It is a compromise that you don't have to make on other storage platforms. Therefore, it is not a solution.

A compromise is a solution. Just because you don't agree with it has nothing to do with its validity. Now as for the additional solutions you have expressed I would like to see Microsoft apply them as well.

Ok...let's make it easy.
If I used Dropbox or Google Drive, I could selectively enable/disable the sharing of location details.
In Microsoft's OneDrive, I do not get that option.
OneDrive is behind the competition in this area (and others).
Your 'solution' is a bodge job that does not accommodate people who wish to geotag their photos AND protect their privacy.
This is feature that other services offer. It is therefore an omission on MS's part to leave it out.

Yes, I would like that feature.

Yeah, right... except that you cannot make music available offline for example. So I cannot use OneDrive to store and stream my music, the way people do with Google drive. Or download a movie...

How many bugs does this crap have?

There's a 3rd-party gDrive app you could try (if you haven't already): http://windowsphone.com/s?appid=c945c809-5e5d-4db3-b4c9-70c8cebd5235.

Use Woopiti - http://www.windowsphone.com/en-us/store/app/woopiti/20e820bf-56a3-4ec5-a... Has support for - Dropbox, Box, Google Drive, OneDrive, Google+ (Picasa), Youtube, Bitcasa, Copy.com, Baidu, Kanbox, CloudMe, HiDrive, 4Shared and WebDav

Now lags more than previously and still has the time stamp wrong on pictures.

Please update WhatsApp only

The only app in the phone is WhatsApp.

4.1.2 no update in uk store. We are still on 3.6.0, nor do we have official 8.1 ;)

Same for me in U.S. Showing 3.6.0 still.

4.1 is for 8.1 - Preview or official. But there is no official, so yeah.

Then article should say 8.1 on title.

This 4.1.2 is for WP8,1 Developers prevew, which technically is a BETA version of WP8.1. Official version of WP8.1 is still not rolled out. It will be rolled out somewhere from june. For users who have WP8 GDR3, the latest official OneDrive app is version 3.6.0.0

I'm loving this new screen resolution that WP8.1 takes advantage of.... My Lumia 1520 finally can take advantage of its 1080p screen... It just seems like MS has fixed the resolution in a lot of the OS, and apps like OneDrive show way more content than before... WP8.1 really has got a lot right...

Mmm, gotta love them bug fixes

I can't believe there's still no downloading VIDEOS!

Exactly, it is ridiculous! I shouldn't have to go the the Desktop OneDrive site on IE 11 on Windows Phone 8.1 just to download my videos.

Microsoft do all they can to limit bandwidth usage. So you shoudn't be too surprised.

You should always note that the update is only for 8.1, since it's a beta.

This. I was a little miffed when I clicked the app store link and there was no update. It's a pretty important distinction and contrary to popular belief, not all of us have jumped on the 8.1 Preview bandwagon.

Yeah, a short reference to 8.1 in the headline or even the article itself would have saved me a fruitless store search as well.

thumbnails in photos hub are still broken!!

I think they will be broken forever. It's a real great selling point for WP when I show my phone to friends "Here's all my photos stored safely on OneDrive... well, I don't know why the album covers are gray".

They've changed the Photo Hub in WP8.1 so the problem is 'kind of' fixed. now there is a folder link to One Drive (as well as Facebook and soon apps like Twitter etc that use the new extensible framework. The folder pics are working now in this setup

No the thumbnails do not update there for the camera roll and the recent photos.

cannot upload any files using app can upload using IE access only

It's it me or is video streaming from OneDrive absolutely terrible? I have to go to the website for it to be remotely usable.

It is terrible for me as well, via wifi and LTE.

One drive streaming is horribly slow for me too regardless of platform. It takes a really long time to load a 30 second video.

it's horrible, as it ever was, it's a shame; thought I was one of the few but evidently we are a crew (well my wife and my relatives got the same issue and we are in different countries).

Yes cannot do it on my surface or laptop on my home WiFi.

After WhatsApp and UC Browser the most used app (deal with many docs)

Plus I need Video download. Yesterday to get video from OneDrive I had to install it on Android phone, download it then send to my 928 via WhatsApp

Or - download via the desktop version of OneDrive on IE11 (WP8.1)...

Forgot it's Monday, bank holiday here in Ireland and I'm still drunk!! Seems faster though lol

ONEDRIVE SHOULD BE MADE THE OFFICIAL WP FILE MANAGER. this would make users to use the cloud better by moving files easier. A swipe section on the app should be labeled local or phone and sd card. An autodelete feature should be given to photos automatically uploaded to cloud

Still cannot download multiple files. Seems like they don't even recognize it. It's a joke

One really needs some fixes none of my uploads from my 920 have shown up since last week and takes forever to load up on it, its been working fine on my 1520 on the other hand.

When will I be able to download and save my music to my phone?

You can save music to OneDrive, go to Xbox Music, open the song list, keep pressing any song and select "share", from the share list select OneDrive.

So does it save to my phone or is it just gonna stream? I don't wanna use all my data...

So how do we sign in to a separate OneDrive account?

OneDrive is more integrated in WP8.1, it is the key for a lot of new features, like backups and mainly, file picker. Use another client, there are several OneDrive clients .

They should add posibility to pin documents to startscreen, as for now this is only possible for the folders from onedrive.

ditto! I am able to pin documents when I browse skydrive hrmm onedrive through built-in Office.

With previous update I was able to see OneDrive next to file picker when uploading files in IE (I use outlook webmail in the phone when I need to attach multiple files to a message), but it crashed every time I tried using it. I was hoping for a fix... They removed this function. A radical fix indeed.

So did Box. Coincidence? I think so.

Fix the shitty Xbox Music. Worst crap ever.

Update error Lumia 925 WP8.1....

After 8.1 update...im not able to update photos to onedrive. Am I the only one facing this problem...?
L625.

Went don't the windows phone version doesn't have a video player scrubber when you play videos from onedrive?

Has been retracted from store?