Microsoft wants you to get your bling on – announces chrome series gold Xbox 360 controller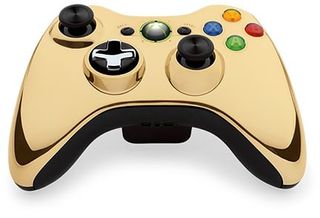 Do you ever play Xbox 360 and wish you had a controller to match the spinning gold rims on your decked out automobile? Well, if you do – you are in luck! Microsoft announced today via Major Nelson's Blog that an Xbox 360 special edition chrome series gold wireless controller (wow, that is a mouthful) will be released in August for $54.99.
The special edition controller will feature Microsoft's new transforming D-pad and will be available in the United States and select regions worldwide. Customers in the USA will have to purchase the controller exclusively at GameStop and Microsoft Store locations.
If worse comes to worse and you don't like the controller after you purchase it, you can always melt down the chrome gold finish to use as a faux tooth.
Let us know what you think about this work of… art.
Source: Major Nelson's Blog
So 60$ for a controller that you'll never use? Count me in... Why can't XBONE use 360 controllers?

nah, I would rather wait for a xbox 1 controller

I'm right there with ya. No point in me investing any more money in my 360 with the X1 coming out in 4 months.

Interesting tale, ol' chap.

Gotta get this to match my teeth

They better come out diamond studded

There really trying to keep the 360 alive. I'm sure that it'll fool someone but... I'll wait for the 1

I bet this is just made from what's left of the C3P0 controller that was only available with the R2D2 console

Exactly what I thought too!

Isn't that just the gold controller that came with the special edition Star Wars 360?

Minus the faux wires at the bottom. They probably had leftover gold paint. I personally don't want any gold controller unless it's packed in with a new Zelda game... and I seriously doubt that will be coming to an Xbox anytime soon.

You have to love uneducated comments.
These are not painted--never were. They are vacuformed plastic.

Everyone designing polished surfaces for consumer products, ESPECIALLY ones that are supposed to be touched, should be lined up and shot. Thrice.
Because fuck you. Stop making designs for showrooms. They are supposed to look appealing even AFTER using them.

What he means is that they look pristine now, but they'll become grubby after using them the first time. This displeases him greatly and he would prefer manufacturers took another course of action :P :P

Usually the paint is on the underside of clear plastic, meaning it won't be rubbing off any time soon.

This is old... That controller came bundled in the Xbox360 Star Wars Bundle. It has a little.more features in that bundle to mimic CP3, but nonetheless same controller. I know because I have the bundle, bought a chrome controller to compliment it. Guess some people will buy it, probably wouldn't had it not come in the box. Lol.

Awwww yeahhhh. Matchin my guns on call of dooty

To bad they don't have diamond studded controllers... I'll never match my guns.

Who in Microsoft marketing thought "chrome series" should even be remotely part of the name? The first thing that came to mind when I saw that was a certain browser that isn't made by Microsoft.

Because it has nothing to do with the browser and refers to chroming or being chromed. I don't think anyone would think this was a Google effort

So who cares? I was fine with w8 news being on this site, but news about a new colour for the 360 controller? This is stretching it a bit to far I think. I have other sites for Console news

I actually like the fact they have been expanding their coverage. All these technologies are converging and it makes sense to cover it. They're kind of becoming all things MS and I like that.

I have one with my star wars Xbox 360

Seems to me they're going the route of Sony, selling the 360 along side the x-one.

Last year I needed a new controller and almost bought one of the previous chrome models. I know they are gaudy as all get out, but I don't give a crap. Who's gonna see it other than me?
But alas, I actually found a new regular black official 360 controller for a lot cheaper (stock clearance price, since this was the older model without the transforming D-pad), so saving the extra dough was more important.
But, if it was down to paying full retail price and choosing between white, black or one of the chrome series... f*** it, I'll take the chrome one just to be 'different'. Like I said, who's gonna see it other than me?

According to the image above, the analog sticks seem to be redesigned in the style of the ones on the XB1 controller. That's very interesting that the controller styling is also being somewhat backported.

Well spotted. They do seem to be lacking the compass point dots of every other 360 controller thus far.

Bad taste just entered a new other level...lol

Maybe if it was steel black. But gold doesn't really tick me on.

It's the C-3PO controller!

Lol.. What's the point of getting this. Atleast a gold chrome phone will be worth it, people will notice its different and unique but no one will know you have this gold chrome controller unless you invite em to your home and you show it to them :S

Xbox one..blah. Plenty of us will use 360 for some time after the Xbox one release...

Use the 360 yes. Buy overpriced end of life controllers No.
Windows Central Newsletter
Get the best of Windows Central in in your inbox, every day!
Thank you for signing up to Windows Central. You will receive a verification email shortly.
There was a problem. Please refresh the page and try again.