Photo tour: We seek Surface discounts at Microsoft's Worldwide Partner Conference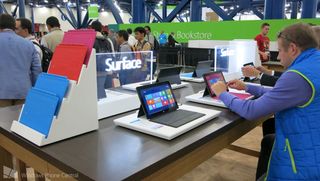 Microsoft's Worldwide Partner Conference 2013 (abbreviated as WPC, not to be confused with Windows Phone Central) is currently going on at the spacious George R. Brown Convention Center in Houston, TX. The yearly event focuses on Microsoft's IT and Enterprise business, allowing companies designated as Microsoft Partners to come together for learning, networking, and much more.
A few weeks back, we reported that Microsoft would be making its Surface Pro and RT tablets available to WPC 2013 attendees at drastically discounted prices. Well, never let it be said that we don't follow through on our news stories. Your friendly neighborhood Games Editor stopped by the first two days of the event and put the discount offer to the test. Find out if I succeeded and see lots of photographs from the show after the break!
The quest for Surface
This giant sign greeted visitors as they reached the second floor.
A quick recap of the Surface discount offer: qualifying attendees (including press, thankfully) are eligible to purchase one Surface Pro with 128 GB of storage for $399 (original price: $999) and one Surface RT with 64 GB for $99 (original price: 599) during the event. That's a massive discount, and as you can imagine, just about all 20,000+ attendees have taken advantage of it or are planning to do so.
In order to buy a Surface or two on the cheap, show-goers have to line up on the second floor of the convention center and wait to be escorted down to the first floor by Microsoft employees. Considering that thousands of people qualify for the Surface offer, the lines I saw stretched incredibly far.
On Monday I stepped into the queue as soon as it opened at noon, skipping lunch in order to hopefully expedite the purchasing process. I didn't make it downstairs until 3 PM! I played NBA Jam and watched King of the Hill on my phone to pass the time in line. I understand that Microsoft established a separate press line on Tuesday in order to free up journalists for stories and such, but that didn't help this poor typewriter jockey.
Upon reaching the coveted downstairs line, I finally entered the Microsoft Store specifically set up for the event. The Store has lounge areas set up in which visitors can play with Surface tablets (as shown at top), Windows 8 notebooks, and Windows Phones at their leisure. Most importantly, the sales counters are manned by full-time Microsoft Store employees. The cashier who helped me out is actually a dedicated reader of our site!
The final result: I was able to purchase a Surface Pro and RT tablet for myself, which I'll use for my Windows 8 games coverage. And I've already got some Surface accessory reviews lined up for this week and next!
Quick tour of WPC 2013
Attendees could sample every current Windows Phone 8 device at the Windows Phone booth.
Acer's booth showed off their new Iconia W3 8-inch Windows 8 tablet.
These dancers promoted Microsoft's Enterprise-focused Lync instant messaging software.
Evan Brossard and Zachary Nawar (programming students at Kentwood High School in Covington, WA) created this Microsoft trivia game based on the classic arcade game Missile Command using XNA and C#.
All of the people working at the Office booth wore cowboy hats, as we Texans do during our every waking hour and even while we sleep.
A wide variety of nations were represented by these regional lounges.
The Windows 8 booth hosted a wide array of tablets, notebooks, and PCs.
Microsoft Partners could organize meetings in the vast WPC Connect Purple area.
We may not all be Microsoft Partners, but we all love Microsoft.
Windows Central Newsletter
Get the best of Windows Central in your inbox, every day!
Paul Acevedo is the Games Editor at Windows Central. A lifelong gamer, he has written about videogames for over 15 years and reviewed over 350 games for our site. Follow him on Twitter @PaulRAcevedo. Don't hate. Appreciate!
Damn I wish someone could buy me a Pro version :(

I attended TechEd in New Orleans and it looks like MS tried to improve upon that (Surface purchasing) experience although we had 10,000+ in attendance so there's only so much they could have done. At one point the line was over 6hrs long.

Congrats on your "short" wait ;)

My wait was about three minutes cuz i happened to be walking by when they opened the store 90 minutes early on the first day of the conference (Sunday). Everyday after that they had long lines wrapping around the gamer hall, MS book store and down the outside exhibition hallway.

Techiedude

Wow, three minutes sounds great. Glad you got one too, Techiedude.

Same here... Got mine on Sunday but still waited about 2 hours.
And Paul... here's a hint...
On the last day of the conference... just... hang around the Microsoft Store at closing time. I'm not saying much else.

I know, serious, I'm a Microsoft employee and I can't even get a 5% discount! I had (and have) to pay full price.

Damn y'all dont get discounts at all? I was trying to get a part time gig over there.

I was under the impression MSFT staff got a free surface? Thought I read that somewhere

You are correct, we did get one free. But I'm never satisfied with the minimal specs so I had to buy the next model up. Not to mention I wanted mine the day it came out and the free one didn't arrive until a couple days before Christmas. It made a great Christmas gift foe my kids. However, as a rule, we don't get discounts on hardware. Software, yes, hardware, no. :) My bad, I should have clarified.

Ah ok, fair enough.
Yeah I would be the same. As it is, I had to import my pro cos I didn't want to wait months for it to come to AUS. So impatient.. haha

So you're saying the Microsoft Store on campus doesn't carry hardware anymore? Back in the days as vendor with few visits to campus in Redmond it looked like this. But admittedly this was before the mobile craze...

It carries *some* hardware, but more along the lines of accessories (keyboards, mice, etc.) I haven't seen any XBox or other hardware devices except for the Kinect.

When I lived in Redmond, there was a store on the main campus where you could buy all their stuff at cost. I got windows OS and office for like $50... But that was many years ago... Don't they still do that? Oh and it was for employees only.

I believe employees get a huge discount on software but nothing on hardware.

I can neither confirm NOR deny. ;)

i was hanging out downtown yesterday. Wish i could have stopped by and by an RT for cheap

As a Texan, I lol'd at the cowboy hat line.

I live in Houston. How do I get to attend or even just come in to check out the cool booths ?

It's very expensive to get in. You can do a web search for the WPC website. Thursday is the last day though.

Smart move, the fresh listings should be interesting.

wpcentral should sue Microsoft... Haha lol.

Built for business? Really? My business uses VPN. My business also requires me to configure simple routers on-site that don't always use DHCP.
I must not be part of the intended target audience for Windows Phone, but that's pretty odd considering I'm a .NET developer and systems administrator of a microsoft server cluster.

Wow I'd actually buy a Surface for that price!