Microsoft WPC attendees get discounted Surface RT ($99) and Surface Pro Pricing ($399)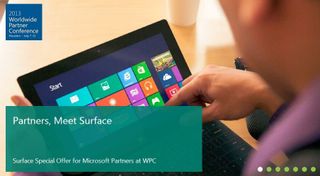 Microsoft has announced that their Surface RT and Surface Pro tablets will be available at a discounted price for WPC attendees. The company's annual World Partner conference will offer a Surface RT 64 GB with touch cover for $99 and a Surface Pro 128GB for $399.
Don't get too excited though, a ticket to access all of WPC 2013 will cost you $2,000. The conference this year is hosted at the Toyota Center in Houston Texas from July 7th to July 11th. Over five hundred speakers will be present including Microsoft's CEO, Steve Ballmer.
Microsoft is working hard to put their Surface tablet in the hands of their partners – which in, turn should drum up developer interest.
If you can't get out to WPC 2013 or/and don't have $2,000 to drop on a ticket, we wouldn't worry. With Microsoft selling the Surface for $199 to schools and now giving them away for $99 at WPC, it is more likely that a new Surface device is right around the corner with Windows 8.1.
Anyone here going to WDC or at least watching the Live Blog with us?
Source: WPC Blog
I thought it was $199 to schools? Typo?

Awesome - glad i'm going to WPC now :)

I'll give you $150 to snag me a $99 RT...

Im in San Antonio and id be willing to meet you and pay $150 for an RT if you can grab me one.

Will be waiting to see if there's a limit on quantity. Need to actually get some for my company too :)

Haha, I completely understand. My brother in law lives in Houston and we were both very actively looking for a good deal on one of these. If its possible, I would very greatly appreciate it, and dinner would be on me.

I live in Houston....anyone want to spot me the $2,000?

Sure at 40% interest compounded daily.... :)

Anyone wanna take my $100 and pick one up for me while they're there? :)

$99 for Surface RT and $399 for Surface Pro for all WPC attendees BUT $2000 for a ticket!? LMFAO da fock!?..

that 2 grand you'll pay for the ticket probably will make up for the profit of them surface devices LMAO.. tsk tsk.. no brainer there.

Perhaps I'm understanding of confusing this with build. My brother's brother-in-law goes to seemingly all of these types of conferences and comes back with lots of free goodies. In addition to the cost of putting on the conference, I reckon some is offsetting the cost of the goodie bag(s). I reckon the $2,000 has very little (not necessarily nothing) to do with buying an extra device on top of everything else you are getting. Either my experiences and those in my former profession are unique or it is quite common for there to be fees associated with attending conferences. That said, my employer has always covered the cost so I've never really been aware other than being told, "I'll cover the cost if you want to go".

I'll offer 150$ for one. Hit me up if you're going.

If you guys go, please buy some and I'll pay you $100 more than what you paid for. Please WPCentral?

If only WPC stood for WPCentral

That's what I honestly thought at first and got confused haha. Thought it either meant for WP Central readers or for WP Central staff (which would have been a strange article to write about).

I got excited and wanted to be one of those WPC attendees until I saw the ticket price. Then I didn't mind being a regular dude.lol

Cool I'll buy 2 tickets if its only 4k total.

"Go ahead and put us down for four." "Yeah, just in case we get seconds."

Anyone going want to be my new friend and pick me up a Surface Pro?

Great, with Haswell in da house it's time to get rid of those :)

My friend was there, and bought both the RT and Pro. His wife posted on FB as one of them was now hers. I offered to buy it, but she's already diggin' it, so I guess that's cool. Too many people dish on Win tablets without ever trying one.

Your friend was at the show that's in 2 weeks? See if you can borrow his time machine and let us know what 8.1 is like.

Hahaha someone's been telling porky pies ;)

See below comment. You did make me think of pork pot pies tho. :9

My bad. I looked up the photo again, and it was TechEd that he attended. Still, I wish they could buy multiples. Would love a Pro.

I figured that you meant a past show, but couldnt resist ;)

Jealous...would easily buy pro at that price.

I got $450 on a surface pro if someone's going. Will pay for shipping to California also. PM me please!

Bastards!! :) I paid full price. But then again. Been enjoying all the way!!!

Must be nice to have privileges, guess my money don't get privileges. :(

Is it still possible to get tickets to this? I'm in Houston but I thought it was sold out?

I got both at Tech Ed. Great devices... especially at those prices.

At Microsoft Tech Ed... you could buy a tradeshow pass for $150 and take advantage of the Surface deal...
The Commons Expo only day passes for Monday through Thursday can be purchased for US$395 each. This pass includes admission to the The Commons Expo Hall; including Microsoft and Partner Sponsor and Exhibitor Booths, WPC Conference Store, the wireless network and CommNet stations. So... you could buy a day pass and take advantage of this deal. Your total cost would be about $900. You could fire sale the RT for $500 with the touch cover bringing the cost of your pro down to $400. Alternatively... you could firesale the Pro for $900 bringing your cost for the RT to $0... plus hotel and gas and potentially flight. If you live in town though... totally worth it.
Windows Central Newsletter
Get the best of Windows Central in in your inbox, every day!
Thank you for signing up to Windows Central. You will receive a verification email shortly.
There was a problem. Please refresh the page and try again.