Microsoft's Bing engine is ready to predict the winners of the 2015 NFL football season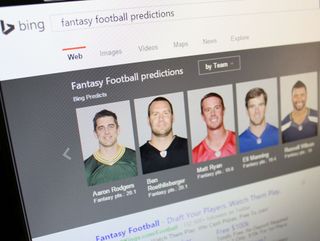 Microsoft already has partnerships set up with the National Football League to give teams Surface Pro 3 tablets. However, it will also give NFL fans predictions on which teams will win their games in the upcoming 2015 season via the Bing search engine.
Microsoft says:
Also, Bing will update its NFL power rankings every Tuesday "with predictions of which team Bing thinks will win their respective division, and who is on-pace to earn those elusive wild-card spots." Fantasy football fans will also get help from Bing in terms of which players they should put in place every week and which free agents they should buy. It adds:
Which NFL teams do you think will win their division and which one will win it all in Super Bowl 50? Let us know your own 2015 season predictions in the comments!
Source: Microsoft
Windows Central Newsletter
Get the best of Windows Central in in your inbox, every day!
Bring cricket predictions man.

Too difficult to predict test matches.

Tomorrows match will be an interesting one, hopefully Ishant Sharma won't loose his head with all that banging :D :P

All games are fixed. No predictions needed.

Even in soccer it's the same..the IFA top bosses are fixed :D

Any "sport" where the required uniform is a cable-knit sweater is not a sport.

Love seeing those Surfaces on national tv. Golf, NFL, NBA.

Any chance it will soon be ready to NOT give me the stupid Ref A Ref B Ref C error? >:O

I'll predict NOT Green Bay. Lol. But I'm a Lions fan, so... (I don't like the injury news though, that's never a good thing). Posted via the Windows Central App for Android

Green Bay is a good pick to win it all. Losing Jordy Nelson for the season is a tough blow (I hate seeing players get injured), but they've got some young receivers who I'm sure Aaron Rodgers will make look good. Could you imagine Aaron Rodgers throwing to Calvin Johnson, though? That would be unstoppable.

Man, I don't know. You know the players better than me though. I won't count any team out with Rodgers, but I just highly doubt they will make the big game, let alone win, this year. We'll see! Posted via the Windows Central App for Android

As long as Seattle loses their first playoff game, it will be a great season! =) The best season if the seahawks dont make it to the playoffs at all!

That Fail Mary game still is complete garbage. Green Bay had a victory stolen from them.

Green Bay is hated by God while in Seattle. Plain and simple. The Fail mary game was followed by people abandoning their cars on the freeway and walking home due to the weather. The miracle come back last year just has to basically have Packers fans throw up in their mouths just thinking about it. Kinda like when Wilson threw the ball...

Seattle is nothing but a fluke. A team with zero history in the NFL. At least Green Bay actually helped evolve the NFL. Seattle has done nothing. I dont see people taking special trips to Seattle to see an unknown dumpy and tiny stadium.

It was nice seeing the Microsoft and Windows ads at The Bernabeu, just hope Ms would advertise they products vigorously.
...
Any who, I don't really see the purpose of predictions but its nice seeing Cortana expanding to more sports

Seahawks will 100% get into the Superbowl again

I dont think so. They wont have to win against 4 losing record teams, one with a third string QB just to make it to the playoffs, then face a losing record playoff team, followed by a miracle comeback against a team with an injured, hobbled QB to get there again...

After a 2_14 season I dont know if the titans will win there division but I hope to see them in playoffs, will be binging it. Currently binging it on Android, sadly.

No thanks? Come on really!?!? I broke this news hours ago. See my tweet from around 10:30 this morning

So we should all follow your Twitter and ignore this and other sites because you always have the information first? How do you know that I didn't post it to my Twitter before you did? I think you need to post on your Twitter account that you were late and give all the credit to me.

That's a big assumption that you 'found it first'. WC get thousands of tips and tweets, and would've credited you if you were in before the MS blog article, which is a far more reliable source anyway. I'm sure they'd check good sources before scraping the barrel looking for tweets from a nobody.

Dumb asses. Check the stats, my tweet was 12 hrs ago. Do a search for bing fantasy football and see what pulls up. Here I'll help you, the earliest article came out 11 hrs ago. I had the news a full hour if not longer than any outlet. Never once did I say I was a better resource than windows central but come on give credit to where credit is due.

Except nobody read your crappy tweet before their own sources, so you found squat and don't deserve shit.

Get over it, it's news. I watch about 5-6 sites for Windows Phone news, I see things DAYS before WC has it sometimes.

I have no problems with it at all. But when the tweet was tagging these sources with the info and not even a tweet back for hey nice job is a little embarrassing actually by these companies. But hey what do I know. I stumbled acroos it because I was deciding which 6 people to keep so I was searching for their latest news and lo-and-behold the search started giving me week 1 projections. Just thought I'd share what I came across

Eagles will win the NFC East.

I hope they add this as full feature to Cortana...

you can ask cortana who will win the upcoming game.

New England and pissed off Brady

Can I get Bing predictions in Canada? Last year I was unable to use the service direct from Bing. With WP8 I was able to use 'Murican Cortana on a game by game basis. Edit: Just tested and I get a page.where last year I recieved a not found, or not in your region error message.

They should have used it to predict the Nokia acquisition debacle.

NFL is such a bore outdates game

It's not football,its handegg..lol..and why don't you stop wasting your menpower on this and make this team work on W10M along with those two people working on it in a basement somewhere?

The Patriots. Not just the division, The superbowl again :)

When will Bing, or Cortana, be able to make lotto predictions?

Didn't bing only do average last year? Has it changed any? The Amos statistical model seems to be doing better
Windows Central Newsletter
Thank you for signing up to Windows Central. You will receive a verification email shortly.
There was a problem. Please refresh the page and try again.