Microsoft's E.T. dig documentary hits Xbox Live November 20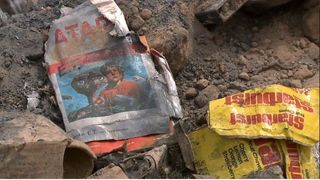 This November 20, Atari: Game Over, will be coming to Xbox Live. Atari: Game Over is Microsoft's documentary that explores Atari's role in North America's console gaming demise of the 1980's.
Earlier this year, Microsoft sought to uncover the truth behind whether or not Atari dumped thousands of unsold E.T .cartridges into a New Mexico dump and create a film about it for Xbox Entertainment Studios. The urban legend started in 1982 when Atari had developers create E.T.: The Extra-Terrestrial in only five weeks just to have it on shelves before Christmas. The game came to be known as one the worst games ever made due to horrible gameplay and game breaking bugs.
Microsoft and its crew headed to Alamagordo, New Mexico back in April to excavate said cartridges. Lo and behold, they found the cartridges for E.T. as well as other games thus confirming the urban legend. E.T.: Game Over is a documentary about the excavation as well as a look into the lives of the Atari developers at the time. E.T.: Game Over will be available for free for all Xbox Live members to watch starting November 20.
Source: Zak Penn, Twitter; via: Polygon
Get the Windows Central Newsletter
All the latest news, reviews, and guides for Windows and Xbox diehards.