Microsoft's latest Work & Play bundle is more expensive and not as much of a bargain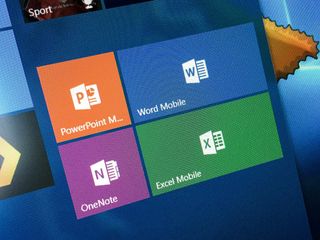 Microsoft has revamped its Work & Play software and services bundle, but it has increased its price by $50, while at the same time reducing the amount of features customers can receive.
Previous versions of the Work & Play bundle cost $149 and included a year's subscription to Office 365 Home, which is worth $99.99 on its own, along with a year of Xbox Live Gold that's worth $59.99. The bundle also threw in a $60 gift card, an Xbox Music Pass worth $99.99, Skype Wi-Fi + Skype Unlimited World that's worth $170 and Microsoft's Assure Support Plan that's worth $150 for one-on-one support for Microsoft products. All of that made the Work & Play bundle worth about $540 if you bought all of its services separately.
Well, as Thurrrott.com points out, the new bundle is now $199 (opens in new tab). You still get a year of Office 365 Home, Xbox Live Gold and the Assure Support Plan, but the gift card is now just $25 and there's no Skype Wi-Fi + Skype Unlimited World or Groove Music Pass (the replacement for Xbox Music) subscription at all.
The end result is that you will save much less and pay more for this bundle compared to previous versions. It's up to you to see if what's left is worth getting on the smaller savings margin.
See at Microsoft Store (opens in new tab)
You'd think it would male more sense to be $99 for that new bundle. I wish they had an O365 + Music Pass + XBL bunddle

I agree but the price would have to be at least $150 or $200. They'd have no incentive to bundle Xbox Live and a Groove Music Pass with Office 365 for the same price as a normal Office 365 subscription. Posted from Windows Central for Windows 10

Personally id be fine with half the time each service offered. Right now the big deal for xbl ever so many months is 3months xblg for half off

I don't ever remember Groove being part of the Work & Play deal. Also, I'd pay $200 for that bundle of they included Groove, even minus the gift card.

Not good, the past work and play lost groove, now uprise in price may have to re evaluate in a few years

More expensive AND not as much of a bargain? Wooooow...

I guess it depends on if you want those services. If you would be buying them anyway, why not buy the bundle and at least save something, even if it's not the savings from before?

Agreed. That's $355 of stuff for $200,so you're still saving a good chunk of money Posted via the Windows Central App for Android

garbage no thanks this bundle wont due without groove music year sub

Thank you Microsoft. No extra OneDrive storage? Oh thank your again!!

The Office 365 would bump you up to a terabyte on OneDrive... +950 XL DS NAM CV Windows 10 Mobile

I thought you got Skype calling with O365 anyway...

The assure alone is worth that bundle!

Leave it to Thurrott to make a make the focus of the story be the increase in price and not the still valuable savings. The fact is the Work & Play pack contents have changed over time and the 2015 version did NOT include the Groove Music Pass.

Still less stuff for more money.
Sadly for Microsoft, they will learn too late that NONE of their products are unique. Every one of them can be replicated on other systems. Scaring off users by putting the price up will just ensure they never come back.

I've always had fully working OneNote, Excel, Word and Powerpoint on my Lumia 1520 under Windows 10. Always. No limitations whatsoever..
​Is it perhaps because it was a software bundle with Lumia's flagship phone?

Microsoft provides fully functioning Office apps, not programs, for devices with 9" screens or less. So your Lumia, just like iPad with 9.7" screen can use Office apps with no limits. +950 XL DS NAM CV Windows 10 Mobile

Apps not programs? Apps = programs. Programs = apps. They're just different words for the same thing.

When in canada? Posted via the Windows Central App for Android

Was considering the bundle, but not in its new incarnation. Skype I don't care about, and I don't really need Assure. So, $200 for Office 365 Home, Xbox Live Gold, and a $25 gift card.... I'll pass. I'll do better buying these individually.

Has anyone noticed that there has been no deals whatsoever on Groove music? Posted via the Windows Central App for Android

>sigh< What a bunch of clowns. No wonder they can't get mobile builds out fast enough, they keep tripping over their enormous shoes.
Windows Central Newsletter
Thank you for signing up to Windows Central. You will receive a verification email shortly.
There was a problem. Please refresh the page and try again.