Microsoft's new Windows 10-ready mouse and keyboard are coming in October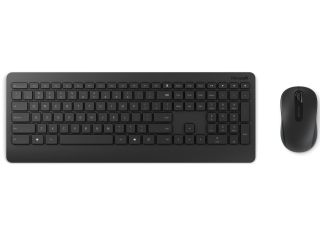 Microsoft has just introduced new Windows 10-ready PC accessories that will go on sale in October. The Wireless Desktop 900 is a new wireless keyboard and mouse bundle for $49.95, while the Bluetooth Mobile Mouse 3600 will also be sold that month for $29.95.
Microsoft says:
Microsoft will also sell the mouse that comes with the Wireless Desktop 900 as a separate product, the Wireless Mouse 900, for $29.95. Here's what Microsoft new Bluetooth Mobile Mouse 3600 will be like:
In addition. Microsoft will launch updated versions of the following desktop sets, with a keyboard and mouse bundle, to add support for AES encryption and "take advantage of Windows 10 features such as Cortana, OneNote, and virtual desktops:
Sculpt Comfort Desktop – $79.95
Wireless Desktop 850 and Keyboard 850: (formerly the 800) – $24.95
Wireless Desktop 3050 (formerly the 3000) - $59.95
Wireless Comfort Desktop 5050 (formerly the 5000) - $69.95
All of those desktop sets will be launched in late September or early October.
Source: Microsoft
Windows Central Newsletter
Get the best of Windows Central in in your inbox, every day!
i keep on wanting things i dont need.

I want that keyboard! Is it only going to be available in bundle with the mouse?

The Windows 8 search keys on keyboards already opens Cortana. More appropriate given Cortana's worldwide unavailability, non cortana markets just get a magnifying glass search button anyway.

What about a true Windows 10 keyboard with a Start, Multi Window and search key ? :P

Pith there isn't back/forward mouse buttons, otherwise it'd be on my must buy list.

No sculpt ergonomic update?

Where are the Cortana and task view buttons?

Can they release a wired bundle as well?

Ah dang it, they still don't have dedicated function keys on the sculpt keyboard. The doubled-up media and function keys are the bane of my existance although the keyboard is comfortable so I still use it. But they should give an alternative to alt f4 and some new visual studio keyboard shortcuts if they are going to make the function keys such a hassle.

I still have a very cheap basic logitech keyboard and a very old optical microsoft mouse. I bought them on 2003, always working great on xp, vista, 7 and now still works on 10.

No surprise that MS missed the boat on releasing stuff like this at launch instead 90 days after which by that time most will have already bought new components like this from competitors

Waitwhat? Did i get it right, the keyboard is wireless but not a Bluetooth? USB dongle? I hope I'm wrong here..
Windows Central Newsletter
Thank you for signing up to Windows Central. You will receive a verification email shortly.
There was a problem. Please refresh the page and try again.