Microsoft's operating system leader teases new Windows name ahead of Tuesday reveal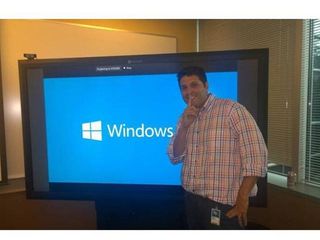 Terry Myerson, the leader of Microsoft's operating system division, has offered a playful teaser for the name of the next version of Windows, which will likely be revealed as part of the company's September 30 press event in San Francisco that will focus on what it will offer enterprise customers.
Myerson emailed an image of himself standing in front of a big Perceptive Pixel display, showing the familiar Windows logo and typeface, to The Verge's Tom Warren and ZDNet's Mary Jo Foley. The email was in response to an earlier Twitter post from Warren which showed himself and Foley holding a paper with "Windows X" written on it.
In his humorous response to their guess for what the next version of Windows might be called, Myerson wrote, "We're still deciding, but thanks for your vote". In the image, his body blocks part of the screen behind him, which obscures the view of the end of that Windows logo. Hmmmm......
So what will the next Windows be called? Microsoft has been using Threshold as the code name for the OS during its development and earlier this week the president of Microsoft France, Alain Crozier, actually uttered the name "Windows 9" at a presentation to describe it. That brief mention was quickly clarified by a statement by Microsoft France's director of marketing, when he said that the next version of Windows "does not have a name as such."
Reuters reports that Microsoft could use Windows 9 as the official name for the OS, or just Windows, or it could be an all new brand. Regardless of what's its called, Microsoft is expected to offer a preview version of the next Windows sometime in early October, ahead of a full launch sometime in the spring of 2015.
What do you think the next version of Windows should be called?
Source: Tom Warren on Twitter, Reuters
Windows Central Newsletter
Get the best of Windows Central in in your inbox, every day!
Nooo plzz that x remind me of XP :D

Best to avoid Roman numerals. People have a hard enough time remembering regular numbers.

to them it's just numbers...

The commericals for the new OS should feature Lil Jon singing "To the Windows, to the walls..."

Nice. WPC App via Nexus 5.

Literally LMAO right now!

Reminds me of the British Royal Navy subs they had in the 80's.

"Windows IX" Windows Icks?

It's worse, it reminds me of OSX

there are some stupid Mac people who say "OS" "X". Like in X-Men...

How is it meant to be said?

Can't wait for Windows 10. It's going to be awesome!

That would make sense actually.... Since they've been upgrading yearly now. Hmmm...

True, though I've never heard it called that. Not that I've ever watched an Apple keynote, I work at a design agency who uses 50% Mac and we all say either 'O S Ex' or 'Oz Ex'.

yeah, that's why Mac people aren't too bright. there was OS8, OS9, then OSX...

However the reason Apple chose X rather than 10 was to inspire the awe factor. Considering they were re-doing the entire OS I'm pretty sure the X was intentional.

i used to. LOL. keep in mind that i live in spanish speaking country, and at that time i was like the only one i knew that knew about apple xD back in the days of the iPod 5.

That's what I think it will be... One is for all devices... One is... Endless possibilities

One is... the loneliest number

+1520 :D Blind Melon reference?

No. Three Dog Night. https://www.youtube.com/watch?v=Tz79ZYo0erQ

I just clicked on the link Will, and what came up .... an advert for the Surface Pro 3. I usually skip adverts on youtube if I can, but exceptions can be made :)

Yeah, Windows One.
It just makes sense.

Yeah, and then we go to Windows 2. Or Windows One 2. Or the neW Windows One...

Sounds more like Android One, it does sound good but Microsoft will definitely not choose One for Windows.

He's holding up the "number one" sign in front of his mouth as to say, "shhh." Ambiguous symbolism?

Wouldn't Android get angry fit using similar naming convention "Android One"?

Given Microsoft already has Xbox One, OneGuide, OneDrive, etc., Microsoft's lawyers would laugh in Google's face.

Yeah, if anything Android has copied Microsoft here.

Androids don't have feelings.

You can't trademark the word One. AS long as they don't use Android One as the name, Google can shove their anger where the sun doesn't shine.

LOL. Like no one saw that coming.

Windows "your oS ain't got $#!+ on this" One.
Or
Windows "The Chosen One"
I'm okay with either one lol

Yeah... I second that... I like Windows One alot... makes sense when you consider Microsoft are trying to unify their brand along with their PC, Tablet and Phone platforms.

Glass One should need some curtains

Table One, that's my best suggestion.

I gotta say and agree with everyone that said Windows One; it's like starting over.

Agreeing is kinda irrelevent. It's not One. There's simply not enough space to the right of the word Windows to fit anything more than a single character without losing the centering.

Yea that's the sad thing. Would be cool if it was windows one but there's just not enough room for it to be centered. I guess windows 9 would fit.

What about... "Windows" only. With constant updates. No one no 9 nothing. ... So everything running on windows. My phone, my pc, my surface.... ?

No saying what you said is foolish, maybe it's a #1. Think about it.

You're seriously suggesting it'll be called Windows 1 or Windows #1, and you have the gall to call me foolish for making a logical common sense observation? Just wow.

It looks like that's Windows 9.

It's a universally recognised logo. I don't see the need to change the logo

@Derek de Souza - Technically speaking the logo has changed over the years... That aside, based on the centering it does seem to be 9, which they can still change at the presentation itself. Also, Windows One is my best bet, it just makes sense with the one core idea.

-Windows Unity -Windows @ -The operating system formerly known as Windows

I told Satya to call it Nueve Ventana

They will call it windows Denim and update it every 6 months.
Although, when you get the update will be up to your broadband provider

I don't know about you, but my broadband provider didn't sell me my computer or guarantee me any connectivity with it.

Nice try, but you need more spanish lessons.

He took them from Madonna
https://www.youtube.com/watch?v=G10wQTxV7tU

It'll be branded Windows MSN

8.1 update 1 version 2 Seriously... Looks like 9 is a safe bet

I read some of the new Windows smart phones just had "Windows" on them. they would not name it windows 1 because they used that before years ago.I think it could just be "WINDOWS" but the New OS should be named "Windows 9"

You know, I thought somewhere along this line of replies I'd see thaw HTC one m8 being mentioned.

Windows 365 or Windows One

I'm thinking windows 1 because he is holding a finger over his mouth

Xbox One
Windows PhOne
Windows One?

From the picture I'd suggest that it is Windows 9
If it was Windows or Windows One then it wouldn't be centered and Windows 1 wouldn't match their branding elsewhere

The Verge told almost now that'll be called Windows TH.

cant work. Windows (9)8 existed before. I won't get into all the details, but it could cause issues with other software reading the 9 and identifying as windows 98, amongs some other problems...

Here are my educated guesses. It will be windows 9.0. Follow this URL and see how I came to that: i.imgur.com/HCtxWjM.jpg I went ahead and edited the image to be straight and alligned my guesses to what should be the center.

I was gonna do the same in PS.You beat me to it lol. Looks like a three character suffix. What about 365????? Windows 365 would also fit. We know its coming because of a sloppy MS employee who leaked it via his linked in profile.

I tried 360 and it was too long. I would assume 365 as well.

I stand corrected. http://www.winbuzzer.com/revealed-windows-365-rumors-hot-air-just-creati...

Nah, I think MS will make a clean break and call it W Windows 9. New page as it were.

8.5.2387834.28324.89324.8998091.1

I was thinking that it is just 'Windows' and that the word is centred rather than the whole word and logo.

Better not be a new name. Already enough of a brand mess going on at msft...

It will be called "Windows One" as stated earlier that they want to unify the desktops+WP+Tablets(Maybe Even Xbox)!! It's already in ONEdrive,,Xbox ONE,,And even in their address!!
Now also in Android One!! :P:P:P:P
EDIT:And also do ye see Terry's finger?? What does it signify?? Maybe '1'??

Windows Shhhhh Home Basic Version? Windows Shhhhh Pro Version?

I hope that also. Windows One

I like Windows One too. That would be consistent messaging with One Microsoft and their other products and services such as One Drive, One Note and Xbox One.

+930 Yeah me too. Synchronize to all their One products and services. Sounds coool too! :D

I'm also voting for Windows One :) One windows, one xbox, one drive ... love it!!! Although they might go for the non surprising Windows 9

MS always talks of synergy across multiple form factors but they never practice it. I'm inclined to believe that the new name would be Windows 9.

It wont be. I'm thinkin 9.0. I edited the image and typed in One after windows and it isn't lined up correctly. Only one that fits really close is 1.0 and 9.0
Check out this image i.imgur.com/HCtxWjM.jpg

Assuming the logo is actually on that screen. They need to get away from version numbers if they are going to do a continuous delivery model. Use "One" to help market the unification for awhile, then drop it and simply be Windows somewhere down the road. They'll still have to use update numbers or something. i.e. WindowsOne update0315.1 (use datecodes and release every couple of weeks or once a month).

I think he is giving it away in the picture. That's not the "shhhh" sign he us giving, that's the number 1..... Windows One

Windows One is my favorite too

Windows MSN for Workgroups

LOL! People keep talking about "One" being a brand trend, but if any of the recent posts indicate, "MSN" branding is the real trend right now...lol

MSN Windows NT Workstation 4.0 for Pen Computing Professional Edition One

Epic! xD How about Windows Ballmer?

IDK... Whatever it is is existing because now we'll finally know what to call the next version of WP.

Windows XP 2. After all the trouble of getting people to move from XP to Windows 7 (let alone 8) then surely that's the best name!

Lol!... You might be right.

Maybe he is blocking nothing

This is exactly what I was thinking. It will simply be called Windows.

If he's blocking nothing, then the whole thing isn't centered on the screen.

Only "Windows" would be cool

I think your correct, just plan windows. Less cl fusion and means one windows to rule them all lol

Nooo please, if would mean it's the last of its kind :(

We can have the updates to windows given a name instead. How about that???

And Windows 9 would show continuity.

Let's go back to the year-based naming! Windows 2015 =)

Maybe they call it "windows one" to pick up with OneDrive and XBOX ONE and to celebrate the union of windows phone, windows rt and windows.

I hope they drop the windows name soon. OS One or one OS would be much better. Especially since there is less and less "windows" being used.

They can drop Windows for the Rt/WP merger, as that really doesn't have any windows. They should keep the name for the desktop version because that is what people really want. Everything points to Windows One, but I really don't like the name anymore. Esp with the Xbox One not being quite the success they hoped & many people thinking it should have been 720. Going back to one really does sound like a step back, Windows 9 is fine, that's what it is, the 9 th iteration, showing the progress that had led to this point. For the Brits you imagine Charles being King Charles One? Just cos it sounds cool?

What do you mean I know the PC market ain't what it used to be but Microsoft still hold a 90% market share in PC market and then you got corporate use and business use you know all the banks arms run off windows all the self checkouts at WalMart use windows so yea windows is for PC what android is to mobile

I hope it's not "Windows 1"...

Yeah, the two "w"s make it kinda awkward to say. But at least we know it's not gonna be called "Cortana OS"

the Chinese would love that... :)

I posted that above, didn't see your comment. I think its a great idea, finally get people on XP to upgrade.

"Windows Nutella" which is an response to Android Kitkat.

They should have kept "Gates"...there are no doors, so we jumped out of the window and reached gates. And it would make Bill Gates happy...lol

Perhaps just Windows. They told some time ago that they want to merge Desktop, Phone and Tablet into one. Just Windows would be the one to go with.

Windows for Desktops would make XP fans and office workers happy after the metro fiasco.

It is just windows , he is not hiding anything

Eh Idk about that because then the logo would be centered, and you can see there's more space on the right side of the logo.

you're right! which is what I tried to figure out here: i.imgur.com/HCtxWjM.jpg Windows 9.0 fits very well...

They could have positioned it that way on purpose. It's probably just WINDOWS

Why does it have to be centered?

You ever stop to think that maybe its off center on purpose so people would keep guessing cuz it don't look right but in the end its still just windows

It could also be Windows Just...lol =P

Cmon, give us the Windows One!

Based on the position of the "Windows" name on the screen, it would have to be followed by a single letter or number to appear centralized in the blue space.

To be centered, it needs something like 9.0. I had the same thought and whipped this up in PS. i.imgur.com/HCtxWjM.jpg

You are spamming. We get it that you did some PS.

If its actually behind him, it can't be too much because the name would no longer be centered in the screen. That IF its actually behind him.

Looking at the alignment of the logo, it's either just Windows, or Windows with a single initial or number. Them calling it Windows 9 might be kind of strange but obvious at the same time...obvious because that's the name everyone's assuming, but also strange because it seems stupid for Microsoft to make a tease over a 9...

I was also checking the alignment ... it is a digit for sure. Just Windows is not alligned in the center.

What does it being centered have anything to do with what the name is they probably just calling it windows they made it off center on purpose to get people to talk and guess about it like build up hype for it just because it ain't centered dont mean nothing guess well see the 30th

I had that same thought and looked at a straightened version in photoshop and put some guesses on there to whay would make the image centered. I came to it being windows 9.0 i.imgur.com/HCtxWjM.jpg

I just hope it will not be 1.... There is a huge diference between 1 and One. BTW, no one said that this is the final slide from the presentation. They can just remove everything after the Windows and take the picture then start having fun reading how we prove scientifically what the name will be ;)

I'm more curious about the next WP name. Tired of explaining to people (Windows "Phone") running in my phone...

The Windows logo and word would be centered if he were blocking nothing, so there is obviously something behind him.

Please no windows 9 NO!!! I think is just Windows. Look the logo is in the center, otherwise is a number.

I like windows 8.... I hope, windows 9 too!!

What if they just knocked the number 8 on its side to make Windows Infinite? Like with an infinity symbol? Lol =P

That would be too cool...

Thanks but no. We don't want a #windowsGate as in #bendGate

It would be a smart movie to call it Windows One and then just use OS. Versions. Their plans ware to compete with other brands and unite windows devices. So cmon!

I agree we have Xbox One, One Drive, One Microsoft. Why not call it Windows One. It would fit right in with the one branding.

His finger is denoting 1 means it is surely windows one or windows 1

No! He is pointing to his nose....Windows Knows.....obviously :D

Windows One
He is pointing "1". That's not a"shh" keep secret sign

Yep even tom and marry took a similar picture

Myerson sent the pic in reply to Foley and Warren. And they were actually making a "shhh" gesture.
So it is way more plausible Myerson was mirroring them, then him suggesting "one" with his finger.
That doesn't rule out the "One" moniker completely, if we keep Microsoft's latest branding efforts in mind.

But at the same time he has 9 fingers visible in the pic

Don't you think we should figure in his (presumably) ten toes too?

Windows worm because we eat apples and then they die:-o

Windows RT 2. Just kidding. Windows One would be cool, but, honestly, I think anything but Windows 9 would be a mistake. They need to immediately make it clear that this is an upgrade from Windows 8. They don't need a Wii U naming problem on their hands.

"Windows Universe".
Return of Master chief confirmed.

Just call it Windows. While technically it'll be called Windows 9.0.

Ain't that the truth even dropping phone is a sales nightmare

OneWindows would be great

It would be an awesome world to live in that allowed it to be called Windows, B**ch! @_@

Everybody turns into Jesse Pinkman.. xD :P

Subtitle is completely irrelevant when everyone are gonna be updated anyway.

Windows "Longhorned one".
Only available in "Sexy premium edition".

Windows One a la Xbox One perhaps

Windows One would be nice :D

He gives it away! It'll be Windows "Shh"!

Windows one lol nahh i hope Windows 9

Windows One, following the recent trend

Way to confuse consumers. Windows One came out in 1985. How about "The New Windows"?

I think that "threshold" name is the best one.....

It is the same windows 8 logo, he himself is saying that it's going to be Windows One! It's not Shh, it's One!

Windows xp2 there. MSFT stocks will go up 20% now. No need to thank me.

They have enough XP. It's time to Windows Level Up.

The next version isn't "windows" or "windows One"
Probably is "windows 9"

Windows #9 like The Beatles song.http://www.youtube.com/watch?v=LVf5Cr4M-F8

This logo definitely has logo design standards, I mean paddings and margins should be equal...
So it seems not to be just number.. I think there is two possibilities:
1. Only "windows"
2. Windows One

How about Windows Nein!? =P

It would be just windows right ? Like what they are doing to windows phone? No more phone just windows. Like Madonna?

As opposed to Windows Left..? O.o
Lol, jk... =P

More likely Windows Left, because it's not right or centred!

"Windows West". Because Seattle is to the left..., I mean, uhm, West.

Heck no! Too much like OSX.

Windows 9. Don't try to be "creative", Microsoft. For Christ's sake. Windows 9 is the logical numbering, don't mess it up. On the other hand, maybe another naming mess up we can get another one of these https://www.youtube.com/watch?v=a91T8MdXXMc

I'm with you on not needing to be "creative"

Just been playing about with some advanced image editing software and I KNOW THE ANSWER........ I will keep you guessing for a couple more days though. Bob

* Gasp * is it Windows Bob?! O.O

Windows 9
Consistent with earlier versions :)

How about Windows Constance... Err, Contents...I mean, Constants! O_o

I hope you want to say consistence.
No that would suck. :P

The Windows logo is centered and there is only space for a number not a word xD. Is windows 9 of course.

Windows One seems appropriate since they want it across all platforms. Posted via Windows Phone Central App

My vote is the Windows One to match the Xbox One, then whatever they decide for next Windows should be the next Xbox name

Windows 8.2 will be the name. it's a simple upgrade from Windows 8.1 it's not a huge change.

Windows O with the O being a halo ring.

TOTALLY...or a zero 0, perhaps? =P

Windows Halo? One ring to bind them....phone, PC, tablet, laptop, console...ooooooooo! Kitty like!

That sounds great.. Windows Halo, with Cortana and all.

Windows Hemi®
Cuz u know, #HellcatAllTheThings

I get the whole love for "One," but can you guys imagine explaining why "Windows One" is better than "Windows 8" when telling friends they should upgrade? People assume a continuous pattern because it's everywhere else. Microsoft should consider the effort someone will have to insist in understanding the "One" brand as more than an ordinal value. Hint: Most people don't reserve that much mental effort for trivial matters.

One Love, baby... Come together. =P

Does it matter? reminds me of the Android L saga.

Windows "O..., wait for it..., Oreo."

new windows "x" can be windows 10

I'm totally in for Windows One, that would way more sense than Windows 9! :)

Windows 9 with a hint of "X" in it. Just saying with the merging of platforms and all.

For sure its not just Windows. Cause the left space from the logo to the edge of the screen is not the same as in the right side. But what is after the word Windows is not bigger than one or two characters.

My vote for Windows One..

With the smiley face? Hahahaja that's a good one!

"Windows One" would be very cool!

Don't bother analysing the image, it could easily be the Windows 8 logo on the screen.

"Windows One" would be very cool!

Windows One : One for all... All for one...

Hey! You were tapping into my mind while I was typing my comment below! GET OUT OF MY HEAD!

Ha ha ha... That's the oneness I am talking about... All devices know wat the other is doing at any given time...

How about just Threshold? Microsoft Threshold.
It would be indicative of where MS is wanting to go with their OS going forward.

Windows Spartan 9 .... ITS COOL! ;)

Or Just Windows Spartan 1

I should have put these ""

Shutters.
Windows Open.
Musketeer. "All for One, One for All." Then they give free XBox Ones to everyone. In Romania first, of course.
Windows Infinity.
(I like that one. And it's available, MS, for just $19.99 per copy installed.

WindowsOne. WinOne anyone. I would like to see them go back to metro or modern and use something new. IMO Windows has a bad brand recognition that they can't fix. Just replace it.

In other words, Windows Done lol =P

Better yet, Windows Beyond... O.o

Maybe they should just start using letters, call it Windows A...or maybe get it localized, call it Windows USA here, Windows, Eh in Canada... Windows Uk for obviously and so on perhaps. You know since we're all being completely ridiculous, or is it just me? @_@

It's you. It's always been you. Everything is just you. You are everything to us. Sorry, I've been off my meds for a few days.

Windows 8.7 built to look like 9....... If you want 9 you will need to buy a new device........ Sorry I'm not bitter still ;-)

That's completely backwards, what you meant was Windows 8.9 by the logic you're clearly trying to use...c'mon, you can do better lol =P

Nope all existing devices will be upgraded people dont understand or get it through there thick skulls that the only reason Microsoft could upgrade wp7 - wp7.8 to WP 8 - 8.1 is cuz they changed kernals from CE to NT buy with this new windows it running on NT. To so it will be able to run on all existing hardware

Maybe he's not hiding anything? Just call it "Windows". No numbers, no extra crap. Since they're trying to unify everything anyway, calling it Windows makes sense. "What OS are you running on your PC?" "Windows" "What OS are you running on your tablet?" "Windows" "What OS are you using on your phone?" "Windows"

"Windows Genesys".
Launch in sync with the Terminator.

Playing Assassin's Creed: Unity on Windows Unity.. Lol..

Which clearly helps clean up the mess Windows RT created...

I thought so too at first, but if there is nothing behind him, then the image on the screen wouldn't be centered; which would be weird. If they're using the same font size for the version name of the OS, then there only appears to be room for one character (e.g. a '9') to still have the image centered.

Just think about it for one minute and you'll realize it's just going to be called Windows. Let's state the obvious. 1) They would never abandon a brand name like Windows. 2) They were VERY quick to say "Windows 9" isn't the given name. 3) The internal codename - Threshold - is the biggest clue thus far. We've already seen Windows Phone dropping the 'phone' part. They're trying to unify their company and their brands. One Microsoft = One Windows. But calling it "Windows One" or One Windows" would be confusing for average consumers. "Wait, weren't we just on Windows 8?" By truly crossing the threshold, Microsoft will be simplifying. Surely they will still have a way to tell what iteration of Windows you're using for technical/practical purposes (going into 'My Computer' and seeing a version number) but I can guarantee that they want to reduce confusion. No more numbers. No more phone. No more RT. Just plain "Windows."

Being serious, I would guess the same. Windows.....

Since they want to merge all the Windows versions, my guess is: Windows All... (shortcut: Wall) haha! ;-)

How about calling it "[Windows] Destiny".
Then repurchase Bungie once more, with feeling...

Windows 9 or only windows that's sure...

Just simple "Windows"...
But absolutely not "Windows one"... It's sounds like crap android one.

Has nobody here heard of Android One? Since every one is saying Windows One and I think that will create alot of buzz around for being Android rip off name

Oh come onnnn... We had it first... Xbox one, one drive, one note...

Yeah I know but we all know people are just gonna believe Android invented the word One itself let alone copied :P
I like Windows One too but this is what is bothering me :(

If it was apple, yeah they would have copyrighted it by now. And anybody using it would be sued. But this is google we still have a chance... ;)

Based on the history of Microsoft naming conventions I am guessing this will be branded as "Windows desktop for screens larger than 9 inches" so if someboday asks about my laptop computer I can say I have a Windows Desktop Laptop

"Windows desktop for screens larger than 9 inches mouse and keyboard edition touch-enabled".

I believe the new version will be named "Windows 9". I don't like "Windows One" (actually I will to hate it). I think just "Windows" is good, but there is something missing. I would like to be named "Windows XP 2" because they built this version using the experience gained from (all) the previous release(s). That way, MS will subconsciously make us think of how awesome the new version is going to be.

It would be nice if they go for Windows

Name ?
"Windows that fixes the screwups with Windows 8"...think that fits :) All kidding aside, till it announced, it IS Windows 9....7,8 then 9, only thing at this point that makes sense

Alternatively: "Windows Burst".

I feel like it will be Microsoft Windows One. In line with Xbox One and their all one OS core system they are trying to do. Either that or Windows 9.

I can't help but think that they'd get sued by Google, and probably lose. It's one thing for a console to be named 'One', but Google already uses the name for a mobile OS, and if this version of Windows is meant to encompass desktop, tablet/RT, and phone, then I think they'd run into legal trouble.

Windows "the one which was released after windows 8.1."

TOSFKAW: "The operating system formerly known as Windows"

Or
IDKYNS: "I don't know yet not sure." Sent from somewhere. Don't worry I ain't illegal.

You mean "Windows 4ever"?
"Windows Be9" fits better.

What have they registered with the Patent and TradeMark office?

Windows and a big/fat no. 9 that mirrors Terry's figure. I kid.

I kid I kid. I joke I joke. I don't think my jokes working. Lol. Sent from somewhere. Don't worry I ain't illegal.

Does the top of the TV say Microsoft? So is Microsoft making TVs for in house use only or is that just another brand, I cant really tell?

It's Microsoft , nice catch

That's just a sticker so that they are not promoting somebody else's hardware.

I think it's one of those massive touch displays made by that company they bought out a little while back. My understanding is that they're meant for presentations and such in offices.

Perceptive Pixel, as seen on the Today Show and Fox Report.

#DavidinCT . May be you're right , but opting a different name r simply Windows will be nice . . Ri8?

You crazy dump asses its one windows one.. Ask Cortana which is the best gaming console.. Answer comes in ONE.. XBOX ONE.. Ask her which is the best cloud storage.. Answer comes in ONE.. ONE DRIVE... Microsoft alrefy renamed SkyDrive to ondrive.. Xbox new one to XBOX ONE... I tell you if you all compare that with Android.. I will chase you down and kick you in your ass... Oh hate that name... Even Android one copied from windows... Xbox one.. One drive.. Etc... Better if they use WINDOWS ONE... ONE FOR ALL AND ALL FOR ONE... ONE EMAIL ONE MILLION POSSIBILITIES...

It will be... Windows end of :D

Windows 1520 because it is going to be really big.....

His face doesn't say shhhh he is just smiling with a number one sign , I think he would make a lips move if it was shhh, so I will go with windows one

Ah ah funny #smchambers56

If it is WindowsOne then it could be a happy day on this site. Mobile Nations own the domain name, I believe. They bought it ages ago and it re-directs here....

I think is Windows One, why? Because Terry is doing a subliminal verse. That gesture whit the finger is not a "shhh" that means silence, that gesture mean "One"

Windows One. Windows. Maybe.. Windows 9. For some reason I kinda like the idea of Windows Alpha,but you'd be limited as to where you would go after the name.

Limitations??? That too in Windows??? Wow haven't heard a joke like that in a while...

Just ask Cortana... She's way too much good in knowing secrets... :'( :P

He's hiding nothing. I'd safely bet on just Windows.

Probably Windows One since there are few leaks regarding Microsoft slowly dumping the "Phone" branding on the Windows Phone. We can see on the Windows Phone store that most of the apps are compatible with Windows.

Windows One like XBox One and OneDrive

Judging by the margins from a designer's point of view, there isn't room for anything more than one character. Keep in mind that space is a character so my educated guess would be Windows. Unless this is a way to throw us off or the design is not final.

Windows XP 2nd Edition. BAM!!! Instant hit lol

Well what ever the name is we just don't care as long as its from Microsoft, I will close my eyes and climb a hill cuz I know I am safe... :D

Maybe this image uses levitagram;

One Microsoft, Xbox One, Windows 8.One, WP 8.1 Update One... !!

Like some others I think there's a possibility it'll simply be called "Windows". Considering Microsoft is dropping the "Phone" part off on the handhelds and talking about having one OS which adapts itself to the device that it's on essentially being just "Windows" regardless of where it is.

Ok people. Let's think about this:
* the logo has to be centered on that screen.
* assuming the first point, you gotta have the same space before the Windows logo and after the unknown name.
* we can see where the display starts and ends horizontally.
* my eyes and brain tell me that there is not enough space for a something with more than one or two characters.
* considering all that, "9" fits apparently fine. So, let's settle for Windows 9.
I like it that way.

That logo is just for windows 8... So its nothing than windows 8... Next windows will have a new logo for sure...

I think it is just plain windows...

No matter what the name will be we will be using it. :)

Microsoft hires gay people...

Too obvious... ;-)
Why didn't they change the color of the logo screen?

Whatever it's gonna be called, I just can't wait to install it on my devices!

It will be called windows MSN to match the new branding.

Rename bing search to one search

Please windows 9 Posted via Windows Phone Central App

Windows XPS (i.e XP Rebranded)... Bcz this the one thing which made Microsoft what it is Now....

Microsoft Windows Omnipotent. The OS that run on the desktop, from the cloud and on anything including android tablets and Chromebooks. Man that would drive a nail throught the heart wouldn't it? lol I don't really give a crap what its named, I'm getting it.

Nah... Make it more epic: The OS that RULES the desktop, the cloud and anything including android tablets and chromebooks.

I think that new version will be named only Windows. I find this: http://1drv.ms/1pydgVS And distances from edges to Windows title are the same

It's clear: He puts his hand in hush! sign in front of his face. So, The thing that I focused was the thing which happened continuously in microsoft: XBOX 360 (360 degree of focus) changed to XBOX One. Skydrive after the copyright case changed to One Drive, and satya nadella spread out the opinion of evolution in Microsoft; They want to have one windows for all purposes, So, Why not Windows One? The sign is also "1 = One" sign in front of his face and he stands in front of it.

haha I figured that because he was probably saying, "Its ME!" lol.

Windows One, just watch xD!

Sorry, but I don't know about Windows 9. I feel the OS numeric is getting a bit long in the tooth. Give it a name instead. My 2 cents.

Well, Ferry already show us 1 . See?? It's Windows 1.

Since MS already lined up Xbox One, OneDrive. Make sense that the new OS should be named OneWindows, because it will run Windows Phones, Surfaces, PCs, Tablets,etc.

What about Microsoft Soft Pillow OS?

It's going to be called just "Windows"

Will windows 8.1 on Windows phone will be updated to Windows 9?

As long as it does not come with a free u2 album any name is ok .

Windows N or windows blue

Just WINDOWS. Why OS will be same for pc, tablet and phone. So its best to call it windows.

Who cares about the name?! I'm can't wait to get the next update :D

Windows "Offer Something Innovative"

300-odd comments and I might have missed it, but could the obscured part just be 'OS'.... similar to Mac OS? MS can still keep their codenames for each major release, but the branding stays nice and clean without the extra baggage of numbers/Roman numerals. Just Plain Ol Windows preceded by the logo works too, even if its not centered onscreen. Windows One doesn't seem too logical... are they gonna change the OS branding every time they release a new console?

WINDOWS. Why coz it will be same on phone, tablet and pc.

My geuss is they'lle call it Windows or Windows 365 and that it will become a yearly subscription just like Office 365

Windows Fixed Windows Yosemite iWindows Windows U (or maybe just Win U) Windows OS/2 Windows Oops Windows We're Sorry Windows 7.1 Windows Desktop/Windows Laptop (as opposed to Phone) Windows for Real Computer Users Windows Usable Not Sinofsky's Windows Windows Terra Firma Windows We Listened To Feedback This Time Windows Vigorous Velociraptor Windows Paneless Windows Bing Windows FTW Windows OS 9

Windows One - like (One United under current strategy)

Just, Windows. The text seems to be centered enough that nothing is after it.

Give whoever guesses a free Nokia 830;-)

I think it is just Windows.

My bet is on Windows One. The "shh" gesture is probably a hint indicating the number 1. Tom Warren and Mary Jo Foley did the same gesture in Tom Warren's tweet.

That or it will be called nothing but Windows.

I would guess just plain Windows, especially considering they're joining the standard and mobile systems for a universal experience, with programs/apps made to function on all devices... A completely new approach for Windows, a clean slate, a simple name.

It won't be just "Windows." Check the centering on the picture. A little to the left.

The word One wouldn't fit on this slide...look at the overall size of the text in relation to the screen, he is either covering nothing, or 9, or some other single digit

On a lighter note:
Follow Android's naming :-P just call it as Windows 7 ;-). Few advantages there...
1) MS can say that millions of people are using the new operating system right from day 1(hundreds of millions of users right?) and thus creating a history.
2) they can easily say that most people use the latest windows with a pie chart just like Google is saying most android phones are using latest 4.x operating system with a pie chart.
3) It can never be a failure even if MS wanted it to ;-) how come an OS can be called a failure if it is sold in millions even before the launch? :-) Thus making it failure proof

It can also be Windows 1 or Windows I(as per roman numeral) or Windows 1x(even though it's bizarre, it can convey that One windows for all as well as roman numeral 9 for continuing the versioning)

Guys... The Windows is completely centered, so currently there is nothing behind it.. Means they might call it 'Windows' and keep updating it or they just havent decided like they said. But whatever the case is.. Currently it says Windows and nothing else

Windows Unity sounds cool...

Windows! get rid if the numbering. At some point they will get rid off the numbering. Why not start now.

I think it should be called Barry.

maybe it would be Windows Phone instead #lol

Look.. He is showing 1 finger.. Maybe that's The clue!

Windows One - One System for all your devices ;)

Windows 3.12 for Internet

Windows 9, windows 1 or windows one or simply "windows"

Windows Magnetus Dumbledore

World gone mad with the name of the OS. Does the name of the OS is so important as the usability? Useless article.

Soon, one Windows to rule them all... ;)

Windows Live or how about Windows Tile, cause of Live Tiles

Anything but Microsoft Mobile!

Well, it can't be Windows One since it wouldn't be centered on the screen.

Technically it's just Windows 6.4, I don't think they went for OS 7 yet

just thinkin out loud here... assume they call it just "windows"... what will microsoft do when they have to release anther version? "introducing windows... again.. but not the same as windows (the one that was introduced before this windows)"... thats one hell of a confusion.. and if they use 9 as the internal version number, we'll eventually end up callin it Windows 9, so whats the point???

I guess, since Satya Nadella is an Indian, it'll be called Windows Masala Curry. :P

Windows Core or Windows One. I'm pretty sure...

Windows One or Windows Core.

Only Windows, or one Windows, or maybe the new Windows.
Bad names!!

Windows 9.5, in its fifth update...

Windows One for sure, like said by lots of people (OneDrive, XboxOne, bla,bla...). I will also suggest Windows OS (like OSX, iOS, ChromeOS, FirefoxOS, etc..), back to basics: this is the OS from Microsoft: WindowsOS.?

People are taking this naming thing as serious as naming a newborn.

It will just be Windows 9

Lets use the x ray app then lol

I think it will be Windows one unified Windows experience

Windows One. Hence the one finger.

Well, Microsoft seems to use a lot of Halo references lately. I do not know the Halo universe enough to think of any terminology that might fit a operating system. Just a thought. ;)

Windows 9 makes the most sense.

I think Winodws Threshold should be called windows 8.3. Windows 9 does not do the incremental improvement of what we know what thrreshold will be, justice.

Looking at how off centre of the screen the 'windows' part of the logo is, it looks like there's only space left for a 9 on that screen. Therefore I expect it to be called Windows 9.

Windows 9 both for tablet PC and phones

Windows Terry or Windows Myerson?

Just windows and then they will start with windows 1 a yr or so later

Windows 9 full free edition ?

Probably 9, he wasn't covering up much space. 9 would fit well.

MSN OS. I think, for what MS relaunch its MSN branding if not for something big. MSN OS! or... Windows MSN?

I like Windows X it sounds like an os but I saw some one say people may get confused between X and XP

My guess is Windows OS or Windows OS 9. Windows OS running on Windows devices (phones, tablets, laptops, xboxes, watches, and etc)

It's definitely not just "Windows" if that's actually the logo. And if it said "Windows One" it wouldn't be well centered. So it's probably 9. Like we knew all along. Or they created an image just to mess with us and it's not the real logo page.

For all we know, it'll be called Windows U...U= Universe. Throw in the play-on of the letter U, meaning "you"...they can market this new Windows being geared to each individual. The continued success and growth of our beautiful, innovative and life-changing OS, is pretty awesome. All hail MS XBOX-WP-OS.

Man take a freakin joke lol, I don't know what it will be called. I was just joking, it probably would be called Windows 9 bro.

I'm gonna guess there's another Windows logo behind him, making the name just Windows. The build number will be like 9.00.12345.678 and will be found in control panel / system ... kinda like Windows Phone 8.10.14176.243

Numbers and dates should be avoided. Dates put an automatic end of life feeling to an OS, so no more Windows 95, Windows 98 or Office 97. Apple has muddied the waters on numbers. Isn't it silly to introduce your iPhone 6 along side theiOS8? They flubbed when they introduced the iPhone 4S instead of iPhone 5 and they have never recovered the logic. The same could happen to Windows and Windows Phone. We already have people talking about "Windows 7 PCs" (really, no such things) and "Windows 8 PCs" (same deal only one could argue one is touch and the other not). Currently we have Windows Phone 7 devices, and Windows Phone 8 devices. Remember, Windows Phone 8 devices "will all receive Windows Phone 9." But what if they simply don't introduce Windows 9? Instead, I see it floated to offer the One (still a number open to interpretation) and TH or X (a real X not these sissy Roman Numerals. I guarantee it is not only non-Mac users who call it "ex" instead of "Ten." Why do you think they used pussy cats for so long LOL Snow Leopard anyone? Of course, we have nightmares about some other branding. Longhorn morphed into Vista, despite its usability a much hated and malined OS. Windows ME. Ouch. XP was the way to excape those traps but instead, they seemingly wanted to build from Windows 7 to 8. So we logically think 9 could come next. But no such thing has really ever happened. While we still discuss Office 2003, 2007, 2010, 2012, etc. who really discusses updates like that anymore? I really do not consider the latest office to be 2013 or 15, and now I hear we will be getting office 2016 in 2015. Durrrr. In this way, simply referring to Office as Office, and Windows (on all devices) as Windows makes sense.

It's obvious. The next version of windows it's Windows Terry Myerson. xD

Microsoft Appology would be fitting.

the name could be Windows 9th.

I like Windows Pain....oops Pane. But as rumors have it that they are dropping "Phone" from Windwos Phone I wouldn't be surprised if they go with just "Windows". It seems that MSoft is taking a position of connecting all devices via Windows so calling their PC, cell and tablet OS "Windows" would help with that connected world perception.
Windows Central Newsletter
Thank you for signing up to Windows Central. You will receive a verification email shortly.
There was a problem. Please refresh the page and try again.