Head of Microsoft France: 'Windows 9' is coming in the next few days [Update]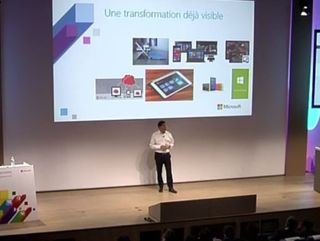 Update It's looking like Microsoft is trying to do some back pedaling in regards to Crozier's statements today. ZDNet.fr has received a statement from Nicolas Petit, director of marketing and operations division of Microsoft France, who in the translated text stated, "We look forward to seeing you in late September, in San Francisco, for the future of Windows, which actually at this stage does not have a name as such."
Original story Alain Crozier, the President of Microsoft France, today became the first executive in the company to use the term "Windows 9" publicly to describe the next version of Windows.
Crozier made the statement as part of a company press event today that was live-streamed and is now available to watch on the Microsoft France website. During his presentation, he said, "Last year we had Windows 8. In the next few minutes, the next few days, we'll be releasing Windows 9." Crozier is likely referring to the press event scheduled to be held September 30, a week from today, in San Francisco, where the company is supposed to offer the first details on the next version of Windows and how it will help its enterprise customers.
It's possible that Crozier misspoke on the actual release date of Windows 9, which has the internal code name Threshold. Recent Internet rumors claim that Microsoft will wait until sometime in early October to release a public preview of Windows. It's also possible that Microsoft may end up calling the next version of Windows something other than Windows 9 when it is finally released. However, the fact that Crozier did say "Windows 9" today shows that the branding has at least been discussed at the company.
Do you think Microsoft should use "Windows 9" as the final name for the next version of the OS?
Thanks to Kkim0615 for the tip
Source: Microsoft France
Get the Windows Central Newsletter
All the latest news, reviews, and guides for Windows and Xbox diehards.