Head of Microsoft France: 'Windows 9' is coming in the next few days [Update]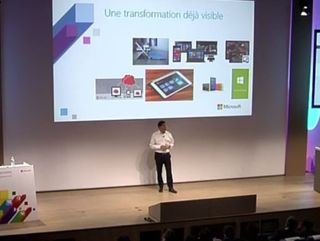 Update It's looking like Microsoft is trying to do some back pedaling in regards to Crozier's statements today. ZDNet.fr has received a statement from Nicolas Petit, director of marketing and operations division of Microsoft France, who in the translated text stated, "We look forward to seeing you in late September, in San Francisco, for the future of Windows, which actually at this stage does not have a name as such."
Original story Alain Crozier, the President of Microsoft France, today became the first executive in the company to use the term "Windows 9" publicly to describe the next version of Windows.
Crozier made the statement as part of a company press event today that was live-streamed and is now available to watch on the Microsoft France website. During his presentation, he said, "Last year we had Windows 8. In the next few minutes, the next few days, we'll be releasing Windows 9." Crozier is likely referring to the press event scheduled to be held September 30, a week from today, in San Francisco, where the company is supposed to offer the first details on the next version of Windows and how it will help its enterprise customers.
It's possible that Crozier misspoke on the actual release date of Windows 9, which has the internal code name Threshold. Recent Internet rumors claim that Microsoft will wait until sometime in early October to release a public preview of Windows. It's also possible that Microsoft may end up calling the next version of Windows something other than Windows 9 when it is finally released. However, the fact that Crozier did say "Windows 9" today shows that the branding has at least been discussed at the company.
Do you think Microsoft should use "Windows 9" as the final name for the next version of the OS?
Thanks to Kkim0615 for the tip
Source: Microsoft France (opens in new tab)
Windows Central Newsletter
Get the best of Windows Central in in your inbox, every day!
Windows 9 makes ask the sense in the world. Changing the name is not going to help anyone at all

If Windows 9 is the free upgrade it is rumored to be and Microsoft stops charging for upgrades except when you buy a new device, then calling it just Windows makes sense. The number won't matter anymore because you get all future updates for free and odds are the updates will be automatic.

Agree, it should just be windows. Same with the phones. I have a Lumia that runs windows. Not 8, 8.1, 9 etc. Just windows.

Which one would that be? As far as I know, they are all running Windows Phone 8 / 8.1.

But we do need to know what version. I can understand getting fixes for free and updates to the current OS but how do you have teams of software engineers working on an OS for months just to give it away for free, that don't sound like a company with a very long longevity.

Yeah, Apple's about to go out of business any second. So is Google right behind them. :)

Windows 9 will be free cause 8 everyone hated but after that they will charge no way will every update be free

Public perception is everything. The "Windows 8" name is so tainted, rightly or wrongly, that even making this a point-release won't help sales and usage.

Exactly, it a smart move to move up to 9.

Tell that to Windows Vista and 7. ;)

Sure it can. As we saw with Vista and Windows 8, a name can get tainted if the product isn't accepted initially. Even though Vista issues were fixed and it basically became WIndows 7, to this day people view Vista as a failed product. The techies tell the layman to avoid a windows 8 and Vista and that stays with the average person even after all teh issues are fixed. If the OS just stay as Windows, the average person won't know which version they are getting. They aren't going to go into the properties screen to see the version numbers. They will go into the store, see the latest version, be told by the sales person it is the one to get, and then buy it. Ask the average Apple user which version of OSX they are running. I bet they won't be able to tell you.

Yes. But the next one after that should NOT be Windows 10. We don't want to be like those stupid MacOS people who keep using numbers: 10.8, 10.9, ect.

Except OS X versions have names, you're just mentioning the version number.

Still OS X upcoming version is OS X 10.10 and its like 'OS ten ten point ten'. now whats that if not stupid!!

I honestly think Windows One should be the name. But after that, yes just use Windows. Because plainly using Windows as the name, people will think of the latest Windows which is Windows 8 (technically 8.1 yea I know). They could say the new Windows, but even then, I think the average Joe would associate new Windows with Windows 8. If you say to somebody have you upgraded to Windows One, I think it could imply it is newer than Windows 8, with advertising they could say One Windows for all your devices and show off Threshold on the PC. People could complain the name is dumb, but they did it with the Xbox One. Windows One could be installed on any Windows PC, since they expect you to buy apps through their store. Adoption of the Windows Store is crucial for Microsoft to make it matter to developers. It would mean more apps, better quality apps, on the store for Windows Phone. Even XP PCs should be able to upgrade to it. From then on, they could lose the One branding, like OS X lost the Mac OS X branding, it just became OS X. Windows in general wouldn't be tainted. But they first have to advertise the next release of Windows is the next. I don't like Windows 9 because there isn't going to be a 10, or an 11. It implies a number, one that can be succeded by the number after. One implies a message, a slogan, for the brand, One Windows for all your devices, One store for all your devices. It's a fresh start for the direction they are heading. Look at the HTC One M7, it never was succeeded by the One Two or the HTC Two, simply the HTC One M8, or the new HTC One M8. One is a message to the consumer that this is the one Windows you can use.

I love the idea of "Windows ONE"

Reminds me of "The O-Ne-ders".


Anyone know about the Midori OS by Microsoft?

I like threshold more as a name

This! Microsoft should have use the Threshold codename

Nope, then all the anti endures guys will cal it trashole.

I don't think they will use Thresold as you can see what they did with windows blue

Me too....they need to just call it threshold and in ads at the end read, by Microsoft, otherwise just threshold

Windows 9 by Microsoft Mobile Series 2014 Edition

ehmm, that "joke" is not funny anymore. can't people just leave that? most of the "Long" names they used weren't for office or OS anyway. it was for small programs not everyone used, I mean, "vista" was the longest windows name. so yeah, stupid jokes are not funny, they were never funny but after so many years, it becomes just more stupid and still not funny.

Oh really? How about: - windows phone 7 series
- windows XP tablet PC edition 2005 Fortunately it looks like it's changing: windows phones are now called windows devices, and with the future merge of windows and windows phone we will only see "windows"

Threshold is as cool as Cortana.

Especially since it brings Cortana to my Surface! xD

That's actually not the first comment from MS exec about Windows 9. MS Middle East representative confirmed implicitly through a tweet here https://twitter.com/mkogeler/status/512212066942595073

Point Zero. *MS-DOS version 6 required. -Microsoft. JK.

thats what i was thinking its perfect

Windows one sounds like a good name except people will get confused like with Xbox one after 360. However if they were to call it One Windows....

This is a possibility. They did it with Xbox. Still think it's a bad name.

I personally more excited about the rebranding of Windows Phone to Windows 9. Sounds more powerful to me

Except wp is more gimped then rt is hence misleading

Not with Threshold. They will be the same thing.

They will not be the same thing. Thurrott and many others have clarified this multiple times since the original misleading statement.

If you go by that logic lets call it Windows 9000. :)

It sounds dumb in the same way think the iPhone 6's name is dumb, We can't keep using numbers. :l

How so? Numbers are the best way to place devices in order and allow customers to make sense of it all. We don't all follow tech news. Numbers are easier.

No it's not, because if your purchasing a phone, you will go to a cell store or shop online. The same applies for tablets, computers, etc. The user knows what they're looking for so no confusion

Most consumers are "stupid" (In the sense they don't really understand technology, they just want /something/), and they just need something simple. Numbers are one of the easiest ways to convey simplicity, higher = better. Which is why the Lumia numbering system always confuses those who don't understand it. Everyone would assume that 1020>930, even though many would argue that, aside from the camera, the 930 is superior in every way.

Could always go with Lumia Alpha, Beta..........

Alpha, beta are software development stage names. Absolutely ridiculous suggestion.

Alpha, Beta Gamma, Delta etc. are the letter of the greek alphabet; the reason why the sosftware development adopted them is exactly that: Alpha: the first stage, Beta: the second one.

that actually has a nice ring to it, replace all the series numbers with one of those, make alpha the flag ship, lumia alpha I, lumia beta I, Lumia lumia gamma

Haha, I find that really ironic though, since the Lumia 900 promised "The smartphone beta test is over."

Iphone 6 hmmm from 666 Illuminati 100% JK

Actually, we can keep using numbers: they're infinite.

I think threshold sounds like it is going to be the last one. It would n be a stupid name

Windows 9 as the name would be fine.

Yes, they should use Windows 9. Apart from XP and Vista, all other versions of Windows used a number to identify them. I see no reason why Microsoft shouldn't keep it. Windows 9, Windows 10, Windows 11 etc. It's simple and effective.

Yeah, if it works for Apple and Google, I don't see why it wouldn't work for Windows ;D

Me is still a reprensentation of a number.

It si not the way MS denominated the OS: ME is the abbreviation of Millenium Edition which was the name of it.

...although most people knew it as Mistake Edition. God ME was so horrible.

I think they should name it Windows Xpress

I'm almost afraid to see what it brings. I love the current OS so much!

Yeah,I will miss the charms bar with a passion ;(

It's not going anywhere....

I just pray that we have options...

http://winfuture.de/news,83577.html#sci1410439497,409,470,10813 ;)

Ah, so exactly how it currently works in Windows 8.1(.1). Then I assume what early leaks saying the Charms bar would be removed, meant that it would be disabled by default, likely for non-touch screen users.

I will too, but I will forgive them if they make the experience touch friendly. I run two monitors, one touch and one standard. I am hoping the whole desktop experience gets more streamlined for touch while still remaining mouse friendly.

Im more afraid of what it'll do to rt devices especially if metro is still lacking features that have to be tweaked on the desktop side

increase in velocity detected

Hopefully he doesn't get fired/reprimanded for speaking candidly/off-the-cuff. That's a pretty big bomb to drop in France (no pun intended) when the HQ hasn't even acknowledged it yet...

& its no worse then nokia in India

What I would like to know, will the next release from Microsoft be free for existing Dell, Toshiba, Microsoft touch devices? I am mean on tablet devices.

Lol.. "I am mean on tablet devices" man that typo made me rolll... Lol

We all know it will be windows, whether or not they intend to reference the version # in further advertisement is one thing, but software necessitates the use of version numbers. They can call it whatever they want internally, but a major revision logically should be called Windows 9.

And yet, the internal version number will probably be 6.4.something.somethingelse. http://en.wikipedia.org/wiki/List_of_Microsoft_Windows_versions#Client_versions

I paid $40 for wp8 upgrade. We got 8.1 for free. I wouldn't mind paying $40 again.

Same $40 is fine with me ..

Well, $40 mightn't be that bug an amount in the US or Europe, but how about Asia? I live in Malaysia and can't imagine anyone willing to pay 130 Ringgit for it. That is simply too much money for many of us here. We can have dinner for just rm5 or go to a nice restaurant for rm 30 (to put this into context).

Your saying you can eat for $1.55 US? Like what? Ramen noodle's? Is there any protein in that meal?

Windows 9 sounds good to me. Get rid of the RT and Phone naming. Especially nuke RT from all naming, as that has been way too confusing from day One.

RT works fine for many of my staff. Inspectors, code enforcement, patrol cars, EMS for example

Inspections and code enforcement? May I ask where? Im 4 tests from MCP! I convinced our EMS to use Surface Pros, and they love it. Im in eastern panhandle WV. ICC region 7 council member.

Where did I say nuke RT/Phone? Nuke the name, yes. The edition, no.

Yes. The rumor that ur could just be Windows seemed off.

I wish they just named it "windows" and make it updatable, like I wont need to "install" w9 10 11 12 etc instead just updating like windows phone, and keep the version number out of the publicity, for all devices including phones tablets wearables etc, unify the brand, make people understand that when they see a colorful tiled UI it is microsofts work

Interesting ... Looking forward to see what they come up with! Especially in the RT side, kinda worried too.

I think they obviously want to get rid of the numbering scheme eventually, but I think they realize that they need to end that on a good note like Windows 9 to get away from the Windows 8 branding.

Windows 8, 8.1, 8.1 updated 1 all worked fine for me because I'm willing to learn new things and not set in my ways so as to resist change like the bulk of society

Microsoft. Don't confuse us anymore, just use Windows 9. We can count. Thanks.

Yeah, I think also it's too early to change name. But windows 10, doesn't sound good, so its maybe from the next version of windows that the code name will change. To what is up to Microsoft to decide till that time

I am praying they will release it as Windows 9 and nothing else.

Find something better to pray for.

Just don't call it Windows 8 something!

Call it just Windows. Phon, tablets, PCs.. Just Windows.

What features does Windows 9 bring to a Windows Phone users in terms of integration, continuity and compatibility? Genuine question.

I want to know this as well.

Xbox integration across devices.

Microsoft should use the name Windows 9 for "desktop", x86 non-touch systems and Windows Threshold for touch /modern tablets and phones which run on ARM.

I want aero glass back in windows

Just use Windows. Make updates mandatory after x amount of time. No more support asking "which version of windows?".

i like the name "Windows 9" , btw Facebook got update

Does anyone know what's the code sharing level between Windows 9 and Windows phone? People talked about this a lot before but now I see very little written about it. Will windows phone 9 and windows 9 be one and the same? I'm thinking that this could be a thing that can skyrocket apps in the app store. (And maybe, just maybe "universal apps" will be assumed standard...)

I don't have any any interest in windows 9. I have interest in windows phone 9 !

You're living in the past. There won't be a Windows Phone anymore. They've even dropped the Windows Phone brand and kept it at Windows

Oh ! Sorry i forget about this ! Now i am serious about windows 9.

Thought they call it Windows Mobile now...

Maybe thay should call it Windows Phone XP. lol

Why start over when they are almost to X? ;P

I think they should call it "Samba de Windows" and ship each copy with a pair of maracas.

Samba de Amigo on Dreamcast was a great game.

How about "licking windows" or "breaking windows". W1ndows even

Not knowing Windows rt's future is killing me

Windows rt and windows phone will merge, thats your future.

I've always loved the name Surface OS. I find it would give so much more meaning to braindead consumers to say... OH well look at this! Surface OS is not Windows. No more viruses blah blah I hate Apple :)

Windows 9 in the next few minutes ...yeah lol

If this is windows 9, next could be windows X(roman ten).... So cool

Looking forward to this conference like none before! Windows 9 and running on Microsoft Desktop and Microsoft Mobile!

Perhaps they should consider naming it like office products, using calendars years. Windows 2015?

Microsoft tried that with widnows 95/98/2000

Honestly I really don't care what it's called as long as a majority of the media call it good.

Windows One - Hundret of devices an ONE Windows

Do the changes justify the jump from 8 to 9? Not sure I am convinced based on the rumors. But, I guess, from a branding point of view they felt they needed to. And perhaps there is more to it than I know of. PLUS - who cares? It's called whatever its called. Just bring it on! :)

Calling it just Windows, is the smartest move they can make. As we all know, Windows 8, 8.1, have a bad name from the publics perception. Or a majority of the public,even if the "issues" people claim are not even apparent now, the mindset has already been set. Moving forward to avoid consumers, retailers and media from saying things like, "Oh, get Windows 9, its WAY better than 8.." or "...I don't want Windows 8, I want 9 or 7..". Its just an endless battle with people who are misinformed about the reality of the current Windows. So, to truly wipe the slate clean Microsoft would be smart to remove all numbers associated with the products OS. If this is to be "One Microsoft", then Windows should be the name for what is powering their devices. Having shared services like Cortana and Bing make this alot easier to understand, everything's under one umbrella. Even if people feel that just Windows isn't "cool" enough, keeping that name and pushing innovation will eventually change even the most stubborn of minds.

I sure hope they fix the DPI/screen resolution issue when using multiple monitors...

Might be Crozier's last day as a Microsoft executive.

That's actually not the first comment from MS exec about Windows 9. MS Middle East representative confirmed implicitly through a tweet here https://twitter.com/mkogeler/status/512212066942595073

Just use Windows as product name. Like OSX and Android. Let the 9 thing be a version number.

Just call it "Windows" and be done with it.

Pfft, Windows 9 is so old! I used to have Windows 95! lol

Micosoft is more like moonwalking Crozier's comments.

Hmm, no 9? Just Microsoft Windows for Desktop and Mobile?... Hmm....?

Awesome! My virtual machine is ready!

It would be nice if there was seamless inigration between my Surface and 1520. Not necessarily the desktop but the apps and experience.

Yes. I want this as well. Make it great/rewarding to own both a Windows 9 device and a Windows mobile device. Lol they really do need a name its terrible hard to not say Window Phone.

Call it Windows 9 for the next release, to get away from the Windows 8 hate. Then on the next iteration, just go with Windows, making all upgrades and updates free for all licensed Windows users. Make the money on sales of new devices, for both the OS and the device itself. That's where the future will be.

UPDATE: Microsoft attempts to put cat back into bag, needs stitches.

With Windows 9 I hope a new Bing comes one that doesn't forsake the WPCentral homepage in its search results. And some awesome integration with mobile.

I really hope they come up with a different name for it, other than Windows 9. Just calling it 7, 8, 9 is so unimaginative.

Will it be released as separate OS or an update to windows 8.1?

I think THRESHOLD is better

Put me in the Windows ONE crowd. Obvioiusly the question is what do you call the next version? Hmmm, I guess Windows ONE MORE? Who cares, that's 3 years down the road. I vote Windows ONE.... one OS to rule them all.

Here's a thought, and it may sound ridiculous, but what about an entirely new branding, called "Lumia OS"?

It should just be called Windows 9 for everything. That way, it's just Windows, so you have 'Windows' phones and 'Windows' tablets, not 'Windows Phone' devices or 'WIndows RT' tablets. It'll also be easier for dummies to understand and it'll save me a ton of stress by not having to tell idiot consumers over and over again when they ask "duuuuuuh it says windows what version is it? i don't want the one that's shit".
Windows Central Newsletter
Thank you for signing up to Windows Central. You will receive a verification email shortly.
There was a problem. Please refresh the page and try again.