Microsoft's Remix 3D planned to shut down
Remix 3D is shutting down, and users have until January 10, 2020 to download content before it's deleted.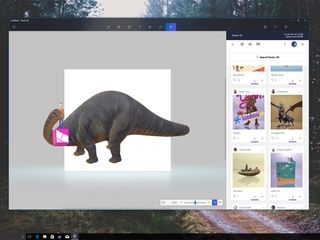 What you need to know
Remix 3D is shutting down according to a recent report.
All of the service's content will be deleted when the shutdown occurs.
There is no word on the status of Paint 3D.
Updated July 10, 2019: Microsoft has now confirmed the shutdown in an email to users. While the site will be fully retired on January 10, 2020, no new uploads to the site or from other apps will be allowed starting August 7, 2019. You can find more information on the shutdown at Microsoft's FAQ page (opens in new tab). The original story follows.
Microsoft is planning on shutting down Remix 3D. The service designed for uploading and downloading content made in Paint 3D will shut down on January 10, 2020 according to a report from Thurrott.com.
The news was initially broken by well-known Twitter user Walking Cat who spotted the services "retirement" date. It was then confirmed by respected Windows developer Rudy Huyn.
According to Walking Cat and Huyn, a banner will soon appear on Remix 3D announcing the service's shutdown date of January 10, 2020. Importantly, all content on the service will be deleted, including any content that you've uploaded yourself. If you'd like to keep your content you will have to download it before January 10, 2020.
Remix 3D relies on Paint 3D, and it must not have gained the traction that Microsoft's leadership hoped for. Paint 3D has many nice features, but Microsoft kept the classic version of Paint around and Paint 3D isn't very popular.
Remix 3D is yet another consumer-facing Microsoft service that is shutting down. Groove Music was mostly gutted and books purchased through the Microsoft Store are being refunded and removed.
While Remix 3D is being retired according to the data uncovered, there's no word yet on the status of Paint 3D. There's a chance that Microsoft will leave it to be used by anyone who enjoys it. After all, it is a solid program for both 2D and 3D creation.
Portable (and affordable) power accessories we love
Each and every one of these charging gadgets will keep your favorite gear and gadgets going for longer, and none of them costs more than $30.
VisionTek 8,000 mAh micro-USB power bank (opens in new tab) ($13 at Dell)
This compact dual-output powerbank can speedily recharge any and all your devices, thanks to a two-amp "fast charge feature," using its micro-USB out port. Its simple design includes an LED indicator, and it costs about as much as a single ticket to the movies.
Panasonic eneloop AA batteries (opens in new tab) (From $13 at Dell)
Panasonic's rechargeable batteries are among the best available, and just a couple of them will keep your favorite remote, mice or other peripherals powered up when you need them. They're also eco. And the company's affordable charger (opens in new tab) fits and charges both AA and AAA batteries at the same time.
Belkin Qi Wireless Charging Pad (opens in new tab) ($30 at Dell)
This unobtrusive Qi wireless charging pad looks good (and kind of like a UFO …) and easily charges all your Qi-compatible device up to 5W. Its LED indicator lights up when you're charging. And it costs just $30.
News Writer and apps editor
Sean Endicott brings nearly a decade of experience covering Microsoft and Windows news to Windows Central. He joined our team in 2017 as an app reviewer and now heads up our day-to-day news coverage. If you have a news tip or an app to review, hit him up at sean.endicott@futurenet.com (opens in new tab).
I never used it to order a print. Too costly.

It seems that they are chopping or changing all the things that they added since windows 8 that doesn't get used by the majority. Meanwhile adding things they removed back in the day. Soon we will end up with a more secure and performant Windows 7; the thing most people wanted from the start to begin with. Windows 10 had become very good these days since they put their focus 100 percent back on desktop users.

"It seems that they are chopping or changing all the things that they added since windows 8 that doesn't get used by the majority." In this case, Remix 3D is a Windows 10 product. Edit: I reRead your statement and I'm pretty sure I am misinterpreting what you wrote. You are implying it is a W10 product.

Called it from the beginning, there way no way this/paint 3D was going to have mainstream success. I'm still believing Paint 3D will be a failure. Just replace paint with a all in one higher quality photo/3D model editor.

How exactly does a free application built into an OS become a failure? Even if people didn't use it at all (not true, it's actually pretty useful) , it's still there and never has to be touched again.

So, no more 3D models for Office 365 apps anymore after that date? I never got Animated models ever btw.

You can insert local 3D models created in Paint3D into Office 365. It seems only the Remix3D service is being discontinued.

I think I would have loved this if I taught middle schoolers and put 3D images into my PowerPoint slides. (Wait, do middle-school teachers use PowerPoint?). But undergrads? Nah, it was never useful (and would probably be a bit patronizing). Recently I had a lesson on immigration and I wanted a Statue of Liberty for the title slide, but the 3D models I found sucked. So I just used a photo.

Given that Minecraft is having their AR game coming soon, and that 3D is a big focus with HoloLens, I highly doubt Paint3D will go anywhere. I'm not surprised Remix3D is discontinued though, typically these 'community' type sites don't do well unless there's a big following like games do. That being said, if you look at the initial screenshot, there's a blurb that says "Microsoft's 3D content service is changing." so maybe they have something more useful coming. But right now, the best bet is to just use locally saved 3D content and sync with OneDrive IMO.

Another brilliant Nadella play. This was just a silly bit of fun. Azure is what makes money. Very savvy move.
Windows Central Newsletter
Thank you for signing up to Windows Central. You will receive a verification email shortly.
There was a problem. Please refresh the page and try again.