Former and current Microsoft staffers talk about why Windows phones failed
Windows on phone failed. That's clear. And some former Microsoft employees recently shared why.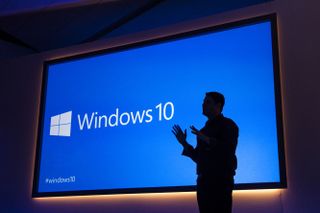 (Image credit: Daniel Rubino / Windows Central)
The downfall of Windows on phones is a tale that has been told and retold by observers, enthusiasts and Microsoft haters time and again.
Though Windows 10 Mobile's demise is undeniable, Microsoft's mobile strategy has arguably always included a transition from a mobile OS on phone hardware to full Windows on context-conforming Pocket PCs. That vision is materializing as Windows Core OS and Microsoft's rumored "Project Andromeda" story unfold.
Had Windows phone succeeded, Microsoft would have likely still pursued the post-smartphone pocket PC vision it's currently pursuing. It's a natural evolution of connected computing and a realization of the company's decades-old goal of bringing full Windows to pocketable hardware.
It's within this context of what could have been and what may yet be, that exiting Windows Chief Terry Myerson and former Developers Relations Head for Windows Phone Brandon Watson have shared their thoughts on why Windows on phone, not Windows on mobile, failed.
Windows 10 Mobile's death may be a good thing
Microsoft staffers on Windows phone's failure
Myerson, who's leaving Microsoft and who once led Windows phone efforts, shared his experiences on LinkedIn:
In response to the challenge, Microsoft innovated in phone user experiences, with Live tiles, social network integration, Hubs, Rooms, and the fluidity of the OS. Still, Myerson said Windows phone failed because:
Early Windows phones were founded on an incomplete Windows CE platform, designed for small embedded systems.
The industry moved forward faster than Microsoft could keep pace.
Android presented an enormous disruption in the business model.
Watson added insufficient OEM and carrier support to that list of reason for failure:
Windows Phone died because it would have been almost impossible to beat Google or Apple without carriers and handset manufacturers embracing it. We got second string devices and almost no support at the carriers. They couldn't keep burning money to please Sisyfus.Windows Phone died because it would have been almost impossible to beat Google or Apple without carriers and handset manufacturers embracing it. We got second string devices and almost no support at the carriers. They couldn't keep burning money to please Sisyfus.— Brandon Watson (@BrandonWatson) March 30, 2018March 30, 2018
Finally, Joe Belfiore, Windows Division head, suggested the app gap and limited hardware choices are among the causes.
The argument that Microsoft isn't investing in mobile, because it gave up on smartphones, is an erroneous assessment. A mobile device doesn't have to be asmartphone, though a smartphone is a mobile device. This point must be understood before you can grasp how Microsoft's mobile investments and Project Andromeda may address the challenges that contributed to Windows on phone failures.
Incomplete Windows CE foundation
Incomplete Windows CE limited Microsoft's ability to bring the power and versatility of Windows to a mobile form factor.
OneCore unifies Windows across form factors, and Core OS enables a context-sensitive OS that conforms to device types and device states. Microsoft's rumored Project Andromeda's OS will potentially shift between mobile, tablet and desktop modes seamlessly.
From Windows CE to Windows 10 Pocket PCs
Industry moved faster than Microsoft could catch up
Apple and Google had developed carrier, developer, customer and OEM (Android) relationships years before Windows Phone 7 arrived.
As connected computing becomes increasingly demanding and the slate-shaped smartphone market stagnates, Always Connected PCs and subsequent Project Andromeda-inspired OEM devices may be Microsoft's and Qualcomm's preemptive step into the next phase of connected computing.
Why eSIM may be a game changer for Microsoft
Android's disruptive business model and caring for carriers
Though Myerson doesn't identify Android's "disruptive" business model, he may have been referring to the OS as free and customizable for OEM partners.
Microsoft ultimately made Windows free to OEMs on smaller devices. Additionally, Core OS lets OEMs include only the Windows features they want on their devices. Windows 10's breadth of features from inking, gaming, mixed reality and more combined with creative OEM hardware may inspire PC and smartphone makers to embrace Andromeda-inspired devices.
Furthermore, always-connected devices will allow consumers to buy data from the Microsoft Store and switch between carriers almost on the fly. This gives carriers an incentive to carry cellular PCs to make their data and voice packages more competitive.
Why always-connected PCs may give Microsoft the upper hand with carriers
The notorious app gap
Microsoft is collaborating with Google on Progressive Web Apps (PWA) and is treating them as native apps in Windows 10. Simply, put these app-web hybrids will behave as native Universal Windows Platform (UWP) apps.
Using a web crawler, Microsoft has begun to slowly populate the Microsoft Store by merely pulling PWAs into the Store PWAs. Furthermore, PWAs are easier to build, maintain and are cross-platform.
Progressive Web Apps (PWA) - the great equalizer for Microsoft, Apple and Google
No guarantees but it's a plan
Microsoft appears to have a mobile plan that addresses the issues that doomed Windows on phone. No one knows how this will play out, but past failures don't dictate future outcomes.
Get the Windows Central Newsletter
All the latest news, reviews, and guides for Windows and Xbox diehards.
Jason L Ward is a columnist at Windows Central. He provides unique big picture analysis of the complex world of Microsoft. Jason takes the small clues and gives you an insightful big picture perspective through storytelling that you won't find *anywhere* else. Seriously, this dude thinks outside the box. Follow him on Twitter at @JLTechWord. He's doing the "write" thing!