Terry Myerson is out as Microsoft shakes up Windows and Devices group
Microsoft has announced a new "Experiences & Devices" division, lead by Rajesh Jha, that replaces the old Windows and Devices group along with Terry Myerson.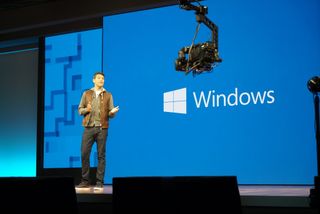 (Image credit: Windows Central)
Microsoft CEO Satya Nadella has today announced (opens in new tab) a huge leadership shakeup that see's Windows boss Terry Myerson out, along with a shakeup to the Windows & Devices group itself. In an email to employees, Nadella explained how today's reorg is all about focusing on the "intelligent cloud and intelligent edge."
In the letter, Nadella announces a new "Experiences & Devices" group, lead by Rajesh Jha, that will focus on Windows, Devices, new Experiences, and Enterprise. Panos Panay and Joe Belfiore will continue leading Windows and Devices under this new group, with Kudo Tsunoda and Brad Anderson continuing to lead new Experiences and Enterprise.
Furthermore, Microsoft has announced that Scott Guthrie will expand his role to lead a new team focused specifically on Cloud and AI platform. Microsoft says this team will drive platform coherence and compelling value across all layers of the tech stach, starting with the distributed computing fabric to AI.
This is a real big shakeup internally at Microsoft, and one that should see a lot of things change. What do you think? Let us know in the comments! For those interested, you can read the full email transcript below.
Windows Central Newsletter
Get the best of Windows Central in in your inbox, every day!
Zac Bowden is a Senior Editor at Windows Central. Bringing you exclusive coverage into the world of Windows on PCs, tablets, phones, and more. Also an avid collector of rare Microsoft prototype devices! Keep in touch on Twitter: @zacbowden.
Wonder where this is going? The ongoing mystery epic. Stay tuned.

Maybe Microsoft will develop a tablet or something

So they don't see Windows that important for the future? Are they going to start cutting the Windows group out? Didn't think it would happen this fast. It doesn't sound like they are planning to bring someone new in to push the department and Windows forward. Sounds like they are cutting back. Andromeda dead now? Why would you cut the leader right before the announcement?

Oh look - the sky is falling! Or is it just rain.

Ah yes, the yellow rain from MS that we know all too well...

I can't believe you would even entertain this baboons idiosyncracies

What on Earth?! Did you not read the article/letter? It looks like they are still pushing forward and make Microsoft/Windows/MR/Devices come together better for the end-user.

Is that what the "intelligent cloud" and "intelligent edge" is?

Well that would be using the cloud and AI, Machine learning etc. For example: In the next update, developers still be able to run Machine Learning models locally on your device with great performance, even on IoT devices For reference, watch the developer day event that happened earlier in March, makes it much more clear about what their focus is now. Windows isn't going anywhere yet lol.

Erm, it seems to mean to me that whilst they have their head in the clouds, the are on the edge of intelligence? I'm sure they can see that horizon if they squint a bit.

The "Intelligent cloud" is Azure, "Intelligent edge" is Windows, devices and stuff.. So it is a take on making it one platform with the cloud, but also to be were the customers are..

Seems like they're moving away from seeing Windows as a stand alone desktop platform and more of a universal, all encompassing "experience", hence the name change. I imagine there's some between the lines stuff here in that Terry probably had to be given the push out since he was focused on Windows only, not multi-platform services. For all we know he asked to be let go, he just might not be interested in the direction Windows is going. Either way this all seems fairly amicable.

Honestly, I think that he did ask for his release. I believe that he wants to be the "master of his own ship" as opposed to being employed in general. The other option is that the next project that he is focusing on, despite the fact that it has not been announced yet, was partially funded by Microsoft and they are spinning it off with him in charge.

That's some terrible reading comprehension on display. How did you get Andromeda is dead from this? "Windows: Joe Belfiore will continue leading our Windows experiences and will drive Windows innovation in partnership with the PC and device ecosystem. The future of Windows is bright as we continue to innovate across new scenarios and device form factors, and more deeply connect to our Microsoft 365 offerings. Joe will share more about the Windows roadmap at Build. Devices: Panos Panay will now serve as our Chief Product Officer and will lead our devices vision and further our product ethos across hardware and software boundaries for our first-party devices, while creating new categories and opportunities for the entire ecosystem. He will be the key leader ensuring end-to-end devices business execution excellence."

Since their stated 'product ethos' is basically 'we don't want no dirty consumers stinking up the place' it is unfortunate to hear it's to be furthered 'across hardware and software boundaries'.

That's your dumb salty fanboy analysis.

Yeah, I missed that part. I just saw they are concentrating on Intelligent Cloud and the Intelligent Edge. It seemed like those were not Windows related. My bad.

some more reading for you....
Microsoft surges 8% after Morgan Stanley says it will reach $1 trillion market cap
https://techcrunch.com/2018/03/26/microsoft-surges-8-after-morgan-stanle...

Yeah, after reading it closer I think this is good. I would say they need to fire Joe B too. They need all the new blood they can get.

The destruction continue... :(

What destruction? They re-organized leadership. You don't re-organize leadership with a goal to better your end product if you want to destroy the end product. Lol

No I don't, but I think we all know someone who does...

First, I'm disappointed to learn that Satya doesn't use the Oxford comma. One quote in the larger letter I found interesting was "The future of Windows is bright as we continue to innovate across new scenarios and device form factors..." I know I'm looking through rose colored glasses but I'm thinking, or at least hoping, that's a reference to Andromeda.

It is something Belfiore is working on and thinking about.

The Oxford comma or Andromeda?

Andromeda os, not the Device and there 3 Device Tablet-Phone Smartwatch and SmartPhone

It is sad the real problem is not being addressed... Mr Nutella himself. He has single-handedly pulled Microsoft almost completely out of the consumer market. People will be quick to point to stock numbers are up, and they would be right... If that is your only measure. However, I can speak towards the business market and most of the upcoming developers (and startups) being hired these days pushing "new ideas" are pushing hard to abandon Microsoft services and products. Linux and AWS is the conversation. Microsoft is seen as the enemy that needs to be vanquished (even if I think they are wrong). These new breed of developers have been raised on Apple products and Android devices and have bought into the idea that Microsoft is garbage to be abandoned. My concern is mainly for the long term for Microsoft if it wants to attract the attention of the new generation of development.

But under him, a lotta MS's products now works side by side right next to each other.

Well Brain Thumbstick, you have to realize that relying on Windows licensing revenue is a thing of the past. The work Mr. Nadella is doing to shake up the company is a good thing. We're beyond the days of needing a Windows device to use MS products and services. That's really the point. My hope is that we still have the option as a consumer to use a Windows device to consume MS products and services.

Good, wasn't a fan of Terry direction with windows. Hopefully Rajesh Jha and Joe can do better.

Terry is such a weak leader that Windows devices have failed one after another in the last few years. I wish that he would take Joe with him. They are responsible for the WP failure. The Windows device division needs a new refreshed leadership to revamp the whole operation with enthusiasm. We know little about Rajesh Jha. Hopefully, he can rebuild the mobile, digital assistant, wearable and all other consumer business. It has been disastrous thus far.

What I understood is that MS is going to expand the umbrella of 365 to include more and more!
So, Windows as a service with monthly sub?

That's kinda been the plan since "Blackcomb".
It's just taken a decade longer to realize it.

They need something after Windows 10. I mean, eventually you'll have saturation of the market and can't rely on giving out free upgrades indefinitely. Maybe something you can buy outright or something you can subscribe to that will allow you to freely upgrade to the next one 3-4 years after that, etc.

Well, you do pay a price for Windows when getting a new device

I have long blamed Myerson for a particular pattern of behavior that has infected Windows for years, manifesting during with the Sinofsky era, but which Myerson has clearly carried on: a relentless focus on engineering efficiency over customer satisfaction. Many Windows product decisions have been driven not by what is good and right for the customer, but what has been easiest from a development and maintenance perspective. Less successful products or initiatives are simply dropped, without clear communication or a graceful transition offered to customers, because this would require extra support and maintenance. Other features, like Continuum, Tablet Mode, People Hub, etc. are launched with zero engineering follow up or developer evangelism, and left to twist in the wind. The most ruthless example is Windows Mobile and Lumia, but we have seen this same pattern with Windows Home Server, Windows Media Center, Windows Live Essentials, Windows RT, even Zune. Many of these products could have been open sourced and turned over to the community, or given new life in the Microsoft Store as Centennial apps (with a modest degree of maintenance). I personally feel that Microsoft has lost goodwill amonst enthusiasts because of this practice, which has seemed baked in at the top of Windows leadership. Scott Guthrie, on the other hand, seems highly tuned into the needs of his customers and passionate about delivering on satisfaction. I hope this new organization leads to better choices in the future.

Yes, agree 100%. For a while now I've had the feeling that development on Windows came across more and more as a research project rather than a commercial products that is supposed to get used and loved. The latter was at one time a goal of Nadella.
Somehow it's always the next version or reengineering of Windows that will solve all the problems. And as a result it seems as if they have always held back on promoting what they have now. Cortana is another good example of this behavior. It's not being introduced in new markets because the experience would supposedly not be good enough. Result: other have captured the market and mind share and now it doesn't matter anymore how good Cortana will become.

Good shake up. Glad to see Panos up the chain. They will deliver Andromeda. TM botched WM.

Andromeda subsidized by Microsoft 365 subscription confirmed Microsoft will be googlizing your data like Facebook to up their profits!

Will be? They are doing that now Mister Burns. Just the fanbois here are to deep into the rose colored windows to realize.

They are in business to make money. If you're scared of you information being sold, shared or more, go back to the dark ages whether it's Apple, Google, or Microsoft.

Well Windows 10 is already integrated into Microsoft 365, so it's no big deal.

Hopefully this means better synergy between future devices 👀

I can't say I'm terribly sad to see Terry Myerson leave. I don't know how much responsibility he ahs in changes made to Windows, but I thought he was a terrible speaker at pretty much every Microsoft event I watched. Let's hope that, in addition to everything else, sees some improvement henceforth.

I am really sad to see him go. Agree with you on the presentation but it was getting better and better as Terry getting fit and lean. Wish him all the best and I hope he will continue to be a true loyalist to Microsoft like Steve Ballmer

Probably a nice guy, but agreed, nothing exudes confidence in your product like a really really weak speaker. Felt bad for him - though he was making strides and getting better.

I don't know much about Terry, but I did notice that under his watch that some features that liked went missing or threaten like movie maker, paint, messenger etc. Plus many of the awesome features from Windows Phone like people hub and eventually Windows Mobile all together. Bring Sinofsky back maybe?

Sinofsky, is now an apple fan boy! Maybe J. Allard.

Belfiore should be the first to go. He is accountable for Windows Mobile fail...

How's that? I always thought he was the bright spot. I'm not privy to who decided on the awful marketing, the exclusive deals, the shelving and stranding of users from OS version to OS version - but I always got the sense Joe was working great but was being held back by others.

"Belfiore should be the first to go. He is accountable for Windows Mobile fail..."

This speaks tremendously to how little knowledge you have about Microsoft and decisions made there.

How is he responsible for that?

How is he responsible for that?

I don't know about Mr. Myerson's internal leadership abilities and can't address that. But I strongly believe the decision to abandon Windows Phone was a mistake and will never get over the big lie told to consumers that if no one else makes Windows Phones "...we will...". Microsoft has killed Windows Phone and a host of other great products. The question is why? If it had played its cards right, they wouldn't be losing market share in ares where they used to lead. Something terribly amiss at Microsoft. All the new technology promised sounds great and I can't wait. But where is it? And why does MS think that playing nice with the competition will benefit the company? Windows 10 Mobile was a great product, and all of the passionate users of it are in the process of being dumped, if you haven't left already. How can a company completely ignore the pleas of its fans? IF there's a small, pocket sized Cellular PC that can make calls in the works, it would be great. But at this point, I don't trust Microsoft's leadership. Ignoring the consumer is a great recipe for failure.

In these comments: a lot of people who don't understand Conway's law. Also, thanks for all your work Terry. Very excited to see where you go next.

A lot of people only understand what impacts them personally, and have trouble looking beyond that.

In these comments: a lot of people who are now going to google/bing Conway's Law...

I guess you know where he lives because that's where he going next! Tech is bringing in younger people to lead because older people like Terry are fixed in their old ways, they don't know how to evolve.

I am concerned where MS goes. Just follow IBM?

While a major change, I think it's much ado about nothing. Companies redo their strategies all the time. It could be simply that Myerson's vision for Windows did not fit that strategy and the company felt fresh blood was needed.

Windows: Joe Belfiore will continue leading our Windows experiences and will drive Windows innovation in partnership with the PC and device ecosystem. Windows experiences is in serious trouble this. This guy has to go...

I wonder if Microsoft will finally get a Windows App group created to make quality first party Windows apps just like they have Microsoft Studio for Xbox games. Microsoft Garage is great, but that serves a different purpose and could be used like an R & D group for a Windows App group. I think Microsoft needs this now and in order to play catchup to what is available in other stores. Then they can make the Windows development team more nimble and have a group in charge of developing Photos, Calculator, Movies & TV, Groove, etc..

I'm hopeful about the change. I know everybody fears that Windows is not in focus anymore. I don't agree. Windows is well the "windows" into the remainder of all the services, apps, and technologies. Kinda like the eyes are the windows to the body. If anything MS will double down on Windows Everywhere, developing new "experiences" for us to enjoy it on. In particular Andromeda! And with Panos in a prominent role I am hopeful that MS will brand all new devices with a Surface label or not bother making the device at all. Surface products should continue down the path they are on today... premium, innovative devices, models so to speak, that show OEMs how Windows devices should be done. The Surface Book and Surface Pros were such devices. Andromeda is certainly such a device. HoloLens could be such a device... if they'd finish the thing and release an affordable, non-developer edition! Also, I am totally for MS challenging AWS in the cloud with vigor. Azure is great! It's a proven income generator. It's easy to understand. It's a no-brainer for many business and startups. As for AI... well... I think Nadella deserves the "Nutella" moniker in this regards. He's a little too dreamy and esoteric about it for my taste. I would much rather see innovations in "Experiences and Devices", something tangible, something real, than some hinky infusion of AI into my MS Office. I'm all for R&D in this regard, but until the day I can look at my Surface Phone and say "Hey Cortana gather up all my work experiences over the last 10 years and whip up a Resume for me that focuses on C# and XAML... no wait JQuery, HTML, and CSS... and hey while you're at it submit it to the following companies for me..." then I simply cannot get fired up about AI. Bottom line, go Azure! And wish the new Experiences and Devices team all the best in delivering on the promise of Windows Everywhere... starting with Andromeda in 2018.

"On the go" he says. "Trusted" he says. Wonder how he'll put those two together. Maybe he can refund me the cost of my Windows phone that is now collecting dust.

So why are employees forced to leave when a transition occurs? Is it a company or white house?

for the tldr crowd
- Microsoft has now rebuilt the company around the cloud instead of Windows, and employees approve
- Parts of Microsoft's Windows and Devices Group are getting pulled out and placed in other groups as its leader departs.
- Windows is a key part of Microsoft's legacy, but it's not what's growing the most.
- Products getting higher priority include Microsoft 365 and Azure.

If your first bullet point is true then your last bullet point about Azure cannot be true. Azure is all about the cloud. Update: I agree with your first bullet point. I also think Microsoft wants Windows to be the OS that no one thinks about, but every one uses.

I might have missed it but not one woman promoted or mentioned...

Women need to start working harder and adding more value to the company then. Although with the trend of throwing utterly take accusations around, Microsoft will no doubt hire less females in the first place (refer to recent news).

Finally Got Office 365 In December, really liking it so far, bought 5 years worth when purchased new laptop, so good with that part, Kinda hoping Windows doesnt' goto subscription model, but guess if it does, i'll just have to find a way to pay for it for all the systems, and go from there. Windows Phone could've been a success if was marketed right, and Microsoft kept up the support on it with Apps, and such, had a Windows Phone 7 (HTC Surround) and Nokia 8.1 Phone, Luma 920, now have a Samsung S7

until they kill the dll's that corrupt or get overwritten all time and having to restart the computer every time a application has a problem, they have a big problem!, to many other operating systems on the market that are more stable and perform better. but windows 10 is getting better..

"until they kill the dll's that corrupt or get overwritten all time and having to restart the computer every time a application has a problem, they have a big problem!," Neither of these has been a Windows problem for at least 10 years. DLLs no longer get overwritten by apps, nor did they ever magically "corrupt". Any app that crashes Windows is a REALLY badly written app. Drivers are a different story. Windows 10 certainly has its problems, but these are not among them.

Wow this confirms my suspicions that Andromda os it's not a code name but I knew software that at Microsoft is going to launch to replace windows. The new software showed off tablet-phone a smartphone and a smartwatch all designed by the surface team

My view, having used windows 8 and 10 over the years, there is less value in the platform when
'growth mindset culture' trumps fit and finish. It's a fine line between growth and innovation and halting progress in favor of a more holistic end user experience, but I'm increasingly seeing the former trump the latter. That's a poor mindset when it comes to the end user experience.
But time will tell if this point lands at Microsoft.

"Over the past several years, Terry and the WDG team transformed Windows to create a secure, always up-to-date, modern OS." Great, when is that going to be released? "The future of Windows is bright......." Right. And the future of CP/M was bright in 1985. In 1995, the future of OS/2 was bright.

So more towards Windows 365 or a whole new cloud based OS/Platform Experience powered by AI. Hope that will be scaled towards all types of devices.

Good riddance. Now Microsoft only needs to kick out that sad old man pretending to be young Spencer alongside the other Xads VPs, and then either completely reshape the division or close it down as the failure that it is.
Windows Central Newsletter
Thank you for signing up to Windows Central. You will receive a verification email shortly.
There was a problem. Please refresh the page and try again.