Microsoft's Xbox team promotes its 'record-breaking' E3 2016 stats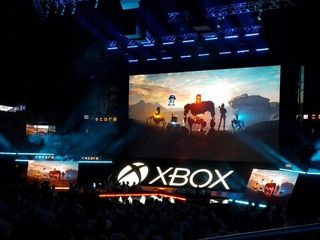 Microsoft's Xbox team has revealed some of the numbers it has collected on the response to its gaming announcements during E3 2016 earlier in June.
Microsoft used the gaming trade show to make a number of gaming announcements for the Xbox One and Windows 10, including the reveal of the upcoming smaller Xbox One S console and a teaser of the "Project Scorpio" console which will be launched in late 2017. In a post on the Xbox Wire (opens in new tab) site, Mike Nichols, the Corporate Vice President of Marketing for the Xbox division, stated:
Nichols revealed a number of stats Microsoft had collected during and after E3 2016:
The Xbox E3 2016 Briefing was viewed over 6.6M times, an increase of 78% over last year and our most viewed live event to date.
During the week of E3, videos shared on the Xbox YouTube channel were viewed over 27M times, a massive increase of 184% over E3 2015.
Xbox received hundreds of E3 award nominations and wins from global outlets including IGN, Game Informer, Toronto Sun (CA), USA Today, Atomix (MX) and Polygon.
In excess of 340,000 unique, customized controllers were created and saved in the all-new Xbox Design Lab.
The "Friendly Update" for Minecraft that delivered Minecraft Realms to mobile and Windows 10 devices, has seen over 4M people play together across Minecraft: Pocket Edition and Minecraft: Windows 10 Edition via Xbox Live.
Over 4M friendships were forged and 90M hours of multiplayer were played on Xbox Live during the week of E3 – that's more friends than the whole population of Panama and over 10,000 years of consecutive gaming.
The response to the Halo Wars 2 Beta exceeded expectations with over 1M matches played, totaling more than 2M gameplay hours. The data and feedback gathered will play a crucial role in the development of the game, ensuring Halo Wars 2 is the RTS for everyone when it launches on Feb. 21, 2017.
In excess of 2M fans engaged with the newly launched Xbox Snapchat channel, checking out exclusive updates from the show floor and behind-the-scenes demos.
On Twitter, #XboxE3 was tweeted over 400K times throughout the course of E3, trended as the #1 topic worldwide for over an hour and a half, and was the most tweeted of any Xbox hashtag.
Microsoft also added that gamers have spent over 100 million hours playing Xbox 360 games on the Xbox One since the console's backwards compatible features were launched in November 2015.
Get the Windows Central Newsletter
All the latest news, reviews, and guides for Windows and Xbox diehards.
Won't promote their damn phones though... Posted from PornHub.

It's a gaming conference. You know, for gaming? Gaming stats seem apt. Windows Central Universal Application for Windows 10

You, like many other savages, seem to miss the sarcasm... Posted from PornHub.

The irony surrounding your exact statement is profound. Care to read my initial reply again?

No, it still sucks. The stupidity emanating from yours is overwhelming, to say the least.

Sarcasm? Didn't think that existed on the internet. Oh what joy!

u can see a Windows Mobile on Dead Rising trailer, lol ... but i think that they did well, this conference is for games .... it was a great presentation :) ... i agree with you that MS should show some love for his mobile platform, but E3 is not the place to do it

They could have had pics everywhere, no need to say anything (I think that is what iPhone users would say in a sarcastic way though). It is there shindig, they can do what they want - kind of like advertising in a hillbilly wedding with adverts from sponsors who bought the dress, etc. Posted from PornHub.

I understand, but for me windows mobile is almost dead, im still rocking a 920, didnt bought the 930 because i don't like to change my phone so fast, waiting for the next one... But x50 series wasn't released in Brazil, the x30 series are missing in the stores already and they will not release any phones in our market (just US, EU) ... So they abandoned Brazil that used to be a good windows phone market.. Even if one day i buy a Windows Phone in another country, we will never have our bank and regional apps in a platform that doesn't exist here... So i have no choice, my next phone will be an iPhone since i like it more than android...

To be fair, I feel the ship is sinking. What is frustrating is: it doesn't need to - not so fast anyway. MS seems to be doing very, very little about it. I have had windows mobile in one form or another since...I can't even remember, before 7. Had a phone with a stylus, clunky thing, but I loved it. I still have the stylus. I understand your pain. It is soul crushing - but we can adapt to another OS if need be, what else can you do?

did you not watch the event? Windows mobile was front and center in one game trailer!!!!!

Pfft, of course not. I just want to rile people up. I learn all I need in the comments, including the "ONE" (out of how many?) game trailers with a windows phone that only three people, yourself and the fellow above included, saw. Posted from PornHub.

well it is a microsoft exclusive. cant see then pussing it in all there titles. but they have in the past. look at . . . Sunset over drive. Quantum Break and now DeadRising 4 is the latest. I am sure there may have been others. These are only 3 I can think of now. Remember WP is dead. I dont expect to see much of it anymore. As WM matures we may see more but time will tell. Will someone go pay 700 for a smart phone because they saw it in a game? No... They need to get phones in the stores of carriers at a decent price. but lets not get off topic. Games do show phones and Microsoft isn't forgetting WinMobile 10

You know, I always sing praises of the mobile OS (even as my phone random reboots in my hand, camera gets stuck at a graduation, oh God, the horrors), which has become tough to do anymore. I feel left out by MS ...kind of like...your partner switching sides in a battle on you. At this point, hell, who cares if it is a gaming event, MS needs to do anything and everything to get mobile noticed - just like they did with 10 for desktop. People sure noticed it, right! Even at this point, who cares if it is bad press, any press is helpful right now.

Exclusive updates via their Snapchat channel. Salt, meet wound.

You can't really expect Microsoft to not utilize a platform like Snapchat (which for some stupid reason is really popular for news) just because of something they can't control. Windows Central Universal Application for Windows 10

Sorry for picking on you, Zachary...

It's okay, I forgive you haha

Ah, poor you. The rest of us followed the news through the hundreds of other channels that are available.

"The 'Friendly Update' for Minecraft that delivered Minecraft Realms to mobile...devices" Yeah, every single mobile device except Windows Phone. I honestly can't believe they're still shoving this 'Friendly Upldate' garbage down our throats without realizing how infuriating it is that literally every single platform gets the full Minecraft PE experience except the one platform that they actually own. Microsoft does not care at all about its most loyal fans. What a bunch of twats.

I actually hope they drop the Pocket Edition altogether and make the Windows 10 version a UWA. Windows Central Universal Application for Windows 10

Yes, but a UWA of the Windows 10 Edition to W10 Mobile wouldn't help 1. all of those people stranded on WP8.1 because Microsoft didn't provide a valid update path to W10 Mobile even though they said they would, 2. all of those people who bought PE on WP8.1 and then would need to purchase the more expensive Windows 10 Edition. Basically, it's not okay for Microsft to abandon their own game on their own platform a mere 18 months after launching it while they continue to support it on every single other platform.

I understand why they do what they do but it doesn't make me feel any better.

I got the update on win 10 beta. Im sure it will come in time. Hold your horses. Rome wans't built in a day. Nor was it destoryed.

So no actual gaming stats, just some "pat ourselves on the back" type hyping. Magic.

Of course that's the whole point of hype, it's all about positive impressions! Amplify your progress and successes, leave the nay saying for the haters lol! Happens all the time!

Sounds like chest thumping to cover up the bad press they're getting from ripping off thousands of people who paid for Xbox Fitness content who will be losing access to it. Hey MS: I buy your console, I buy movies and games through your store, I buy music through Groove. Crapping all over digital purchases the way you are doing with Xbox fitness is destroying my confidence in buying content from your store, because who knows when you'll decide to "sunset" one of those programs. Bonus points for timing it with your OneDrive storage downgrade taking effect. Couldn't care less how many times your E3 video's got viewed. Its about what you do, not how viral your trailers are. Let buyers keep their digital content. Implement Xbox DVR. Keep your free OneDrive Storage competitive with Google Drive (especially considering the actual problem was "unlimited" storage abuses from O365 subs and not people just trying out the service). I promise, happy customers will retweet the good news for your social media metrics monkies.


Man... Cyclops is bitter today. What's the matter buddy? Wolvering picking on you again?

Bothered by Wolverine's negative attitude? Thats his only attitude. And at 5 foot 3 its hard to blame him.

Don't forget the media center abilities... like DVR, that they now say may, or may not, happen. Posted from PornHub.

Well, most of us learned our lesson in how they treated Games for Windows, Zune, and over a dozen other non-business related stores that they have opened, half supported, and then closed. About time you caught on that MS is not interested in operating a consumer facing store at some point. Cant wait for online video purchases to go the way of MP3s. Just have a store front where I can legally purchase a movie and have the option to stream it to any device, or download it to my home server as a professionally h265 encoded MKV. Give us that so that our only 'legal' option to have nice things does not involve buying physical media and ripping it ourselves. Make it available and affordable just like the music industry did and piracy will fall through the floor just like it did with the music market.

i would disagree about not "wanting" to have a store. On PC, they need an app delivary mechanism for the future of W10, and an app store is a good route to go for that. on the xbox, a store gives them near monopoly powers on digital content, allowing MS and Sony to rip people off on the cost of a game long after its box price has dropped. The question is what we can expect in terms of integrity for digital media purchases. The record industry only caved on DRM because of consumer demand for portability and Apple (as much as i loathe to credit Apple with anything). DRM often prevented transfering collections to new computers or to new iTunes accounts and iPods so the pirating market was massive. Once Apple negotiated DRM free terms, portability improved and piracy went down. With streaming services, music got even more portable AND cheaper, so the need for piracy went down further. While I would love to see a GOG version of a video store, I don't see it happening. Because streaming services are so pervasive, buying a video on Amazon, MS (can they please make a store name for TV and Video) or iTunes generally gets you that video on all devices as long as you have internet access (thus lower market demand for local copies than we saw with music pre-streaming). The current video pirating market now is mostly on content that isn't readily streamable (movies not yet in theatres, shows not available to stream elsewhere). For people that want local copies, theres really nothing stopping them from screen-recording their stream (except the law and potentially hardware limits).

Blah blah blah blah
Posted from Lumia 950.

That snapchat stat though

Bring a universal snap chat app to xbox one. so we can use our kenect to snap and chat :D:D

Q2 will be also record breaking for Windows phones. Record low market share.

They're just retrenching, man. Smartphones are dead and bots are the future. Windows phones will rise like a phoenix and conquer all with Surfuss Fone and Redstone 2!