Minecraft discounted up to 50 percent across PC and consoles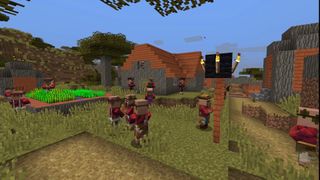 Minecraft is an incredibly popular game, one that is played by over 90 million people every month. Recently, the title received a "Village & Pillage" update which adds a host of new features like foxes and raiders. While the game keeps on growing, it's understandable why the price has stayed the same due to the continued support. However, if you wanted to grab the game for less – on any platform – now's your chance.
Today, Minecraft Content Team Manager Marc Watson said, "For the... anniversary, Minecraft is up to 50 percent off on Windows 10, Java, Xbox One, PlayStation 4 and Nintendo Switch. We don't tend to ever discount the game, so if you've been waiting around, now's the time!" Minecraft usually costs $20, but it's not available for $10 across a number of devices.
For the 10th anniversary, Minecraft is up to 50% off on Windows 10, Java, Xbox One, PS4 and Switch. We don't tend to ever discount the game, so if you've been waiting around, now's the time!For the 10th anniversary, Minecraft is up to 50% off on Windows 10, Java, Xbox One, PS4 and Switch. We don't tend to ever discount the game, so if you've been waiting around, now's the time!— Marc Watson (@Marc_IRL) May 10, 2019May 10, 2019
Ever since Minecraft was purchased by Microsoft, it has become an even better experience due to tremendous support. It's even launched on new platforms like virtual reality headsets. We can't wait to see what the future holds for the game.
If you don't want to buy the game, you can always play it through Xbox Game Pass. Xbox Game Pass is a monthly subscription service which gives you access to over a hundred games for a set fee. This includes titles like Just Cause 4, Wolfenstein II: The New Colossus, and more.
Find those diamonds
(opens in new tab)
Just don't dig straight down

Minecraft is an incredibly popular game, one that is played by over 90 million people every month. Recently, the title received a "Village & Pillage" update which adds a host of new features like foxes and raiders.
Excellent and affordable Xbox accessories
Up your Xbox experience with one (or all) of these budget accessories, all of which are approved by the gamers of Windows Central.
PowerA Play & Charge Kit for Xbox One (opens in new tab) ($15 at Amazon)
This charging kit keeps your Xbox One wireless controllers juiced up, and it offers batteries for two controllers. At just $15, this is hands-down our favorite budget charging companion.
ElecGear 4 Port USB Xbox One S Hub (opens in new tab) ($19 at Amazon)
This brilliant little USB splitter hub attaches perfectly to the side of your Xbox One S console. It's ideal for use with chargers, controllers, headsets, and more.
Controller Gear stand (opens in new tab) ($13 at Amazon)
Proudly display your Xbox gamepads with this stylish and functional stand. The licensed design is minimalist and black, and it has a hidden storage compartment, making the price of $13 a real steal.
Windows Central Newsletter
Get the best of Windows Central in your inbox, every day!
Asher Madan handles gaming news for Windows Central. Before joining Windows Central in 2017, Asher worked for a number of different gaming outlets. He has a background in medical science and is passionate about all forms of entertainment, cooking, and antiquing.
Fortnites come and go but Minecraft is forever.
There's never been a better time to buy the best game ever made.

It's actually only $10 off. So it's 50% off on Xbox, but it's only 33% off on Nintendo Switch. And it's only the base game that's discounted so all the bundles are only discounted by $10 too.

He changed the title. Originally it was "Minecraft discounted by 50% on PC and consoles"

Yes, he does that, hardly ever acknowledge the people who correct him.

You have to be a little crazy to buy Minecraft on Windows 10 at 50% off, when you can buy the Java version and get a free Windows 10 key.
That way you can sell the Windows 10 key on ebay for less than $1.50...

That promotion no longer exists.

I think you're missing the point about ebay.

No, I didn't, because your point about selling your free Windows 10 key on eBay is moot since the promotion it depends on no longer exists.

Yeah, October 2018. I claimed it when it came out.

People don't have an ebay account or don't want the hassle?

having an ebay account is an hassle?

Of course, why would you create a account, setting up payments and stuff (and have to go through the redeem process, etc) just to buy a game? You don't have an account cause you don't need it in the 1st place right?

I guess you don't use amazon, MS store,... Because it's an hassle to create accounts. lol

I use Amazon (to buy US codes, and import goods, RARELY) but I've no business with eBay. (ebay in Asia == no existence btw) And MS Store == Xbox Store, Xbox Live, Mixer, VisualStudio, Azure DevOps, GitHub, OneNote, OneDrive, etc, etc, etc. I applied one maybe... 20 years ago? For Hotmail tho. * We used to collect a lotta games, manga, comics, toys and stuffs when me and my bros were kids. I don't do that anymore. Those are junks, got stored in a warehouse and I never go visit... or either my mom threw them all away or donated them all away already.

Actually, what I didn't like about uwp as a amateur developer is that it's a screwed up fork of WPF that does strange things to the compiler output... with WPF you get a clean exe file... with uWP you get a strange appx component that doesn't behave like an exe... when you click on appx of uwp it installs the application in your start menu instead... actually I kind of hate that.... you can't call the appx exe from Command line ... it's strange and twisted... like Microsoft was being wierd control freaks... obsessing about breaking it on purpose so that people hate it... also with wpf... the entire wpf dll library is installed once on the system... which makes the exes of wpf small and nice..(and tends to make window ask you to download previous wpf franewitk if you didn't recompile it for newest..) with uwp they actually place a reduced copy of the .net dll frame work in every appx which makes the compiler the forever because it's basically going there the dll's and removing stuff that you don't need for app and providing only the api that you needed and bundling it in the appx... instead of relying on centerial framework dll directory... it just make appx messy if you unzip it... and sucky to compile because it's not fast to compile like wpf and bloated because it slows you realize size of .net framework.. Second, uwp alienated WPF developer... it's just a forked and messed up version of WPF that looks like **** when you run uwp app as a desktop app instead of windows mobile.. Third, WPF and UWP are completely different from win32... win32 apps were written entirely in c++ and depend on direct pixel placement of components...WPF/UWP are written exclusively in c# and rely on xaml layout engine to choose placement... which is nice but entirely different than win33...but really Microsoft never really made it nice to write WPF/UWP apps in c++... there's the winrt wrappers that allows c++ to write c# applications wpf/uwp framework but really Microsoft tries to hide and secretly hopes that nobody uses it.... they invented c# to make it easy to pull things from dll's older c++ ways are more primitive...

I don't know enough about coding to understand your comment lol, but I'll take your word for it until someone else says otherwise

Don't take that rant as important information. That post is clearly from a developer who only knew .NET and is upset that we're moving away from it for something better but with new things to learn. The original .NET framework was designed after Java's success when we believed less efficient code but faster and easier coding was a great tradeoff because CPUs speed increase would make the downside irrelevant and we'd only get the benefits (managed code prevents many coding errors like manual memory and objects management).
With the move towards mobile devices, where less efficient code means slowdowns and more battery consumption, that tradeoff turned out to be less than ideal, and with the stagnation of CPUs, it even starts to limit innovation on the desktop.
The original Windows Vista was planned to use managed code for a lot of OS components, and simply couldn't work, got rebooted and returned to native code. The thing is UWP (Universal Windows Platform) and .NET native are not screwed up fork of WPF (Windows Presentation Foundation).
WPF and the original Windows Vista were developed in that mindset, WPF is a great scalable user-interface framework to replace the aging pixel-based and CPU-intensive Windows GDI, while WPF is DirectX accelerated, it is managed code, meaning it suffers from that tradeoff on the CPU side. If you've ever heard of COM (Component Object Model), this is what it basically comes to. COM is an incredible framework to build reusable component in native code, it is as efficient as can be (Direct3D is based on COM, and is used for performances-critical 3D games engines). But COM was a nightmare to write, if you've heard C/C++ was difficult to write properly, COM is even more complex. UWP and .NET native basically merge the best of COM and .NET, the developer tools got so great, that we can write .NET code, but under the hood it actually gets converted to new and improved native COM code. The move from WPF to the similar UI framework found in UWP and now as XAML islands for Win32 apps isn't to alienate developers as he mentions, and isn't a messed-up version of WPF. it is simply the continuation of that move taking the good parts of .NET and Vista and moving it to native code. The DirectX-accelerated UI framework uses the same concepts and code structure as WPF, but is native COM-like code instead of managed .NET code.
The same is true for the whole UWP framework versus the old .NET classes library, UWP can be used similarly to .NET from the developers point of view, hence his confusion, but is really an improvement in the tools used to write and compile the code. The UWP classes library are really native code and part of the system. This also explains why we're not moving away from UWP by stripping its parts and making them available to Win32 as some say, the Universal library was always COM-like to begin with, and will be how new OS features get exposed for developers. The first step for UWP was to provide an object-oriented framework equivalent of the legacy Win32 API, but now that this first step is completed, we're moving to new features which didn't exist in the Win32 API, and therefore these new classes will be used from Win32 apps as well. XAML islands is the most notable of these, the evolution of WPF became the common UI for UWP and Win32 apps starting with Win10 1903.

> when you click on appx of uwp it installs the application in your start menu *. exe won't install itself in your Start?
Why's installing in your Start directly a problem? Not an expert but... normally I hit f5 to install&execute my uwp experiment app. and I'm sure there's a key (which I don't remember) to install without execution. I've never double clicked on an appx so I'm not sure about the process. What happens if you type the full path in the File Explorers's address bar then hit Enter?
And if you can click & install an appx... can't you simulate "click it" programmatically? btw, I found this after a quick look around.
Add-AppxPackage -Path "C:\Path\to\File.Appx

This is how you run a win32 or WPF application from command line: C:\> myapp.exe -do 🤩 -and 😎 This is how you run a UWP application from command line: C:\> execute-uwpapp [6447744-6547547-43564467-5436536-4355356]
Error this windows app doesn't exist and 'is not recognized as the name of a cmdlet, f
unction, script file, or operable program. Check the spelling of the name, or i
f a path was included, verify that the path is correct and try again.
At line:1 char:24
+ ThisCmdlet-DoesNotExist <<<<
+ CategoryInfo : ObjectNotFound: (ThisCmdlet-DoesNotExist:String)
[], CommandNotFoundException
+ FullyQualifiedErrorId : CommandNotFoundException Need I say more why uwp failed with developers?

What the hell does this have to do with Minecraft?

Some people just love to complain about trivial and pointless things that only they find a problem, in a pathetic attempt to validate their unreasonable hatred of something.