Minecraft Dungeons finally adds cloud-enabled cross-saves across platforms
Cross-save and cross-play have never looked so good together.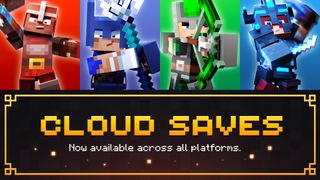 (Image credit: Mojang Studios | Twitter)
What you need to know
Minecraft Dungeons is nearing its first anniversary, and it has been almost six months since the addition of cross-play.
Players have eagerly waited that entire time for Mojang Studios to release cross-save to preserve progression across platforms finally.
Today, we finally get our wish granted with the addition of cloud-enabled cross-save in Minecraft Dungeons throughout today.
Using your Microsoft Account, you will be able to carry characters and progression through Minecraft Dungeons on Xbox, PlayStation, PC, and Switch.
We are nearing the one-year anniversary of Minecraft Dungeons, the action-RPG spin-off of Minecraft. During this time, Minecraft Dungeons has received multiple updates and DLC, culminating in the recently released (and massive) Flames of the Nether DLC, to add new features and greatly improve the game over time. One thing that has been sorely missing since launch, however, is cross-save support. After nearly 12 months of waiting (almost 6 months after Minecraft Dungeons officially added cross-play support and promised cross-save, we're finally getting cross-save support in Minecraft Dungeons.
Today, Mojang Studios and Double Eleven are finally rolling out the update that officially enables cloud-powered cross-saves in Minecraft Dungeons at some point today. Powered by the same Microsoft Account you use to take advantage of cross-play to join your friends, cross-saves let you carry your characters and all of their progression across every platform Minecraft Dungeons is available. Yes, this includes Xbox Series X, Xbox Series S, Xbox One, Xbox Game Pass, PS5, PS4, PC, and Switch. This does not include purchases, however, like the Minecraft Dungeons Season Pass.
Minecraft Dungeons players have been waiting for cross-save support to arrive for a long time now, and at times the omission has been frustrating. We discussed this and more in our overview of Mojang Studios and how it sometimes feels like an underfunded indie studio.
Now with cross-save support, Minecraft Dungeons fully feels like the game it could've been at launch. With all of the post-launch support the game has received, it's absolutely one of the best games on Xbox and one of the best games on Xbox Game Pass. If you hadn't checked out Mojang Studios' experimental expansion of the Minecraft franchise yet, it's certainly worth your time. Now with cross-save, you can worry even less about losing any of your progression if you play on more than one platform.
Cross-save support comes in Minecraft Dungeons Patch Update 1.8.8.0, which also includes a small handful of other bug fixes and tweaks. The full changelog for Minecraft Dungeons 1.8.8.0 includes:
Cloud saves
The long-awaited Cloud Saves feature is now available in Minecraft Dungeons! With this update, you can now save your progress to the cloud, so you can pick up and play your Heroes across Nintendo Switch, PlayStation 4, Windows PC, Xbox One, and Xbox Series X|S
Localization
Introducing localization support for Simplified Chinese and Traditional Chinese text and voice overs for all platforms
Improved the font used on platforms that already had Chinese localization
Fixes
Fixed one of the top crashes that could occur during gameplay
Fixed a crash that could occur after a second lobby was created during a single session
Fixed a crash that could occur when standing in Piglin Fungus Thrower clouds
Fixed items permanently falling off edges on certain tiles in Ancient Hunts
The Emote Wheel is no longer accessible in local co-op
Fixed players not being able to join online sessions after creating a new character
Fixed a soft lock that could occur when opening settings after viewing the friend list
The main menu can no longer be unintentionally navigated while using the account login prompts
Fixed text running off the screen in several languages on various menu screens
The prompt displayed upon disconnecting a controller is now fully translated across all supported languages
Clarified the descriptions of several enchantment effects (New wording in bold):
Critical Hit

Gives critical hit chance

Freezing
Radiance

Has a X chance to spawn a circular area that heals you and all allies within the area

Weakening
Radiance Shot

Has a X chance to spawn a circular area that heals** you and** all allies within the area

Cooldown Shot
Cool Down
Chilling
Frenzied

X attack speed
While you are at less than X health, your melee and ranged attack speeds are increased

Acrobat
Beast Boss
Beast Surge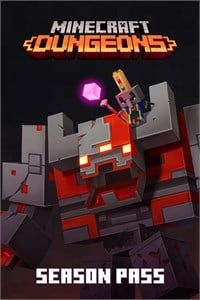 The next era of Dungeons
(opens in new tab)
Minecraft Dungeons: Season Pass
Explore new worlds in Minecraft Dungeons.

It's been a busy first year for Minecraft Dungeons, and now the ARPG dungeon-crawling Minecraft spin-off is looking ahead towards its future, with four new expansions planned. The first two, Howling Peaks and Flames of the Nether, are available right now, but players can also grab the new Season Pass to gain immediate access to all four expansions as soon as they launch.
Zachary Boddy (They / Them) is a Staff Writer primarily focused on covering the latest news, the best Xbox and PC games, and the most interesting hardware. They have been gaming and writing for most of their life, and have been with Windows Central and its sister sites since 2019. While originally brought on to write about all things Minecraft, Zachary has since expanded to write about practically everything that Windows Central covers. You can find Zachary on Twitter @BoddyZachary.
Wow.. Way to late.. I dropped that game long ago just becuse of that... Lost all my progress and I won't relaunch it ever again.

I agree it took far too long, but the game has come a long way. Might be worth spinning it up again to see all the changes.

"one of the best games on Xbox and one of the best games on Xbox Game Pass" I'll have some of whatever you've been smoking.

I'm still mad that it isn't Xbox Play Anywhere. Microsoft stated that all their first party titles would be, so I purchased it for PC only to find out that it wasn't Play Anywhere and didn't even have Cross-play, much less cloud saves and cross-purchase at launch.

Yeah, they kind of went back on that statement. It is pretty ridiculous.
Windows Central Newsletter
Thank you for signing up to Windows Central. You will receive a verification email shortly.
There was a problem. Please refresh the page and try again.