Minecraft for PC Exploration Update released with llamas, Illagers and more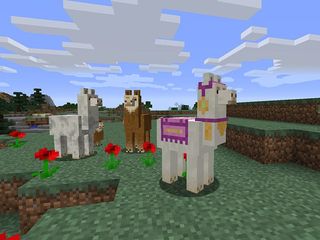 Developer Mojang has released its Exploration Update for the PC version of its hit sandbox game Minecraft. The update adds a number of new features and content to Minecraft, along with some bug fixes.
Mojang states that the Exploration Update adds the Cartographer character in the library, and players can purchase maps from him that will lead them to new locations such as Woodland Mansion.
The update also adds Minecraft's version of Llamas to the game:
Here's a look at what's new in the Minecraft Exploration update:
Added cursed enchantments
Added the Observer block
Added escape portals in The End
Added the Shulker Shell and Shulker Box
Added exploration maps
Added the Woodland Mansion
Added Illagers, and the Vex
Added Llamas
New command: /locate
Removed Herobrine
The update is available as a "snapshot" for Minecraft. Here is how to download it:
Download Minecraft for PC ($26.95)
Windows Central Newsletter
Get the best of Windows Central in your inbox, every day!
They should've used a different name than "Illagers". It's too close in sound and spelling to villagers (and, yes, I get the joke, but I'd rather have clarity). Anyway, some nice updates. Sadly, though, it'll take 4J Studios like three years to get the console editions on par.

Yeah. Let's wait and see when it arrives on Pocket/Win10 Edition... Right now I am looking forward to the October update which brings ocean temples and polar bears I hope.

coip i think i saw you on beam tonight ??

Why do they keep removing Herobrine?

So this doesn't integrate into the regular game, the content is only accessible from the command line?

Huh? It's a normal Smapshot release that you can select from the Minecraft Launcher. No command line involved.