Minecraft: Story Mode Episode 3 out for PC, Xbox One and Xbox 360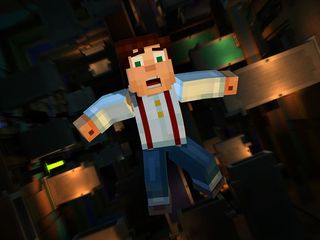 Mojang and Telltale Games have now released the third of five planned episodes for Minecraft: Story Mode. The third part of this episodic adventure series, based loosely on the massively popular Minecraft sandbox game, is available to download for the PC, Xbox One and Xbox 360 platforms, among others.
Here's a look at the story summary for the episode, titled The Last Place You Look:
You can also go ahead and purchase access to all five episodes now for $24.99 online. In addition, the Season Pass retail disc version for the Xbox One and Xbox 360 platforms is currently on sale for $29.99.
$29.99 from Amazon (opens in new tab)
In related news, Xbox One owners can purchase a special version of Minecraft from the Xbox Store that includes the full game plus seven DLC packs for the price of $29.99. The packs are:
Battle & Beasts Skin Pack
Battle & Beasts 2 Skin Pack
Natural Texture Pack
City Texture Pack
Fantasy Texture Pack
Festive Mash-up
Halo Mash-up
$29.99 from Xbox Store (opens in new tab)
Source: Telltale Games
Windows Central Newsletter
Get the best of Windows Central in in your inbox, every day!
I'm enjoying it so far. It's not amazing, and other than somewhat superficially incorporating things form the Minecraft world into it, it otherwise could be a story from anything. The gameplay is really linear. I wish there were more puzzles (especially crafting puzzles) and real-time action sequences rather than QTE, which get boring pretty quickly, and, with a few exceptions, it doesn't seem like most of your choices have that much of an impact on subsequent events (I don't know if that's the case with other Teltale games), but I'm glad I bought it. I believe it's still 25% off right now in the Store.

Their GoT game was a disaster where choices didn't matter either. They are losing their touch. I'll wait for all episodes to release before I get this game as I don't want to put up with their stupid schedule anymore.

The story is very entertaining but the gameplay is simple. Basically just interact by pressing a, x, b or y and also the joystick left or right when promted

Are you talking about Call of Duty here?

I was kind of disappointed that Steve and Alex weren't the main protagonists. I wanted a story that really told how the two got there. Maybe even telling the story of how the end and all of its inhabitants got there. I imagined it telling us all about the Minecraft dimension. I should play, or at least watch, these episodes to see if any of my questions are answered.

Awesome! I look forward to playing it later today on my ps4. Its definitely not the best telltale game but it is still fun.

When is Tellatale going release TWD season?

It's a great story so far. My kids love it. Glad the DLC isn't far apart from each release.

I am a little upset that Minecraft: Story Mode is on Android and iOS but not WP... Guess I shouldn't be surprised
Windows Central Newsletter
Thank you for signing up to Windows Central. You will receive a verification email shortly.
There was a problem. Please refresh the page and try again.