Minecraft: Windows 10 Edition Beta gets a cross-platform multiplayer update of its own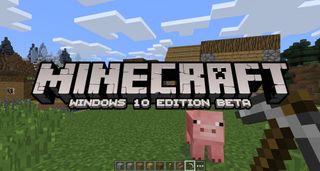 Following an update to Minecraft: Pocket Edition earlier today, the Minecraft Windows 10 Beta has scored an update of its own. Included in this update is support for cross-platform play, along with a ton of other new features and additions, including support for Xbox Live GameDVR. Here's the full breakdown of what's new in Minecraft Windows 10 Beta:
NEW! For the first time ever, play cross-platform multiplayer on your local network with up to 4 friends using Minecraft: Pocket Edition.
NEW! Play in the beta with up to 4 of your Xbox LIVE friends both near and far in online multiplayer.
NEW! Buff up your equipment with special effects from enchanting tables.
Switch seamlessly between your favored method of input – controller, touch, or mouse & keyboard can be activated and used in an instant.
Record and share your feats to the web with Xbox LIVE GameDVR. Take advantage of limitless supplies and make anything you can imagine in Creative Mode.
Mine for precious items, craft tools, go on exciting adventures, and defend yourself from the creatures of the night in Survival Mode.
Immerse yourself in a gigantic world with new enhancements to weather effects – snow accumulation, softer transitions and even THUNDERSNOW.
Also features chickens, zombies, pigs, boats, armed skeletons, po ta toes, zombies, baby squids, enchanted items, villagers, naked sheep, iron golems, potions, ghasts, pickaxes, carrots, and lots, lots more.
This follows an update to Minecraft: Pocket Edition earlier today that also added support for cross-platform multiplayer. If you're stoked at the idea of building castles and adventuring with your friends on Xbox and mobile, you can hit up the link below to grab the latest version of Minecraft Windows 10 Beta.
Download Minecraft Windows 10 Edition Beta (opens in new tab) ($9.99)
Source: Microsoft
Dan Thorp-Lancaster is the former Editor-in-Chief of Windows Central. He began working with Windows Central, Android Central, and iMore as a news writer in 2014 and is obsessed with tech of all sorts. You can follow Dan on Twitter @DthorpL and Instagram @heyitsdtl.
Crashes on 10 mobile all the time

Had a play around with the Windows 10 version using a world on my phone tonight (8.1). Very good :-) Will have to try hooking in the Xbox at some point too

the Java version is superior to this thing

Unless you care about touch support, or the seamless transition between touch, controller, and mouse and keyboard; Xbox achievements; cross-platform play; or performance.

ok about the touch support but its seems impossible for me to play minecraft with controller. mouse and keyboard is way faster for creative building

This version is what made me start playing (long weekend, figured why not)

im playing from minecraft classic

But the Windows 10 Edition has way superior performance, controller support, and cross platform multiplayer.. Java version runs like crap. Windows 10 Edition will catch up in features.. but I'll be sticking with it. The performance and other goodies makes the Windows 10 Edition worth it.

Optifine can fix a lot of performance issues
Achievements are useless they wont make any impact on gameplay
you can play LAN world on Java version and they are so many servers to play with friends

By all means, stay with Java.. This was not supposed to replace the full Minecraft experience, it's why it's influenced by Pocket Edition. And achievements DO matter. I'm proud of my Gamerscore.

Achievement matter really?
I have all achievements on CSGO and the only think its give are 4 gold medal that display your profile.
If you are proud for Gamerscore and Achievements you are not playing the games right

"This version which makes you download additionnal stuff to have a decent experience is way better !" Ahem.

Only thing java version has is mods... The biggest reason I'm staying primarily on the java version

lets not forget bukkit and that is way ahead in features

Java version fan boy spotted

Do we get these features on free trial version?

Probably not... The free trial only allows 90 minutes of play time with most features locked. So I'm not sure Posted via the Windows Central App

For the life of me i cant figure out what the hell to do in this minecraft

That's the fun part: You don't have a specified goal other than implied survival and defeating hard-to-find bosses.

I doinked around in it a few times over the years and never really got into it. Not sure why I jumped in again this last weekend, but I was hooked.

...chop blocks to pieces..build stuff with blocks..kill blocky animals..shout that it's soooo cool..that's about it watching my kids play

ROTFL I read your comment and saw myself many years ago when I play minecraft for the first time, I was like "WTF am I suppose to do in this shity ugly game?" xD

So Xbox one players cross play?

Xbox doesn't have half the features though.. So how would it work unless Xbox gets a massive update?

Maybe when Xbox One get the Win10 update this year.

Wich Xbox versión are we talking about

When does online play come to phones? Ever? And I mean like random servers you can join and plug-ins and all

plug-ins are third party like mods so propably never but vanillia servers could exist

Cool updates are good. Im sure I will play this.

Awesome who's playing this rn? Add:
eddieDOTexe

one question,why is Minecraft a paid app on windows phone,but it's a free app for android,doesn't microsoft own the rights of this game ? i'm confused.

Minecraft Pocket Edition isn't free on Android.

Uh, Minecraft isn't free on Android?

6.99 on android maybe you saw some clones

The performance of the Windows 10 version is excellent. The main problem for me is the lack of keyboard mapping. Using WASD sucks compared to the arrow keys (at least for me), as it's easy to lose track of where your fingers are. I hope they add keyboard mapping soon so I can come back to it. I've gone back to the Java version for now as it's just to tedious for me to control, having to always glance down and make sure I'm back on the right keys.

Can someone clarify, is this version also available on windows 10 mobile as a universal app? If so is it the first mobile game with almost 1000g??

I cant see this update yet, and there is no announcement on mojang

Can we finally for the love of god have cloud save on this game? Pretty please, Microsoft?

So, does this version allow me to play on my PC and connect to my kids playing on the Xbox one, on my local network?

Windows 10 version is great. Now, would it be too hard to get it to play with the regular PC version? I was baffled at learning they can't interact. I mean, it's not such a complicated game, is it?

it has to do with different version. that have different abilities. ex redstone. its not enabled in pocket edition but it is on java and xbox one. are you baffled because apps from 16 bit apps do not run well on x86? some things are just not the same.

Found a bug.. On multi monitor put the game in the middle one. watch as your move left and right your mouse moves off the screen when you try to click on something in game it clicks your desktop. nearly kills the experiance for mouse with this update.

Still get dizzle to play it.
Windows Central Newsletter
Thank you for signing up to Windows Central. You will receive a verification email shortly.
There was a problem. Please refresh the page and try again.