Mobile Nations launches Talk Mobile 2013!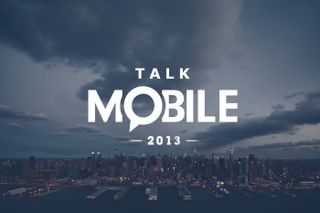 We've teased it for weeks but now it's time to unveil what all that 'TM13' business was that was such a big secret. TM13 stands for Talk Mobile 2013 and it's our new program that will elevate the discussion of mobile beyond just platforms and who is better than whom.
The event is based off of our Round Robin program, which we did years ago. That event involved all of the head editors trading phones for a week and then reviewing the experience. While fun, that was a 2008 thing and this is 2013: all the platforms have basically caught up to each other and have become outstanding options. No longer does one dominate the conversation and neither will it here.
Talk Mobile isn't a one day event. It's a discussion that will carry on across Windows Phone Central, CrackBerry, Android Central, and iMore for the next several months. We've picked 10 important topics in mobile and cooked up a whopping 50 Talk Mobile features that we'll be publishing across the sites that are going to spark a lot of conversation.
To keep the conversations flowing, we've even built a new commenting platform that will allow you to join in on the larger Talk Mobile conversation from any of our sites, and the new system also allows us to properly promote and recognize the best contributions to the discussion.
Talk Mobile will kick off on Monday, June 3rd. The first topic we are tackling is Mobile Gaming. Mark it on your calendar as it will be a fun week, where we (and you) discuss where gaming is in 2013, where it is going and where it should go.
In the meantime, you can hit up the official press release for more details, drop by the talkmobile2013.com landing page where you can sign up for updates and enter to win a free trip to our June 6th Launch Party in NYC and be sure to follow @talkmobile on twitter. The fun is about to begin!
----------------------------------------------------------------------------------------------------------
Mobile Nations launches Talk Mobile 2013, presented by BlackBerry
An industry-first online event that brings together the top smartphone experts and fans in meaningful conversations about mobile technology and how it affects our lives
NEW YORK, NEW YORK -- (Marketwire - May 29, 2013) -- Mobile Nations, the leading online mobile news and community network -- Android Central, CrackBerry, iMore, and Windows Phone Central -- announced today that Talk Mobile, an online event spanning all of the Mobile Nations sites and presented by BlackBerry®, will launch on June 3, 2013.
Talk Mobile will bring together mobile industry experts, influencers, pundits, enthusiasts, and fans from around the world to engage in meaningful conversations about important topics in mobile today. A total of 50 Talk Mobile features will be published over the next several months. Each day's feature will simultaneously reach each Mobile Nations site, with Android, BlackBerry, iOS and Windows Phone communities each having an equal voice in the conversation.
"We have the largest, most knowledgeable, most passionate communities in mobile, but for most of the year we're all focused on our own, specific platforms," said Kevin Michaluk, Chief Media Officer of Mobile Nations. "Talk Mobile lets us take off those platform-specific hats and engage in real, in-depth, industry-wide discussion. That's why only Mobile Nations could do an event like Talk Mobile -- our sites are all biased by definition, but when we come together, the biases balance out, and we end up with the most amazing debates."
Covering ten highly relevant topics, Talk Mobile will address the issues facing modern platform makers and manufacturers, carriers and service providers, developers and designers, and power users and casual users alike. Topics range from mobile gaming to photography to social to security.
"Over the last decade, smartphones have grown from niche technology to mainstream reality," said Marcus Adolfsson, CEO of Mobile Nations. "We see that in our communities every day. It's not just about tech specs anymore, but about health, family, entertainment, creativity, and connectivity. There's a deeper conversation to be had about mobile and how it influences, enables, and affects our lives. That's why we're launching Talk Mobile."
Each Talk Mobile feature will start with a roundtable discussion moderated by Cali Lewis and John Pozadzides of GeekBeat.TV, with Mobile Nations' site editors Phil Nickinson, Kevin Michaluk, Rene Ritchie, and Daniel Rubino as panelists. The conversation will then be turned over to the community, where anyone and everyone can have their say, and the very best contributions will be featured.
Talk Mobile 2013 begins on June, 3, 2013. The first week will cover mobile gaming, its threat to consoles, its social implications, its ability to scale, and its future. Readers can join in the conversation by visiting their favorite Mobile Nations site.
Talk Mobile launch party
To celebrate the kickoff, Mobile Nations will be hosting a Talk Mobile 2013 launch party on Thursday, June 6, 2013, in New York City. Admission will be free, but venue space is limited. For more information and to RSVP, visit http://talkmobile2013.eventbrite.com.
Mobile Nations is also running a contest, in which readers can enter for the chance to win a free trip to New York City and guaranteed admission to the Talk Mobile 2013 launch party. For contest information, see www.talkmobile2013.com and follow twitter.com/talkmobile.
About Mobile Nations
Mobile Nations is the leading network of mobile-focused online communities with more than 15 million readers and 55 million page views per month. Android Central, CrackBerry, iMore, and Windows Phone Central form the core of Mobile Nations.
For more information, please visit www.MobileNations.com.
BlackBerry and related trademarks, names and logos are the property of Research In Motion Limited. Other company and product names may be trademarks of their respective owners.
Press Contact:
Derek Kessler, Managing Editor, Talk Mobile
derek@mobilenations.com
Windows Central Newsletter
Get the best of Windows Central in your inbox, every day!
Daniel Rubino is the Editor-in-chief of Windows Central, head reviewer, podcast co-host, and analyst. He has been covering Microsoft since 2007 when this site was called WMExperts (and later Windows Phone Central). His interests include Windows, laptops, next-gen computing, and for some reason, watches. Before all this tech stuff, he worked on a Ph.D. in linguistics, watched people sleep (for medical purposes!), and ran the projectors at movie theaters because it was fun.
While i love constructive discussion. Talkmobile....presented by Blackberry?

Modern free market economies have a nasty downside in that things cost money to make them happen. The good news is every year there could be a new sponsor...including Nokia, should they choose.

what is this "modern free market economies BS" ....things always cost money, There ain't no such thing as a free lunch..in the "old" days or in the "moden" days. You and your buddies don't want to pay or can't afford the cost, and bb is pickiing the bill, that's all.....the is no FREE economy, period.

so this year nothing disparaging can be said about BB....

I actually have some respect for BlackBerry. Would you prefer it to be:
"Talk Mobile 2013: Presented by Verizon Wireless!"

Yes I thought the same, almost seems to kill any objectiveness but I'll reserve judgment until Monday.

Have more faith. This isn't about platforms specifically. Also, I'm slightly offended ;)

You should be offended Dan lol

And if it said sponsored by Nokia the Android Central would throw a fit. Who cares who sponsor as long as it's someone's else money and not yours

Do you guys really see Phil or Dan all of sudden not voicing thier real opinions about bb10 just because thier sponsored by them and if you didn't read the article fully you didn't pick up on the fact that this isn't about who is better so there isn't a need to kiss BlackBerrys ass or be bias that's Kevin's job anyways

Already know what's best... ;)

So the new commenting system will finally allow us to vote comments up and down?

And please, please let us be able to automatically hide the "contributions" made by individuals that routinely troll the comments/forums. Man would I love to be able to filter out some of the negativity expressed by obvious haters of Microsoft / Windows Phone.

Yeah we know how you feel over on CrackBerry too.

Finally the reveal! The first topic is going to be an interesting one im a gamer and id love to see better games on tablets like the surface pro which is like a PC but I don't game that much on my phone though I have plenty of games on Xbox live. Well I guess I'll save my other thoughts on this topic for next week. I hope everyone keeps an open mind because this is about mobile technology period.

This sounds pretty awesome!

This actually sounds pretty cool. Flinched at the BB promotion, but on further reflection have no issues with it. If they want to be first with the money then they deserve the credit, right?

It won't be like NASCAR and only Kevin will ever defend BB around here. But their sponsorship visibility is kept to a minimum.

Kevin AND his loyal followers, like me!

I was curious what others were going to say about the sponsor being BB, so I had to check out the other MN sites.

Personally, I don't care who sponsors it, most everyone who is going to tune into this stuff are already entrenched into their OS of choice, and a booth with BBs isn't going to sway them... although that would be cool if it did :)

"their sponsorship visibility is kept to a minimum"
I'm sure that'll make them feel as though their money has been well spent. I don't think I'd want to sponsor a MN event with that attitude. If you feel the need to minimize a sponsors contribution, maybe you shouldn't be taking on a sponsor...

For the record, we know what we are doing. What I mean to say is it's not gratuitous or gaudy.

I just hope that you have good mics and video synced properly with audio, as all these joint podcast in the past was a nightmare due to awful quality

Wait, new commenting platform? What about the app?

.
Great idea!!!
.
But, DO NOT invite the iSheep fanboys, they are going to ruin the whole thing :-(

I like where you guys are taking this, make it more informative to help your readers.

Looking forward to this. I think people will be surprised at how nice of a system WP is.

ah shoot. I thought it was ice beam... XD

Wish they would have this kind of event in Philadelphia.

Agreed. In from Philly and could get to an event without an issue.

Maybe I missed this, but will I be able to participate via mobile app?

Trying to comment on the talk mobile test/competition. It does not show up in the wpcentral app? And when trying to comment from ie10 on my Lumia, it says I have not permission to that page. What's up with that!

Ok here I am on my Lumia 800 now adding a comment to this thread. Will be adding a comment from iOS device later. Working better on windows phone than iOS,for me so far.

https://skydrive.live.com/redir?resid=F49A2853BC72AAD3!2725&authkey=!AG7...

Okay, I can't decide what I want to win: Samsung Galaxy S4 vs. Samsung Ativ S vs. Nokia Lumia 925. Still, I commented anyway.