Mobile video service Vuclip arrives on Windows Phone with official app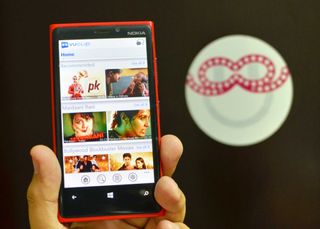 Vuclip is the leading premium mobile video on demand service for emerging markets. Started in 2008, the Silicon Valley-based mobile video and media company uses technology they crafted to allow users to search for and watch web videos on any video-enabled mobile device.
This proprietary tech also enables Vuclip to deliver crisp, non-jerky video or audio over congested mobile networks. Vuclip has partnerships with carriers throughout India and Southeast Asia, and has served over 2 billion video views to users worldwide.
The official app for the service, Vuclip - Video on Mobile, arrived on the Windows Phone Store recently and allows you to watch your favorite movies, TV shows, music, news, sports, comedy, celebrities, fashion, glamour, and more. Everything is tailored to your interests and your region.
While a lot of folks head to YouTube to watch millions of videos, Vuclip offers select videos in a range of diverse categories. The app doesn't have a modern interface, and honestly it's a little tacky, but the user experience is seamless and the navigation is intuitive. You can browse the videos through individual categories, or search for something specific.
Download the free Vuclip app for Windows Phone 8 devices from the Windows Phone Store. It's not the best designed app, but would easily satiate your video watching needs, and offers curated content for a quick leisure fix. Give it a whirl, and let us know how you like it.
Another Indian App!! M' Lovin it!!

Its kindda multi sites in one apps but quality of video and the streaming speed is bit of concern.

Yes it did back when I used it years ago dunno if it is still there.

Videos area not in good quality...

What about a actual youtube app? Just let google make a app.

they won't and they also blocked the app from microsoft

WTF? and they wonder why they don't have many buyers

Google already stated that they will NOT make apps for WP

Might as well just go ahead and ban google products from windows then.

Duuuuuuuuudddeeeee.... Where have you been? The company that trumpets the phrase, "Do no evil," is being evil by refusing to make apps for Windows Phone or Windows 8, and when Microsoft stepped up to make a YouTube app: Google disabled it remotely, making the app worthless Google is evil man. They do make some really cool stuff that works pretty seamlessly, and they're on the cutting edge of innovation. However, that comes at the cost of them running their own in-house NSA global operation. :/

Windows and Microsoft think google is evil?

They sure do act evil. I'm not so trusting of Microsoft, either... They scan all attachments in Outlook, and all files uploaded to OneDrive. I'm not fond of it at all, but thru aren't as rotten as Google (yet...).

Facebook is one not to trust. Have you heard?

I think only evils get more popularity in business after seeing the rise of Google and Facebook.

what do you think if Google blocks any of its services while Microsoft is still giving its apps to Google's platform?

Why can't all platforms get together and talk about this

MS need money to make their own apps that's why

Omg, and they go on about dev and stuff

And Nokia is bringing HERE maps for Android devices exclusively for Samsung galaxy's. Very bad for WP.

I agree, this is bull....shit

MSFT should have bought the HERE division and fully intergrated it into Bing Maps.
But let's see. One of the big drawbacks that I hear from people is that lack of Google Maps and that's what deters them from WP. Maybe if Here gets more recognition it could make WP more appealing. The hardware of WP between Nokia/MSFT and now HTC is significantly better than Samsung.

With stupid bloated ads too. Hate google their gmail specially

Keep calm and use myTube.. :D

Who the fuck needs a youtube app when we got myTube! :/ just fuck google!!! The ONLY google products I use is the search engine and youtube!

MetroTube is even better ;)

I guess you guys should go to some forum and discuss these things. We've had articles by Sam telling us what to talk about in comments towards a particular article not saying something else.

I remember this app on my nokia aaha now on my WP that's awsome

I installed this app, tapped the search icon on the menu, and it put my Icon on a continuous vibrate...if I was a girl this would be fine, but I'm not, and as my wife is not awake right now, I've no use for this. Uninstalled.

Marantaz that has to be the best most epic comment for an app in the history of app comments lmfao

I'm surprised you're even married

Yeah, there's no place in marriage for humor...

Lol ur phone is playing dirty :D not the app

Wow ! Another use of Windows Phone.

Developers are interested in India which is great because wp has low market share even in India.

But India has the second highest number of WP users in the world.

They're moslty on low budget devices though. How much money can developers expect to make in this region?

Till they introduce carrier billing on store apps. Majority still doesn't possess credit cards

Pay using debit card then

It says service not available. Please check later.

This app is no good.
At least provide 480p if u cant provide 720p and 1080p en.saveform.net Is better
Such apps suck!

No good. Uninstalling now.

Btw, new update to motion data available

Nd my network provider cost me to use vuclip....!! :(

Uninstalled...vibrates every time for 20 secs...da hell?!

Same for me. Sent my 822 into a continuous vibrate. Had to uninstall to stop it.
Windows Central Newsletter
Thank you for signing up to Windows Central. You will receive a verification email shortly.
There was a problem. Please refresh the page and try again.