Moliplayer Pro adds more playback controls in latest update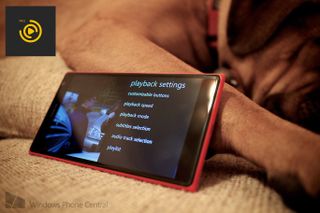 Moliplayer Pro, an awesome media player for Windows Phone 8 that can handle any video file has just received a noteworthy update. Version 1.2.1.6 brings controls for playback speeds such as slow motion and fast motion during playback. You can now also change subtitles during playback if the video has multiple subtitles available. There's more, so read on for the full change log.
What's new in 1.2.1.6:
Playback in various modes, including loop, shuffle, continuous, and single loop etc.
Files searchable by first letter (when there are more than 10 files sorted by name)
Changes audio track during playback
Changes subtitles during playback
Changes playback speed, slow motion & fast motion during playback
Supports customization of buttons on the control panel
Displays battery indicator during playback
Displays playlist to select another video or music during playback
Moliplayer Pro is available at the Windows Phone Store for $2.99. Is this your preferred media player or do you have something else in mind? Let us know in the comments!
Thanks for the tip, Aakash Sharma!
Windows Central Newsletter
Get the best of Windows Central in your inbox, every day!
well, the only one to speak of ...

Its worth the cost atleast when no other player even come closer to it... And the developers are constantly supporting it... Not just pay and forget.... Updates are released constantly.... Awesome... Let them coming......

Works well as a Windows UPnP DNLA receiver. The only app that I find that could do it flawless (except when is on big library... it tend to freeze)

Yxplayer WP8 is still better at UPnP/DLNA for me.

Does the trial version have any limitations?

Lol am using it for more than one months in trial

You must have updated the app thereby making the trial period again to 15 days.

As soon as 15 days are over either an update comes or just reinstall tats it :;)

YES! ...or you might consider actually buying the app and supporting the dev team...

I wouldn't mind if the developer added ads

We are truly sorry that we dont have mobile payment!!!!!!!!!!!!!!!!!!!!

Great app. VLC is going to be launching their own app. This will give hot competition between moli player pro and vlc !!

I know VLC will be out soon, but what the heck, I just bought the app. Works great.

Dont hold your breath until vlc comes out. Seeing all the "progress" the vlc team has done sofar in the recent 11 months since they announced their projects, it should take another 6 or 10 months till we will have something running on our Windows Phone, realistically.

Does it fix eating away at Other storage

Yaah it fixed the issue now my phone started eating sandwich

Mine prefers chocolate... hmm

Its on the way ..dont worry it will ring your door bell

On the way vlc means 2-3 months more.,.

2-3 months? Yeah right. Those devs just took the kickstarter money and failed to deliver. I don't expect to ever see VLC ported.

Getting tired of people like you. These devs have been developing VLC for free for years and now they asked a bit of money to able to port it and people start doubting because it takes too long. The app is already in the approval process. Its a matter of bugs fixing, so yeah the app is done.

Wow now redmond is talking ...dude am too is an dev...so know how long it will take if Microsoft provides API there will be an app like diz months ago...eg Moliplayer...So don't talk like u are the one who runs kickstarter

And one more thing this is the third time they submit it for approval first attempt was month before...source kick starter

You have to wait and see.

This is an awesome player. It's the MX Player (Android) equivalent of Windows Phone I'd say. It would even more awesome if Microsoft supported a native file explorer and changing default video/media player. I'd run all my videos through this app.


Awesome player, becoming awesome day by day. I don't think VLC will be coming within next 5 years!

Don't worry they will launch it when Ms launches Windows 9 so that we can expect

Just like your internet connection :P

I mean the buttons and stuff in settings..

The opening tym is like 10-20 sec on my 820

My audio stops playing whe the screen turns off. Does that happen to you guys as well?

I think there is a setting for it. Background play or something like that.

I already did. Have the pro version. I don't know why it stops playing when screen is off. Already in contact with developer. It happens before and after updating.

Developer of this app has some kind of official support. They have access to music + video hub APIs. We can access & edit contents from d hub too. I've never seen any third party app with this level of api access so far!

i think u r right salmanmansuri....

They're sponsored by Nokia and have full OEM powers- however afaik they only need it for writing to and reading from the media library.

Great app! Now we need something like this on Xbox one!

All it needs now is to be able to stream from SkyDrive.

Stream from everywhere. :)

I am using the trial version of this app so far its doing amazing but i dont know for how much longer. Is there an difference in pro and trial???

Does it support AC3 & DTS? I don't have a WP for trying.

I have both version one is beta and 2nd officially purchased really awesome and I like to report bugs and share sugation kindly share your idea for moliplayer. I will forward to moliplayer team

The best media player in wp8

Perfect app now supports Arabic language

Can't see the funny part...

The best video player that can play .mkv and .flv on wp8.
not regret buying it. Worth every penny

The best video player ever. Say goodbye to video converter .

Does this still require content to be in the Camera Roll folder?
That's the only reason I didn't try it lol

Any player with slide-seek controlls in WP8?

This is an amazing app. Using for a couple of weeks. No complains.

Are they planning to release a Windows RT version? Or does anyone know of an equivalent in RT? I'm trying to play my anime videos on my Surface. Lol

I just installed the trial version of moliplayer. But the menu is very slow. It takes 20-30seconds to even load list of files, or settings page, and I can't change its settings. My phone is Nokia Lumia 620. Does anybody have same problem?

I've got pro version and it's very laggy on my 820. Uninstalled and reinstalled but after initial indexing videos don't appear in lists when the app is reopened.

Thumbs up for AC3 audio. My Nokia Lumia 620 beats my iPod touch 5 in playing 1080p MKV files :)

I'll wait for VLC, so I can compare before buying.

Think you will end up waiting till the release of WP9 at the least........:P

works great on my nokia 521. I use ps3 media server and my phone connected and played everything perfectly on my phone. I'll probably end up buying this.

When is VLC coming ??? :-o

Check out "MoliPlayer Pro" for Windows Phone http://www.windowsphone.com/s?appid=ef49323a-facd-4623-a7d4-d12d00654a6b Which moliplayer is this that's marked free?? And when i tried to download this, it says "sorry, you don't have the permission to download this app".

Anyone ? Please tell me how to open subtitles ??