More Lumia Denim updates reported in Australia, the Philippines and more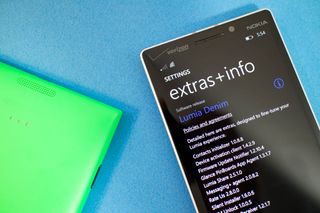 Microsoft continues to roll out the Lumia Denim over-the-air update worldwide. We have received reports from a number of Windows Central readers that Denim has made its way to more Lumia smartphones in Australia, the Philippines and other countries.
Specifically, we have received many tips in the past couple of days from the Philippines that their Lumia 1520 smartphones can now download Denim. The Lumia 1320 on Vodafone in Australia is also apparently getting the same update, as is the Lumia 830 RM-985 in parts of Latin America.
However, Microsoft's Windows Phone software update support page (opens in new tab) does not list these phones as receiving the Denim update yet. Based on the number of tips we have received from our readers, it's more than possible that Microsoft simply has not updated the page to reflect the over-the-air download.
We will continue to keep an eye out on Denim's continued rollout, especially in the US and Canada, where only a handful of Lumia smartphones have received the update.
Do you need some assistance in getting your Windows Phone OS updated? If so, we got you covered with our how-to article on that very subject.
Thanks to everyone for the tips!
What happened to the 521?

The 520 version for the US on T-Mobile

I don't understand whether the extra+info app is faulty or Preview for developer app is making changes m.. But it is still showing cyan when I activate Preview for dev. And again shows Denim if I turn it off. *running latest Denim version, Lumia 1320 India.

I've had the same experience with a Lumia 925 on Vodafone in Australia. I had to disable Preview for Developers in order to get the OS to update to the latest version, even though the firmware updated OK the first time. The extras+info app now indicates Denim is installed when PfD is disabled but Cyan when it's enabled. I don't think that either the 925 or the 1320 actually benefit from Denim itself so I guess it doesn't matter but it's still weird.

It is odd. Happens on the cricket 1320 as well

This rollout is so very late. Wonder how long will Windows 10 take to reach all Lumias/WPs.

Maybe all phones will get the Windows 10 update before/at start of October.

Not less than 1 year after today.

I think you may be right but I'd say sometime in 2017

According to me, Windows 10 will take less time to get OTA update. It's because Microsoft is already testing the Windows 10 Operating System on a broad range of devices. We now also know that much more wider range of phones will be receiving the Windows 10 Technical Preview for Phones in the coming weeks. Also Windows 10 is being tested out by millions of users all round the world. So the testing time for the official OTA update should be considerably low when compared to the previous updates.

actually it looks like the next TP will be available on just about every phone ever released. Can't wait to install it on my Sammy Focus.

4 months = very late? Have you ever wait for an Android update?

That will never come .i have a Sony tablet with specs for running lolipop or at least 4.4 with no problems ... But I'm stuck with 4.0.3

Here in Peru on my L 925 as well!..

lumia 925 in algeria finally got it i'v been wating for ages

Lumia 1020 didn't ! I wonder why does it take sooooo long t !

My 920 updated!
Country variant Brazil

"Specifically, we have received many tips in the past couple of days from the Philippines that their Lumia 1520 smartphones can now download Denim." Couple of days? I'm pretty sure I received it today!

That means you're not the first one.

I only received the notification this morning. Weird.

No updates available for my beloved 1520 philippines country variant yet... but I'm hopeful. Hope to get it today! Can't wait to shoot faster and more gorgeous pics with my ginormously excellent lumia.


Disable your Preview for Developers enrollment and ...now you get OTA update via wifi, got it to my Lumia 1520 Philippine variant last night..seems faster specially in web browsing..

I got the update right after my earlier posts. Ditching my lumia camera classic and going for regular lumia camera now that I have denim. Rich capture is even better than they described it to be. I'm not too sure about color fidelity though so I'll have to port the images to my PC to check them. It took a long long long time but we finally have denim on 1520 ph variant :)

... has nothing to do with this article

Last I checked, this article was about Denim and also mentions the Lumia 830 - both of which relate to AT&T in a way. So to say "nothing" is a stretch. Thanks for playing though. Have a great day, bye!

The article is primarily regarding updates in Australia and the Philippines, so perhaps I should've said "practically nothing" as the US could fall into "other countries". It just annoys me when an article is referencing a specific country and commenters always try to drag it back to their own country when it has nothing to do with them e.g. the "Wen in india" stupidity

I want them to hurry up as well! I want to play around with my 920 with w10

Got it this morning, L1520, Philippines

Mine isnt getting updates!!! :'( Im on DP... I already unenrolled.

Uninstall the app and restart the phone. That should do the trick.

lol when in india? nye nye.
*rolleyes*

Windows phone already dead in market...

My dad divorced my housekeeper because he was having an affair with my mom!

Because your housekeeper uses android bro?

What market are you talking about? Duh.

switch to android then, you smelly piece of dung!

Thankfully, India is done with Denim (except 638)

All eligible Lumias in Denmark have gotten the update

As far as I know, Lumia Denim for 630 in the Philippines is listed in the update page.

Bouygues Telecom FR Nokia Lumia 925[MANOFSTEEL]

People from Nicaragua is getting updated with their 920 and 820.
Though I have an Icon here, I have "friends" with Nokia and they seem to get the OTA too

I'm truly happy. Windows 10 TP next week and I've finally got Denim. T-T

Congrats!
I'm waiting for 10 too

I'm from the Philippine but none yet for Lumia 925. Been waiting for it.

Will i get denim if am on preview for developer?

Still waiting for Telstra 530 -_-

I was told by a bod at 3UK that Denim wasn't coming anytime soon to the UK as, and I quote, they were advised BY NOKIA (my emphasis) that "due to a security issue the update is delayed". I officially have no faith in 3UK having a clue what they're talking about.

Finally!!! Got a denim update here in the Philippines!

What's up with at@t! Still no denim. So sick of them!

My Lumia 930 still hasn't updated I don't think it it ever will I tried restarting the phone. I tried using the Nokia recovery and un checked the preview program as well and nothing.

In middle east all phones getting the denim update only one phone is remaining left my Nokia Lumia 625.

I think that at&t is waiting for Windows 10. I have a 920 at&t

I think you are right AT&T does not care as long as the bills are paid.

830 us at&t needs full denim plox

Come on. 520 dp still didnt get denim in india

Updated to complete Denim yesterday. Lumia 830 RM-985 Latin American varient (from B&H Photo). All went smoothly. :-)

Check this http://wmpoweruser.com/a-close-look-at-the-contacts-and-calendar-app-in-...

But not the 1020 in Canada

Don't worry... Does nothing to your 1020... It's a placebo.nothing new

My Australian country variant of the Lumia 520 (RM-915 iirc) got Denim just a few days ago, no changes though which was expected.

When Lumia denim will be available for Lumia 530 Dual SIM in India?

Got the denim update on my lumia 636 and found that the 4G LTE capability of my phone went missing in cellular + sim settings. Is this because im not using a 4g capable sim?

Microsoft should be ashamed of itself that it took them so long te release and is taking them so long to roll out Denim.

Glad someone is getting updated. In North America there are 42 models and 11 of them have Denim. This is 26% Someone needs to kick some ass, light a fire, whatever it takes for Canadian and US carriers to do their job. Europe 94%, Middle East 92%, Asia 86%

What about here in Hong Kong?

The MS Update page shows it's available for my Malaysia 920, but it doesn't fetch it. Now, I had an update some days ago but it still shows Cyan. The OS version is less than the one shown in the MS page, but the firmware is the same. Could this be due to Preview for Developers?

Before end of February huh

Brazil got Denim for 920 series without carriers...

Rollout ended in Italy finally! I Got my update this morning on 1020...

Yeess! Finaly..got it for my Lumia 1520..seems faster!

I got this yesterday.. Thanks Microsoft.

925 México CV has Denim already...

Got mine but I need to revert from dp just to install the denim. Philippines.

Wait, I just realized I am now actually running on Lumia Denim, after I saw a video discussing it's features! Cool!

AUSTRALIA vodaphpne have rolled it out apparently

Updated mine L1520 CV PHL a day ago. 15mins later, i read the news in WCentral. Really good update!
Nothing comes close to my L1520 now.

I don't know your source is but this information is super late. My Lumia 1320 (Philippines; Globe Telecom) updated to Denim back in December or January. I've been running Denim for several months.

...MS pushed the update to the carrier-based phones first (as what they do with at&t and other carriers in the US) then the country variant (open-line) ones. ..i have read some articles in the past months that some of WP users got mad why the carriers got the update and leave the country-variants last..ehehehe

Just when I had my Lumia 1520 repaired which will take 1-3 months at the the service station, the Denim Update news in the Philippines came out. Pfffftttt...

...finally, after the long wait...currently downloading the update on my Mammoth Phone 1520 :) ...one more probelm is, Philippines has a crappy internet...too slow to download.. :P

Just got the Denim update on my Lumia 630 DS here in the Philippines. And it really came as a surprise to me because when I checked the audio setting, it includes a working equalizer, which on the Cyan update, doesn't have. Thanks Microsoft.

Denim update for 1520 finally arrived in the Netherlands yesterday !!!

After the denim update, my camera won't launch. how do i resolve this problem? any other camera related apps haven't resolve the issue. Tried ressting but still the camera won't launch.
Windows Central Newsletter
Get the best of Windows Central in in your inbox, every day!
Thank you for signing up to Windows Central. You will receive a verification email shortly.
There was a problem. Please refresh the page and try again.