Upcoming features for Xbox One and Windows 10 Xbox app detailed ahead of release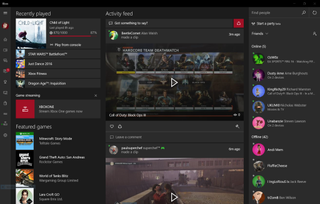 Microsoft continues to add features to the Xbox One console, along with improvements via monthly updates. It also continues to add features to the Windows 10 Xbox One app. The company revealed some upcoming features and additions for both the console and the app that will be included in future updates:
The list of additions and improvements includes:
Gamerscore Leaderboard in the Achievements section and Hero Stat Leaderboards in Game Hubs
See Avatars in your Activity Feed if you've chosen to replace your gamerpic with your Avatar
An updated "Featured" section spotlights games, deals, community events and more
16-person Party Chat is enabled across both Xbox One and the Windows 10 Xbox app
Xbox 360 achievements will automatically post to your Activity Feed
More interactive Game Hubs with web-linking
Compare your Avatar with your friends' Avatars
Reputation interface changes, players with 'good' profiles will no longer feature a reputation gauge
Which feature do you still want to see included in the Xbox One or the Windows 10 Xbox app? Let us know in the comments!
Source: Microsoft (opens in new tab)
Zubat ☺ Posted from Windows Central for Windows 10

Kinect, Kinect, Kinect. I want Kinect gestures back. BACK!

Me too, and we're not alone. Have you voted on UserVoice and pinged Mike Ybarra and Phil Spencer on Twitter? They need to hear from the fans that it wasn't okay to take away a feature we paid for. #SaveKinect

Hearing comments like this swayed me to not get the Kinect where before I was interested.

I need continuum support for the app.

This. So much this. Massive gap in Microsoft's 'universal' library, along with a true Skype app.

A Backwarts Compability Section

You should see your doctor about backwarts!

I'm still waiting for the promised TV DVR functionality.

agree, (also I selected thumbs up but for some reason thumbs down was counted)

I wouldn't be surprised if that functionality never gets implemented. As it stands, they were planning on doing it with a single USB tuner. That is going to be insufficient for a majority of US OTA TV customers, which is a small group as it is. I have two HDHR dual-tuner Ethernet devices (4 tuners). If I'm forced to use a single USB tuner, then I will have no use for the Xbox One DVR functionality.

I am waiting for this as well.

The Xbox app for Windows 10 looks sort of busy :/.

Windows device screen mirroring.

That is there in preview so soon

How do you get it to work? I have a 1520 with the latest DP and nothing I do will make it co next to my Xbox one.

You need the miracast app. Its still in beta I believe.

Wish they would add support for Dolby ATMOS. Also, fix issue that causes video to become choppy on TV/Movies after viewing YouTube videos for a while.

They need to add support for Bitstreaming audio. That's a very disappointing omission especially considering I was planning on using the Xbox One to replace my standalone BD player.

If I'm not mistaken, the option to have bitstream out for audio is already there. Maybe I miss understand what you are looking for? Posted via the Windows Central App for Android

It is there, but support for Dolby Atmos isn't.

This app takes a lot of time to load up on my laptop.

Waiting for them to make the OS actually work well. At least be as stable as the 360 dashboard.

And make Edge Browser more reliable. Crashes quite often during heavy use.

Hie guys, was wondering why cant we have a feature just like on Android where all applications are listed and there are two columns where ones defines how each application connects to internet, its either both Data & WIFI or one of the two, this is clearly defined on android.

I have an Xbox app at my phone it will be the same or this app it's only at Windows PC?? Posted from my phone
Keep Calm Because P.A.O.K. You Are

Great but when will Microsoft have time to release windows10 for older Lumia phones :/

I saw that they are also added the ability to download backwards compatible 360 games on the xbox one now. Also you will be able to broadcast party chat to Twitch! Posted via the Windows Central App for Android

The feature I want most is a return to live stability they used to have it was rock solid

When they gonna add xbox streaming to the UWP? This is what continuum would be awesome for.

A downvote for this? So who was the mentally retarded person?

Would be happy if they fix Game DVR on Windows. All recordings with proper gaming hardware (meaning 5.1, 7.1 and anything higher than CD-Quality) is recorded without Audiotrack.

and ability to Nvidia geforce experience detect games from Windows store !

Limitations like that are the reason Windows Store is an unacceptable platform for PC gaming. They need to stop trying to turn PCs into iPads. If I wanted to suffer Apple-like limitations on my devices I would buy Apple's crap.

As long as I can play Xbox exclusives on PC its okay

Nope, not with the current restrictions. Thankfully Xbox exclusives are only good by Xbox stanards, which are low, and beneath the quality of game I will spend time and money on.

REMOTE PLAY ON WINDOWS 10 MOBILE MIRACAST REMOTE DESKTOP APP WITH MOUSE / KEYBOARD SUPPORT

We didn't buy our Xbox One for gaming. We bought it to be our nexus for home entertainment and the combination of gesture and voice control with the Kinect. Since Microsoft ruined all of that with NXOE we disconnected our Xbox One and it's in our shed now. None of the above features entice us to change our minds.

I bought mine for mostly the same reasons (Except Kinect, you couldnt pay me to use that thing, RIP), and have been extremely disappointed. Poor local media support, poor Blu-ray support, crappy app performance - Vudu plays back choppy and freezes often, yet works fine on a 10 year old 360, streaming apps need to be clsoed and restarted to work.

I agree. They tout this thing as running your living room but they are dumping all the improvements into avatars and gaming. Where is background music? Where is Cortana? Where are the home automation apps? I bought this thing to run my living room and entertainment center and be a gaming system second. They seem more interested in chasing Playstation instead of making this a truly great home entertainment console.

You and about 5 other people. Boo boo.

I think Microsoft needs to talk about continuum for Xbox One. They have this incredible technology in Kinect. Why aren't you able to walk in your living space and have your phone calls or Skype session transfer over to the Kinect on Xbox One. Why isn't there a way to see text messages or emails on Xbox One. We should be able to take pictures and video from Kinect and post to instagram and facebook from Xbox One. Microsoft needs to open their ideas about the living room. Posted via the Windows Central App for Android

I would like to be able to access and install any universal app of my choisevvvv on the xbox one.

How about some real features? These are next to useless for me. My family aren't big gamers and we're looking for some more entertainment features. I'm still waiting DVR capabilities.
Windows Central Newsletter
Get the best of Windows Central in in your inbox, every day!
Thank you for signing up to Windows Central. You will receive a verification email shortly.
There was a problem. Please refresh the page and try again.