More signs of a BioShock collection emerge for PC, Xbox One and 360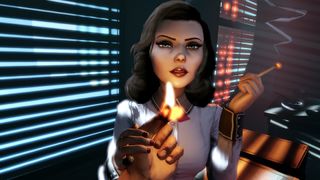 A listing has emerged on the official site of the Brazil Advisory Rating Board indicating that a collection of all three BioShock games is in the works. The board listing states the grouping, named BioShock: The Collection, is scheduled for a release sometime this year on Xbox One, PlayStation 4, Xbox 360, PlayStation 3 and PC.
Presumably such a collection would include BioShock, BioShock 2 and BioShock Infinite and all the post-launch DLC expansions. This would be the first time a BioShock title has been released for the current generation of consoles, making this an ideal opportunity to give the games a graphical upgrade.
Last year Microsoft announced that all three of the BioShock games would be arriving on Xbox One via backward compatibility and are currently in the works for a release in the coming months. If the collection documented by the Brazil Advisory Rating Board does materialize, sales could be affected by the versions available via Xbox One backward compatibility and Sony's PlayStation Now service.
This isn't the first time we've heard of such an assemblage, after South African retailer 'Raru' posted a premature store listing last September. The listing claimed a BioShock title was to be released during November of 2015, but never came to fruition. If such a collection does exist, we can expect to hear more from 2K in the coming months.
Source: Brazil Advisory Rating Board via Gematsu
Matt Brown is Windows Central's Senior Editor, Xbox & PC, at Future. Following over seven years of professional consumer technology and gaming coverage, he's focused on the world of Microsoft's gaming efforts. You can follow him on Twitter @mattjbrown.
BC may be avoided if they are coming anyway. Be nice to see Elizabeth again.

Maybe I'll finally play the BioShock series now. I'll give it a shot.

It is an absolutely fantastic series. You'll fall in love, starting with the first game.

It's fantastic Posted via the Windows Central Beta App for my Lumia 950 XL

Bioshock is one of the best games I've ever played. Well worth playing if you haven't yet.

I'm still waiting for its release on Xbox One via backward but if they really upgrade the graphics for the current consoles I'll buy it again no doubt.

I'd get it at the right price. $40, I'd probably look at it. $60, I'd pass. I already played the first and gave up on the second, so $60 mostly to play maybe just the third would be a bit high for me. Still, I hope it gets a full remake treatment, rather than just a lazy porting.

I agree with this. I would love to see 1 & 2 remade for this console but it would have to be for the right price

I am just waiting for microsoft to annouce cross play between PC and XBox. I think it is about time that they do that!

My favorite game! Can't wait to play it again on the One. I thought either a remaster would be coming out or they would give the bc out with the new game. Who knows when the new one will be released though. Hope we get some news this year on it.

Played all three on X360 and would prefer updated graphics on a remastered release than BC for current version. Would definitely buy/play again. Now if we can just get KOTOR/KOTOR2 remastered and re-released, that would rock!

Played in laptop grade graphics, so even 360 BC would be an improvement. I have the 360 disks sitting and waiting, but I'll glady get a remastered version. Not sure if I can deal with the feels again yet.

Definite buy for me if they do this. Still want BC, too, though.

I wish i could forgeth every bioshock game plot and design and play all over again like for the first time... Just finished infinite for the third time... For me first bioshock had some kind of life changing experience. For me those games have deep meaning beside all that fps fun...

I paid 60.00 for the Uncharted series report on my PS4. I'd do the same for this one. (Aside from terrible Bioshock2)

Such a great franchise. Posted via the Windows Central App for NES

Bioshock 1 and 2 are boring, but infinite is fantastic

You couldn't be more incorrect in your assessment. 1 was easily one of the best games of all time, 2 was merely an extension of that, and 3 was good.

This is great news. The first bio shock is easily one of the top 3 games I've ever played. Brilliant gameplay, great original story and fantastic twist.

As much as I'd like it to be remastered in some way, I doubt it. It may just be like the Alan Wake bundle Microsoft is attaching to preorders of Quantum Break. You can get all the games, plus DLC in one bundle for one price -- so just straight-up backwards compatibility sans remastering. Much like how the Rare collection was (a bunch of games bundled together including some backwards compatible ones that weren't remastered).

Hope for a HD remastered collection... Fingers crossed
Windows Central Newsletter
Thank you for signing up to Windows Central. You will receive a verification email shortly.
There was a problem. Please refresh the page and try again.