More social and personal goal setting features are coming to the Fitbit app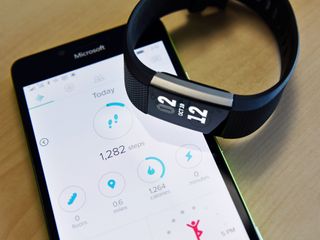 At CES 2017, Fitbit has announced a load of new features coming to its app in the next few months that should make using its trackers a much more personal experience. On deck is an all-new social experience, along with new personal goal setting features and more.
Perhaps the biggest changes are in the revamped social experience, which will come in the form of a new Community section of the app. In the Community section, you'll be able to check out a social feed where you can connect with friends and family and do everything from sharing your achievements to discovering new workouts. Think of it like a sort of Facebook feed specifically for fitness. The Community section also makes it easy to see how your friends are doing at a glance and even discover communities to join from a dedicated Groups portion.
If you're one for setting goals and sticking to them, Fitbit's new personal goal setting features should be a delight too. Here's a look at what to expect:
Personal Goal Setting in the Fitbit app provides a step-by-step guided process to help create achievable goals based on insights from your data and health and fitness objectives.
Define your health and fitness objectives by identifying your focus areas like steps, exercise, sleep, nutrition, or weight, and answering questions that help establish the motivation behind your goals.
Get personalized recommendations based on your objectives and historical Fitbit data. For example, if your motivation is to get more fit and your data shows you walk an average of 9,200 steps per day, Fitbit may recommend setting a higher goal of 10,000 steps per day.
Finally, a new firmware update will be making its way to the Fitbit Blaze, adding some nifty new stuff to check out. Once it lands, you'll be able to use your Blaze to check out your cardio fitness level, based on your VO2 max. The update will also bring guided breathing sessions, a feature that's also available on the Fitbit Charge 2.
As for availability, the Community tab is set to hit the Fitbit app in March, while Personal Goal Setting should arrive for existing users sometime in January. Meanwhile, the Fitbit Blaze firmware update is set to land in February. It's also worth noting that Fitbit today released a redesigned version of its Fitstar Personal Trainer app. Although it's not available for Windows or Windows Phone devices, it is still accessible online.
Dan Thorp-Lancaster is the Editor in Chief for Windows Central. He began working with Windows Central as a news writer in 2014 and is obsessed with tech of all sorts. You can follow Dan on Twitter @DthorpL and Instagram @heyitsdtl. Got a hot tip? Send it to daniel.thorp-lancaster@futurenet.com.
Are any of these updates and features actually comeing to W10M?

Yes, all the Fitbit announced featuers will be coming to our Windows UWP. (Excluding Fitstar, which as mentioned is Web only for Windows users).

Would be great it it also made its way to Windows UWP, as not all people have an iOS or Android phone, and the browser is not really a substitute for a good app.

Caught my eye earlier. I went with Garmin because of accuracy after leaving my Band 2. If the fitbit becomes more accurate I may come back. But I had issues with their products durability like the Band 2. These features are great really hoping the Band 3 comes one day. Thanks Windows Central love the site :)

How do you like your Garmin?

I just want the notification settings, have Redstone 2, just need the updated app

Personalized goals and suggestions are nice, but Fitbit has much bigger gaps that need to be addressed. The Band 2 and app allowed you to name different workouts. For instance, in Band 2, you could have different weightlifting activities like (legs, back and biceps, chest and triceps, delts). Fitbit just has "Weights" with no way to rename it, even in the app.
You can't even keep the screen on while working out. It times out in seconds and awkward to push the button.
All that aside, just give me notifications and GATT.

This is great news! I bought a blaze during black Friday. Now if we can just get GATT support!!. 2017 could be an exciting year!

I got a Blaze for Christmas to replace my failing Band 2. I expected the VO2Max feature would be comming as a firmware update, and I'm excited it will be soon.

Band 2 breaking again. Have 2 year warranty with Best Buy. With no Band 2 in stock, they are offering store credit as replacement. What FitBit will give me back the most of my Band 2 features?

My Band 2 only started cracking yesterday ( I have it since day one). Luckily, I still have 1 month warranty and have been told by MS support that they will replace it... I am sending mine to support tomorrow... fingers crossed... I want to keep using the Band 2 for now as there are no current device that can do what it does the way it does it ! Garmin (fenix in particular) is very pempting, but bulkier than the band and I can't afford it ! With the rumor (last week) that MS has recently ordered a large amount of 1.5-inch displays + the confirmation that some sensor suppliers (who previously supply sensors for Band 2) are/were working on a new re-packaged wearable (watch?) from MS of MS partner, hopefully something is coming (more likely not before at least 2018) but who knows! WindowsCentral ???

I would appriciate it if FitBit would change their antisocial behaivor regaring the policy of downloading/exporting one's own data. The sleep tracking feature does not care to report REM sleep phases,
one cannot set an wake-up alarm for a light-sleep phase (which is sort of a industry standard).
And the pulsrate curve leaves you guessing the time. There are more things that FitBit should bother about first.
That would be social towards their customers. The "premium membership" which costs you per year
is what FitBit should offer straight out of the box for no cost at all. FitBit should fix itself to become more social towards their customers. I got a FitBit because Microsoft never introduced the Band 3.
As soon as there is a suitable product on the market that matches what was expected for Band 3
and does not try to wrench a monthy fee out of their customers for basic analysises and features
my FitBit Surge will be sold on eBay. -
Windows Central Newsletter
Get the best of Windows Central in in your inbox, every day!
Thank you for signing up to Windows Central. You will receive a verification email shortly.
There was a problem. Please refresh the page and try again.