New this week on Xbox One: Mortal Kombat XL, Ironcast and more!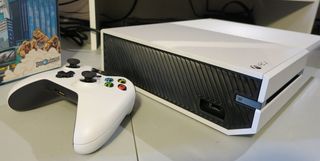 Every week, new games are released for the Xbox One. Whether they are indie or AAA titles, we want to make sure they're on your radar. So get your wallet ready and clear some space on your hard drive. Let's take a look at what's out this week for Xbox One.
Mortal Kombat XL
Mortal Kombat X launched just last year and garnered rave reviews as well as a few awards for the best fighting game of 2015. With Street Fighter V launching just a few weeks ago, the guys at WB Games thought it'd be a great time to revitalize the game with the launch of Mortal Kombat XL.
Mortal Kombat XL features all the depth that last year's game included as well as all of its DLC. It also contains a new skin pack and some awesome new characters that include Leatherface, Alien, and Triborg.
Mortal Kombat XL is available now for Xbox One
See at Amazon (opens in new tab)
Screencheat
Have you ever played a multiplayer game locally and caught your competitor looking at your side of the screen to see what part of the map you're on? The Screencheat developers have taken that and decided to make it the core gameplay element.
In the game, you can see every player's screen and you can tell where they are on the map, but there's a twist. Each player is invisible therefore you can't see exactly where they are when you reach that point on the map. You must instead rely on their screen to see where they are exactly in order to eliminate them.
You can grab Screencheat now on Xbox One.
See at Xbox Store (opens in new tab)
Alekhine's Gun
In Alekhine's Gun, you play as a respected KGB colonel who becomes a CIA spy. The game's 11 levels are wide open areas that give you the freedom to carry out your task whichever way you see fit.
Most missions take place during the height of the Cold War and are based on historical events, such as the Bay of Pigs Invasion as well as JFK's assassination. There are also a few flashback missions that take place during the second World War.
Alekhine's Gun is now available on the Xbox One.
See at Amazon (opens in new tab)
Ironcast
Ironcast is one part PuzzleQuest and one part Faster Than Light (FTL). In it, you control a Steampunk mech called Ironcast as you take down your British foes. In order to do so, you must continually upgrade with new abilities to give it the competitive edge.
Don't get too cocky though because the game features perma-death, which means one wrong move and you'll have to start over from scratch.
Ironcast becomes available for Xbox One starting March 4.
See at Xbox Store (opens in new tab)
Gunscape
The best way to describe Gunscape is the first-person shooter equivalent to Minecraft. First you make your level, however you'd like it, and then you set up things such as enemies, weapons, and obstacles.
The game can be played solo or with friends locally or online and it even supports cross-platform multiplayer. So if you're a fan of Minecraft, this game should be easily accessible to you as well as becoming quite addictive.
You can grab Gunscape in the Xbox Store now.
See at Xbox Store (opens in new tab)
Never heard of Mortal Kombat XL. Is it like Magic Mike XXL?

It's exactly like that, yes.

OMG can't wait to see the "Finish him off" moves! lol...

Mortal kombat XL... Thanks to swindle us with unfinished games ! Do I have to buy all the dlc now or to buy again the game ? Posted via the Windows Central App for Android

I read Ironcast as Ironlast lol.

Usually including all characters and DLC is a "game of the year" or "complete" version that gets sold several months later for less than the original price.

Alekhine's Gun looks interesting but I'll have to check out some reviews first - Looks like it isn't on the UK Xbox Store yet but it will be £39.99 - I can't tell yet whether it will actually be good just from the screenshots and vids

On second thoughts the framerate looks pretty bad, and in general doesn't look worth £39.99 so maybe one to get on Sale. It's only £25 on steam pre-order at the moment, and maybe that version will be capable of 60FPS

Nice list of games, most interested in Ironcast, Screen cheat and Mkxl Posted via the Windows Central App for Android
Windows Central Newsletter
Get the best of Windows Central in in your inbox, every day!
Thank you for signing up to Windows Central. You will receive a verification email shortly.
There was a problem. Please refresh the page and try again.