10 upcoming Xbox games at E3 we're super psyched to see
Microsoft showed off no less than 42 games at its E3 2017 presser, 22 with console exclusivity.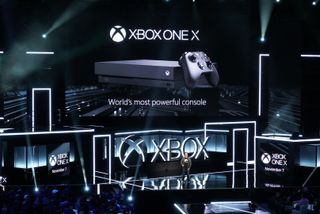 Microsoft placed a lot of emphasis on diversity in its E3 2017 presser, showing games from all across the globe. The company showed huge AAA blockbusters, such as Assassin's Creed Origins and Shadow of War, and some smaller ID@Xbox titles, like Ooblets and The Last Night.
Beyond Microsoft's own press conference, there's going to be even more multi-platform games announced throughout the week at the show. Here are some of the games I'm most excited for so far.
Note: Release dates and other specific details on these games are sparse at this point.
Assassin's Creed Origins
As a lapsed fan of Ubisoft's particular brand of open-world games, Assassin's Creed Origins really intrigued me.
The company took Assassin's Creed off its annualized released cycle after Assassin's Creed Syndicate, citing franchise fatigue. The company has since been hard at work to bring innovation back to the franchise, and it looks as though Assassin's Creed Origins may just achieve that.
Ubisoft emphasized new RPG mechanics for Origins, which takes place thousands of years ago in Ancient Egypt. The trailer shows loot systems, complete with RPG stats and upgrades, and even a classic leveling progression layer. It certainly seems to me that Assassin's Creed Origins has taken inspiration from the likes of The Witcher 3 (which is easily one of the best games of the Xbox One era), which makes Ubisoft's latest flagship title extremely promising.
The Last Night
The Last Night was a huge surprise at E3 2017 for its engrossing art style that blends 3D perspectives with retro eight-bit designs.
The Last Night is a stealth and infiltration game, taking place across a large game world that leans on 80s noir futurism and Blade Runner-inspired atmospherics.
Not a huge amount is known about The Last Night as of yet, but its striking art style and gorgeous music certainly stole my interest.
Deep Rock Galactic
Deep Rock Galactic started life as Project Dwarka, built by former Microsoft studio Press Play Games. The Danish studio polled Xbox fans to choose between three game concepts for development, and Project Dwarka was one of them, along with Project Knoxville and Project Karoo. Ultimately, Project Knoxville was chosen, and after a brief stint in development, Microsoft ended up shutting down Press Play Games and Project Knoxville along with it.
Fast forward a year and now we have Deep Rock Galactic, built by some of the members of the original Press Play team, under new the label, Ghost Ship Games.
Deep Rock Galactic is effectively Astroneer meets Left 4 Dead meets Minecraft, where four players have to work together to drill and plunder procedurally generated planetoids for treasure. But beware, vicious aliens lurk in the depths, forcing players to fight for their bounty. Deep Rock Galactic will also feature software integration with Mixer, allowing stream viewers to screw with the game. Pretty cool, eh?
Ashen
Ashen is a game that I've been following for a long time, and it finally got a more in-depth debut at this year's E3. I'm lucky enough to have gone hands-on with the title, too.
Ashen is a gorgeous and unique cel-shaded action RPG with loot mechanics, survival gameplay, and asynchronous multiplayer. Ashen is all about exploring a large and desolate open world full of crazed cultists, mysterious creatures, and shadowy beasts that want to kill you.
We'll find out much more about Ashen's gameplay and systems in the coming days, so stay tuned.
Ori and the Will of the Wisps
Ori and the Blind Forest is one of the Xbox One's true gems. As a challenging action-platformer with inspiring hand-drawn art, Ori and the Blind Forest remains one of Microsoft Studios' biggest exclusive assets, and its sequel was revealed at Redmond's E3 conference.
We don't know a great deal about how Ori 2 will change up its gameplay (if at all), but we do know that it'll be a similar emotional roller coaster with even more stunning artwork. This is certainly one to keep an eye on.
PlayerUnknown's Battlegrounds
PlayerUnknown's Battlegrounds (or PUBG) is one of those lightning-in-a-bottle sorts of games that comes around at the right time, with the right quality. PUGB is effectively a Hunger Games-like third-person shooter, where squads of up to four friends (or solo, if you're crazy) enter a death match between up to 100 players in a huge open world.
You parachute in with nothing, and it's on you to loot and gear up as fast as possible because it's an all-or-nothing fight to the death where you only get one life per match. The play area gradually shrinks during the course of play, resulting in incredibly tense battles and emergent gameplay. PUBG is a phenomenon that has grown to millions of players purely through word of mouth, social media, and streaming. And it's coming first to Xbox One consoles.
Metro Exodus
I wrote recently about how I'd love to see a new Metro appear at E3, and all my Christmases came at once with Metro Exodus.
Metro Exodus is the next chapter in the Metro saga, which is a violent, atmospheric, and thoughtful post-apocalyptic shooter on Xbox One. The previous games, Metro 2033 and Metro Last Light enjoy a strong cult following, and the games were rereleased with enhanced graphics for Xbox One in the form of Metro Redux.
Metro Exodus just looks absolutely stunning, with some of the most impressive visuals and environmental detail we've seen emerge from E3 2017 so far. The gas masks, burning cobwebs, and survival mechanics all return in Metro Exodus, but this time around, Artyom has some new toys to play with.
If you're a fan of first person shooters, this should be near the top of your list.
Wolfenstein II: The New Colossus
Wolfenstein: The New Order launched a few years ago to riotous praise. Nobody expected Wolfenstein to re-emerge from obscurity and retake its position as one of the greatest first person shooters, considering the franchise is widely credited as kick-starting the genre in the early 90s.
Bethesda debuted Wolfenstein II: The New Colossus at its E3 press conference, and the trailer is a wild, vivid ride through an alternative universe in which the Nazis won World War II.
Wolfenstein II, like DOOM, will be all about the violence and visceral shooter combat, but under Machine Games, Wolfenstein sports a thoughtful story, great characters, and an intriguing narrative. Hopefully, they bring that back for the latest entry in the series.
Strange Brigade
Strange Brigade is from the team behind Sniper Elite and Zombie Army Trilogy. With Strange Brigade, Rebellion Developments is bringing a four-player co-operative shooter with a Left-4-Dead-meets-Indiana-Jones vibe.
When you're not blasting disturbed mummies in ancient tombs or angry, forgotten gods, you'll be solving puzzles, avoiding traps, and getting some phat l00ts along the way.
Anthem
I was reluctant to put this game down on this list because simply put, it seems too good to be true.
Anthem is BioWare's mysterious "Project Dylan," developed by the studio's "A team" that previously worked on Mass Effect 1 through 3 (but very much not Andromeda).
Anthem is referred to internally as a "Destiny Killer," and it certainly seems as though that's what it could turn out to be if BioWare and EA get it right.
Anthem is a fully open-world connected shooter with heavy RPG mechanics. In Anthem, you can kit out numerous types of exosuits that serve as the game's class system, upgrading and customizing to your heart's content. BioWare describes Anthem's world as "contiguous," for up to four friends in cooperative play. Anthem's world looks as deep, detailed, and as complex as it does liberating, allowing you to leap, fly, and swim throughout the game's environments.
Anthem immediately reminded me of The Division, and how utterly mind blowing it looked in its first reveal trailers. The Division, however, ultimately lacked depth, was poorly balanced and had no real endgame. BioWare certainly isn't Ubisoft, but I can't help but feel like Anthem just seems too damn good to be true. It's on this list because I hope that's not the case.
E3 2017 has only just begun
We've been in LA for two days already, and E3 is just getting started. There's going to be tons more games announced, detailed, and trailered in the coming days, and there's already so much information out there it's hard to sift through it all. But hey, we're going to try our hardest!
Let us know in the comments what your favorite E3 2017 games are so far!
Windows Central Newsletter
Get the best of Windows Central in your inbox, every day!
Jez Corden a Managing Editor at Windows Central, focusing primarily on all things Xbox and gaming. Jez is known for breaking exclusive news and analysis as relates to the Microsoft ecosystem while being powered by caffeine. Follow on Twitter @JezCorden and listen to his Xbox Two podcast, all about, you guessed it, Xbox!
I never cared about the Assassin's Creed series but AC origins looks damn nice , i am tempted . Also cuphead . where is Shadow of the Tomb Raider damn it ??? :P

I'll cast another vote for another Tomb Raider. Never got into the originals, but the new ones have me hooked.

Super Lucky's Tale is actually my favourite. It looks like the exact game Microsoft needs. A charming nice platformer. The gameplay looks fun, the developers are sympathetic and there's just no game like this for Microsoft. And the graphics and the style is just sweet and funny. I really hope they build this franchise up.
Something like Super Mario 3D world (with local multiplayer), a true 2D Jump n' Run or even "Super lucky's Kart" would be awesome in the future. I think Lucky can be the mascot Microsoft needs. Xbox needs something for the younger audiences and families. Or just for people like me, who like this kind of classic platformers. There's 13 minutes of gameplay on YouTube.

Super Lucky's Take is just Oculus's VR game Lucky's Tale without VR. I've played a few hours of it with my Vive and it's ok. There are tons of YouTube videos of Lucky's Tale if you want to see gameplay. I honestly can't imagine Super Lucky's Tale being very successful due to my experience with it.

So far I know and judging the gameplay of Super Lucky's Tale, it's not just the old Lucky's Tale without the VR. It's a new game staring the same character.

That's not how I've seen it described, but that would be nice if that is the case. I doubt it because the name gives it the feeling of a remaster or upgrade rather than a completely new game.

They worked on it for 16 month. A little bit too much for a remaster i guess. And was the digging part of the original? Watch the 13 minutes of gameplay. When you have played the original you could tell me if it's the same or not. I'm really interested in this game. It would really help me.

Super Mario Brothers was hardly a remaster or upgrade over Mario Brothers...so based on THE #1, very most well known example of a game receiving the "super" upgrade...you feeling feels slightly flawed? haha Like many people with Mario Brothers, I do not have any experience with the original though.

Anthem really looks great, I'm sure checking this one out. What about Agents of Mayhem... I'm super excited about that one too.

Cuphead has always been my most anticipated game by far. The art style, the gameplay - everything has me hyped for it's release!

I felt like they played the exact same trailer as last year though...feels like a game that is going to just constantly dangle out there.

Holy moley, The Last Night looks incredible. Also Ori, Wolfenstein, Metro and Ashen look the goods. Anthem, on the other hand, left me completely underwhelmed, Bioware is a shell of its former self, all glitz and no substance.

I just wanted some new game announcement sof established franchises like tomb raider & batman Arkham !!
disappointed by this year e3 !!
only good part was xbox one x !!
someone plz tell MS to bring an x360 emulator to pc...so, atleast now we can play x360 games on pc (exclusives).that announcement will take the gaming world by storm.

This would push the Windows store for sure

I'm definitely getting Assassin's Creed. And the fact that, from what we know so far, it does NOT have multiplayer, just makes it a pre-order-worthy title for me.
Besides, Ancient Egypt? Hell yes! From this list, I was intrigued by the beauty of the trailer for Ori and the Will of the Wisps but I have to confess I never played the first game so I have zero clue about what it is or how it plays. As for Wolfenstein, I loved the game back in the 90's and I have The New Order on the XBone installed...but I haven't actually played it yet. In fact, it's one of those many games that I have bought and have yet to find time to play (alongside the likes of Ryse, Rise of the Tomb Raider, all Assassin's Creed installments prior to Black Flag, GTA IV, all the Gears of War games, The Hallo Collection and a bunch of others... :\) From outside the list, I'm really eager to see how extensive is Call of Duty WWII single-player mode. I hope it's quite extensive 'cause the game looks awesome.

Problem is now I don't want to play any of these until Xbox One X is in my living room 😂

I was hoping we'd see more games coming to Play Anywhere. After the new Shadow of Mordor I thought it was a turning point where more major releases would adopt it. I only noticed a couple of games shown mentioning it 🤔

Ubisoft and EA have their own game launcher for PC.

Agreed. I was really and disappointed by the lack of new Play Anywhere announcements. I thought, given the similarities between the Xbox One X and Windows 10, we'd see most new titles be Play Anywhere, but now it seems the feature is not guaranteed to take off. It's worrisome.

What is the benefit to a third party publisher allowing it? There is a better chance to sell the game twice to 'the hardcore' fans than to lose other sales because you only can play it in one location.

No mention of Super Lucky's Tale? That was the only game that was shown that I was genuinely interested in apart from Cuphead. But Cuphead is something I've known about for a while now, and I am still not sure about it apart from the look of it.

You forgot Super Lucky's Tale !!! This is exactly de type of games lacking to Xbox One ! Another kind of games we want is "Mario Kart likes" !

No info about a new Tomb Raider, Devil May Cry, Splinter Cell, Bioshock, Prince of Persia, Rayman, Thief, new Batman, Cyberpunk 2077, Dead Space. But hey, we got Metro.

The Last Night stole the show for me. I'm most excited about Ori and the Will of the Wisps, but that announcement didn't surprise me. The Last Night, though, that came out of nowhere. Deep Rock Galactic also looks intriguing since it's being made by former Press Play developers, and with the Mixer integration (was expecting more games to feature Mixer integration, actually).

Ori and the Will of the Wisps im excited for.

Deep Rock galactic looks good!

i think gaming is passing me by. nothing looks interesting or worth paying full price for. at least RDR2 is still out there somewhere.