Mozo teases upcoming cases for the Lumia 650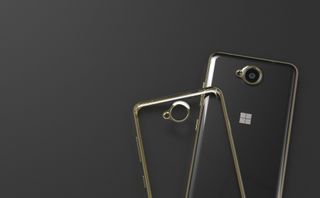 Hot on the heels of Microsoft's announcement of the Lumia 650, we're now getting our first look at some accessories for the smartphone courtesy of Mozo. The Finnish accessory maker has teased three products for the Lumia 650 on its website, including two clear flexible cases and one woodgrain shell.
Image 1 of 2
There's no word on when exactly we can expect the accessories to go on sale, nor whether there will be more finishes to choose from. However, if Mozo's past efforts with accessories for the Lumia 950 and 950 XL are any indication, we should expect to see a decent selection of different finishes and textures for Lumia 650 accessories from the company. And as for the Lumia 650 itself, it's currently available for pre-order in several European countries, and is expected to land at Cricket Wireless in the U.S. in the future.
Thanks for the tip, Christian!
Source: Mozo; Via: WindowsUnited.de
Dan Thorp-Lancaster is the Editor in Chief for Windows Central. He began working with Windows Central as a news writer in 2014 and is obsessed with tech of all sorts. You can follow Dan on Twitter @DthorpL and Instagram @heyitsdtl. Got a hot tip? Send it to daniel.thorp-lancaster@futurenet.com.
I'd love that woodgrain shell for my 950 XL.

Yeah, especially if they added a mahogony option.

I have been waiting a month and a half to get my Mozo case for the 950.

That's really frustrating

Yeah it took me about five weeks to receive mine and it looked like someone had used it.. they really do need to just sell them on amazon or something..

They are dealing with a demands >>> supply situation.

Perhaps you are correct but during the later stages of 6+ weeks of waiting the customer svc response was always the same ... it will be shipped next week ... and it never was

mobilefun.co.uk have Red Leather and Gold in stock. The posted mine yesterday.

Mozo is reportedly working on non-leather covers for L950/L950XL.

Yes!!! Please for 950 series too! Also we need some polycarbonate options but with different colors.

950 and xl needs more love...

More speed at Mozo please
still waiting on 2 covers from amazon

Agreed, pre-ordered in December for 950 and still waiting. Will cancel order if it's delayed beyond Feb

I ordered from MobileFun at the end of December and it appears my 950 backplate is finally on its way to me. Mozo has had a really hard time on stocking these things.

Mine was shipped yesterday. ☺ I'd be interested in woodgrain too.

My 950 Mozo shipped, excuse me, was despatched, today as well. Took a while, but had gotten one for my 950XL early on and was very pleased. Had no issue ordering one for my 950 and waiting for it.

Ordered a case for my 950xl months ago. Cancelled the order recently. Update: Mobilefun shipped it today. Yay. Not my cancelled one that was from another store.

what about 925? :D I know nothing for us old users

I have very similiar crystal clear case for my 925.

How old is is and did it lose it's see trough? Even "spigen" cristal clear lose that, and they say it will never

Of course it did. Dirt gets everywhere. But its pretty solid for its price, it costed like 2$ from ebay. Its 1-2 years old.

Dirt, but it cant be washed away? That's the problem

It can, sort off. I mean its crystal clear so it gets dirty like a windows gets dirty so you have to wash it. And in time it also goes more "yellow". So I think its smart to buy like 2 of these so you have a spare one. But like I said, its really worth the 2$. links: http://www.ebay.com/itm/New-Imak-Ultra-Thin-Transparent-Crystal-Clear-Ha... http://www.ebay.com/itm/New-Crystal-Clear-hard-case-DIY-cover-for-Nokia-... I am not a fan of cases because it destroys the beauty of the phone but this case is like the first case that doesnt destroy it all, because it sorts of look the same in that case and at the same time protects it a little bit.

They have covers for 925 got a flip cover wallet for mine

By their official site, they dont produce anything for 925

Looks like they stop selling them just 120 left

I allways wanted something that i can put on phone and dont make it look ugly, because 925 is maybe most sexy lumia ever

On the French video the back of the phone has two connections. NFC or qi? Would the clear case here be legit?

It's NFC. There is no Qi. That's already been confirmed by Microsoft.

On the other hand... https://www.mobilefun.co.uk/mozo-microsoft-lumia-650-wireless-charging-b...

**Pre-Order only. Please allow 30-40 weeks for delivery.**

That's the problem. Ordered in December, took my money,just received 2 month's later. Great product, but poor delivery.