MPOW Muze Bluetooth Stereo Headphones - Review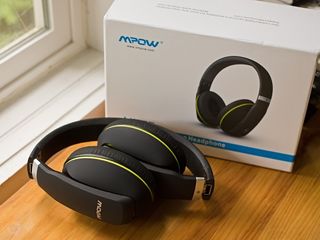 We've covered MPOW accessories before and find them to be a nice, budget minded option to consider. One of the company's latest offerings is the Muze, a Bluetooth over-the-ear headphones with noise cancelling technology and hands-free calling features.
As with other headphones we've looked at from MPOW, the Muze is nicely constructed and modestly priced. Performance was good and if you don't mind the over-the-ear style, the Muze headphones are worth considering.
Design
The Muze headphones are foldable making them nice and compact, well suited for backpacks, briefcases and the likes. The hinges are solid and the earpieces snap into place nicely.
The headband of the headphones are covered in a soft rubber and the earpieces are nicely padded. Control buttons for hands-free calling, volume, power and pairing are scattered about the left earpiece and the noise cancelation button (ANC) is on the right earpiece. Your micro-USB charging port and 3.5mm headphone jack also rests on the left earpiece.
The buttons are raised ever so slightly but you'll still need to use a fingernail to slide the power and ANC buttons up or down. The buttons you press responded nicely to the touch.
The Muze is shipped with a 3.5mm headphone cord that can be used when you need (or prefer) a wired connection. The Bluetooth headphones also ship with a USB cable for charging through your PC or USB enabled wall plug.
The headphones extend at the earpiece to adjust the fit (as opposed to extending at the headband). Fit and feel for the Muze headphones is comfortable. They do feel a heavier than other over-the-ear headphones but not to the point of irritation.
My only nit with the design of the Muze headphones is that the matte finish can be a dust magnet. The headset does have a slight plastic feel but not a cheap plastic feel. Overall, the MPOW Muze headphones come across as a nicely built set of Bluetooth headphones.
Performance
Sound quality was good with the MPOW Muze and the noise cancellation worked rather nicely. It drowns out the sounds of the world to let you concentrate solely on the music or video audio. Just be careful not to tune out the world too much. My wife had to throw something at me to get my attention while I had the MPOW headphones on.
Pairing the Muze headphones was simple. Just press and hold the pair button until you hear the audio confirmation that the headphones are ready to pair. From there just follow the pairing steps from your Windows Phone or PC.
Music playback controls were a little bit of a mixed bag. The volume keys double as volume control and song advance. A short press of these keys adjusts the volume and a long press advances to the next song or backs up to the previous tune. This feature worked fine but I wouldn't have minded seeing separate song controls on the right earpiece.
The multi-function button that sits on the left earpiece controls hands-free call functions and pause/play features for music. A short tap pauses the music and a long press plays the music. I had no problem pausing the music but could never get the headphones to resume play.
Speaking of hands-free calling, the Muze will answer, end, reject and re-dial calls. Support is present for voice dialing but it is device dependent. The multi-function button will control all of these features through a series of taps, double taps and long presses.
No real complaints on the hands-free feature of the Muze. It was a little odd making calls with the noise cancellation feature. I often found myself yelling simply because I couldn't hear myself speak.
Battery performance wasn't too shabby with about 10 hours of constant use per charge. MPOW rates the battery at up to 12 hours of working time. Just remember to turn off the noise cancellation when you turn off the main power.
A low battery alert will sound and the ring around the multi-function button will turn red when you need to find a power source.
The audio cable is a nice touch should the Muze's battery run dry. The only catch is that you'll have to control playback, pause, etc. from your device and noise cancellation will not work. However, fear not, the padding on the Muze's earpieces does a nice job on their own to cancel a good bit of the external noise.
Overall Impression
The more I used the MPOW Muze headphones, the more they grew on me. The headphones worked nicely with my Windows Phone and my Windows 8 laptop. The controls were nicely arranged and while I would have liked to have seen independent controls for music playback, what is in place worked. I did have trouble resuming play once paused from the headset but a simple tap on the screen made up for this shortcoming.
Sound quality is on par (if not slightly better) with most headsets and the noise cancellation will allow you to enjoy your music or video audio without distraction. The Muze headphones were comfortable and while they headset had a little heft the headphones didn't weigh you down.
I think the most attractive feature of the MPOW Muze Bluetooth headphones is the price. At $69.99, they should appeal to those looking for a wireless stereo solution that won't break the bank.
You can find the MPOW Muze headphones through various third party retailers such as Amazon.com (opens in new tab).
George is the Reviews Editor at Windows Central, concentrating on Windows 10 PC and Mobile apps. He's been a supporter of the platform since the days of Windows CE and uses his current Windows 10 Mobile phone daily to keep up with life and enjoy a game during down time.
That's a very complete review. Very well done. I'm using a Logitec G430 Dolby 7.1 Surround Sound

They look very nice but Bluetooth is another cheap technology that gets price gauged. My sister got me a pair Bluetooth headphones by Technical Pro, the HP500BT, from Menards on clearance for $13 and they sound amazing even for the $23 Amazon price and I'm someone who has spent over $100 on headphones in the past

Nice. Still looking for something decent that supports NFC for easier pairing!!

I picked up the Sony DRBTN200, Bluetooth, NFC, excellent battery life!

What's the difference between NFC and Bluetooth? Aren't both a way to connect wirelessly?

Think of NFC as a trusted handshake which allows pairing seamlessly.

Yes it is. If you want to use NFC, you need to switch on the bluetooth. The major difference between them is that data transfer in nfc is much faster as compared to bluetooth.

Have to be careful when you use "transfer". NFC is there mostly to facilitate quick pairing. Also it will prompt you to turn on Bluetooth if it isn't already.

But it has no noise cancelling. Like the NFC feature though!

They're so fancy, you already know

They'll be popular in LA. Maybe Tokyo.

I'm assuming this review tossed the 'Audio' consideration out the window, and concentrated more on the Accessory + Windows Phone relation. Would loved to see the EQ feel to it, or at the very least compared to the Nokia Purity Pro. For the price, they seem decent, if you forego the 'sound' part.

Are you saying they sound bad or just assuming that from the lack of "sound" review?

Meaning, the 'sound' part was only given a few sentences.. Can't really say its great sound wise if it really didn't talk about it. Wish it had been more.

Agreed. Although subjective, some comments on the low range, mid range, and high range sound quality would have been very useful considering that these are head phones.

Gotcha, that's what I was wondering as well. I am very interested at that price point. So some sort of description would have been nice

I'd like to get one too. And would love to know more about the sound quality.

price, nfc, no noise cancelling

I think I would like them if I liked over the ears

Is it available in India ??

http://www.amazon.in/gp/aw/d/B00LBO0PWM/ref=redir_mdp_mobile/190-0330919...

I have to try them out first.

>wife had to throw something at me to get my attention
Works too good, eh?

That's nice review, but... Main purpose of headphones is sound. And you said almost nothing about it :(

I use my pair of AR Parrot Zik's. A little on the fancy side but gets the job done very nicely with NFC pairing, touch controls, ANC and most importantly dedicated WP8 app for additional settings and sw updates. Great piece of hardware. Rich and vibrant sound from these.

Frequency range? Number of drivers?

Im using nokia coloud knock headphones....the best one for my Lumia 520

Are these capable of multipoint connections (simultaneous use with multiple devices)?

What??? And you hear 2 songs at the same time or what???

You can be connected to PC and Phone so listen to music on PC and still hear notifications/calls on phone. The Nokia Purity Pro headphones do it and is a feature that I definitely want for work.

I've never found Bluetooth headphones that do this consistently. If Nokia Purity Pros do that I need to get some.

Sorry to be off topic but has Microsoft stopped sending out WP8.1 to the masses after 625 and 925!!?

Yes, we know!... Major bugs❕❕❕❕❕

Great review George. The noise cancelation can be turned off so you don't have to yell. Amazon gives the phones almost a full 5 stars except for one guy that sounds like a 13 year old. I'd get them based on Georges review and this one from Amazon http://www.amazon.com/Headphones-Cancelling-High-Resolution-Crystal-Clea...

You guys never review anything by UE

Underpants Emporium went bust. Their app no longer works.

The headphone looks nice and it seems pretty in budget. But, it can not beat the Jabra Revo Wireless headphones. It is the finest wireless headphones, I have ever used.

The price is also twice as much

This is fine and dandy. I was hoping you would go deeper into the calling feature. I'm looking for an all around headset, for music, calling etc. But most importantly the calling feature. I want one where you don't sound like you're in a tunnel or distant. I'm rocking a Sony pulse at the moment but people day i sound distant.

A reasonably priced audio accessory that could/might compete with those overly priced beats audio headsets. These decently made affordable devices are changing the game. These are the things that scare those profit greedy giants
Windows Central Newsletter
Get the best of Windows Central in in your inbox, every day!
Thank you for signing up to Windows Central. You will receive a verification email shortly.
There was a problem. Please refresh the page and try again.