MSN News and Groove Music apps snag new features for Windows 10 production release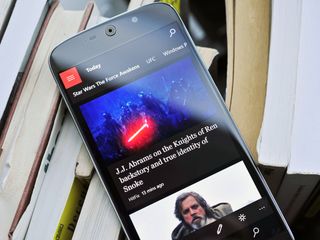 Microsoft updated a number of its Windows 10 apps today for non-Insiders. The MSN News app added a new Dark theme, while the Groove Music app has added Explore features and local metadata editing.
The MSN News app added the Dark theme for members of the Windows Insider program in July, but now the new update, which went from version 4.11.156 to 4.13.47 has made that theme available for all Windows 10 users.
Similarly, the Groove Music app added the new Explore and metadata features in previous Insider updates, but the new version for all Windows 10 owners has included those features. The version number has jumped from 3.6.2304 to 3.6.2398
Again, as seen in the screenshot above, these are just two of many Microsoft core apps that have received updates on production. If you are on Insider Fast, Slow, or Release Preview Rings you will likely not see any new updates.
If you do notice any other new features in the apps, please let us know in the comments.
Thanks to Jeremy for the tip!
Download MSN News from the Windows Store (opens in new tab)
Download Groove from the Windows Store (opens in new tab)
Read More
Windows Central Newsletter
Get the best of Windows Central in in your inbox, every day!
So where is the chaseable tile?

Is it me or is anyone else out there having problems with windows 10 mobile Microsoft apps not updating

I thought this would bring that too, makes sense after all. Mspoweruser has already implemented it in their app and they're a third party.
No clue as to the reason of the downvotes though. People don't like innovation?

And it works flawlessly on mspu. I'm looking forward to it being implemented everywhere especially photography based live tiles.

How do I change metadata on the new groove app?

I assume you press and hold.

Or right click if you're using a mouse.

Press and hold... your breath.

First you must be on Fast Ring to get the latest app. Second, at the moment, you can only edit music stored locally, i.e. not on OneDrive and that includes music you've configured as available offline.

I'm on production preview and I just got an update to Groove.

If you can't edit the metadata on music on your OneDrive, this is completely pointless. The OneDrive feature is one of the huge reasons they have touted to use Groove forever now. So now you want to tell me some features won't work if you use OneDrive? Lame and pretty dumb.

Wow, I wasn't trying to be negative, just making sure hawwie_4 had everything straight. To actually edit the metadata, select a track, press and hold, select 'edit info.'

I receive the MSN apps update this morning and the only one with the new dark theme is MSN News

No Groove Update here, but instead I got maps update with finally compass!!!

The updates are available for non insiders. Hope you're an insider.

I am non-Insider and this news is for non-Insiders.

Yea, that's a cool feature.

Cortana dark theme when? RS3??

Not only do i want a dark theme, but can we use the WHOLE SCREEN? Who though it was smart to make a window inside the screen for Cortana searches? It looks horrible and is pointless.

Agreed! Compared to WP 8.1 it's crap! And for the past few months none of my Cortana interest cards show notifications anymore. Useless!!

You can have a dark theme and you can minimize that menu if you don't want it. Very misinformed post.

Unlike seen in the screenshot above​, Windows Camera did not receive an update for Windows 10 production release yet, at least not for me. (Panorama?)

Because it's for Release Preview Ring.

No, this article is about production release.

Exactly! And there is no word about camera update in this article, because it's not for non-Insider yet, only Insiders.

Yes there is, just see the screenshot...

The screenshot has nothing to do the updates, read the article. It just represent "update" in general. Really, why should WC do always a new screenshot?

If they tell us so, they should. Just read... "Again, as seen in the screenshot above, these are just two of many Microsoft core apps that have received updates on production."

The screenshot is indeed misleading about the camera update. A separate article states that the camera update is available for Release Ring (and other Rings since July).

Come on Windows central your falling off now a days.

I disagree. Also, that screenshot was taking from my brand new MSI laptop not on an Insider rings and reflects the updates that I received this morning. Your welcome.

The head photo for the article has nothing to do with the article? Hahahaha.

The head photo is fine, just the second one and the text below could have been left away... ;)

That screenshot is from my brand new laptop getting new updates this morning that were not there last night.

?? You literally have no idea what you are talking about anymore.

I did not change my statement, just wanted to point out that I did not notice any update to Camera since the public release of RS1. But OK, if you do a clean install, you will receive updates. (???)

I left insider 2 weeks ago, and still got the Camera update with panorama on my Lumia 640.

Yes, I also noticed that exiting insider ring does not mean you are completely out - at least it seems you will still receive app updates for your last ring. This might have to do with the configuration update your receive after entering the ring. Maybe even hard reset does not help, just WDRT.

They have also updated the Store app. No one is talking about.

"If you are on Insider Fast, Slow, or Release Preview Rings you will likely not see any new updates." Not entirely true, many of these updates weren't available for the Slow or Release Preview Rings, so they should be getting them now. I've been on the Release Preview Ring for awhile and I'm just now getting a barrage of updates. Exciting stuff, I love new features. :)

Wallet updated and removed tap to pay????

Ah! Metadata editing. Finally! Good job Microsoft. Now if only Microsoft reverses their decision on native fm app. It doesn't matter no one listens to it any more. It's such a basic feature that has been with phones since forever and it's omission feels like such a glaring oddity.

What part of the world are you from? I am not seeing the update.

I also don't have it yet.

Guys, as it happens, me neither. I recieved some updates for Store and Maps but that's it. My comment was made on trust on windows central news. I'm sure they are right. Must be gradual roll out. Or with so many rings for app updates, Microsoft may have ****** up the update as has been the case recently. Either way we can all be glad that the updates are coming with some much needed features and improvements.

Was on Fast Ring till recently switching to Release Ring. I received updates on most of the core MS apps today!

Just need social features, and a faster app and we could be looking at the new zune

Groove Music actually makes sound again!!!

Whatsapp, maps and Windows store also received updates.

Yes, and maps has the compass function now! :)

Msn weather also received an update.

I dont see the update here in UK

I got it (I'm in Kent) but I cannot work out how to actually edit any metadata....

I think it's the same as on a laptop. What you could try is going into the album and then select a song an click properties. Hope that helps!

Still don't see it! On my fast ring phone you just hold down on album and select edit

Meh, apparantly you cannot edit files that have been downloaded from OneDrive and is in the cache!

Windows Media Player is still better than Groove on a Windows 10 Anniversary PC. The thing I miss the most in Groove is last.fm scrobbling support

Hmm my first post did not appear. I got it (on my phone, but not on the SP3), but cannot work out how to edit any metadata. Any long push doesnt bring up an edit field. Also seems meaningless if changes are not synced back to OneDrive, and there still seems to be no way of fixing metadata their either (seems it used Gracenote, but some of my perfectly tagged MP3's still don't get scraped correctly)...

A little search on appraisin says some of these updates (Groove for example) might be for production release PREVIEW build 14393.82 while non insiders are on 14393.67. May non insiders will get a cumulative build updated .82 today and some of these app updates and features might come with it. Or it may be a gradual roll out as I said in a comment above. Either way not seeing updates for Groove, Movies and TV, Camera as of yet.

This update hasn't rolled down to me, though. And I'm on production. News did update last night, IIRC.

Features still not in denmark.. Got the app update, but the explore tab is still boring as hell.. Come on groove!!!

I'm guessing the groove update is PC only? Not finding the update on my phone. Desperately need an update for groove since it can take days for it to find my locally stored music since installing the anniversary update.

Hope they'll come sooner than later.☺ .

Msn and camera update has shown up now..waiting for Groove to test what I suggested

And with the Camera update, came the panorama feature. It works great!

I also got the camera update and panorama works great,950 XL DS non insider

And when comes finally a last.fm support for Groove?????????

Oh my god the new dog theme of the news application looks so cool so damn Cool on my Lumia 550 and running the dark mode throughout my OS it is so cool!! Posted via the Windows Central App for Android

Still cannot select genre to choose my music. This is the stupidest thing you can ever do with a serious music app. Why can't I choose genre?

You can edit metadata only for files outside the Music Folder. You cannot add or edit pictures, just basic stuff like the one you can already edit in explorer.
Windows Central Newsletter
Thank you for signing up to Windows Central. You will receive a verification email shortly.
There was a problem. Please refresh the page and try again.