Move over Xbox Music as Muzik Player for Windows Phone 8.1 is here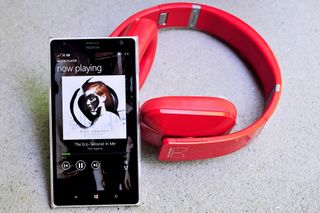 Microsoft is working hard on improving the music player experience on Windows Phone 8.1 ever since they decoupled it from the OS. Although app updates are frequent it never hurts to see what independent developers can bring to the table.
Muzik Player is a new option from Visum Solutions that started as a beta program in our forums. Like OneMusic, Muzik Player is an alternative player that embraces the Modern design familiar to Windows Phone users. Unfortunately, it cannot yet play Xbox Music Pass files that have DRM, but if you own your own music, it is worthy of your consideration.
Running for $1.49 with a free trial (fully featured but with a limit of 25 plays), Muzik Player offers a lot of features on its initial outing, including:
Offline loading of your music metadata (no wrong album art anymore!)
One time library indexing (you can manually force index new additions or deletions to your music library)
Live tile with instant updates!
Artist photos in now playing page
Now playing queue glimpse
Smart shuffling algorithms
Swipe gestures support to change tracks
Audio seeking support
Fast performance in large lists
Unlimited number of tracks in now playing queue
Indeed, the album art and Live Tile are excellent, making the app feel more like the original Zune player for Windows Phone 7. The Live Tile updates promptly and the player layout looks sharp on my Lumia 1520.
Currently Muzik Player is lacking any extra bells and whistles, though the developer is looking to really expand things with future updates, including:
Gapless playback
Manual/automatic song tagging (correct song names, album art, artists... etc)
Song lyrics in now playing page
More based on your feedback
Muzik Player certainly looks nice at this stage, but I'll leave it up to you if you think there's enough there right now for purchase. Personally, I'd like to see some things cleaned up like the Play button alternating to a Pause one when a song is playing. Likewise, it'd be nice if I pause a tune and hit the 'go to now playing' menu item, it would not give me an error, as tapping the volume keys shows that the song is still loaded, but paused. That is not the correct behavior, from my experience. The layout and UI though, including high resolution album art, look great on a 1080P device, and I think it is a solid – if not basic- alternative to the current Xbox Music app (assuming you do not have DRM music).
Give Muzik Player a try and let us know what you think. Do you want to join the next beta or talk to the developer? Head into his dedicated WPCentral forum thread on Muzik Player to join!
Get the Windows Central Newsletter
All the latest news, reviews, and guides for Windows and Xbox diehards.
Daniel Rubino is the Editor-in-chief of Windows Central, head reviewer, podcast co-host, and analyst. He has been covering Microsoft since 2007 when this site was called WMExperts (and later Windows Phone Central). His interests include Windows, laptops, next-gen computing, and for some reason, watches. Before all this tech stuff, he worked on a Ph.D. in linguistics, watched people sleep (for medical purposes!), and ran the projectors at movie theaters because it was fun.
I have been loving this app since it came out!!!

Now that XBox Music APIs have been released, Give me capability to pay all that music and you have an instant sale.

Cannot "yet" play DRM music? Will it ever?

afaik they won't even let windows media player play the files I download on Win 8.1, so its unlikely they'll ever open up DRM. Assuming it means the music pass drm and not individually purchased music.

Yes, any 3rd party player is unlikely to ever be able to play files locked with proprietary drm so this really should not be a con.

http://www.windowsphone.com/s?appid=a00c447e-1e2f-431f-8634-7965128cd3f0 Plays my XBM pass songs just fine.

Just downloaded it and it sure does play all my music pass music. Not much to the app but its quick if you mostly just shuffle your music like I do. Now I wonder what sorcery that developer used to be able to play music pass tracks?

Thanks for this link, this is really a fast music player!

This is why I boycott xbox music, DRM music is bullshit and should never be purchased.

They just released APIs for developers to be able to play all 38 million(and growing) library of XBox Music to their apps. Now it is up to the developers to add capability to play all that music. Developers will even get commission on all purchases and XBM subscription fees.

Why can't Microsoft make xbox music as good as this? Well at least we have better alternatives now...

It's pretty ridiculous how this player nails all the requests made of the Xbox Music app and is done by an indie dev with far more limited resources...

While alternatives and variety are always nice, the need for a third-party music player is a major weakness in the OS, who installs a third party music player on iOS?.


Well I used to use a 3rd party video player, does that count?

When I had an iPod touch I used to alternate between Muzik, Track 8 and SmartPlayer. Didn't use the native music app.

well for the 80% world market of Android, 3rd party music apps are not an oddity. I use poweramp pro in my HTC One because what comes with it sucks. As per iOS I've seen many people use apps that download free music within the app an contain crappy players that people use just so they can have free music. Nothing wrong with 3rd party players. Who didn't download Winamp back in the day to not use the Windows Media player?

You got me on the WinAmp thing. I used to avoid Windows Media Player like the plague.

If PowerAmp Pro were available for WP it would take over as everyone's primary music player. It's the only thing I miss on Android. It's the best music player on any phone platform.

I also loves poweramp music. But not available on wp :-(

Ohhh, BOC, great taste there Daniel.

Noticed that too! Made the article instantly better!

Apps like these should not be needed. Wake the fuck up MS.

+928 the state of windows phone is an embarrassment and its market share reflects that.

Is support for OneDrive coming back to musik players? I used to use Sky Music Drive to play music i stored on the cloud. I tried other apps also but no app displays my collection any longer.

The artist list looks weird/unfinished (2nd picture).

i need an app that can play music from all different apps. i ahve xb music, and some third party ones u can download music for free and some youtube music videos.. i need a universal app that can do all of that.

you dont know how useful it is to have universal music player.

What actually is meant by gapless playback?

The next track starts immediately after the previous one ends. Great for concept albums as there is no brief pause between tracks.

You mean concert albums. This feature is needed.

No. I mean concept albums. I.e. Dream Theater: Metropolis Pt. 2: Scenes from a Memory, Queensryche: Operation Mindcrime, etc. Concert albums would bennefit from this feature as well though.

Dream Theater is one of my favorite bands. (Train of Thought) Iron Maiden's Seventh Son of a Seventh Son can also benefit from gapless playback.

Also necessary for a lot of classical music. Try listening to Stravinsky's Rite of Spring on a Windows Phone. Gapless audio is a basic feature of an audio player (would have been a deal breaker for me had I known it was missing from Windows Phone)

It means to play each track with out the cut off in the middle. The part where there is a short period of silence when it switch tracks. Unless it means something else then I don't know...

Xbox Music app is very original in its own kind. Instead of gapless playback, it adds a split second of garbage noise between tracks.

MS probably asked the same thing, and then they went for another cup af coffee.

why MS can't do like the develepors, it's microsoft!!

My Xbox music plays songs well and that's all I need, updates on the way too... Good to see alternatives for those who keep on crying

Nice belittling there. Does it make you feel better that YOU aren't having issues, therefore its ok to mock people that are? Moron

Why can't Microsoft make a carbon copy of the WP7 player? They made it themselves! Morons.

Yeah... I don't understand why it's so hard... I know different kernels and all, but still: They made an amazing experience once. Why can't they do that again?

Is that your phone/music Dan? I thought you were more into electronic. Quite impressed to see B.R., Comeback Kid, Lagwagon, Rise Against and Boysetsfire in that list. On the electric front, give Thievery Corporation a listen, the album Culture of Fear. For the music app, I will have to test this out. I have been using MixRadio lately and its been working well for me.

Yup, thems my tunes, thanks. I do listen to EDM too.

Daniel, why do I still not have album art? It works in the music hub app, just nowhere else.

Nice app but MS wake up damn it and stop improving other OS and work on your for God sake. I should not have to use 3rd party apps for music whole you have your own, The problem you fucked it up big time, MS 3 steps backwards and 1 step toward. I support the OS but come on MS.

Your post is very confusing and hard to read. Maybe you should proof read before submitting it.

The app is very cool just downloaded it now,

Its so responsive and the sound produced seems louder. Why cant xbox music get it right. Once again a 3rd party/ alternative app has proven to be better than an official app in WP

Wow good muzik player!! :P

"Microsoft is working hard" Thanks...I needed a good laugh

Lol exactly what I thought xD

I noticed that one to. :)

http://www.wpcentral.com/tag/one-music -> doesn't do it
-> http://www.wpcentral.com/tag/onemusic

I got it. If Microsoft gets rid of the hidden music app I'll be using it instead of Xbox Music going forward.

So, what options do I have with a Music Pass? As cool as those new music apps might be compared to the current xbox music app, I have no use for them, if they can't play the stuff I downloaded with my music pass :/

It says the developer is working on a Gapless Playback, but they won't be able to because that requires an OS-level update. If you use the old Music Hub that's hidden and baked into the OS (now called "Music Backdrop"), the music plays with gaps there. Since all Music apps (Xbox Music, IE, this one, etc.) use this to play audio, the OS will need to be updated in order to have it fixed. Hopefully they fix it before RTM.

That is a bummer if true. Gapless playback is the item I'm looking forward to the most. I keep hoping with each update of xbox music that it will be the version that fixes it. If baked into the OS then it will not be out for a long time.

Well, that sucks. I really hate that WP doesn't support gapless playback.

I still do not have album art. Why is this? Please someone help me. I get it with the music hub tile app, but not any other player. What could I be doing wrong?

Xbox music will die soon. No family plan. Stupid

The app keeps on indexing my music every time i open it and gets stuck in there! Is it the app's problem? Ive it installed in my phone btw...

'Offline loading of your music metadata (no wrong album art anymore!)' yes Xbox Music, we're looking at you :/

Looks good. The only issue I noticed so far is since it can't play Xbox Music pass songs, it seem to "hang" until you click the next button. Wish there is a way for the app to filter out DRM songs it can't play. I've stop my Xbox music subscription due to the pathetic apps and will be buying DRM free from Amazon from now on.

Actually, I fired up my ole L900 and I'm using it as mp3 player. I can use my Xbox music pass which allows me to download and play DRM along with my other paid for and downloaded songs. It also gives me the ability to stream over wifi. For me this is the best alternative until Xbox music becomes the kick butt player that it's going to be in the near future.

dude...get better headphones.

I'll try any alterniave to the debacle that is xbox music. Half the time xbox music won't even open and hwen it does it says "looing for music..." the entire time. What an embarrassment for MS.

Amazing App! Xbox Music should perform like this. Bought the app to support the developer and hoping to see more updates. Hopefully clearing the live tile when music is paused, that would be nice

is there support for last.fm scrobbling through ScrobbleMe?

Didn't see if someone mentioned this already but its lumped all of my greatest hits albums into a single one

What about a stop button for removing the now playing bar? Is that too much to ask in this day and age lol... (Found battery drain is higher with music paused as opposed to completely stopped even on wp 8.1 dp).

Seriously, I really enjoy Xbox music but, I don't' have my own collection so, it works flawlessly. Seems really good if you have the music pass. In the Dominican Republic on vacation and it plays perfectly unlike other players that won't work because I'm not in the US at the moment.

Very fast and nice UI but it won't detect my synced playlist. I won't readded like thousand songs into playlist again, why won't it reads? Hmmm anyway, artist and infos come out absolutely fantastic, no more unrecognized symbols or what. This is a great app, i would buy if it does read my synced playlists...
Edited: I hope we can choose the artist background image as it only appears to certain only. Most of my songs are KPop and i want them to appear too... I miss that MPA Tool app that awesomely works with the previous Music app before... Well, history it is now.

I have the same problem with my synced playlists. It does not detect them at all. I would also buy this great app if my playlists were detected. All of my album art is properly displayed unlike XBox Music.

Boards of Canada? Good choice man!

Wouldn't load, just hung at indexing music.

Wait...true gapless playback? Without weird skippy segments? COUNT ME IN.

Music players. Why does they have splash screens on WP?

Why does the good apps or at least possibly good apps cost. Oh well I'm still hoping Xbox adds support for more file types because currently the other players can play songs from my library that Xbox music can't

Creating a playlist with this app is an exercise in tedium. These music players on Windows Phone are decades behind their iOS and Android counterpart.

I hope PowerAmp makes a free app for WP.

Everything is better than Xbox music, sadly... I expect things to get better for MS though

Two Muse songs and one Linkin Park song spotted -> instant download.

Nice app but try this. Play any song through this app > Then Close this app, the song still plays via Volume bar:(

Why don't we just try to deploy Windows Phone 8.1 first? All these app updates don't do anything for anyone without 8.1.

Nice app. I'm trying it out now. I wish the music players had the ability to play/pause and skip tracks from the notification area. That would be an amazing feature!! Anytime you want to pause a track just pull down the menu and pause it instead of having to go through the trouble of opening up the app and doing it.

Actually never mind. I just found out if you press the volume button it comes up. Can't believe I've never noticed that before lol

I'm shocked it took you so long to discover that.
+1520

Why not Microsoft just buy this app and replace it with the xbox music!?? It will save a lot of time!

70 cockroaches squashed indeed! Something is wrong somewhere in the MS house.

It's been indexing my music for the past hour without the progress bar showing anything. It's stuck on that, and my fist impression is... not impressed

The sound seems a little better and slightly louder. But functionally this app is pretty weak. Difficult to navigate between now playing and library. Went to build a playlist and it simply gives you a huge alpha list of every single song with no nav options. In fact, nav functions are awful throughout the whole app.

if the developer's plans succeed and gapless playback is a feature in the future, i'm sold. that's the only reason I bring an iPod with me everywhere.

Looks like a cool app, but the fact that it doesnt' play DRM music will never make me switch. In another note, whoever's phone that is in the screenshots has some pretty good music tastes :)